Due to the increasing number of reaction videos and channels on YouTube, there is an increasing demand for guides on making a reaction video. Learning how to make a reaction video on YouTube can open you up to making money from ad revenue. How hard is it to make a reaction video on YouTube? For starters, the basic mechanics behind a reaction video is placing your reaction video to the timeline of the video you're reacting to.
However, with the right software tool, you can automate this process seamlessly. This article details how to make a reaction video on YouTube quickly and freely.
Part 1. An Overview of YouTube Reaction Videos
Here is a starter guide to making a YouTube reaction video.
1. What is a YouTube reaction video?
A reaction video is a content type and style where the creator records themselves reacting to another video content or scenario. The reaction video depicts emotional reactions to anything from funny video compilations to movies, music, or content recorded by another YouTube user.
2. What are YouTube reaction video specs?
While YouTube doesn't have strict video specs for reaction videos, experts recommend using the following YouTube specs when creating and editing reaction videos on YouTube.
Video aspect ratio - 16:9 widescreen.
Video dimensions - 1080 x 1920.
Video format - MP4.
Video file size - 128 GB recommended.
Video length - 3-5 minutes. Verified content creators may extend up to 15 minutes.
Note that these specs recommendations are not strict, meaning you can be flexible when making reaction videos.
Read More:
Practical Video Lighting Editor List: Make Video Brighter in Easy Steps
What Are the Best Vertical Video Editors? This One Tells
Part 2. How to Make a Reaction Video by Video Converter Ultimate
Video Converter Ultimate is a renowned video editing tool with enhanced features for varying editing needs. It can perform multiple functions like converting video and audio files, adding subtitles to videos, making reaction videos, etc.
It is a reliable reaction video maker that leverages enhanced tech features to create and edit YouTube reaction videos. Video Converter Ultimate can create reaction video content by allowing you to combine different video clips and leverage endless video editing themes and filters.
Features of Video Converter Ultimate include:
Use the tool's screen split and picture-in-picture features to create reaction videos.
Edit YouTube reaction videos using the available video editing features.
Preview YouTube reaction videos while editing.
Enhance and convert your reaction videos for multiple platforms, including TikTok and YouTube.
Before using Video Converter Ultimate to make a reaction video, ensure you have the original video you want to react to.
Here is how to make reaction videos on YouTube with Video Converter Ultimate.
01Download, install, and launch Video Converter Ultimate on your computer.
02Select the "MV" menu to create reaction video content using different video clips. Hit the "Add" icon to upload the video clip.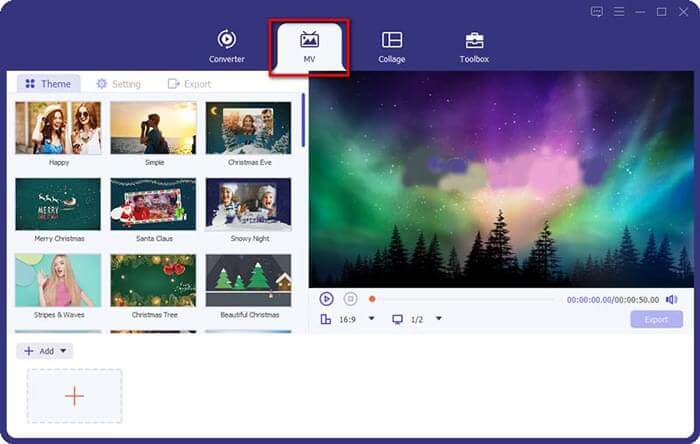 03Click the "Edit" button to trim the necessary parts of your video. Next, arrange the order for the reaction videos using the forward and backward buttons as you desire.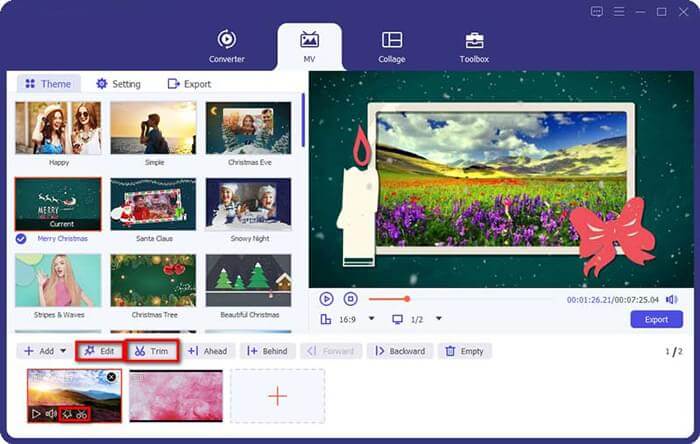 04Click the "Theme" button to select a theme for the reaction video. After that, export the YouTube reaction video and upload it at will.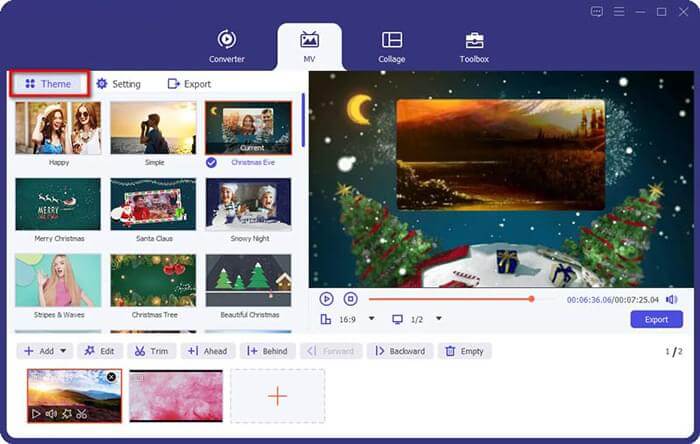 You can also leverage Video Converter Ultimate's Split Screen feature to make reaction videos.
Here is how to do reaction videos using the Split Screen feature.
01Click the "Collage" tab on the main menu and choose the most preferred split-screen layout to create your YouTube reaction videos. Click the "+" button to upload the videos you want to use to create the reaction video.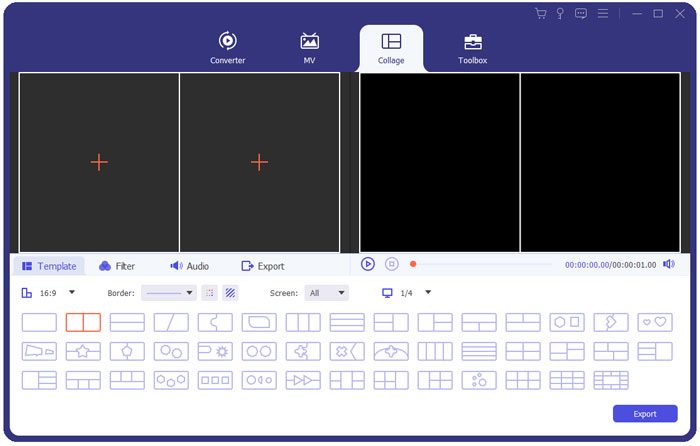 02Adjust the split line to resize and edit your video, including cropping, rotating, and adding subtitles and watermarks. Explore the "Filter" tab for creative editing options.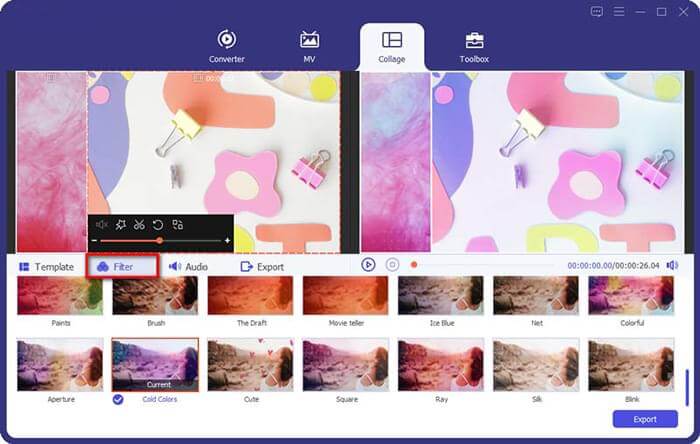 03Click the "Audio" tab to choose the preferred music to add to your reaction video. In addition, you can tick the "Loop play", "Fade in", or "Fade out" to adjust the video display speed and audio volume.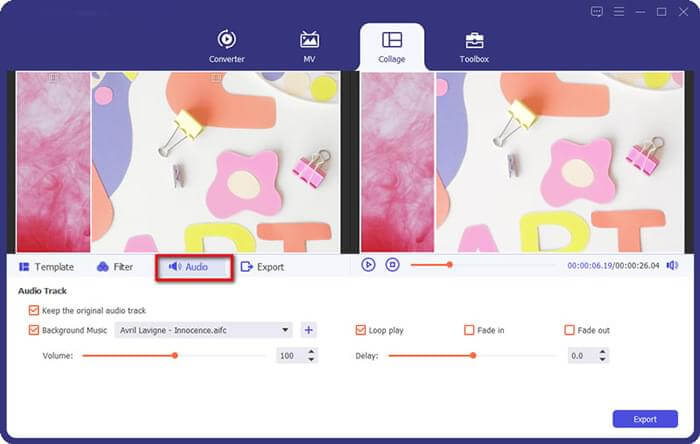 04Navigate to the Project tab to set the project name, destination folder, resolution, and output format. Tick the "Turn on GPU Acceleration" to speed up the YouTube reaction video creation process. When the video is ready, click "Start Export" to save the video.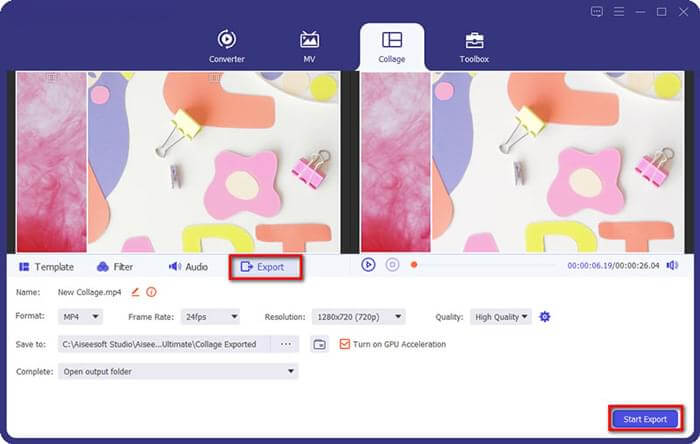 See Also:
Top 14 Best AVI Video Editors | Easily Eidt Your AVI Files
10 Hot MP4 Video Editors - Edit MP4 Videos with Powerful Features
Part 3. How to Make a Reaction Video on YouTube with Clideo
Clideo is a popular online file editor that increases the convenience of creating and editing videos. It is a web-based platform that requires no downloads or installations to use. You can use Clideo for free to create and edit YouTube reaction videos effortlessly. Using Clideo to make reaction videos is a simple process. You only need an active internet connection and the two videos you intend to use to make your YouTube reaction video.
Here is how to do reaction videos on YouTube using Clideo.
Step 1. Navigate to Clideo's online video editor page. Click "Get started".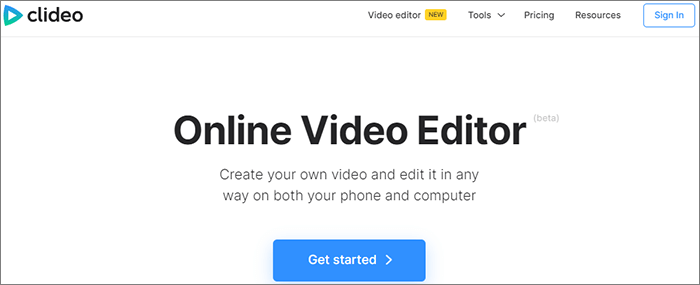 Step 2. Click "Upload" or the "+" icon to upload the video from your cloud or local storage.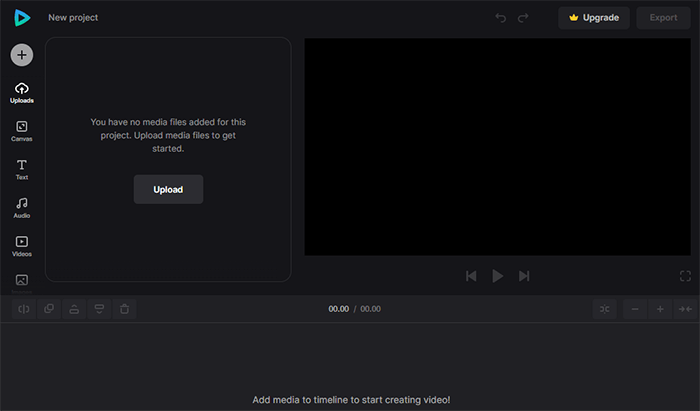 Step 3. Drag the video files from the Uploads section to the preview timeline to start processing them.
Step 4. Go to the Canvas tab to apply the right preset and change the aspect ratio.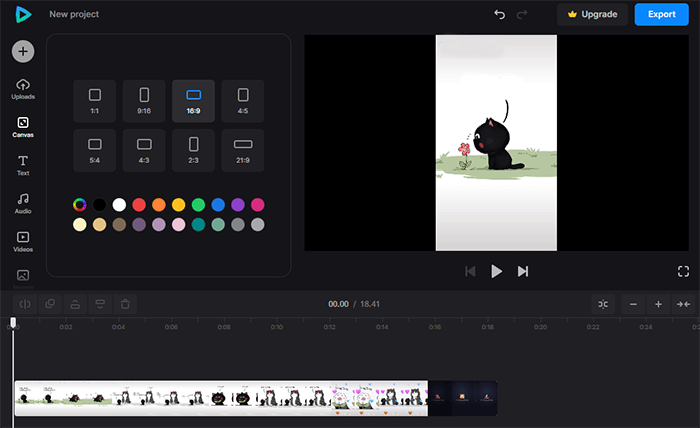 Step 5. Combine your reaction with the music video using picture-in-picture or side-by-side mode. Arrange the videos based on aspect ratio and resize them in the preview section as desired.
Step 6. Alternatively, if you want the picture-in-picture method (one video on top of another), manually adjust video positions and sizes in the preview section after selecting them. If you're reacting to content you want viewers to see, make your reaction video smaller to avoid blocking their view, or vice versa.
Step 7. Select the video on the timeline or preview section to change and adjust any video settings. Once you're done, click "Export".
Step 8. Select your preferred export option for the final video and tap "Continue".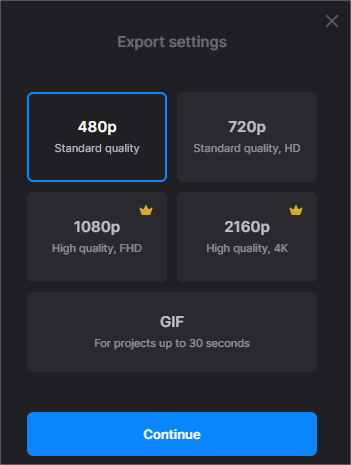 Step 9. Click "Download" to access your edited YouTube reaction video.
Can't Miss:
Useful Picture in Picture Video Editor: Create PIP Videos Easily
12 Best Games Video Editors - Edit Videos without Effort [Updated]
Part 4. FAQs About How to Film a Reaction Video
Below are commonly asked questions about users who want to create and edit YouTube reaction videos.
1. How do I avoid copyright infringement when making reaction videos?
It is impossible to create reaction video content without using another person's video content. YouTube videos are protected by intellectual property regulations, meaning using them without the original owner's permission can result in liability on your part.
At the very least, ensure you credit the original video creator and owner. You can also contact them to request permission to use the video directly.
2. What makes a YouTube reaction video good?
For starters, your reaction video should be interesting to your audience. As such, strive to provide captivating reactions – if not controversial. If your reaction video appears staged or over-rehearsed, your reaction video appears to be losing credibility. More importantly, your reaction video's quality also matters a lot.
Ensure you make and edit your reaction video using the best tools to retain or improve quality. Use a professional tool like Video Converter Ultimate to make and edit your YouTube reaction video to the highest possible video standards and quality.
3. Can I make a reaction video on my phone?
Yes, most YouTube content creators record videos on their phones. With the right tools and software like Clideo, you can create reaction video content on your phone. However, for a more comprehensive editing of your reaction video, consider transferring the videos to your PC and using the dedicated Video Converter Ultimate to edit your YouTube reaction videos.
May Like:
How to Crop TikTok Videos Like a Pro: Essential Techniques and Tips
[Vlog Software] 11 Best Vlog Editing Software for Vlog Lovers
Conclusion
If you're a content creator, reaction videos can help you reach a different viewer segment. They allow you to provide even better content based on content from another creator and content owner. If you have the original video and permission from the owner, you can create your reaction video effortlessly. A video maker and editor tool like Video Converter Ultimate can help you create and edit your reaction videos.
Video Converter Ultimate is effective and can create high-quality reaction videos, regardless of size. Download Video Converter Ultimate to create YouTube reaction videos fast.
Related Articles:
11 Best MP4 Splitter Options to Split MP4 Easily and Quickly
How to Edit Audio Files? [A Hands-On Audio Editing Tutorial]
Cutting the Edges: How to Crop Videos on Windows 10/11?
CapCut Hacks: How to Remove TikTok Watermark in CapCut Like a Pro
10 Amazing MP4 Screen Recorder Options: Record MP4 Videos Easily
Kapwing Video Editor: A Complete Review and Powerful Alternative