Spoofing Pokemon Go means you fake some aspects of the game to enhance your overall performance and success. One of the common ways of spoofing Pokemon Go is faking your movement. To conveniently learn how to spoof Pokemon Go without suspicion, you'll need to use reliable location spoofers. This guide will outline the best third-party location spoofers you can use when playing Pokemon Go. We'll also outline tips for playing the game without getting banned.
Part 1. How to Spoof Pokemon Go on iOS?
If you want to conveniently spoof Pokemon Go on iOS devices (iPhones or iPads), the most recommended thing is to use third-party location spoofers. Which is the best location spoofing app for iOS? Well, the answer is very simple: iOS Location Changer. This third-party location spoofer tool allows you to fake your movement on Pokemon Go and collect additional Pokemons/game items without much strain.
The app supports all iOS devices and allows you to change location in just one click. The common features of this spoofer tool include the following:
Play AR games like Pokemon Go without walking.
Change GPS location on iPhone or iPad.
Create customized routes using One-stop, Multi-stop, and Joystick modes.
Below are the steps to carry out Pokemon Go spoof iOS using iOS Location Changer:
01Install and Launch iOS Location Changer
Download a free version of iOS Location Changer, then install and launch it on your computer. After that, click the "Start" button in the main interface, then connect your iPhone via USB. Ensure you tap "Trust this Computer" on your iPhone.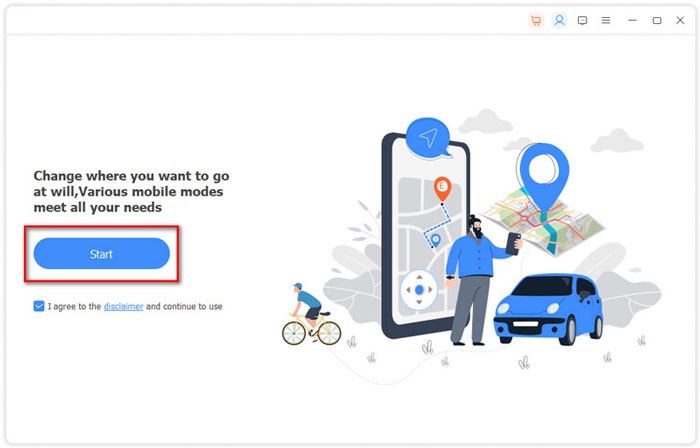 02Set Route
To start spoofing your Pokemon Go movement using a customized route, click "One-stop mode". Enter the start and end points for your customized route. Alternatively, you can select the "Use starting point" and "Use ending point" options.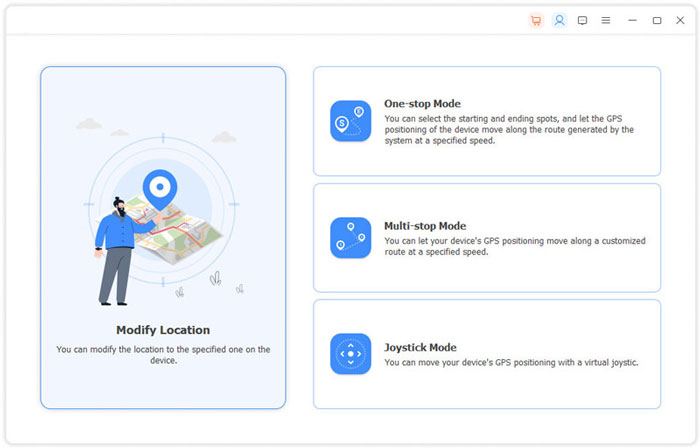 03Spoof Pokemon Go on iOS
Once you've selected your points, click on the "Move to" button. Your iPhone location will start moving along the simulated route as you play Pokemon Go. You can also adjust your movement speed by dragging the speed bar. That's how to spoof Pokemon Go movement using iOS Location Changer.
Read More:
Easy Pokemon Go Spoofing on iOS Devices in Top 7 Ways
How to Change iPhone/iPad Location without Jailbreak in 4 Cost-effective Ways?
Part 2. How to Spoof Pokemon Go on Android?
Playing Pokemon Go on Android is quite enjoyable if you use a spoofing tool. One of the best tools to use for location spoofing on Android is Android Location Changer. This Pokemon spoof tool allows you to select virtual locations on a map and then trick the game into thinking that you're moving, yet in reality; you're in your home.
This tool allows you to easily create customized routes and move along at your preferred speed. Pokemon Go will get fooled that you're moving and reward you with extra Pokemons. Android Location Changer supports Android and iOS devices. Its main features include the following:
Fake GPS location on Android in just one click.
Allow to simulate movement on a GPS-enabled map.
Provide features for adjusting speed during simulated movement.
Different modes of customizing routes, including Jump Teleport, Two-spot, and Multi-spot.
Follow the steps below to perform Pokemon Go location spoof on Android:
01Launch Android Location Changer
Launch Android Location Changer on your computer and click the "Get Started" button in its main interface. Next, connect your Android or iPhone via USB and select the option "Trust this Computer".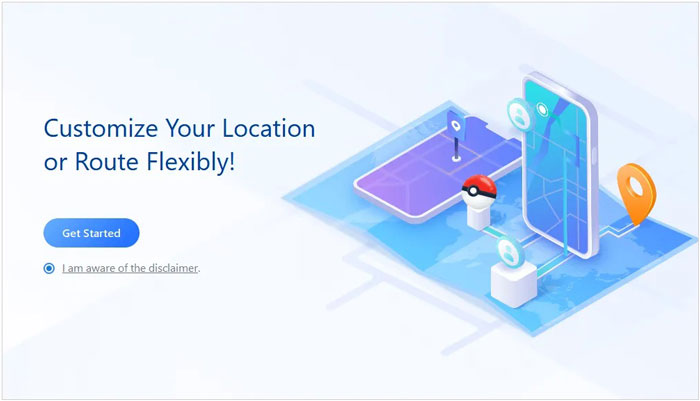 02Spoof Pokemon Go on Android
Select the "Two-spot mode" icon in the upper right of the screen. Next, enter the address or coordinate for your destination in the search box. Drag the speed bar to adjust your movement. Click on the "Move" button to start moving.
Your GPS location will start changing based on the simulated location. Pokemon Go will also detect the location changes as you move by. You can pause or stop the movement anytime by clicking the relevant buttons. Once you reach the endpoint, you'll receive a sound notification and a popup. Your route history will then get saved to the records.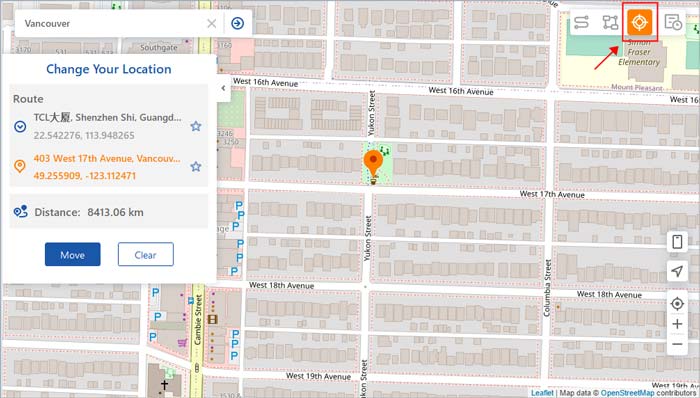 May Like:
How to Spoof Pokemon Go on Android Safely? (Quick Guide)
How to Change GPS Location on Android in Different Tools (SAFE & FAST)
Part 3. What Are the Common Types of Bans When Spoofing Pokemon Go?
Although using Pokemon Go spoof tools is not bad, doing so in excess could result in significant risks. These risks come in the form of bans which will restrict you from enjoying different aspects of the game. Therefore, regulating how you use spoofing tools is important to avoid receiving severe bans. The four types of Pokemon Go bans include the following:
1. Soft Ban
This ban restricts you from easily catching Pokemons, i.e., Pokemon will go away whenever you get near them. Also, you'll have limited access to Pokestops. You'll mostly receive this ban after traveling too fast or using third-party spoofing tools. The ban mostly gets lifted after a few hours.
2. Shadow Ban
A shadow ban could last between 7-14 days, and it mainly entails the restriction to catch rare Pokemon. When serving this ban, you can still play the game and hatch new Pokemon. You'll mostly receive this ban after using a spoofing tool to play Pokemon Go.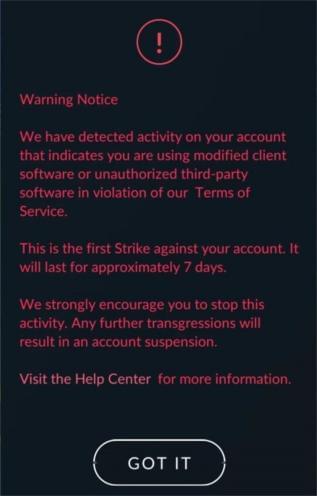 3. Temp Ban
A temporary (temp) ban on Pokemon Go lasts a few weeks to three months. During this ban, you won't access any aspect of the game and will instead encounter the "Failed to get Game Data" message. If you wish, you can negotiate for your ban to get lifted earlier. In most cases, you'll have the ban lifted automatically after completing the ban duration.
4. Permanent Ban
With a permanent ban, you won't access Pokemon Go on your device anymore. Essentially, you'll lose all the Pokemons and any saved data and have your profile deleted. It's therefore important to take caution to avoid this ban. You'll mostly encounter this ban when you use bots or third-party tools.

Can't Miss:
How to Fake GPS with No Root on Android? [8 Trustworthy Apps]
Best Spoofing Apps for Pokemon Go on iOS and Android
Part 4. How to Spoof in Pokemon Go Without Getting Banned?
The joy of playing AR games like Pokemon Go is constantly reaching higher levels and getting new rewards. However, this is not possible if you get banned. To ensure you stay in the game, you need to keep some tips in mind. These tips mostly apply if you've chosen to use location spoofers when playing. We'll discuss them as follows:
Tip 1. Limit the Number of Times You Use Third-party Tools
Although third-party tools are good for location spoofing and collecting extra rewards, overusing them could be devastating. This is because the system might detect and ban you. Only use these tools when necessary.
Tip 2. Don't Jailbreak Your Phone
Some people claim that rooting or jailbreaking your phone allows you to easily fake your location on Pokemon Go. However, this isn't usually the case since you get exposed to more severe risks, i.e., regular bans. Instead of jailbreaking, you can use the location spoofing tools discussed in this article.
Tip 3. Use VPN as an Extra Layer of Protection
Using only location spoofers to play Pokemon Go is not enough. This is because you may receive a ban if you overuse third-party tools. As a recommendation, you should also try using VPN to guarantee your safety at all times when playing the game.
Tip 4. Don't Use Bots
Bots are prone to easy detection compared to third-party location spoofers. Although you might get tempted to use them, don't fall into that trap since it won't take long before you receive a ban. You may even get banned permanently, which isn't good for gaming lovers.
See Also:
How to Fake Location on iPhone iOS 16/15/14 in 4 Ways? [2023 Updated]
How to Play Pokemon Go Without Moving [Detailed Steps for Android and iOS]
Bonus: What Hacks Can I Apply to Enhance Pokemon Spoofing in Pokemon Go?
If you want to easily receive more Pokemon while playing Pokemon Go, you can try out the following tricks/hacks:
*Play the game in a car driven by your friend (don't drive yourself while playing since it might cause accidents).
*Use the incense available at Pokestops.
*Add lure modules to nearby Pokestops.
*Use game accessories like phone mounts or Pokemon Go Plus.
*Play the game while cycling or skateboarding.
With these hacks, you will surely receive more Pokemon on the way.
The Bottom Line
With reliable location spoofers, you can easily spoof Pokemon Go without anyone noticing. You can try out the third-party spoofers discussed in this article since they're the best. Pokemon Go spoofing could also result in a ban. To avoid this, ensure you implement the tips discussed in this guide.
Related Articles:
[Solved] How to Spoof Location on Android? This One Answers!
How to Walk in Pokemon Go Without Walking? [Top 5 Ways]
The Best Place to Play Pokemon Go: Unleash Your Adventure!
How to Hatch Eggs in Pokemon Go Without Walking [5 Methods You Should Try]
Which Is the Best Fake GPS App for Android and iOS Devices? [Practical Options]