Like many other social media apps, Snapchat uses your location to customize the services and content they offer to you. However, more and more people grow increasingly concerned about their privacy. Understandably, you don't want Snapchat to track your every move even if it does not utilize your location illegally. Can you move your location on Snapchat maps?
Well, this tutorial illustrates how to change your Snapchat location and hide where you are on both iPhone and Android in five practical methods.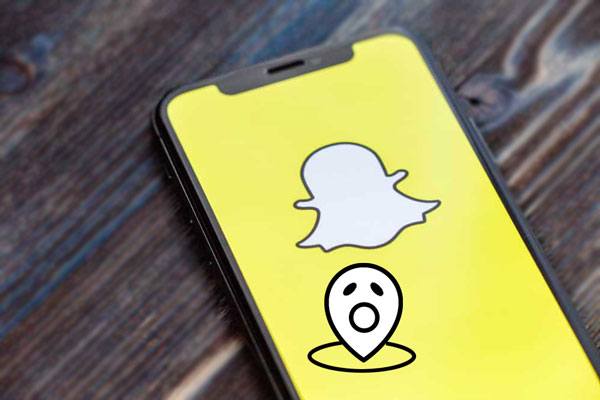 Part 1. Why Do You Need to Hide or Change Your Location on Snapchat?
Part 2. How to Hide User's Location on Snapchat App via Ghost Mode?
Part 3. How to Change the Location on iPhone Snapchat
Part 4. How to Change Your Location on Snapchat on Android via Fake GPS Location?
Extra Bonus: FAQs about Snapchat
Part 1. Why Do You Need to Hide or Change Your Location on Snapchat?
There are various reasons for users to hide or fake GPS locations on Snapchat. Below are some of them:
Many Snapchat filters are not available in some regions. So, you may want to fake Snapchat's location on Android or iOS to access filters used by celebrities or influencers.
Meet new people in the city you are about to travel to.
Trick your friends into believing that you are traveling in a different country or region or checking in a classy hotel.
To protect your privacy from family members, parents, friends, or colleagues.
Show cool tricks to become popular among friends.
Part 2. How to Hide User's Location on Snapchat App via Ghost Mode?
Enabling the Snap Map option in Snapchat allows the app to track your location to offer better services and features. However, if you care much about your privacy and don't want to share your location, you can hide your location on your device with the Ghost mode.
How to freeze your Snapchat location?
1. Launch Snapchat on your smartphone and navigate to the Camera, Friends, or Discover screen.
2. Click the magnifying glass icon, tap the Map, and press the gear icon.
3. Turn on the Ghost mode under Settings and choose a duration among the three options.
Once done, other users won't track your location, but you can see your location on the Snap Map. Alternatively, you can also hide your location from Settings > Privacy > Location Services > Never Allow Location Access for Snapchat.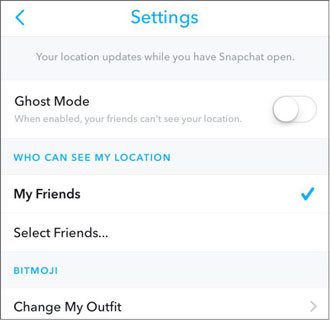 See more:
How to Easily Fake GPS on Android without Mock Location?
[Huawei Mock Location] How to Change My Mock Location on Huawei Fast?
Part 3. How to Change the Location on iPhone Snapchat
As there are no options in Snapchat to fake your location, you have to achieve this with third-party apps. This part will concentrate on four effective ways to fake locations on Snapchat on iOS devices, including Xcode, Snapchat Location Spoofer, iTools, and Cydia apps.
3.1 How to Change Your Location on Snapchat via Snapchat Location Spoofer (Android & iOS)
Snapchat Location Spoofer is a powerful software that makes it easy to change Snapchat location on Android and iOS devices. You can change your GPS location to anywhere in the world without getting your account banned. Besides, you can also customize the route on the map to move along with a preferred speed.
What can you do with Snapchat Location Spoofer?
* Change your GPS location on Snapchat to any spot globally in one click.
* Plan a route on the map to move along at a customized speed.
* Also trick your friends with a fake location on other location-based social platforms, AR games, or dating apps, like WhatsApp, Facebook Messenger, Pokemon Go, etc.
* Hide or share virtual location and access geo-specific services on your iOS or Android devices.
* Other available features: Set accurate coordinate, save historical spots, pause anytime, etc.
* Work with all iOS devices and various Android brands (Android 5 to Android 10), like iPhone 13/12 Pro Max/12 Pro/12/12 mini/SE/11 Pro Max/11 Pro/11/XS Max/XS/XR/X, Samsung Galaxy S21/S21+/S21 Ultra, Google Pixel 5/4/4XL, LG G8X ThinQ/V40 ThinQ/LG V30 S+ ThinQ, Sony, Huawei, OPPO, Motorola, etc.
Note: The Mac version of this app does not support Android devices.
Section 1. How to change location on the Snapchat map on Android devices in one click?
1. Connect your Android device to the computer.
Install and open the Snapchat Location Spoofer on your computer and tap the Get Started button. Next, plug your Android device into the computer via a USB cable.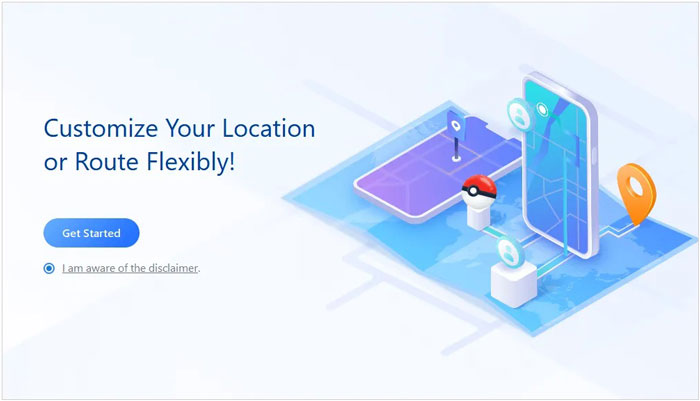 2. Identify your device and enable USB debugging.
When the system identifies your device, the Choose Your Device window will pop up. Always select the same Android device from the list if it asks you multiple times.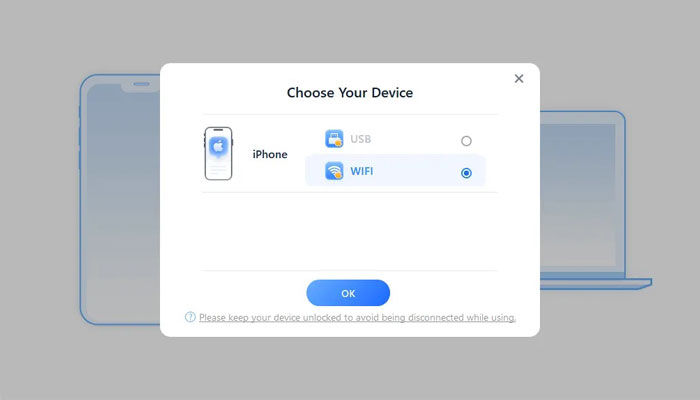 Later, open the USB debugging according to the guide in the program. Ensure that the Android phone's USB connection mode is Media Transfer Protocol (For LG mobile phones, it should be Picture Transfer Protocol). Generally, you can pull down the notification bar and find the USB connection mode option.
To enable the USB debugging on your Android device, open Settings > About phone > Build Number and tap the Build Number seven times to activate the developer mode. Then, enter the Developer option > find and turn on USB debugging (Note: Some Android phones will also need to enable the Allow to install apps via USB option.) > confirm the Allow USB debugging on your phone with OK.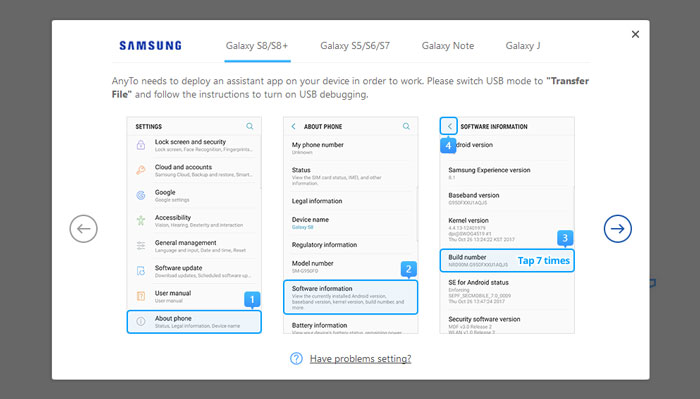 3. Change your location on Snapchat.
Pick Social mode on the interface and wait for the program to install AnyTo Assistant on your mobile phone. It doesn't matter if it does not appear on your Android phone. After installation, find the Select mock location app in Developer options and choose AnyTo Assistant.
Afterward, you can start to move on the map. For your convenience, you can keep the permission settings for next time.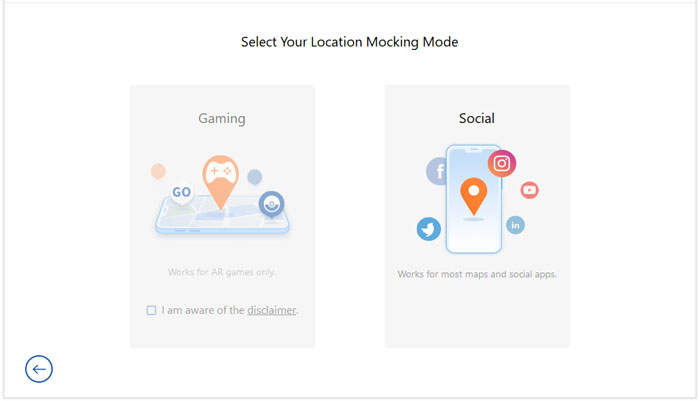 Guess you like: You can make a fake location on Twitter with ease, as long as you know these tips.
Section 2. How to fake location on the Snapchat map on iOS devices in one click?
1. Connect your iPhone to the computer.
After installing and running the Snapchat Location Spoofer on your computer, click the Get Started button and connect your iPhone to the computer via a USB cable. Then, unlock your iPhone and trust the computer if asked.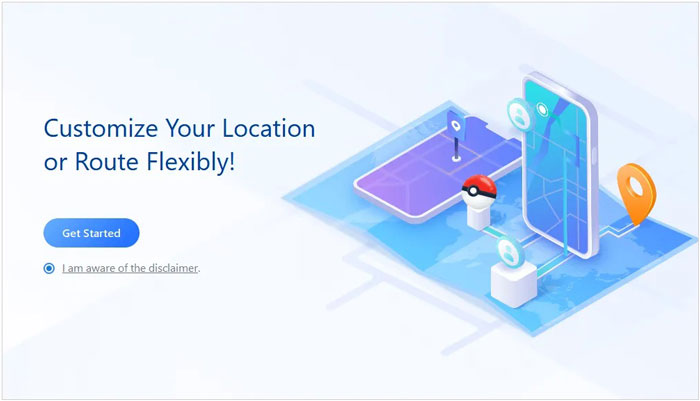 2. Select a destination on the map.
After the map is loaded, you can start to change your location. Choose Teleport Mode at the top-right corner, scroll your mouse to zoom in and out the map, and select the destination you want.
Or, you can also enter the address/GPS coordinates at the upper-left corner to search your destination.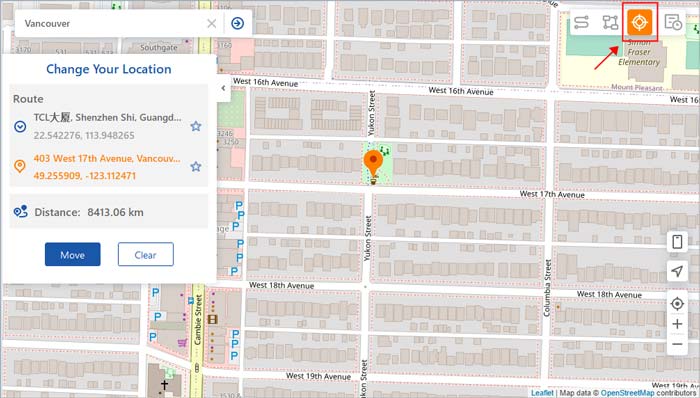 3. Change the GPS location in one click.
Once you select a destination, the sidebar will pop up and show the destination information, including pace name, coordinates, and distance. Tap the Move button below to change your location immediately. Then all location-based apps on your iPhone will change to that location.
Tip: If you want to recover your location, restart your iPhone to locate the real location.
Further reading:
Must-Have Phone Tracking Apps for Android/iPhone
Easy Pokemon Go Spoofing on iOS Devices in Top 7 Ways
3.2 How to Change the Location on Snapchat for iPhone with Xcode in 2021
Xcode is a combination of Apple's developer tools to develop software for macOS, iOS, iPadOS, tvOS, and watchOS. As developers usually test their apps as if they were in different regions of the world, you can also fake GPS location on Snapchat with it.
However, as its original purpose was to help app developers, Xcode may be complicated for the non-tech savvy.
Before you start changing locations on Snapchat, you will need:
A Mac.
Apple ID and password.
An iPhone with Snapchat installed.
How to change Snap Map location with Xcode?
1. On your Mac, install Xcode from Apple Store. Later, launch it and choose the Create a new Xcode project option on the initial interface.
2. Click Single View Application and offer it with an organization name and organization identifier. Once done, tap Next and store it on your disk.
3. Click the Create button. If a window pops up and alerts you, "No matching provisioning profiles found", tap the Fix issue button. Otherwise, continue to the next step.
4. Connect your iPhone to the Mac. Then you will see your project name and the device type at the upper-left corner. Choose your device type from the list, and it will start deploying. You may need to unlock your iDevice to go on.
5. Click the Debug option on the menu bar, select the Simulate Location from the list, and pick a city from a list of locations. Your iPhone's location will be in the city you choose.
6. Exit Xcode and verify the location in Maps.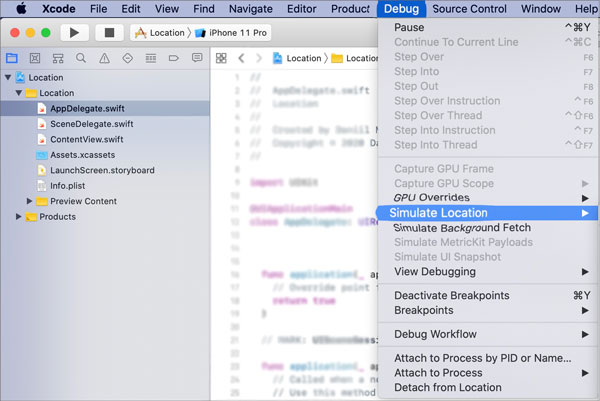 Note: You can change different locations without exiting Snapchat. And you only need to cancel your Snapchat after switching a location. But it may sometimes not work when you frequently change your location.
Read also: Want to change your location on Facebook Marketplace? Here are 5 feasible approaches for your reference.
3.3 How to Trick Snapchat Location on iPhone via Cydia Apps (Jailbreak Needed)
Suppose that your iPhone is jailbroken. In that case, you can spoof your location on Snapchat via Cydia apps. Note that you cannot adjust the coordinates within the app but change your position on Snap Map.
How to spoof your location on Snapchat?
1. Install Snapchat++ IPA and Cydia Impactor on your iPhone and connect the iPhone to your computer.
2. Load the Cydia Impactor, and it will find your iPhone.
3. Drag and drop the IPA into the Cydia Impactor and enter the iTunes credentials.
4. Check whether the app is now on your iPhone. Just go to Settings > General > Profile, and Device Management.
5. After looking for your iTunes account, tap Trust, and you will be able to load the Snapchat++ app now.
6. Once installed, tap the location icon at the upper-right corner and select the desired location.
7. Click the Confirm button. It will change the location on your Snapchat.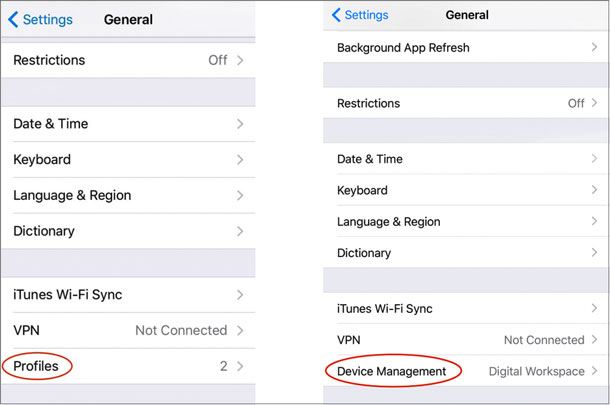 Note: If the app runs errors, close it and wait for a while. Generally, it will go without any problem.
3.4 How to Change Your Location on Snapchat on iPhone with iTools
You can also fake Snapchat locations on iOS devices via iTools. Let's check how to change your Bitmoji location on your iPhone.
1. Download and run iTools on your computer.
2. Tap the Toolbox section in the iTools window, select Virtual location, and input the location you want to move.
3. Tap the Move here button. The location on Snapchat has already been changed. You can do whatever you want under the new location. If you want to stop the fake location, tap the Stop the simulation button on the top-right corner.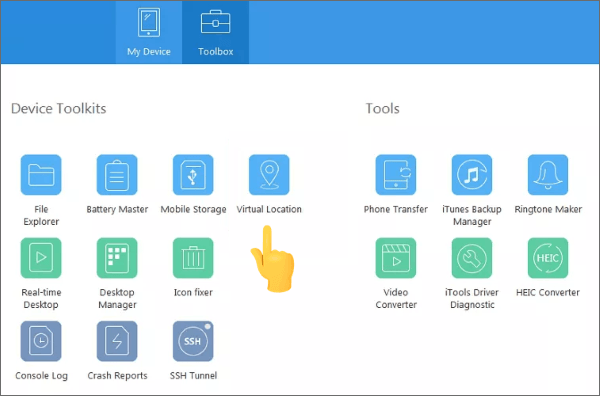 Read also: It is not a big deal that you forget your screen time passcode, since you can reset it effortlessly.
Part 4. How to Change Your Location on Snapchat on Android via Fake GPS Location?
If you use an Android device, you can use Fake GPS Location to change Snapchat location on Android. It is free to use and easily obtainable from Google Play Store.
How to set location on Snapchat via Fake GPS Location?
1. Install Fake GPS Location from Google Play Store on your Android device.
2. Open Settings > Location > make the Location mode to GPS only or Device only.
3. Open the Fake GPS Location app, enter a location in the search box, and tap the Play button.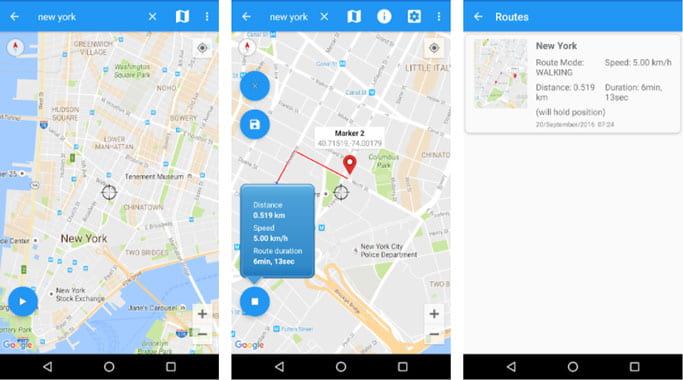 Extra Bonus: FAQs about Snapchat
1. Can I Sign into Snapchat without the App?
Of course, you can. You can sign in to Snapchat online with the website version. However, the online version does not show your Snapcode, and it is troublesome to send your profile to visitors.
2. Can Someone Track My Snapchat?
Technically, yes. Some spyware apps can easily view what you are sending on Snapchat.
3. What to Do if Your Snapchat Location Does Not Update?
Rarely, your Snapchat location does not update after faking your location. But if this happens on your phone, it is either a connection issue or an app glitch.
The first thing you can do is turning on the Wi-Fi option and connecting to a stable network. If it cannot solve the problem, try to power off and on your Android device.
Then, try another location-based app like Google Maps to check if your location is correct and updated properly. If not, go to the device Settings > switch your location off and on and update the Android OS.
Another thing is that you can update Snapchat if your other apps work properly. Also, if your Android phone runs a newer version of the operating system but the Snapchat does not update, there will be an incompatible issue, which causes the problem.
If none of these solutions work, don't hesitate to contact Snapchat support for help.
Final Thoughts
If you are more concerned about your privacy and wonder how to change your location on Snapchat, the solutions introduced above will have resolved your problem already. You can toggle on the Ghost mode on your Snapchat to hide your location or spoof a location via Snapchat Location Spoofer, which is easy, secure, and reliable to use and works for both iPhone and Android devices.
If you need technical support when faking locations, please tell us in the comments.
Related Articles:
15 Best Pokemon Go Spoofing Apps for iOS & Android Devices
How to Spoof Pokemon Go on Android Safely? (Quick Guide)
How to Delete Snapchat Messages for Good in These 7 Situations?
iTunes Backup Location: Where Do iTunes Store Backups and How to Change iTunes Backup Location? (Updated)
6 Feasible Ways to Spoof GPS Location on iPhone
How to Track/Change/Share Location on WeChat from iPhone 11/11 Pro/11 Pro Max