Getting root access simply means to become the super user of your device, making it do things it was unable to perform earlier due to manufacturer's imposed limits. It allows you to remove the apps which are going to bloat your memory, install the latest updates, and make changes to your device like a boss. After you root your device, your device will be truly and completely yours. All the limitations imposed by the manufacturer or carrier will be overcome, and you will become the sole controller of your phone.
There are several applications available to help you root your Android devices, such as vRoot, SuperRoot, Kingo Root and so forth. And here in this article, we are going to show you another rooting app - Framaroot.
What is Framaroot?
Framaroot is a one click rooting method that works across all Android devices and unlike the traditional rooting methods, require no time or knowledge. You don't even need to wait for a long time to root your device or have a complex knowledge about smart phones. You can use Framaroot with simple operations to do the work for you, and it doesn't take more than a few minutes. Anybody can root their Android phone with it - it's that easy! What's more, you can even unroot the device, all in but just one click!
How to Use Framaroot to Root Android phones?
First off, here are some of the things you need to do.
Backup your Android Device:
Before going any further, make sure to create a backup of your device to avoid any data loss. Here is a guide helping you how to backup your Android device on computer.
A Charged Battery:
A fairly charged battery is a must because the process of rooting really drains your battery. So we would suggest a minimum charge of 80%.
Now, you are ready to use Framaroot. Here is how you can use Framaroot to root your Android phone.
Step 1 - First off, you need to download Framaroot (https://framaroot.net/) to your Android device .
Step 2- Open the app and then click on Install SuperSU. You will then be able to root your device. Don't get confused if you see a good many options - we recommend you to try the Boromir option as that works across most Android devices.
Step 3- Wait for the rooting to complete. This could take a few minutes. Once done, a notification pops up and you just need to select "OK". That is about it!
If your rooting fails, no need to worry. Instead of choosing Boromir, choose the other options - namely, Faramir and Barahir.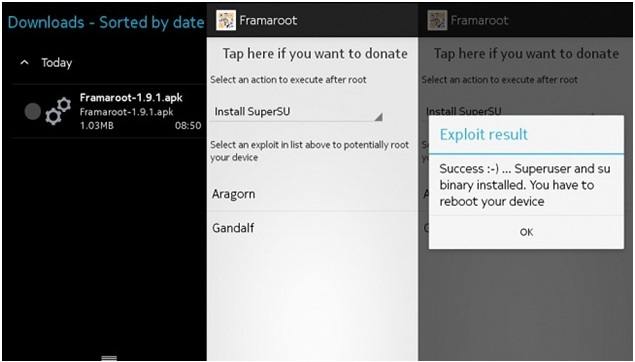 How do you unroot your device with Framaroot?
You can even unroot your device in just one click. Here is how you can do it.
Step 1- Launch the Framaroot app on your Android phone.
Step 2- You need to now select the Unroot option.
Step 3- Tap the OK option and you are done!
That is all that you need to do to root your Android phone with Framaroot. It's simple and it's easy and doesn't require much time.
Related Articles:
How to Root Samsung Galaxy S4 GT-I9500?