Resolved! Android Stuck on Boot Screen
It can be quite irritating when your phone constantly gets stuck on the boot screen. You cannot get past it and all your data and contacts are out of reach. How to resolve Android stuck on boot screen problem?
Part 1: What causes Android to get stuck on Booting?
Most of the times it happens after you update the OS or any app which causes a conflict. Other causes can include conflicting apps, viruses or spyware and manipulations with your OS. Sometimes even a corrupted OS leads to the problem.bAt other times it could just be a poor internet connection or the fact that your device had some injury recently. In any case, you wouldn't want that to happen. What do you do?
We will tell you how to fix the problem in a few steps. But before that you need to secure your data. Let's begin with that.
Part 2: How to Recover Data from Stuck Android?
Here's a versatile solution - Broken Android Data Extraction, for all your stuck Android data recovery needs. You can successfully recover your Android content in case of broken or unresponsive screens, system malfunctions and failures, black screens, screen stuck on booting or download mode and so on. The software is perfect for recovering all your contacts, texts, images, videos, call logs, songs, Whatsapp messages and more.
Just download it and get back your precious data.
More Similar Guides:
Recover Data from Bricked Android
Recover Lost Files from Broken Samsung
Here is a look at the few simple steps that will help you. Don't remember it isn't that difficult even if your phone does get stuck and you don't have to worry about taking it to a repair shop!
Steps on Restore Samsung Data without Enabling USB Debugging
Step 1. Launch the Broken Android Data Recovery software on your desktop. Using the USB cable, connect the malfunctioning Android to the computer. Next look for the "Broken Android Phone Data Extraction" option on the bottom left part of the interface and click it.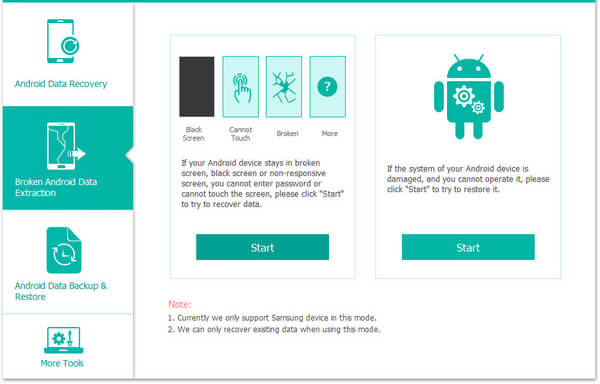 Step 2. Select the fixing mode and confirm your device info
If the connected Samsung device is broken due to black, broken or unresponsive touching screen, you can click "Start" button to confirm your phone's name and model, then go to next step.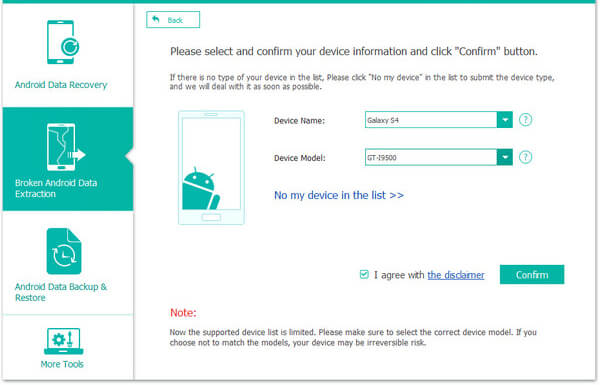 As your Android is stuck at booting we have to select the "Fix Device" option. You will be presented multiple options showing causes of Android malfunctioning. Choose the "Stuck in the Startup Screen" option which is the leftmost.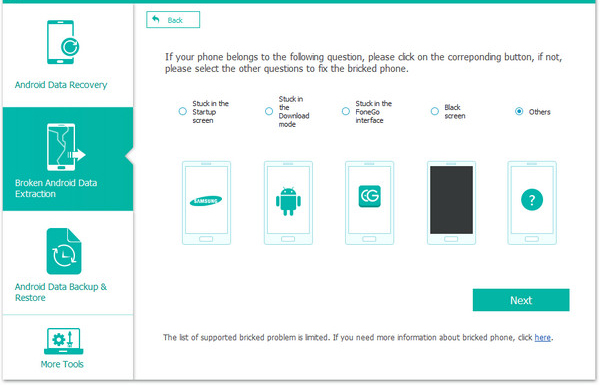 Step 3. Now just do as the software instructs you to initiate download mode on your Android. Then hit "Start" to automatically search for firmware to resolve the booting problem.
Step 4. Now you will see all your Android data presented conveniently in different categories. You can recover your contacts, messages, videos, texts, pictures and many more files. Just check the box next to the categories and click "Recover".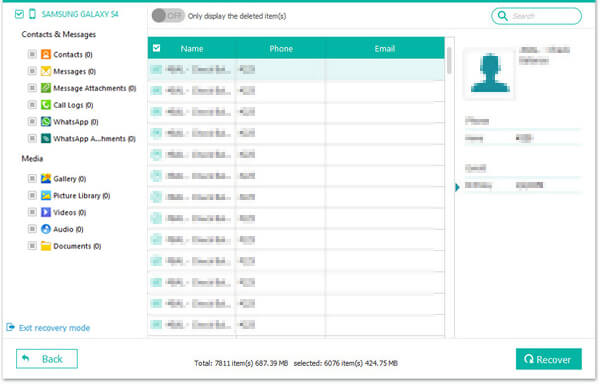 Note: If you have lost data due to OS issues, you have to run the "Android Data Recovery" once your phone is fixed to recover your content.
How to Fix Android stuck on Boot Screen?
Step 1. Depending on your Android model, you have to simultaneously press the Volume Up/Down and Power button. Also press the Home button if your model requires it.
Step 2. Remove fingers from all buttons other than the Power when the Android logo is displayed on the screen.
Step 3. Navigate to "Wipe cache partition" using the Volume Up/Down button and use the Power button to activate it.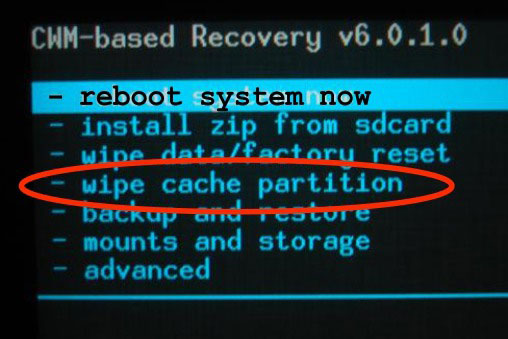 Step 4. After the wiping, navigate to "Wipe Data/ Factory Reset" and choose it with Power button.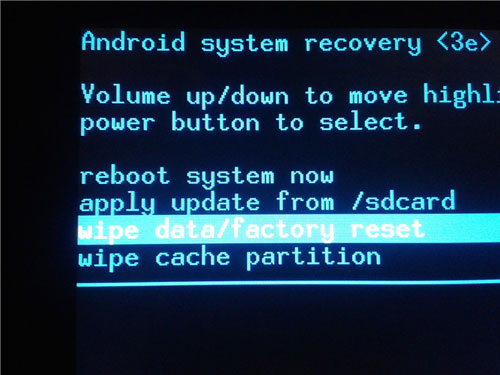 Step 5. Now just restart the Android to check if the problem is fixed.
That is all that you need to do. Your phone should start working normally now. It was easy, wasn't it?
Related Articles:
Samsung Galaxy Desktop Manager Software