"Why does my Android phone keep shutting down?"
"Why does my phone keep shutting off?"
"Why does my phone randomly turn off?"
"Why does my phone keep turning off by itself?"
"Why does my phone keep shutting off randomly?"
"Why does my phone keep shutting down?"
...
Although the latest Android versions have made your phone more stable and smoother to use than before, some people may still encounter Android phone keeps turning off problem now and then. Well, various reasons may cause this issue. If your phone keeps turning off with full battery on Android, check the following content to figure out the reason and get it fixed quickly.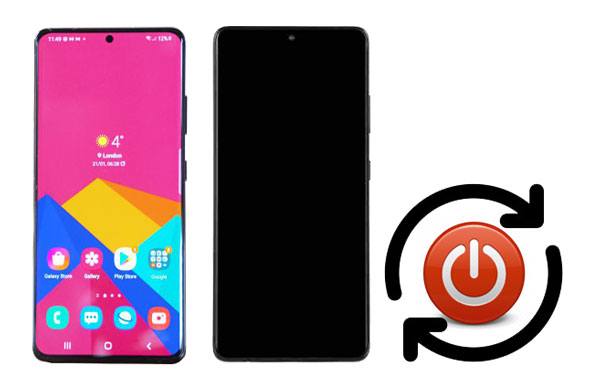 Part 1. Why Does My Phone Keep Turning Off?
Part 2. How to Fix Android Keeps Turning On and Off?
Part 3. The Ultimate Way to Fix Phone Keeps Turning On and Off
Part 1. Why Does My Phone Keep Turning Off?
If you are not sure why your Android phone turns off by itself, go through the possible reasons below:
You have installed apps that contain bugs.
The old device battery.
Interrupted app or Android OS update.
Device internal self-reset.
High CPU usage in the background.
Scheduled power on and off settings on your device.
Processor glitches or firmware bugs.
Insufficient storage memory.
Water-damaged hardware.
Install several apps simultaneously.
High battery temperature.
Poor connection between the battery and its terminal.
Part 2. How to Fix Android Keeps Turning On and Off?
Now that you've got the reasons, you can follow the tricks below to fix the Android keeps shutting down issue step by step.
Trick 1. Check the Battery Status
If your Android turns off randomly, again and again, there may be something wrong with the battery. So, you can check the battery status with the following steps:
Open the Dialer on your Android phone and dial *#*#4636#*#* on the dialer.
Wait for the Battery Info screen to appear. (

Note:

If this does not work, try entering *#*#INFO#*#* on the dialer.)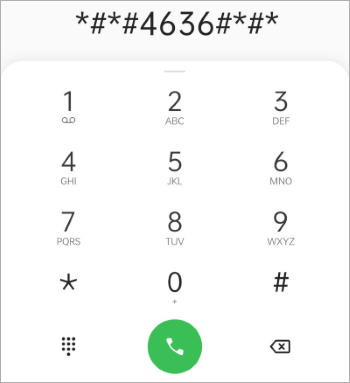 If it shows your battery is in poor health, you should charge your device right now. But if everything seems in good status, continue to the next method.
Trick 2. Check If You Have Enabled Automatically Switch Off
Sometimes the automatic switch-off settings on your Android device may also make your Android phone keeps cutting out. Therefore, to fix this problem, you should turn it off.
Open Settings on your Android phone.
Scroll down to select Utilities.
Find the option Scheduled power on/off and ensure that you have disabled the Power on and Power off options if they are not already.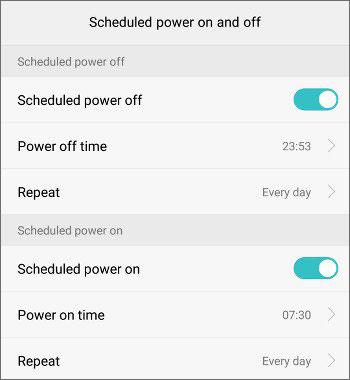 Trick 3. Check If Your Phone Is in Sleep Mode
For that, press the Power button first to check if your phone can switch off normally. If yes, go to Settings > Display & gestures > Display, gestures & buttons > Display > Advanced > Screen timeout and select an inactivity duration.
What if the sleep or screen timeout option is not available on your phone?
In some Android devices like Redmi phones, the Sleep option may hide under Lock Screen and Security. For these devices:
Open Settings > choose Lock Screen and Password under System & Device.
Tap the Sleep or Screen timeout option and set the duration for 30 minutes or longer available.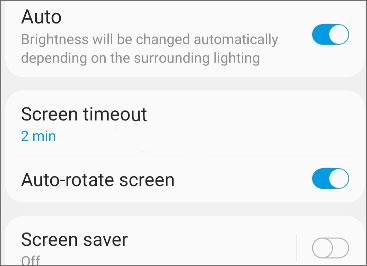 See also: Want to fake your GPS location on your Android gadget? If so, you can utilize these useful methods.
Trick 4. Charge the Android Device
If your Android phone shuts off randomly, you can also check if the battery is enough. If not, plug your device into a nearby power source via your charging cable and keep it fully charged for at least an hour.
If your phone does not charge, try to move the charger to a different wall outlet or using another AC adapter or cable. Or you can place it on a wireless charger if supported.
Trick 5. Check Storage & Clean Space
Most Android phones allow you to check how much storage is available in Settings. But Settings may vary by phone. For more information, please get in touch with your device manufacturer for help.
Also, your phone may start turning on and off when the storage is less than 10% left. So, if your device is running on low storage, open Settings and go to Storage to free up more space on your device.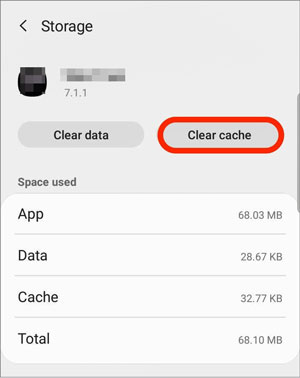 Trick 6. Restart Your Phone
If your Android phone keeps turning off with full battery, you will only need to restart it. It may sound silly, but switching it off and on solves the problem in some cases.
There are many ways to restart your phone. For example, you can press and hold the Power button and select the Restart option on the screen to reboot it.
If it doesn't work, you can hard reset your device by pressing down the Power + Volume down buttons together until the fast boot mode screen appears. Next, press the Power button again to start up the phone.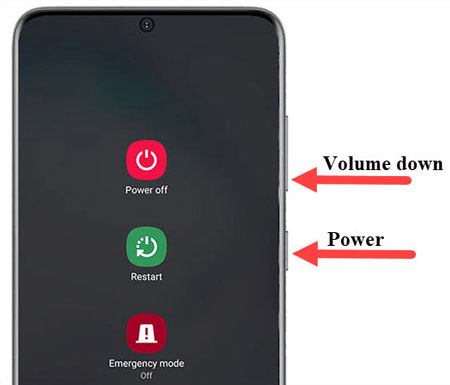 Trick 7. Factory Reset Your Android
You can also factory reset your Android device to fix the system glitches. However, the resetting process will erase all settings and content on your phone. Thus, you'd better back up your device data to a computer or upload it to a cloud service like Google Drive if necessary.
To factory reset your device:
Navigate to Android's Settings > System > Reset.
Choose the Erase all data (factory reset) to reset your phone.
After resetting your device, you will need to log in to the Google credentials to set up your phone as a new one.
Trick 8. Remove the Phone Protective Case
If you are using a protective case on your Android device, take it off temporarily to ensure that it does not cover the phone sensors or buttons. If it fixes the problem, then you don't need to move on further.
Trick 9. Update the Android Version
When the Android OS is not updated for a long time, several issues may come out on your device, including the Android phone keeps turning off. Hence, check if there is a new update available on your device or not.
Open device's Settings > About > Software updates.
Tap the Check Now button to check for an update.
Download and install the update if available.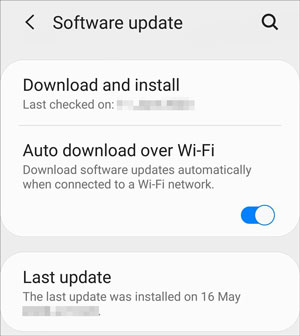 Trick 10. Boot Your Android into Safe Mode
Booting your Android phone into Safe mode is another way to resolve phone keeps turning on and off since Safe mode only allows the built-in apps to run. Suppose you can use your phone in Safe mode normally. In that case, consider removing unnecessary apps which slow down the phone processor and cause your phone to turn off randomly.
To boot your phone into Safe mode:
Press and hold the Power button until the power menu displays on the screen.
Click the Power off option for 10 seconds and tap OK on the pop-up window to confirm the operation.
Your phone will start rebooting. When you see Safe mode at the lower left or right corner of the screen, you're done!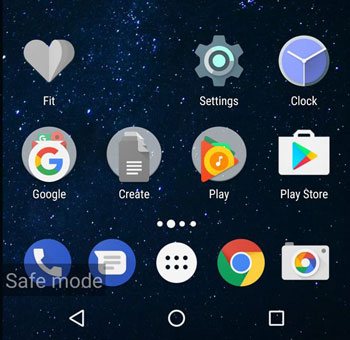 Trick 11. Uninstall Malware or Incompatible Apps
If you often install apps from unknown sources, there is a high chance that your phone has gotten virus attacked. So, to fix the Android phone that keeps turning off issue, you need to remove some malware or incompatible apps from your device immediately.
Access Settings > Apps & notifications > select the app you want to uninstall.
Click Uninstall to delete it from your device.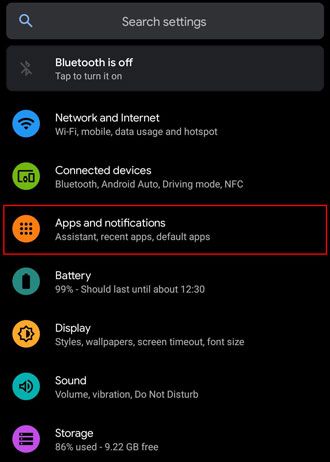 Besides, you can also install a reliable security app for your Android device.
Trick 12. Close Apps Not in Use
Too many apps running in the background can also arouse the problem. Accordingly, you can force stop apps not in use from Settings or by swiping up the screen or holding down one of the three shortcut keys at the bottom.
Trick 13. Turn off Overheating Services
Also, the overheating Android device will give rise to a random shutdown and even damage the components inside. At this moment, you can check this post to learn how to cool down overheating Android phones or bring your device to the Android brand service to get it repaired.
Trick 14. Contact the Manufacturer
Assume that you perform the DIY tips, but nothing works. Then you should call the device manufacturer and follow its advice. Even if most devices come with a manufacturer warranty that covers problems like Android phone keeps turning off, ensure that you don't cause the problem by yourself and your device does not severely damage.
Additionally, if you have purchased insurance for your device from a retailer like Best Buy or your manufacturer, take full advantage of the insurance to make the payment as low as possible.
For your information, below are parts of the Android customer service numbers:
Samsung: 1(800) 726 - 7864
LG: 1(800) 243 - 0000
Google: check Tips & Support in Settings
Motorola: 1(800) 734 - 5870
OnePlus: 1(833) 777 - 3633
Part 3. The Ultimate Way to Fix Phone Keeps Turning On and Off
Suppose you consider contacting the device manufacturer complicated and expensive. In that case, you can try the ultimate tool - Android Repair to fix the problem in one click before taking your phone to the nearby service center. It can fix various Android system issues to normal at a high success rate and require no technical skills during the whole process.
The highlights of Android Repair:
* Fix all Android issues in many common scenarios: Android phone keeps turning off, black screen of death, get stuck in a boot loop, bricked Android devices, apps keep crashing, Play Store not working, etc.
* Require no tech skills, and everyone can handle it without difficulties.
* High success rate, fast speed, and highly secure.
* Work with over 1,000 Android models from carriers like AT&T, T-Mobile, Orange, Verizon, etc., including Samsung Galaxy S10/S9/S7/A9s/A8s/A6s/A90, etc.

How do you stop your phone from turning off by itself on Android in one click?
Note: As the repair process may erase the device data, we highly recommend you back up your Android phone before moving on.
1. Connect your Android device to the computer.
After running the Android repair tool on your computer, click the System Repair module from the initial interface and plug your Android device into the PC using a USB cable. Then, select Android Repair among the three options.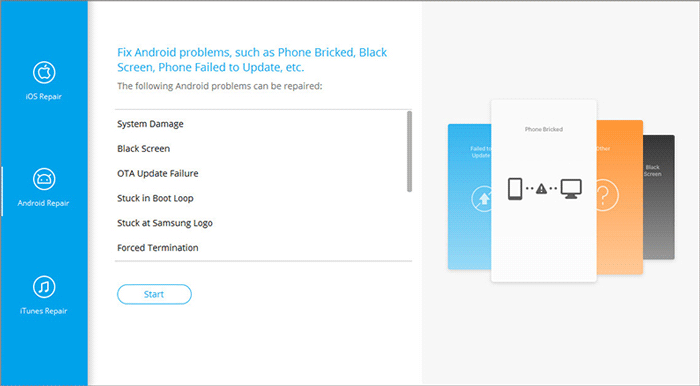 2. Confirm the device information and operation.
Please select the correct device brand, name, model, etc., from relevant columns and check I agree with the warning. After that, hit the Next button, type 000000 on the pop-up window, and press the Confirm button.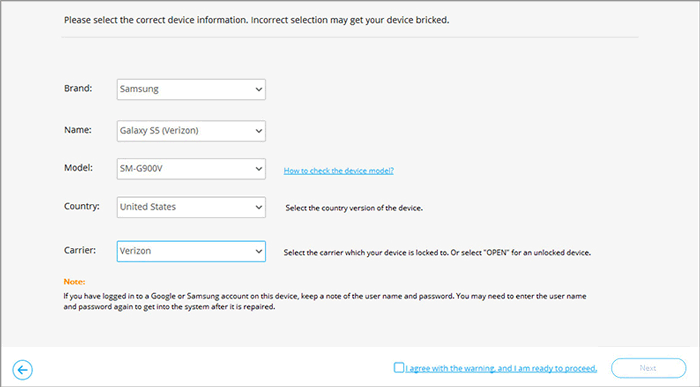 3. Fix the Android phone that keeps turning off.
Follow the on-screen directory to get your device into the Download mode. Afterward, tap Next to download the firmware necessary for repair. After downloading and verifying the firmware, the program will automatically fix the Android phone that keeps turning off.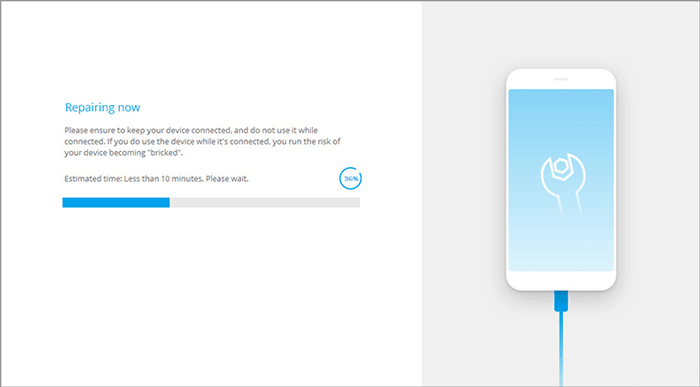 Further reading:
Top 9 Android Phone Repair Software to Fix Common Android Issues
Samsung Phone Hang at Startup Screen? Check 11 Solutions Here
The Bottom Line
Don't worry if your Android phone keeps turning off randomly. With the fifteen effective solutions introduced above, you will easily free yourself from trouble. Notably, Android Repair is the best way to repair the problem yourself, which has a higher success rate and is easier to use than any other method. Therefore, go giving it a try. Likely, you don't need to contact your manufacturer after that.
If you need technical support during repair, please describe your problem details below.
Related Articles:
How to Fix Android Phone Blue Screen of Death?
9 Ways to Fix Android Tablet White Screen of Death
How to Bypass LG Lock Screen without Reset? (Solved)
How to Recover Data from Water Damaged Android Phone in Every Way?
5 Effective Ways to Fix Android Black Screen of Death Issue
Troubleshooting for 'My Text Messages Disappeared on My Android Phone' (Reliable & Easy)