One of the problems today is what happens if your Smartphone goes on the fritz. You have lost all your photos, your addresses, and your personal data. If you are using the advanced features of your android OS, you may have lost even more. The usual way was to use Disk Digger to recover your data. However, there are problems with this approach as we will see later. Disk Digger is a great way to recover lost files on a disk drive, USB, and even under Linux. It has now branched into Android as well and offers two versions to help you do just that. It is reasonably efficient in finding most of the deleted or damaged files on your Smartphone and recover them back fast.
Why we need a DiskDigger alternative tool?
It will only work on rooted devices and doesn't have a lot of smarts and is almost entirely manually controlled. This for the non-technically inclined could prove disastrous. You have to restart it multiple times to get it to look at your device to find what you have lost. (Which the website write-up seems to make you think is a normal occurrence). Disk Digger can also save recovered files to alternative location including to your memory card, which would seem the most logical choice. Again, it requires the user to specify. This time consuming and you should be able to set it up beforehand. This is the 21st century. For those reasons, we'd better search for an alternative tool to replace the DiskDigger.
What's the best alternative tool to DiskDigger?
Coolmuster Lab.Fone for Android lets you recover your Android data with a user-friendly Graphical User Interface. 3 clicks and your Windows platform accesses your Android devices and begins to retrieve you lost data, SMS messages, contact lists, and other data for you from your Android phones or tablets. It scans your Android device's memory too and after it is done it categorizes what it finds for you in a professional manner that lets you pick and choose what you want to recover. Lab.Fone for Android Guarantees 100% that their product will Risk-Free recover your data. It works with Android brands like Samsung, HTC, LG, Sony, Motorola, ZTE, and Huawei and compatible with the Android OS versions 2.1 up to 4.1 and 5.0 and 5.1 is in the offing as well.
The below is an example of how to use Coolmuster Lab.Fone for Android. This program is simple to use and gets your data back with very little fuss or muss. You first download the product and install it on your PC from the button below.
How to Restore Your Android Smartphone/Tablet Data without DiskDigger
Step 1. Connect your Android device to computer
Connect your Android phone with your computer with a USB cable. Launch the DiskDigger alternative - Lab.Fone for Android on the same computer. Then, you will be asked to enable USB debugging on your phone.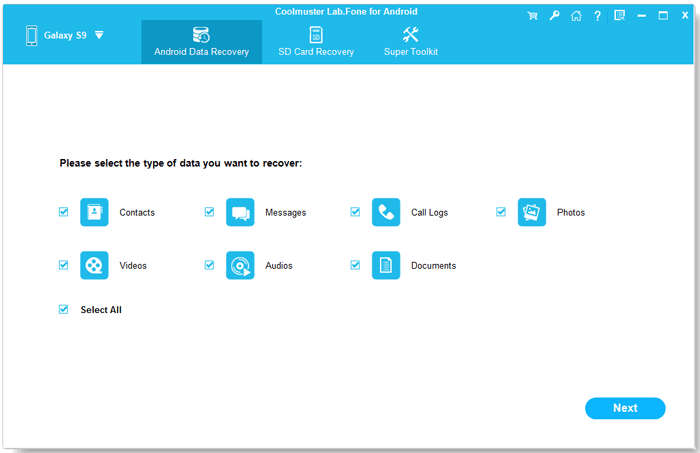 Step 2. Turn on USB Debugging on your Android phone
If you only want to recover data from external SD card from your Android, you can neglect this step. But if you need to recover contacts and text messages that in your Android internal memory, you need to turn on USB debugging on your Android first.
For Android 2.3 or older, Go: "Settings" < Click "Applications" < Click "Development" < Check "USB debugging".
For Android 3.0 to 4.1: Enter "Settings" < Click "Developer options" < Check "USB debugging".
For Android 4.2 or newer: Enter "Settings" < Click "About Phone" < Tap "Build number" for several times until getting a note "You are under developer mode" < Back to "Settings" < Click "Developer options" < Check "USB debugging"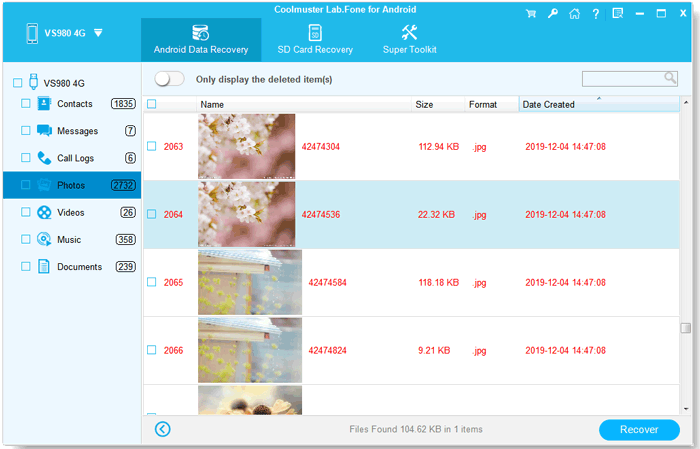 Step 3. Scan for lost or damaged Android files
Move to your Android device and tap on the "Allow" icon on the pop-up window. Then, it will be detected by the program finally. All the contained files in your Android device will be displayed in clear categories, including text messages, contacts, photos and videos. Just choose those you want to recover.
Step 4. Start to recover the selected Android data
Finally, you can click the "Recover" button and save the selected files to your computer. You can choose an output location for saving the recovered files on your own.
Related Articles:
How to Save Text Messages from Cell Phone to Computer