A friend of mine have transitioned from a BB 9810 to the Samsung Galaxy S4 and tried every mean to transfer everything important on his old BlackBerry phone to the new Samsung device. He used to make a Gmail account, downloaded the Google Sync and wish to sync the BlackBerry phone contacts to the Google. However, there is no more Google Sync for BlackBerry since June 2012. So he has been stucked with carrying the BlackBerry phone and Samsung at the same time now. Well, if you are the person who has the same trouble as my friend, your mind-aches can be solved now! Here is how to transfer contacts, as well as other phone data, from Blackberry to Samsung Galaxy.
Files Transfer between BlackBerry and Samsung with Phone Transfer tool
No need to find the answer off the top of your head because you can deliver all the transfer process to BlackBerry to Samsung Transfer, which is professional in transferring different types of data between smartphones in different operating systems. Armed with this marvelous tool, you can transfer contacts, SMS, photos, videos, music, apps, call logs and more from BlackBerry to Samsung, or Samsung to BlackBerry. It supports all Android, iOS, BlackBerry and Symbian mobile phones. It can help you accomplish the whole data transfer between BlackBerry and Samsung in just 3 steps, quite easy and efficient. Following is the details of how to transfer by using BlackBerry to Samsung Transfer.
Similar articles:
Move Text Messages between BlackBerry and Samsung Phone
Switch Contacts between BlackBerry and Samsung Galaxy S5/S4/S3
To get started, you need to download and install the BlackBerry to Samsung data transfer software by the button here. Here we'll set the Windows version as an example. If you are a Mac user, you can choose to download the Mac version.
Step-by-step Tutorial Shows How to Copy Data between Samsung and BlackBerry
Preparation: Backup BlackBerry to computer
First of all, install BlackBerry Desktop Software and launch it on your computer. Connect your BlackBerry phone to the same computer's USB ports via a USB cable and click "Backup Now" option to backup your BlackBerry device on your computer.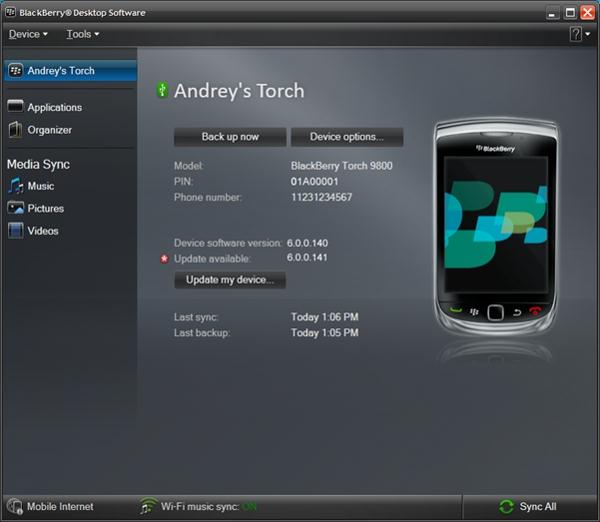 Step 1. Launch the BlackBerry and Samsung Transfer Tool
First of all, let a USB cable do you a favor to connect the Samsung phone to the computer. Launch the installed transfer software and you will see its main interface like the below picture. Just Choose Restore from Backups option from the main window and click "Start" to continue.
Step 2: Choose the files you want to transfer
Then, the program will automatically detect the connected mobile phone and the backup file for your BB, and display them on the window side by side.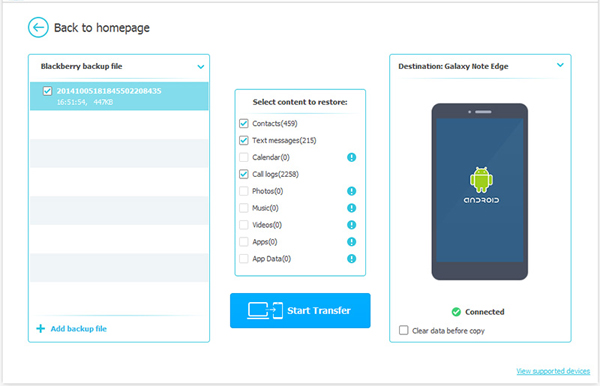 Step 3. Start to transfer BlackBerry data from/to Samsung
All transferable files are categorized here, like videos, music, photos, contacts, SMS, call history and so forth. Just tick the file types you want to transfer and the files you want to transfer and click "Start Transfer" to begin the data transfer process.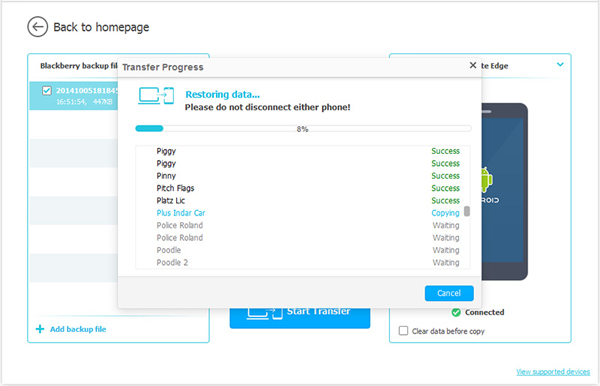 Well done! All you wanted files in BlackBerry have been moved to Samsung successfully. BlackBerry to Samsung Transfer is no doubt the best assistant to help you do the file transfer between different mobile phones.
Related Articles:
Transfer Contacts from Samsung Galaxy Note/S to Computer
Transfer Contacts between Android and iPhone
How to Transfer Pictures from Android to Android?