I have stored many beautiful music in iTunes before and now I want to transfer them all to my newly bought Samsung Galaxy Tab S T800. I haven't got a clue about the music transfer and I also worry about the iTunes music can't be played on Samsung tablet due to audio format compatibility. Can anybody tell me how to play iTunes music on Samsung tablet?
We know Apple's iTunes is mainly produced to manage and sync files with various iOS devices like iPhone, iPad and iPod. But nowadays, with the more and more popular of Android, many Apple users switch from iPhone or iPad to Android phone or tablet and live happy with Android OS. In that case, they have further request on transferring music files from Apple iTunes to Android tablet for enjoyment. Well, putting music into Android device is extremely easy and you can try many different methods, but if you need to transfer music from iTunes to Android tablet, you may feel confused.
People Also Read:
How to Transfer Android Music to iPod
How to Sync Android Phone with Tablet (iPad & Android Tablets)?
Few people know Apple iTunes actually has a media conversion feature that allows users to convert and transfer music files to iPad, iPhone and iPod, and now it even enables you to create audio files for playing with Android phones and tablets. We know that Android OS supports playing audio files in MP3 and AAC formats. iTunes' media conversion feature is able to convert audio files to either format that works equally well with Android platform. Therefore, with the help of iTunes' media conversion ability, you can easily transfer and play iTunes music on Android tablet without the help of any other additional tool.
Several Clicks to Copy Music/Songs from iTunes to Android Tablet
Step 1 - If you are using a Windows PC, launch iTunes and go to click the "Edit" menu. If you are using a Mac computer, just click the iTunes menu. Press on "Preferences". In the General tab, just choose the button of Import Settings.
Step 2 - Click the arrow of Import Settings and choose either "AAC Encoder" or "MP3 Encoder" from the list according to your need. Just choose the format you need and click the "Settings" menu to customize the compression quality if needed. After that, click "OK" to go to the next step.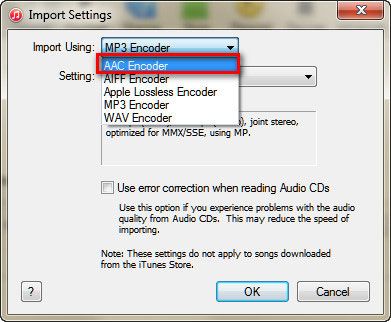 Step 3 - Just leave the Preferences window and go to the iTunes Library. Find the audio files you want to convert and select them. If you want to convert multiple audio files at the same time, you can hold the Ctrl key in Windows or the Command key in OS X to select them.
Step 4 - After selecting all the music files you need, you can click the Advanced menu and click on either "Create MP3 version" or "Create AAC version." based on your format choice in the Preferences window in the above.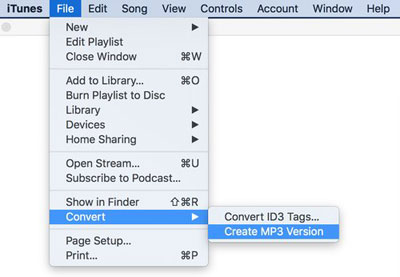 Step 5 - iTunes will start the conversion immediately and finish it soon. You can check the conversion progress in the top of the panel. Newly converted items will appear alongside the original versions in the iTunes Library.
Step 6 - Use a USB cable to connect the Android tablet to the computer and tick off the "Turn on USB storage" option when it appears on screen. Open the device's memory from the OS X desktop or the Windows "Computer" Start Menu item.
Step 7 - Go back to the iTunes window, right-click on the converted files in iTunes and choose "Show in Windows Explorer" or "Show in Finder" to open the converted audio files. Just drag these files into the Music folder on the Android device's root directory and after that, you can play the music files with your Android Music app freely.
Additional Tips: How to Transfer Music from iPad/iPhone/iPod to Android?
If you want to transfer music and songs from iPad, iPhone or iPod to Android phone or tablet directly, you have to depend on third-party application called Phone to Phone Transfer. It is the most excellent phone to phone data transferring tool that enables you to share data like contacts, text messages, call history, photos, videos, music and more between two phones with one click. It supports Android, iOS, Symbian and BlackBerry systems. Have a view on its primary interface like the following picture: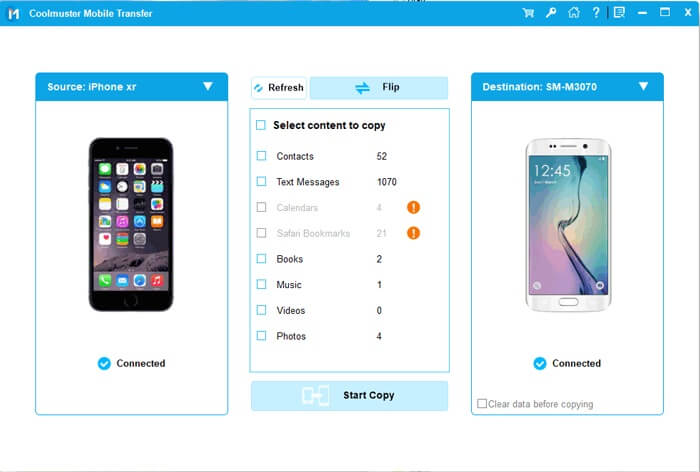 Click the following button to get the Phone to Phone Transfer for free:
Related Articles:
Top 6 iTunes Alternatives for Android in 2023
2 Solutions to Transfer Music from Android to iPhone
Transfer Contacts from Samsung Galaxy Note/S to Computer