The Top-Chosen Worthwhile Methods to Backup Contacts from Android Device
The backup of data from Android device is a common action undertaken, but it is often not undertaken correctly. The backup of data, such as contacts and photos, does not take a long time and can be performed efficiently when the right method is selected. If you want to backup data, without having to do it several times due to applying a questionable method that lacks effectiveness, the following information will come in handy.
Part 1. How to Backup Contacts on Android with Android Assistant
Part 2. Backup Android Contacts to Google
Part 3. Backup Contacts from Android to SD Card or Drive
Part 4. Backup Android Contacts to CSV File via Contacts App
Part 1. How to Backup Contacts on Android with Android Assistant
When compared to all software available that is geared toward the backup of data, Coolmuster Android Assistant has continued to be the top choice. With one click, you can backup contacts from Android to computer, either it be PC or Mac. It supports the backup of Android contacts to BAK, Outlook, VCF, HTML, CSV, and XML files. It is one of the easiest programs on the market to implement.
With the aid of Coolmuster Android Assistant, you can backup Android contacts to PC extremely fast. Numerous individuals refer to it as a game-changer to backup contacts Android. Most agree with this statement. This is best way to describe it. Besides allowing you to transfer contacts, you can also transfer other important data. You can multitask with this software, which makes it even more worthwhile to put to use. Besides, it works for almost all Android devices and tablets, including the latest Samsung Galaxy S9/S9 Plus/S8/S8 Plus, etc.
There are just a few steps that should be followed so that Coolmuster Android Assistant can start the backup contacts Android.
Steps to Undertake:
1. If you have not already done so, download Coolmuster Android Assistant on computer. As previously mentioned, it does not matter if you have a PC or Mac; anybody can take advantage of it. The downloading process only takes a few minutes. After completion, launch it to begin the backup Android contacts to CSV file or whichever other file of your liking.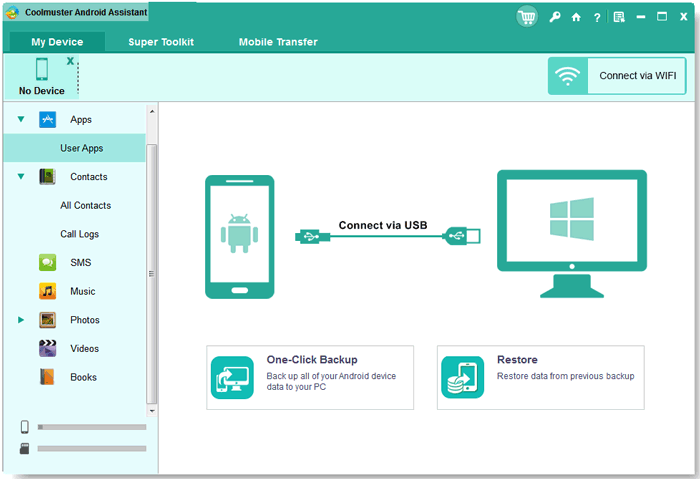 2. Connect device to computer with the aid of a USB cable so that software can detect it. Once it does, you will now need to select the data you want to backup. Thoroughly go through each file to ensure that "my contacts backup Android" goes accordingly. There is nothing worse than performing an Android phone contacts backup, only to find out not every contact was transferred.
It is always a good idea to double-check that everything is in order to avoid performing process again and again, as time is very valuable. The creators of Coolmuster Android Assistant program are aware of this, hence why it is so rapid.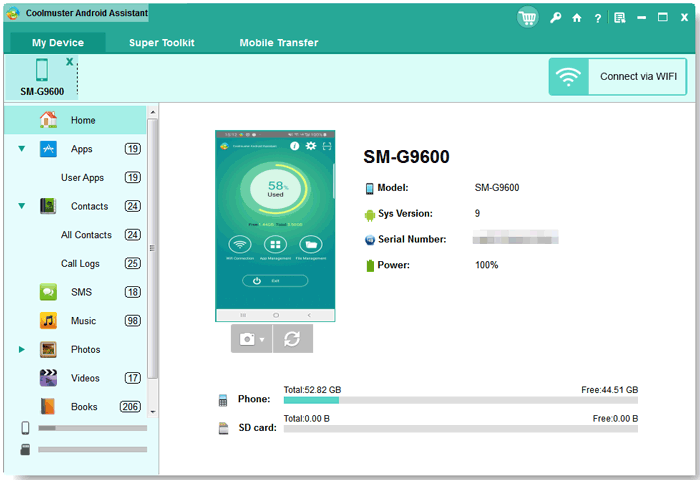 3. Once you have gone through over everything and thus are ready for the transport to come to pass, click on "Export". This is the final step. The time that it will take for it to complete will depend on the amount of data chosen; nonetheless, Coolmuster Android Assistant is one of the fastest programs, which means that it will not take as long as when using other ones that are geared toward the backup of data.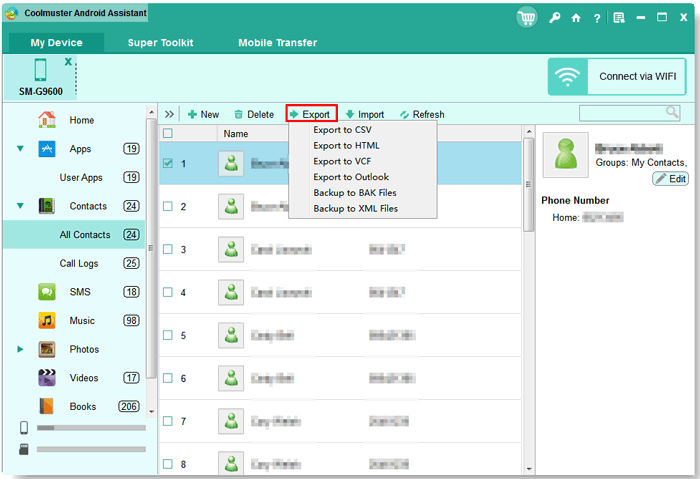 Alternatively, you can also choose the One-click Backup method of Coolmuster Android Assistant to backup contacts on Android. After having your Android phone recognized by the program, simply go to "Super Toolkit" > "Backup" > check "Contacts" > "Back Up" to complete the whole process with one click.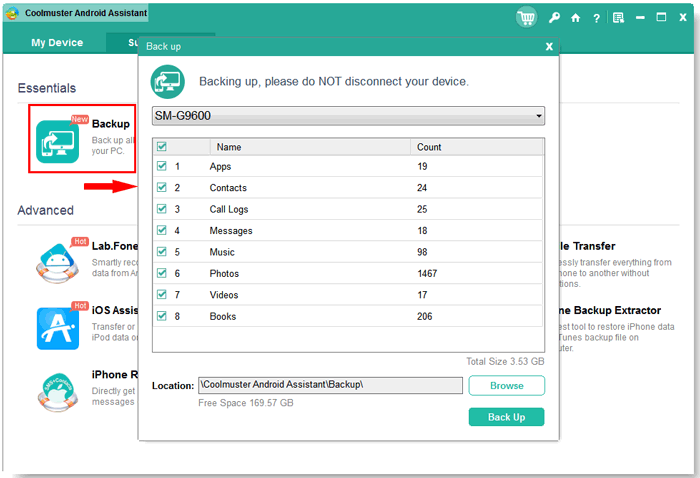 By implementing Coolmuster Android Assistant, the question "How to backup Android contacts to PC?" will no longer be asked. Try it and see for yourself.
See More: Backup and Restore Android Contacts with 1 Click
Part 2. Backup Android Contacts to Google
How to backup contacts Android to Google? Quite simple! This has become one of the most popular methods among users, which is not shocking due to it being linked to Google. As you know, everything that Google introduces to the public does not fail in garnering attention.
Google has become a company that always tries to offer first-class solutions to help people better their lives when it comes to technology aid. This time around, they have been able to assist with how to backup contacts to Gmail from Android. Numerous people have put it to use to keep their data safe in the case something occurs to their Android devices.
Steps to Undertake:
1. If you have not already done so, create a Google Account, as this is the only way you will be able to find out how to backup Android phone contacts to put it into practice.
2. Open device's "Settings" app.
3. Click on "Account & sync" and then select Google account.
4. Click on "Sync Contacts". That is all there is to it to. You will no longer have to ask "how to backup contacts to Gmail on Android?'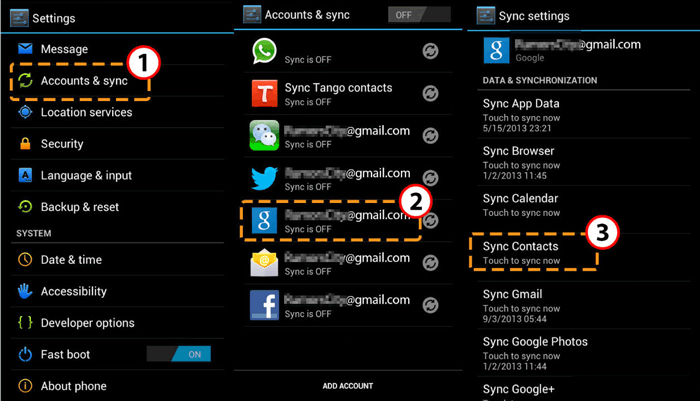 Part 3. Backup Contacts from Android to SD Card or Drive
This is one of those methods that have remained present for a long time. It has stayed around due to it being a simple method that does not take a long time for one to begin noticing its benefits.
Steps to Undertake:
1. On device, open "Contacts" application and then proceed to click on the menu button in order to acquire access to the variety of different operations that can be performed.
2. To obtain different options, click on "Import/Export".
3. Choose "Export to SD card" in order to generate a vCard file of contacts. This will be stored on SD card and can certainly be transferred to some other location by simply copying and pasting. This is how to backup the contacts in Android phone with this method in a short amount of time.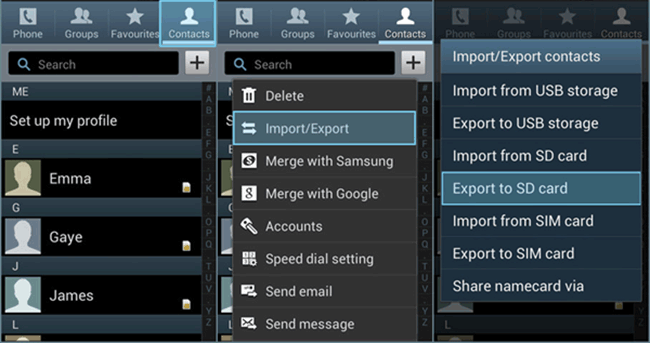 You May Like: How to Transfer Contacts from SIM Card to Computer
Part 4. Backup Android Contacts to CSV File via Contacts App
The "Contacts App" has become very popular over the years. You can do a variety of different tasks with the help of it, including the backup of data present on it. When it comes to how to backup my contacts on my Android phone fast with this Android backup contacts to cloud method, it is quite simple.
Steps to Undertake:
1. Open the Contacts application, which Android devices tend to have. Click on the menu open present on the top-left corner of screen.
2. Click on "Settings" to continue.
3. Scroll down and then click on "Export". As soon as you do, you will notice a list of accounts.
4. Click on the account that has the contacts that you want to back up.
5 Click on "Export to .CSV file". If this is the first-time utilizing this feature, you might be prompted to click on "Allow" for the exportation to begin.
6. Choose the desired backup location of your liking.
7. Click on "Save" present at the bottom of screen. By doing so, you will ensure that contacts are saved to the selected location as a .CSV file.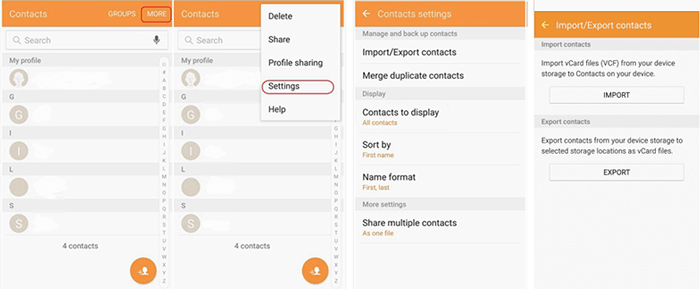 Check the more effective way to export Android contacts to VCF (vCard File) here.
Only a Worthwhile Backup Method Will Do
The aforementioned methods are able to back up your contacts, as well as other type of data, in a matter of minutes. They are worthwhile options, which is not something that can be stated about other methods that have also garnered some attention but then stopped garnering it when people begin to realize their malfunctions.
Even if you do not find it a necessity for the time being to perform a backup, it truly is, as you never know what downfall your device can take in the near future. It is always a good idea to ensure your data remains safe from downfalls at all times. This can only happen by implementing one of these worthwhile backup methods that keep being used by thousands of people every day.
By the way, the Coolmuster Android Assistant is really a great tool to backup and manage Android contacts. Why not have a try on it?
Related Articles:
Sync Contacts from Android to Outlook for Backup
Backup Samsung SMS & Contacts with Broken Screen
11 Ways to Import Contacts to iPhone [Full Guide]
Recover Deleted Contacts from Android Mobiles and SIM Cards
How to Transfer Contacts from Old Android to New One Effortlessly?
How to Transfer Contacts between Android and iPhone XS Max/XR/XS/X/8/7/6?