Google's Android and Apple's iOS are two major operating systems which are ever competing due to their unique features, uses, working and performance. Both are used by worldwide handheld device users in their smartphones and tablets. There are various differences between Android and iOS that distinguish them while making some people to prefer one over the other. For instance, Android is an open project, whereas iOS is partially open and limited to a specific target market. But this should not be supposed that all android applications are different from iOS ones and vice-versa.
Most of the apps hosted by the two platforms are very similar as most of the developers often create the same versions of games and apps for both platforms. This is aimed at increasing their customer base while making extra cash in the process. Android and iOS apps are basically coded with an aim of making them only run on devices with the appropriate operating system. This has been the case until recently when developers came up with unique and rare technological advancements like the iOS Emulator program for Android app to do away with this barrier.
Applications on the two operating systems are found in totally different marketplaces. Android apps can only be officially accessed on Google play while the iOS ones are only available on the Apple App Store. Over the years, Android has become popular taking almost 80% of the market share of leaving iOS and other platforms with a lower percentage of the cake. Although this is an example, most android users secretly want to encounter the same experience as that of iOS users. They would do nothing to have the iOS applications which are often considered to be superior to Android apps on their devices.
While this article focuses mainly on this specific cross-platform tool, it is important to note that there are other apps and projects dedicated towards the same course. Despite the fact that some may be provided freely, others are often sold. It is time to put the money you have been saving to buy an Apple manufactured device into further use as this article is going to give you a better alternative.
What is iOS Emulator?
Luckily, iOS Emulator, whose real Codename, is "Padoid v.1.01" can make the secret wishes of such iOS admirers come true. What is even better is the fact that you do not need to spend even a dime to do so. The program basically works by mimicking the binary application interface of the iOS platform, leaving space for your smartphone to run any iOS app without having to modify it in any way.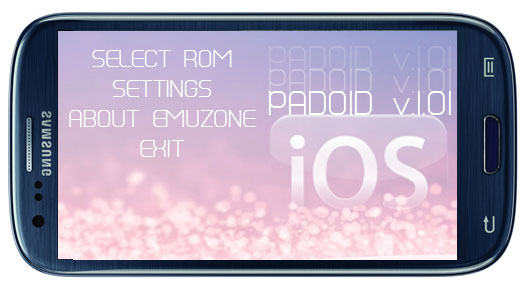 Features of the iOS Emulator Application
- The freeware program has the ability to save all your application and game data in real-time.
- Get unlimited access to iOS application features on your android device.
- The auto update feature allows you to benefit from a new developer goodies.
- The emulator app all Gamepads without any exception.
- Play all your favorite .IPA apps without any errors.
- The app has been tested and proven to work hence no trouble is experienced during its use.
Requirement of Using the Program
- At least 512 MB of RAM and a 1 GHz CPU.
- Android 2.3 operating system or higher.
- 61MB storage spaces dedicated to storing application files.
- USB host mode.
- Video acceleration and High Definition Multimedia Input video out with a secondary frame buffer device.
How to Use iOS Emulator for Android Step by Step?
Step 1. Download the iOS Emulator (iEMU) APK file to your computer or android device from its official website.
Step 2. When the file is downloaded on your computer, you can transfer the package file to your android device using a USB cable, Bluetooth, tethering, Android Assistant software or any other available option. Kindly skip this step if you downloaded the APK file directly to your smartphone.
Step 3. Disconnect the device from your computer or laptop and locate the installation package in your phone or tablet. Then tap on the iEMU APK file to begin the installation of the app and wait for a few seconds for the process to end.
Step 4. Run the app and tap on the "Padoid" icon. This will take you to the "Select Rom" section where you can load your games and apps. Only load apps in the Zips and Ipas formats as there are the only ones supported by the app.
When you have done the above settings, now your Android device is ready to access to all iOS apps and games, just enjoy it!
Benefits of Using the iOS Emulator on Android Device
1. Provide a real experience just like that of using iPhone products. The interface and applications totally resemble that of the iPhone device.
2. The ability to run iOS on android provides you with the ability and power to run the operating system in an architectural design that you prefer and highly enjoy.
3. This cross-platform application is ideal for application developers who would wish to test their applications on the iOS platform without having to necessarily use an Apple based device, saving additional costs like having to buy an iPhone to access the platform.
4. Another great advantage of using the emulator is the fact that you do not lose your android apps in the process and you can access both iOS and Android mobile programs right from your device.
Related Article:
iOS 9: Will the Battery Life be Extended?
Top 4 Music Radio Apps for iOS and Android
Top 5 Battery Optimizers for Android and iOS
Top 4 Easy Ways to Transfer Music from iPhone to Android