Smartphones and tablets have allowed users to interact with each other globally.When it comes to sending messages, pictures and short videos from one individual to another, it is important to have internet connectivity. With Android WiFi, people can be able to accomplish a lot. WiFi signals are broadcasted from a router and since the mode of transmission is wireless, many people may find it hard to connect to it. One of the problems that many people experience with WiFi is signal strength which is attributed to the limited distance a router can broadcast. Places like airports host many people therefore you will not be able to connect well as there are many users present.
Below are top 5 hot Android WiFi manager apps that will allow you to make best use of WiFi for Android phones.
5 Best Android WiFi Managers Let Your Enjoy WiFi Connectivity Without Hassle
Top 1. Coolmuster Android Assistant
Coolmuster Android Assistant is an one-stop Android device management application that is developed to help users manage different files of their phone on a computer. You have two ways to connect your Android device to the computer with the help of this tool, WiFi or USB cable. The application is easy and safe to use.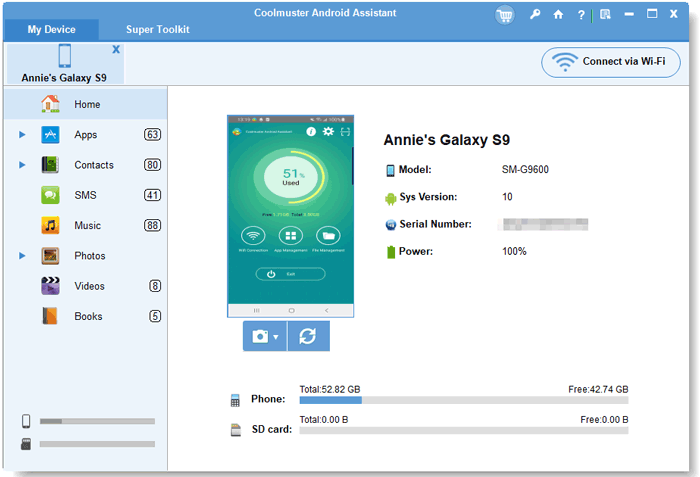 Features:
Connect your device via WiFi
Whether you are at the airport or at a cafe, with the Coolmuster Android Assistant, you can connect to WiFi networks easily. In order to achieve this, you need to install the Android Assistant Apk which can be downloaded from the Play Store by following this link here. Once you have installed the app in your smart device, you can finally connect to WiFi networks present around your device.
Perfect media manager
The application can help you manage all types of media files in your Android device. If you want to back up or export and restore your media files, then you can utilize the application to achieve this. The application can handle different media files such as music, photos and videos among others.
Top 2. WiFi Manager
This is an app that is developed to help Android users find, connect and manage WiFi networks present around them. The application has a graphical radar which helps to show connection quality.
Features:
a.Scans for better Wifi networks
b.Allows the user to manage WiFi networks
c.Displays connection quality via a graphical interface
d.Allows you to switch between networks
e.Easy to use UI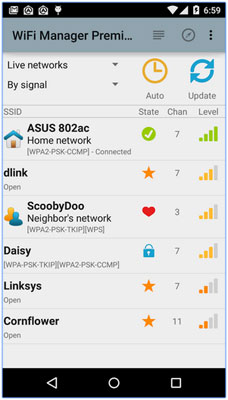 Advantages:
i. Can scan for Wifi networks
ii. Has an easy to use interface
iii. Has home screen widgets for better management
Disadvantages:
i. You need to purchase the paid version for better features
ii. Offers in app purchases.
You can download WiFi Manager from Google Play Store >>
Top 3. WiFi Master Key
This application not allows the user to manage networks but is also acts as a wifi sharing community. It allows the user to connect to shared hotspots globally.
Features:
a.Allows for searching of networks with one-tap
b.Has the ability of scanning WiFi Hotspots
c.Sets up your phone as a hotspot
d.Built in signal detector
e.Power saving mode
Advantages:
i. Easy to use
ii. Scans for wifi networks globally
iii. Converts one's device into a hotspot
Disadvantages:
i. Will not work in password protected wifi network
You can download WiFi Master Key from Google Play Store >>
Top 4. Swift Wifi
The app acts as a WiFi network manager and helps the user to connect to various hotspot with ease. The app is developed to offer the user with a better experience which includes WiFi safety and signal boost.
Feature:
a. One click detection
b. Tests for WiFi safety
c. Provides speed test of a network
d. Converts a device into a hotspot
e. Boosts signals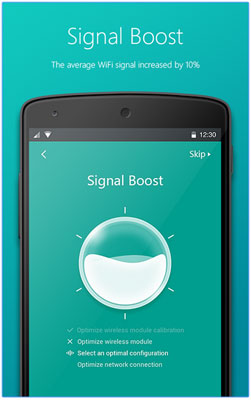 Advantages:
i. The app scans for available WiFi networks
ii. The app can boost WiFi signals for better connectivity
iii. The app tests a network speed.
Disadvantages:
i. Developer lacks a website
You can download Swift Wifi from Google Play Store >>
Top 5. Open Signal
Open signal is not only developed to help you find wifi spots but it can help you map cellular coverage as well as test and improve the reception of the network therefore getting higher speed transfer.
Feature:
a. Allows you to locate public networks nearby
b. Has coverage map that displays best and worst places for signal
c. Has a speedtest feature
d. Displays which carrier is best for you
e. Its free and ad-free as well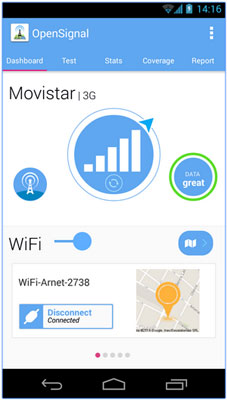 Advantages:
i. Allows you to locate nearby public Wifi networks
ii. Tests the speed of a network
iii. Its free as well as ad-free.
Disadvantages:
i. Not all wifi routers are in the database too.
You can download Open Signal from Google Play Store >>
Conclusion
Each of these Android WiFi manager apps has its own advantages and disadvantages, providing different features to enhance your WiFi experience. By selecting the one that best suits your needs, you can optimize your WiFi connectivity and enjoy seamless internet access on your Android device.
Related Articles:
Top 5 Android eBook Readers You Should Know
Transfer Contacts from Android Phone to Computer
Wipe a SIM Card with Android Safely (Full Guide)