Do you have encounter annoying situation that when you want to receive files on your Android phone, or download apps from Google Play Store, you just prompt with a message saying "Insufficient Storage Available". This error message always appears when your Android is running out of space, especially when your Android phone has low internal storage.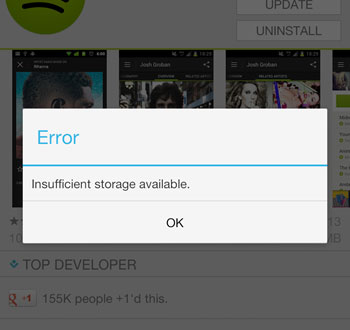 Android users like to insert an SD card to their Android phones in order to enlarge the storage space. So, the storage space on Android phone can be divided into two parts, system internal memory and external SD card. By default, several apps are installed on Android internal memory directly. That's why we can move such apps to SD card so as to solve the insufficient storage problem.
People Also Read:
Fix Android Blue Screen of Death Problem
How to Fix WeChat Login Problem
Fix Android Insufficient Storage Available Error by Moving WeChat to SD Card
It would be troublesome if your Android phone is lack of available storage space because you will not be able to download files,save data or update apps any more. Well, moving apps that are installed on internal memory to SD card will be a good solution to fix the Android insufficient storage available error. Here, we will set WeChat on a Samsung Galaxy S8 as example to show you how to move WeChat to SD card in your Android phone to free up system storage. You can follow the steps to move other apps to SD card.
Step 1. Open your Android phone and tap on: Settings > Apps Menu > Storage > WeChat.
Step 2. Have you seen a button of "CHANGE" under the Internal shared storage? Just click on it.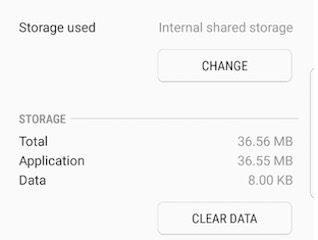 Note: In other versions of Android, you may see the Move to SD card is grayed out, it means that the app cannot be moved to microSD.
Step 3. On the pop-up window, just select the option of "SD Card".
Step 4. Just follow the pop up instructions to transfer the WeChat app to SD card.
Done! The steps are mainly for Samsung Galaxy S8. If you are using other Android devices, you can also refer to the steps above because the process should be largely the same.
Related Articles:
3 Ways to Transfer Music from iPhone to Computer without iTunes
How to Transfer Contacts from PC to iPhone with/without iTunes - 4 Ways
9 Top-ranking Titanium Backup Alternatives to Back Up Your Android Phone Easily
How to Add Ringtones to iPhone 14 from Computer (Best Ever)
How to Save WeChat Messages from iPhone to Computer [Fixed]
How to Retrieve Deleted Text Messages on iPhone with or without Backup