Deleting text messages from a mobile phone is common, and it can happen by accident without you realizing it. Imagine losing important messages from your loved one. It can leave you broken and devastated. Of course, no one would want to go through that. But worry not, as we are here to guide you on how to recover deleted texts on Android via free apps. So, stay tuned as we take you through.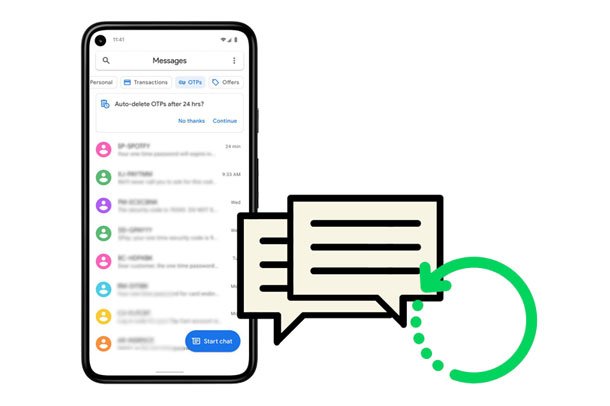 Part 1: Where Are Deleted SMS Stored on Android?
Where did my deleted text messages disappear to? Once you delete SMS from your device, they aren't erased from the device permanently. Instead, they'll be stored in the phone's internal memory and marked replaceable by the system before any data can overwrite them.
Thus, you can use a professional recovery app to recover your deleted messages. However, if new data replace the deleted SMS, you will fail to recover them.
Part 2: Recover Deleted Text Messages on Android via Free Apps
Can I recover deleted text messages for Android free? If you've deleted messages on an Android device, there are free apps that can assist you in recovering the data. Here are the top three apps you shouldn't miss:
2.1 Using Recover Deleted Messages
Have you ever wished to have a messages recovery app just in case you lose important SMS? Recover Deleted Messages is that tool. It's a perfect free app that can restore as well as back up all deleted SMS and keep them secure. This is an accessible tool on the market as you just tap on the restore button, and all your erased messages will instantly be in your inbox.
The app automatically reads the backup files that have all the deleted texts and retrieves them back to your device. This app is a really useful tool that comes to your aid for message retrieval, but it can't recover SMS without a backup.
How to use Recover Deleted Messages app to retrieve SMS:
Step 1: Download and launch the Recover Deleted SMS app on an Android device.
Step 2: From the app's interface, you'll see various options displayed, so choose the "Recover" option.
Step 3: Grant permissions are needed to allow the app to access your phone, and click on the "Recover" button to retrieve all deleted songs.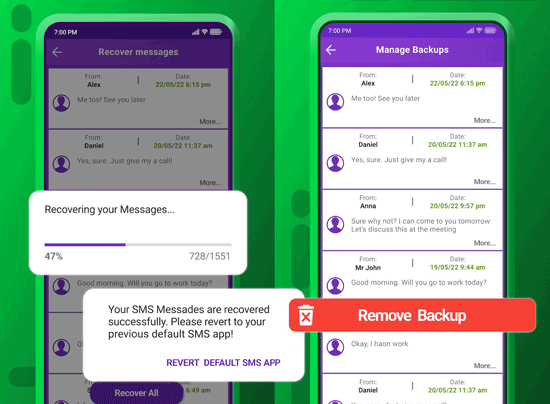 Read also: This is a guide with 6 helpful ways to recover deleted files from Android. Click it if needed.
2.2 Using SMS Backup and Restore
This is one of the must-have apps for Android devices. SMS Backup and Restore is the most compatible app that works perfectly with almost all Android devices and recovers SMS and MMS messages currently available on your device.
However, it needs an existing backup to recover messages. It can't retrieve data without its existing backups. Fast transfer is this app's key feature that helps you to restore messages back to your phone's inbox.
How to use SMS Backup and Restore to get back erased messages from your Android phone:
Step 1: Download and install SMS Backup and Restore on the Android device. Then open the app, click on Get Started, and give all needed permissions.
Step 2: Click on the 3-dash button from the screen's top left corner to get the side menu, and choose the storage location to recover from and log into your account.
Step 3: Choose the Messages backup option and click Restore. Then you'll get back your deleted messages from your backup file.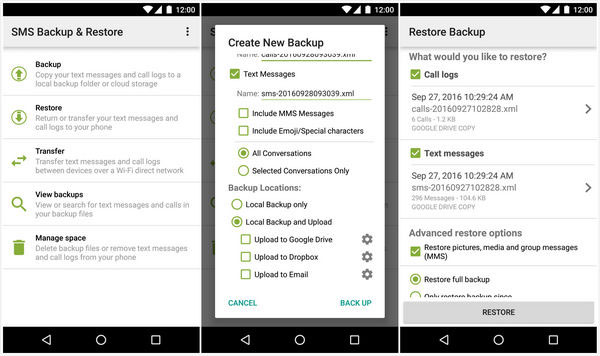 You might need: When your text messages disappear from your Android phone, how can you find them? Read this guide to get reliable solutions.
2.3 Using GT Recovery
If you desperately need to recover your lost text messages from an Android phone, GT Recovery can be your best bet. It's one of the most popular and functional tools that can help you retrieve deleted data from Android. It works to retrieve all data types like contacts, texts, call logs, calendars, and more.
GT Recovery doesn't need a backup to restore the deleted data, as it recovers messages perfectly from your device's internal storage.
Retrieve deleted text messages for free via GT Recovery by following the below steps:
Step 1: Download the app from the official website, and click on the Install option, then open the tool.
Step 2: Hit on the Recover SMS option to retrieve deleted your deleted text messages. Next, press on the Start new scan option to start scanning. The app will list your messages on the screen.
Step 3: Select the messages you want to recover, and tap the Recover selected SMS icon to save SMS.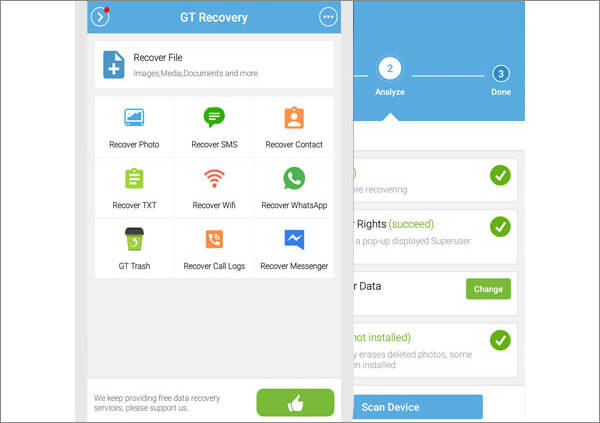 Guess you like: With this guide, you can easily sync your Android data to a PC at once. Let's check it out.
Part 3: Recover Deleted Text Messages from Android with SMS Recovery Software
Have you ever wished to know how to recover deleted messages from an Android device? Coolmuster Lab.Fone for Android is the perfect solution you are looking for. It is the most suitable and reliable tool to recover deleted data from your device without backup. You can preview deleted SMS before the recovery.
Another highlight is that it supports many Android devices, including Samsung, HTC, LG, Huawei, ZTE, and more. Of course, you can recover your deleted contacts, photos, documents, videos, and more.
Other highlights of this Android recovery software:
* Effectively recover deleted text messages, call logs, contacts, pictures, documents, etc., from Android internal storage.
* Help you recover deleted data from an SD card without backup.
* Swiftly transfer existing text messages from Android to a computer.
* List your Android data on the interface, and enable you to select what you want to recover.
* Support Android OS 4.0 and upper.
Download this Android data recovery software below.
How to recover deleted text messages from Android via this software:
Step 1: Launch the Recovery Software
After downloading and installing the app on the computer, launch it. A primary interface showing different modules will be displayed on the screen. Choose the Android Data Recovery module.
Step 2: Connect the Android Phone to the PC
Get a USB cord, then connect your phone to the computer and enable the USB debugging. The app will now start to detect and recognize the mobile device automatically. Then check the Messages option, and tap Next.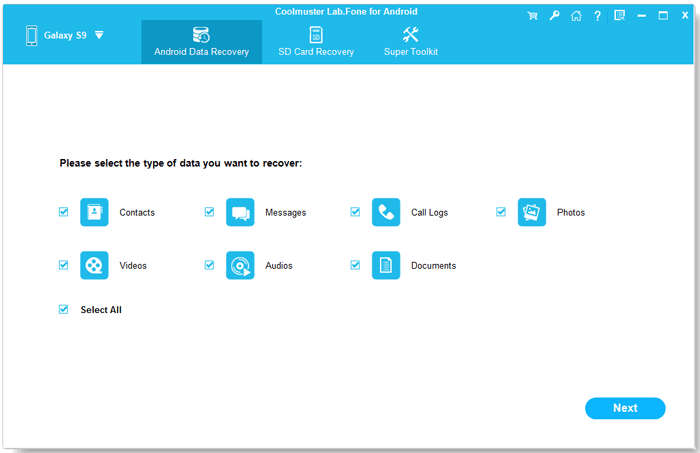 Then select a mode to scan your Android messages, and click Continue. If you don't want to root your phone, you can skip the rooting step, but the scanning will not be complete.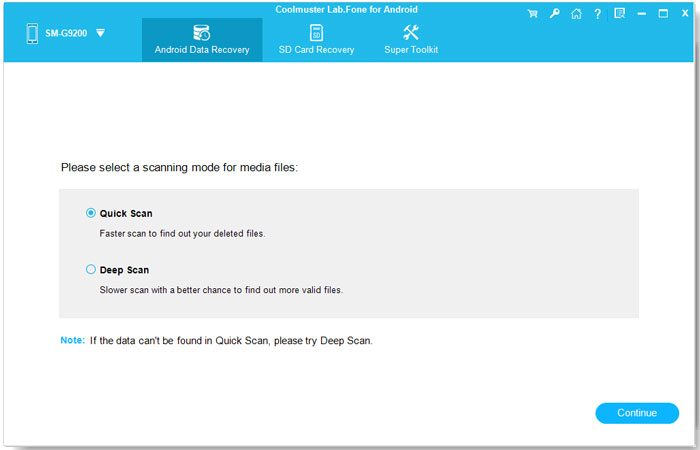 Step 3: Recover Deleted Text Messages without Backup
After scanning, you can tap the Messages category, and select the desired text messages. At last, click Recover to save the messages to your computer.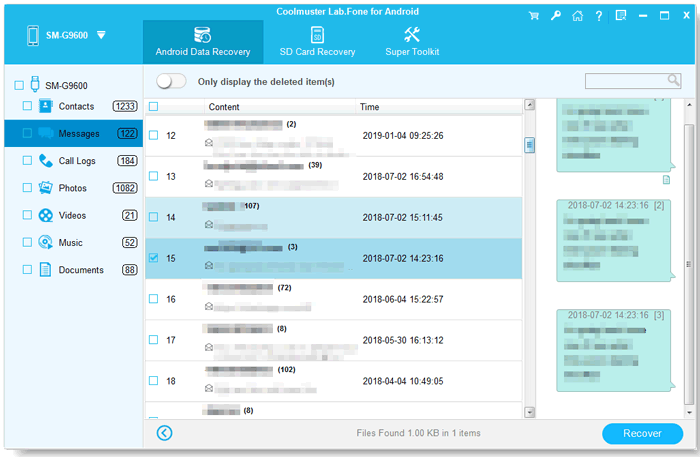 See also:
10 Methods to Fix iPhone Text Messages Disappeared Issue
How to Recover Deleted Photos in Redmi Phone? (6 Ways Available)
Part 4: How to Avoid Losing Text Messages on Android Phone
In order to avoid losing messages on Android devices, you need to back up your phone's data frequently. This is the best way to protect your data, and you can still recover from wherever you had backup.
Also, please find out why you lose your text messages. For example, if you often accidentally delete your SMS when the phone is in your pocket, you can set a screen lock and enable the app lock. Anyway, pay attention to the situation of losing text messages, you will get more effective methods to avoid it.
Conclusion
After going through this guide, you now know how to restore deleted text messages on Android for free. You also know that all your data can be retrieved with or without backup. All in all, no matter how you lost your precious text messages, what you need to do is follow this guide closely. All your answers are here. Also, you have Coolmuster Lab.Fone for Android, which is a powerful tool to retrieve lost SMS from Android without a hassle.
Related Articles:
How to Recover Deleted Text Messages on Android (7 Effective Ways)
LG Data Recovery: Top 4 Ways to Recover Deleted Data from LG
How to Back Up Android Phone before Factory Reset? (7 Methods)
How to Back Up and Restore All Android Call Log History? [Must Read]
Android Full Backup: 4 Best Ways to Back Up Everything on Android Phone