In our normal life, it is common to encounter issues whereby you accidentally erase files such as images, SMS, videos, among others. The worry is not that you cannot recover erased data from Android devices, but you have to root your device for retrieval of deleted files with the assistance of various Android recovery applications.
Generally, rooting Android smartphones is a walk in the park, but you will suffer some risks and even lose your warranty. With this, there are several strategies you can employ to recover deleted texts Android without root as will be discussed in this article.
Part 1: How to Recover Deleted Files Android Unrooted with Google Backup?
Part 2: How to Recover Deleted Text Messages Android without Root?
Part 3: How to Recover Deleted Photos/Videos/Music on Android without Root?
Why Do You Need to Root Android phone to Recover Deleted Files?
When you erase a video, image, SMS or any other file on your Android device, the deleted file data is moved to the system folder. Typically, average users cannot access this folder. Therefore, all Android data recovery programs demand users to root their phones and provide superuser authority for the applications to go deep into the folder that possesses the erased data and files, system folder.
This is the primary reason why Android users need to root their smartphones in order to get back their deleted media files or messages. Also, there are some other reasons to root an Android phone, too. However, the growth of technology has given birth to new ways or recovering text messages and essential data without root.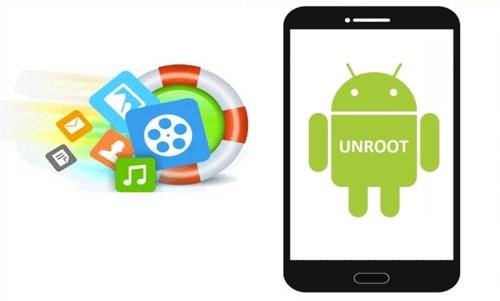 You May Need: How to Check Android Root Status? Rooted or Not?
Part 1: How to Recover Deleted Files Android Unrooted with Google Backup?
Google is a valuable backup tool for Android users. It is excellent when it comes to restoring Android backup. Google provides its users' limited storage of 15 GB to store their files. Now, if you have unintentionally deleted your files, you can quickly recover them from Google drive without rooting your phone.
However, this only works if you had performed a backup of the same files. It is essential to always turn on the "Auto Backup" feature on your phone to avoid any unforeseen deletion issues.
How to Backup Android Data to Google?
You can use your Google account to back up contacts, videos, music and other files to Google Drive. You can either perform a manual backup or turn ON the "Auto Backup" feature.
- Auto backup: On Android phone, go to "Settings" app > "Drive" > enable "Photos"; On Google Drive app, tap Settings icon on the top left > "Settings" > "Photos" > turn on "Auto Backup".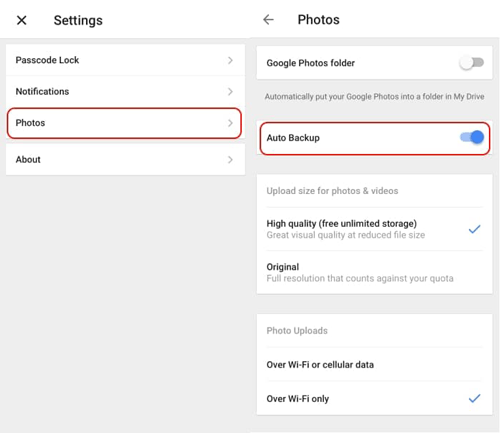 Restoring Android Data from your Google Account:
> Sign in to your Google Drive from the web, and then go to "Trash" to get the deleted files.
> Tap "Restore" to retrieve files to your Google Drive.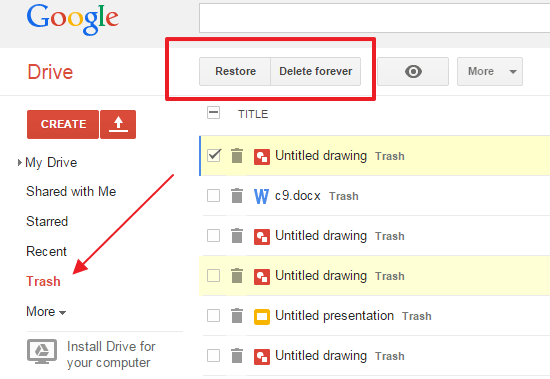 There are two situations to utilize when recovering deleted files from Android phone on Google Drive.
First Situation: If you are in possession of another Android smartphone, you can consider adding your Google Account to that phone, and then retrieve your backup files from Google Drive. These backup files include images, contacts, settings, videos, calendars, among others.
Second Situation: If you only want to retrieve your erased files on your original device, then you need to sign out your Google Account and then add the Google Account again. When adding the Google account afresh, you will be asked whether you want to sync your Google Drive data to the phone. Of course, you will say YES.
Part 2: How to Recover Deleted Text Messages Android without Root?
Coolmuster Lab. Fone for Android is the best software for Android when it comes to recovering text messages without root. With the invention of this program, losing valuable data from Android devices has become a thing of the past. You only require three quick yet straightforward mouse clicks to finish the entire data recovery procedure for your Android gadget.
However, you will be required to root your device to complete the process successfully, but you can always unroot Android phone after retrieving deleted messages from your phone. Also, it is notable that please backup your Android Phone to computer at first before you are going to root your Android phone.
Here are the main features of the application:
* It retrieves lost received and sent text messages and then exports them to PC as HTML files for easy previewing, reading and printing.
* It recovers deleted contacts and saves them as HTML files (with all contact info like numbers, names, job titles, emails, addresses, among others)
* It retrieves deleted call history and saves it as HTML (including details such as names, duration, date, duration, and others).
* It retrieves videos, images, music, and other files lost from internal memory phone and SD cards.
* It has a friendly user interface.
* It supports all Android phones and tablets, such as Samsung Galaxy S23 Ultra/S23/S22/S21/S20/S10/S9, Huawei, Xiaomi and more.
Here's how to recover deleted text messages Android without root:
> Download, install and launch the program on your computer, and use a working USB cable to connect your Android device to the PC.
> Here, you are required to enable the USB debugging mode on your phone. If already enabled the mode, jump to the next step. Enabling USB debugging mode is different regarding the OS version you are using. However, the most common way is going to settings mode, then USB connections, and then enable USB debugging mode. Else, when connecting your phone to PC, you will be asked whether to enable the debugging mode. In this case, say YES.
Note: To recover deleted text Android, please make sure your device is rooted. Failed to root?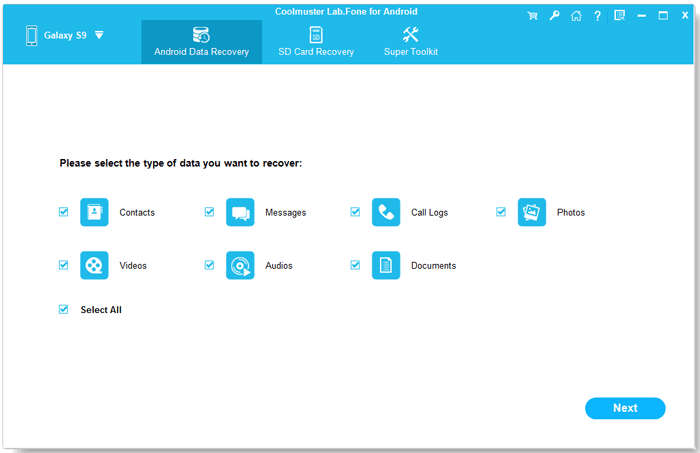 > After a successful connection, click "Next", then the program will detect your phone automatically and then scan all contained files, including those that have been deleted. The data will then be displayed on the main interface.
> Simply click "Messages" tab and turn on "Only display the deleted item(s)" option to search your desired deleted text from your device, and click "Recover" button to save them on computer immediately.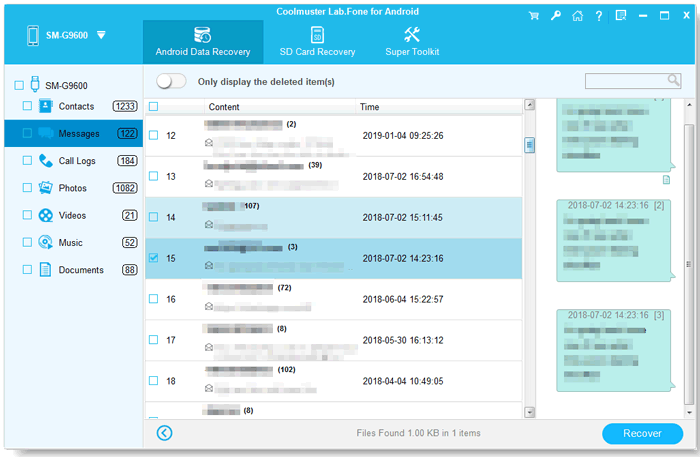 See? With this SMS recovery Android no root tool, you can easily get back your deleted text from Android.
People also read:
Text Messages Disappeared on My Android, How to Fix?
Can You Recover Deleted Text Messages on Google Pixel Phone?
Part 3: How to Recover Deleted Photos/Videos/Music on Android without Root?
Please be noted that Mac and Windows version are both available. Download and install the right software for your PC.
First Step: Start up the application
> Launch the application when the installation is successful and choose "Android SD Card Recovery" mode on the top. Here, you will get to the main interface of the program.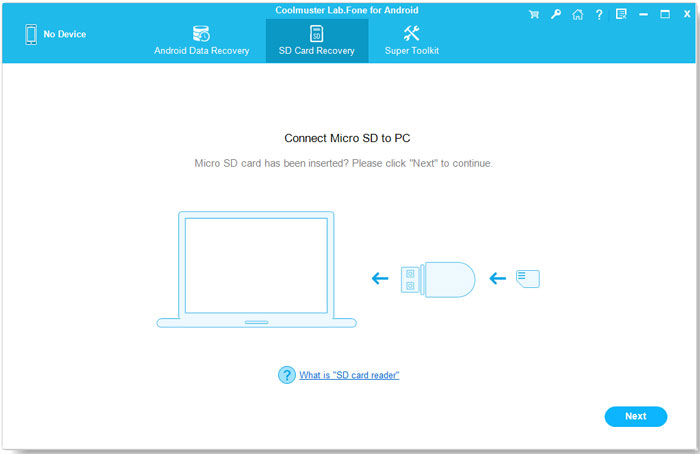 Second Step: Insert an SD card to computer.
Just use a card reader to insert your micro SD card to computer, then click "Next" to continue. Then select your SD card to scan and then click "Next" again.
Third Step: Scan deleted videos, music, or images on your phone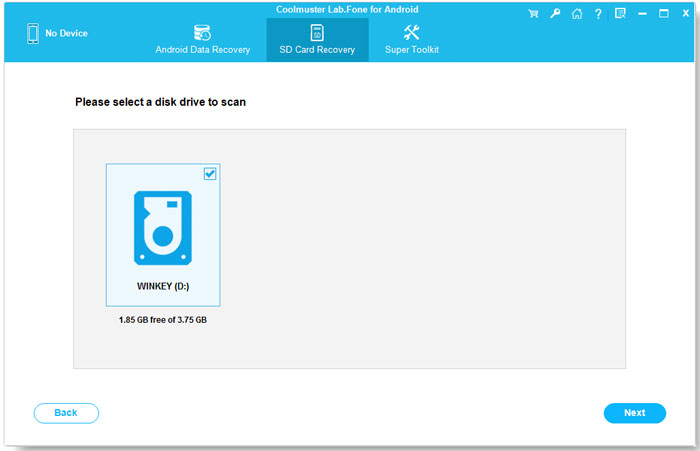 Fourth Step: Preview and Retrieve the target files selectively
> Preview the scanned data and check the audio, music, videos, documents and image files that you want to retrieve. Afterward, you can tap the "Recover" button to initiate the recovery process. The data will be saved on your PC.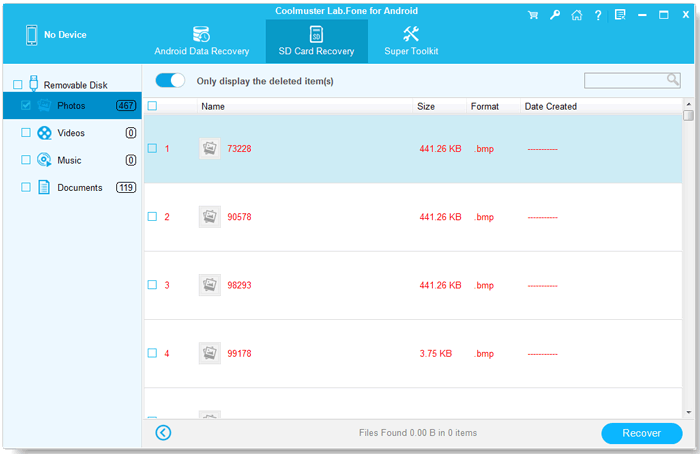 It is safe to avoid saving the retrieved data on your phone for safety's sake. Always save them on your computer or any other media storage and transfer them later.
Video Tutorial
Related Articles:
2 Ways to Recover Android Files without Rooting
Easy & Safe Way to Root Samsung Galaxy S9/S9 Plus
5 Ways to Export Samsung Calendars Seamlessly [Proven and Safe]
How to Recover Android Data After Factory Resetting?
How to Recover Text Messages from Broken Samsung Phones?