"My tablet will freeze randomly while I'm using it! I turned off the display for a few seconds, then pushed the Home button, and it was okay for a few minutes before it froze again. In ten minutes, it'll freeze about 8 - 10 times. I shut it off, back it on, and reset the tablet to factory settings. Neither of them fixed the problem. Also, I won this tablet in a competition, so I have no warranty. Please help!"
- iFixit.com
Generally, Samsung tablets are stable to use. However, the Samsung tablet gets frozen for no direct reason when something goes wrong. If you are looking for an effective way online to troubleshoot the issue, you are in the right place.
We will analyze the possible culprits in this article and provides you with a step-by-step tutorial to get it fixed yourself.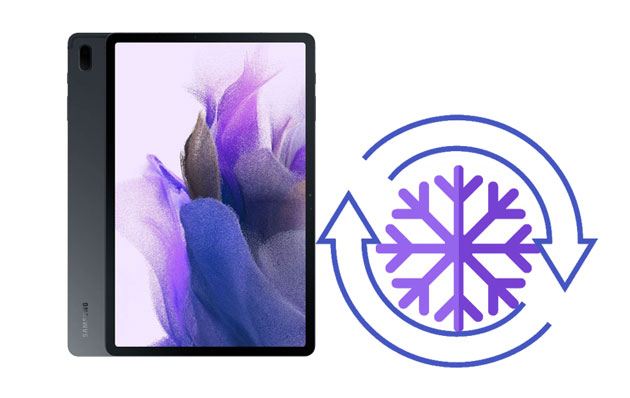 Part 1. Why Is Your Samsung Tablet Frozen?
Part 2. What Do You Do if Your Tablet Is Frozen?
Part 1. Why Is Your Samsung Tablet Frozen?
Many factors will contribute to the Samsung tablet being frozen on the startup screen, including:
Overheating.
Insufficient storage space.
Malware or virus attack.
Incompatible or occupying apps.
Outdated operating system or software version.
Weak wireless connection.
Water damage.
App installation from unknown sources.
Other hardware malfunctions.
Part 2. What Do You Do if Your Tablet Is Frozen?
You can refer to the following instructions to get the frozen Samsung tablet repaired in a few minutes.
Way 1. Force Restart Your Samsung Tablet
First of all, you can force restart the tablet like this.
Press and hold the Power + Volume Down buttons simultaneously for at least 7 seconds.
When the device reboots, you're done.
If failed, drain the device battery until it powers off.
Charge the tablet for half an hour and restart it again.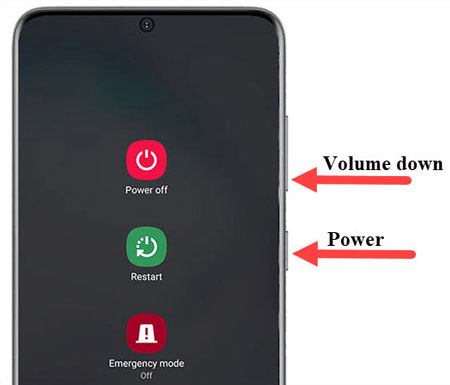 See more: Want to unlock a Samsung tablet without losing data? You can take a look at this guide.
Way 2. Text the Device with Samsung Members
Whenever your device becomes responsive again, you can use Samsung Members to inspect the device's performance. Here's how:
Find and open the Samsung Members app on your tablet.
Click Get help at the bottom > choose Automatic checks.
Once it finishes checking your tablet, follow its suggestions to optimize the device.
Tips: It is necessary to delete everything from your Samsung phone before you give it away or sell it. Follow this guide to remove your info completely.
Way 3. Optimize the Device with Maintenance Feature
Suppose your Samsung tablet gets frozen at random but works the rest of the time. In that case, you can run the Device Maintenance feature to fix the error quickly. You can discover the feature from Settings.
Go to the tablet's Settings.
Choose the option that says Device Maintenance.
Optimize the tablet with on-screen prompts.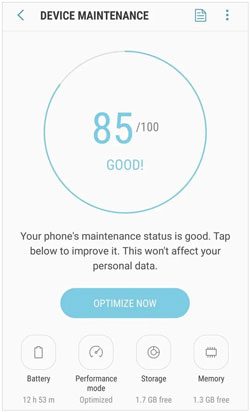 Maybe you like: If you like to transfer files from a tablet to a PC and vice versa, you can learn these practical ways.
Way 4. Check for Software Updates
If you haven't updated the software version for a long time, you can refer to the steps below to update the OSes on your Samsung tablet.
Open the Settings app on your tablet.
Scroll down to tap Software update > Download and install.
Your tablet will automatically search for updates.
If any newer version is available, click the Install now button to install it right away.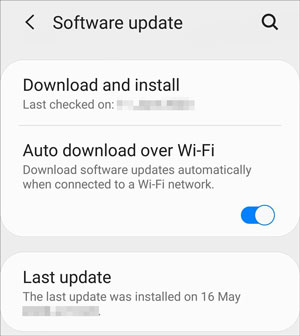 Way 5. Close or Delete Bad Apps
Assume you find your Samsung tablet gets frozen or crashes during using a certain app. You can update the software version to fix the glitches. If that doesn't work, uninstall the app that causes the issue.
Head over to the Settings app.
Click Apps > scroll down to find the app you don't want to keep.
Tap the app to open settings > click the Force Stop button to stop running it or directly tap Install or Disable.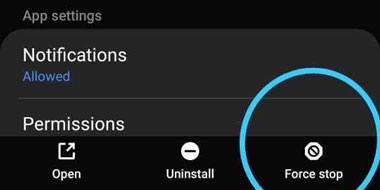 Way 6. Free Up More Storage
You can also release more space to make everything run smoothly.
Navigate to Settings on your Samsung tablet.
Look for Device Maintenance or Device Care and tap on it.
After scanning, click the Storage option.
Tap Clean Now to delete temp files, caches, or unnecessary files.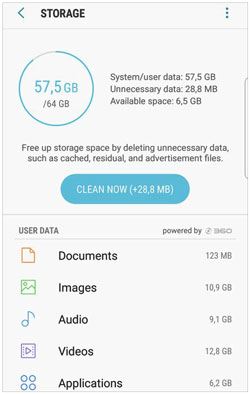 Way 7. Restart the Frozen Tablet in Safe Mode
Suppose you have recently installed any new apps on your tablet. In that case, you can start your device in Safe mode and delete the trouble-making apps.
How to restart a frozen tablet in Safe mode?
Press and hold the Power button until the power-off screen turns up.
Tap the Power off option to turn it off.
Press and hold the Power button until the Samsung logo appears on the screen.
Release the Power button but press and hold the Volume Down button for a while.
When the Safe mode option displays at the bottom, you're done.
You can uninstall unwanted apps in Safe mode.
To exit Safe mode, press & hold the Power button and tap Restart to reboot it normally.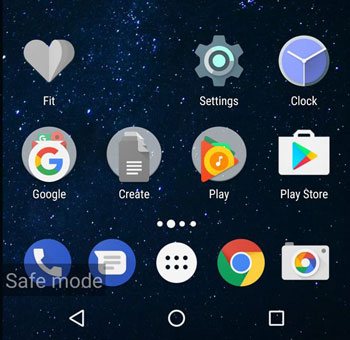 Way 8. Reset All Settings
Another way to fix the Samsung tablet's frozen and can't turn off issue is to reset all settings to their defaults, which is always effective in coping with misconfigurations.
How to fix my tablet from freezing?
Swipe up the home screen to open the Apps tray.
Click Settings > General Management > Reset > Reset Settings.
Tap Reset All Settings again and enter the PIN if you have set up one.
The device will reboot to reset all settings right now.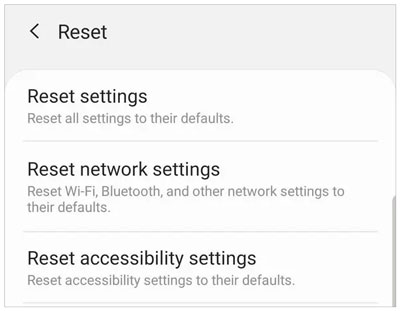 Way 9. Factory Reset the Tablet
You will get two ways to factory reset your problematic Samsung tablet.
Option 1. From Settings
1. Open Settings > tap General Management.
2. Click Reset > Factory Data Reset.
3. Hit Reset and confirm the operation.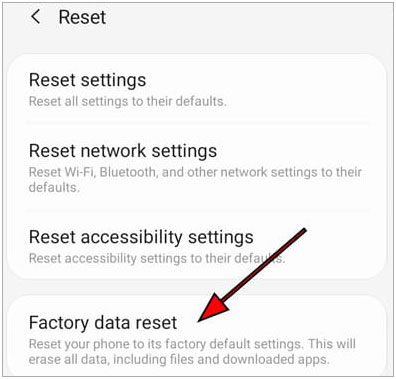 Option. Via Recovery mode
1. Power off your Samsung tablet.
2. Enter Recovery mode.
For Samsung tablet with a Home button:
Press and hold the Volume Up + Home + Power buttons together.
Release all buttons when the device enters Recovery mode.
For Samsung tablet without a Home button:
Press and hold the Volume Up + Power buttons simultaneously.
Let go of the buttons when the device gets into Recovery mode.
3. Use the Volume buttons to highlight the Wipe data/factory reset option.
4. Tap the Power button to select the option.
5. Use the Volume Down button to highlight Yes and press the Power button to select it.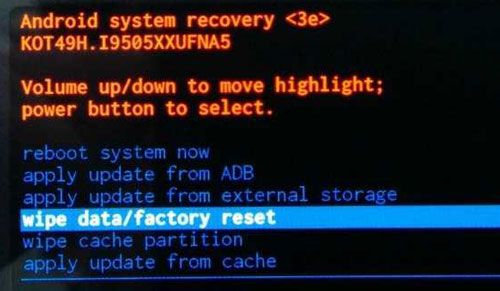 Way 10. Fix It with Samsung Repair (Recommended)
What if all the above methods cannot fix the frozen Samsung tablet screen? You can then use a professional third-party tool named Samsung Repair to fix the Samsung tablet frozen problem. It fixes most Android system errors on all mainstream Samsung phones and tablets in minutes without tech skills.
The highlights of Samsung Repair:
* Fix various Android system issues in a few clicks, such as the Samsung tablet frozen issue, black screen of death, the apps crashing, etc.
* High success rate and fast speed.
* Foolproof operation process.
* Apply to devices from most carriers, like AT&T, T-Mobile, Vodafone, Verizon, Sprint, Orange, etc.
* Support Samsung Galaxy S10/S9/S8/A8s and other models running Android 2.1 to the latest version.

How to unfreeze the tablet screen in a few clicks?
Note: The following operation will cause data loss on the tablet. So, you are recommended to take a full backup of your Android device before repairing it.
1. Launch Samsung Repair on your computer and enter the System Repair module. Next, connect your Samsung tablet to the PC using a USB cable and tap Android Repair on the left panel.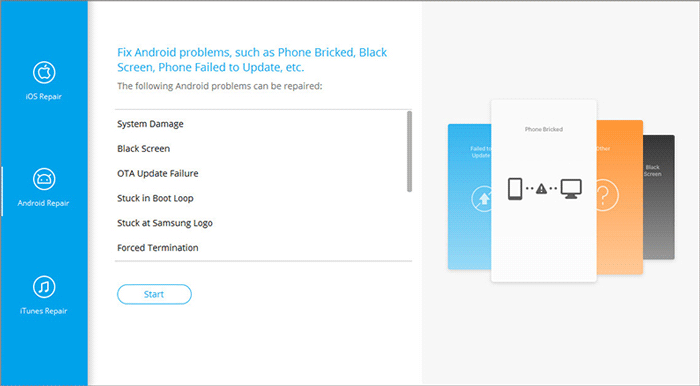 2. Choose the correct device information from the relevant categories and check I agree with the warning before tapping Next to continue.
After that, enter 000000 in the pop-up window and hit the Confirm button.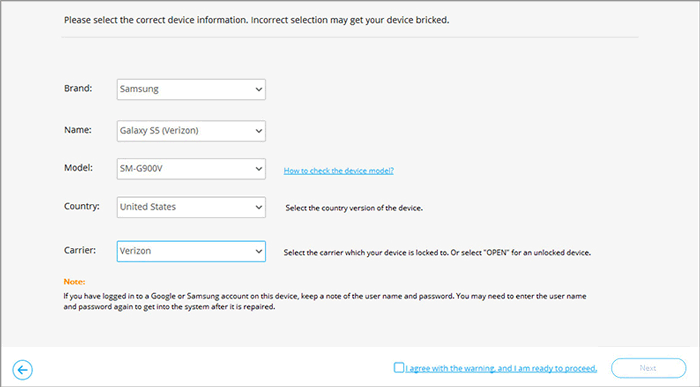 3. Follow the on-screen instructions to get your Samsung tablet into Download mode. Afterward, tap Next to download the firmware for your device. The firmware will immediately repair the Samsung tablet frozen issue when it is downloaded and verified.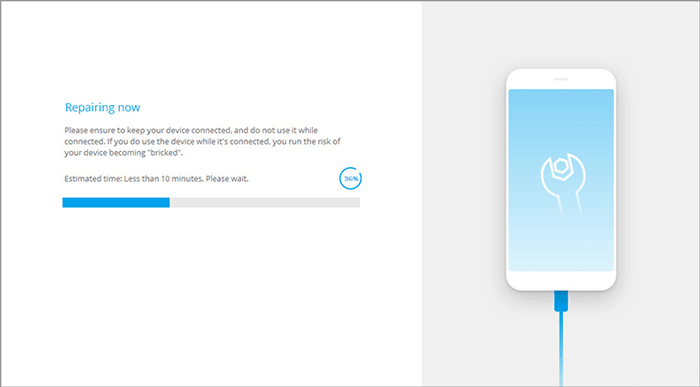 You may like:
9 Ways to Fix Android Tablet White Screen of Death in 2022
Top 9 Android Phone Repair Software to Fix Common Android Issues
Way 11. Contact Samsung Support
Assume the constant Samsung tablet frozen is due to hardware issues. You can tap your Samsung tablet and the purchase receipt to the nearby Samsung Customer Center to get the device checked by technicians. If there are any problems, they will offer you a maintenance plan and repair the components.
Closure
It isn't very pleasant when your Samsung tablet gets frozen amid a game or video playback. You can try fixing the problem yourself with the above practical methods. Or, you can go directly to the Method 10 to fix the issue with Samsung Repair automatically, which has a much higher success rate and repairing speed. If it doesn't work, your last resort is to visit the Samsung Customer Center.
Please share it with more friends if it resolves your problem. Thanks!
Related Articles:
What to Do If Samsung Smart Switch Stuck at 99% during Transfer?
Samsung Phone Hang at Startup Screen? Check 11 Solutions Here
How to Fix Android Phone Blue Screen of Death?
7 Simple Tricks for Samsung Cloud Backup Failed Problem (Updated)
How to Access a Locked Android Phone via USB? (Solved)
[Odin Mode Android] How to Get Out of Odin Mode on Samsung Devices?