If something happens to any Android phone - like a Samsung for example - that makes the screen inoperable, you may have a serious issue. All that data on your phone is now inaccessible. You also may have instances where you have gotten a new phone and want to retrieve data from an older Samsung phone that no longer has a working screen. Then, how to extract data from a broken Samsung device?
Can't Miss:
How to Recover Data from Broken Samsung Phone
Recover Samsung Data After Factory Reset
In this article, we will show you all the tips you may want to know on SMS recovery from a broken Samsung phone.
Part 1: Some Popular Ways to Break Your Samsung Phone
Part 2: How to Recover Text Messages from Broken Samsung Phone
Part 3: Tips on Protecting Your Samsung Phone and Phone Data
Part 1: Some Popular Ways to Break Your Samsung Phone
Your Samsung phones can be damaged due to various situations. Here we list some of the popular ways that you could break your Samsung phone:
Situation 1: Dropping your device
Statistics show that 50% of all broken devices happen because of simply dropping the phone. We believe that almost everyone has the experience of dropping the phone, right? It would the most common situation that cause a phone broken.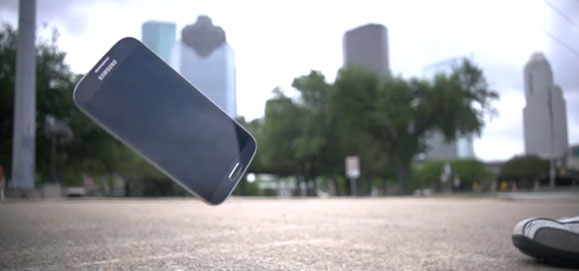 Situation 2: Water damage
Water damage is another common way that can cause a phone destroyed. Nowadays, people like to brings their phone to the toilet with them, and the phone can fall in the toilet by accident. There is slight chance to save a water damaged phone.
Situation 3: Other situations
There are many other ways to break your Samsung phones. For instance, Some improper using experience can also lead to phone broken. Believe it or not, there are also many more unexpected reasons.
Part 2: How to Recover Text Messages from Broken Samsung Phone
Since, not all Samsung phones or mobile carrier services operate on their own cloud, you need third party software that you can download onto a computer that you can plug your older phone into to retrieve this lost data. For those with this issue, Broken Samsung Message Recovery has been created specifically for this purpose.
Key Features:
- Retrieve data such as lost, sent & received SMS text messages and can export them to a computer for easy reading and printing.
- Restore deleted contacts and save them in HTML format, with all contact information like names, numbers, emails, job titles, and addresses intact.
- Retrieve photos, videos, music and documents from Android devices with a broken screen to a computer in their original quality and formats.
- Works on popular Samsung Galaxy S/Note/Tab (Pull down to see detailed support list).
Note: This program can only extract the existing data from a broken Samsung.
Restore Text Messages from Your Broken Samsung Galaxy S9/S8/S7/S6/Note 7/6/5
Step 1. Connect your broken Samsung phone to computer
Make sure you have enabled USB debugging on your phone, which the program can direct you to do in simple steps and scan the connected older Android phone. When the scan is finished, all your data (including lost and existing text messages and files) will be displayed in categories on the program screen.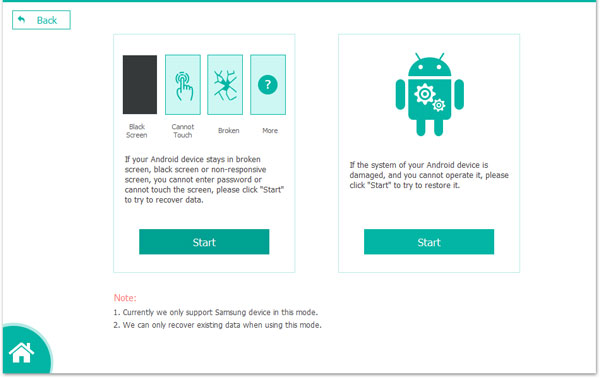 Here, you need to choose a mode according to your own needs:
- If you just stays in broken screen, black or non-responsive screen or you just forgot the password, then you can select "Start" button to choose the phone model and make your phone into Download mode. After that, this program will get access to your broken Samsung data.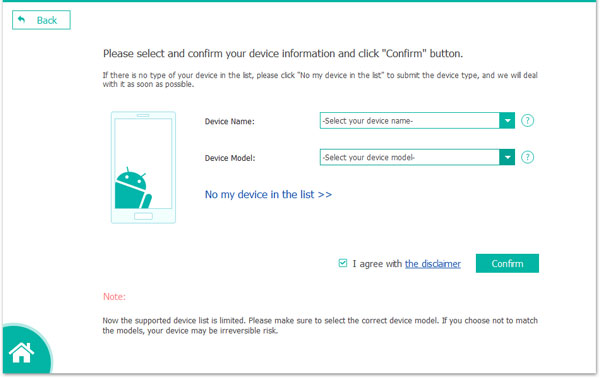 - If your Samsung device is broken due to system crash, bricked, etc., then you need to choose "Fix Device" to make your Samsung device to normal status, then you can use a common Android data recovery software to get back your lost messages.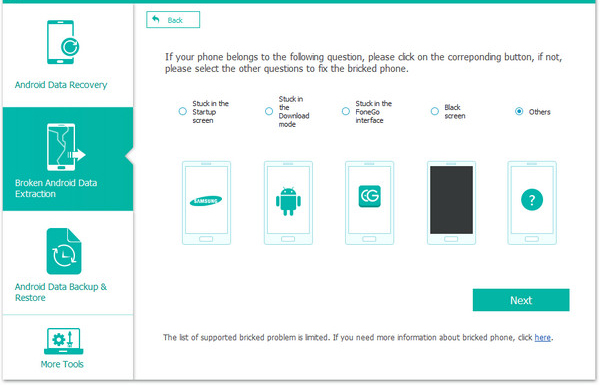 Step 2. Preview and select the text messages you need
When the scanning is finished, tick the boxes next to all the data from your phone you wish to retrieve. Here, you should check files in the "Message" folder. Make sure you have examined all contained text messages and select all you want before you move on to the next step.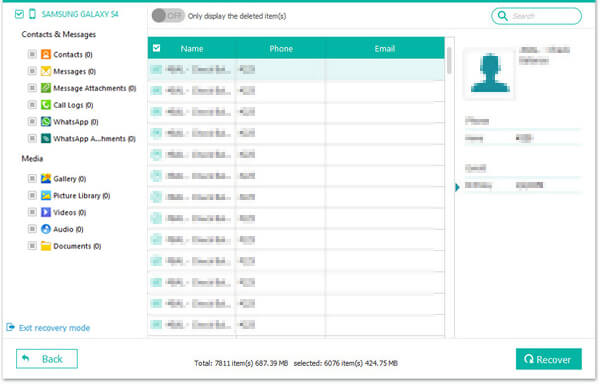 Step 3. Recover target SMS from your broken Samsung phone
Click on the "Recover" button. The program will direct you to choose a location on your computer that you wish to save all this data on. Once you have chosen the save location, this tool will save all the checked text messages in this place on your computer.
Note: This tool only help you extract the existing data from a broken Samsung device.
You're done, and you now have accessed to all that data in order to transfer it to any Android device you wish!
Check Supported Devices of Broken Android Data Extraction
Samsung Galaxy Note:
Note 3: SM-N900, SM-N9002, SM-N9005, SM-N9006, SM-N9007, SM-N9008 SM-N9008V, SM-N900S
Note 4: SM-N9100, SM-N9106W, SM-N9108V, SM-N9109W, SM-N910C, SM-N910F, SM-N910G, SM-N910H, SM-N910K, SM-N910L, SM-N910P, SM-N910R4, SM-N910S, SM-N910T, SM-N910U, SM-N910V, SM-N910W8
Note 5: SM-N920C, SM-N920G, SM-N920I, SM-N920K, SM-N920L, SM-N920P, SM-N920R4, SM-N920S, SM-N920T, SM-N920W8
Samsung Galaxy S:
S4: GT-I9500, GT-I9505, SCH-R970, SCH-R970C, SGH-I337M, SGH-M919, SPH-L720
S5: SM-G900F, SM-G900FQ, SM-G900I, SM-G900K, SM-G900L, SM-G900M, SM-G900P, SM-G900R4, SM-G900R6, SM-G900S, SM-G900T, SM-G900T1, SM-G900W8
S6: SM-G9200, SM-G920F, SM-G920P, SM-G920T, SM-G925F, SM-G925P, SM-G925T, SM-G928P, SM-G928T
Samsung Galaxy Tab:
Tab Pro 10.1: SM-T525
Part 3: Tips on Protecting Your Samsung Phone and Phone Data
Tips 1. Purchase a phone case to protect your phone well.
Tips 2. After your have broken your Samsung phone, call the service center as soon as possible to see it it is still in the warranty. If so, you can send your broken phone to them for repair.
Tips 3. If it is a hardware failure causes the broken issue, we suggest you go to a professional repair shop for repair. Of course, if you know the exact reason of the issue, you can protect yourself from being cheated.
Tips 4. Install some safeguard applications on your phone to protect against malware and viruses.
Tips 5. Backup your Samsung phone regularly is a fundamental habit. Here is a guide shows you how to backup and restore Samsung phones easily.
Related Articles:
Samsung Galaxy Desktop Manager Software