How to Recover Text Messages from Broken Samsung Phones?
With the massive proliferation of mobile technology, people go through smartphones quicker that they have any other similar gadgets. Even the strongest and sturdiest of battery cases cannot protect your Android phone from every mishap you may have. It's not as grave an issue if you have a smartphone that has all its data backed up to a cloud service or on another storage device. However, if something happens to any Android phone -like a Samsung for example- that makes the screen inoperable, you may have a serious issue. All that data on your phone is now inaccessible. You also may have instances where you have gotten a new phone and want to retrieve data from an older Samsung phone that no longer has a working screen.
Since, not all Samsung phones or mobile carrier services operate on their own cloud, you need third party software that you can download onto a computer that you can plug your older phone into to retrieve this lost data. For those with this issue, Coolmuster Lab.Fone for Android (with its Mac version - Lab.Fone for Android Mac) has been created specifically for this purpose. It can retrieve data such as lost, sent & received SMS text messages and can export them to a computer in TXT files for easy reading and printing. It also can restore deleted contacts and save them in CSV or XLS format, with all contact information like names, numbers, emails, job titles, and addresses intact. It can even retrieve photos, videos, music and documents lost from SD cards inside Android devices to a computer in their original quality and formats.
This software works on all mobile phone and tablet manufacturers that use Android such as Samsung, HTC, LG, Sony, Motorola, ZTE, Huawei, and more. It can recover any data from any Android device lost due to deleting, restoring the factory settings, flashing ROM, administrator rooting, water damage, a broken screen or any other reason a smartphone isn't fully functional. To recover text messages, for example, from a broken Samsung phone, you should download Coolmuster Lab.Fone for Android onto your PC or Mac computer from the following buttons. Before the SMS recovery, you need to root your Samsung phone.
By the way, we have Coolmuster Android SMS+Contacts Recovery, which is specially designed to recover lost and deleted text messages and contacts from Android phones.
Restore Text Messages from Your Broken Samsung Galaxy S6/S5/S4/Note
Step 1. Connect your broken Samsung phone to computer
Make sure you have enabled USB debugging on your phone, which Lab.Fone for Android can direct you to do in simple steps and scan the connected older Android phone. When the scan is finished, all your data (including lost and existing text messages and files) will be displayed in categories on the program screen.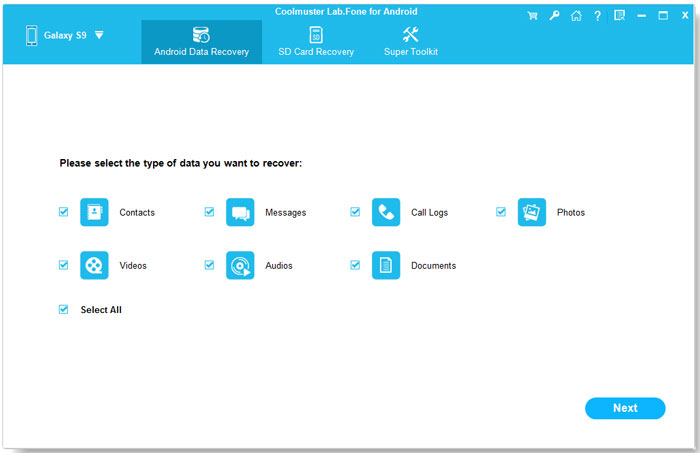 Tips: if you haven't enabled the USB debugging on your Samsung phone, the Android data recovery tool will be failed to detect your phone. Therefore, you have to follow the instructions below to open USB debugging on your phone.
For Android 2.3 or older, Go: "Settings" < Click "Applications" < Click "Development" < Check "USB debugging".
For Android 3.0 to 4.1: Enter "Settings" < Click "Developer options" < Check "USB debugging".
For Android 4.2 or newer: Enter "Settings" < Click "About Phone" < Tap "Build number" for several times until getting a note "You are under developer mode" < Back to "Settings" < Click "Developer options" < Check "USB debugging"
Step 2. Preview and select the text messages you need
Tick the boxes next to all the data from your phone you wish to retrieve. Here, you should check files in the "Message" folder. Make sure you have examined all contained text messages and select all you want before you move on to the next step.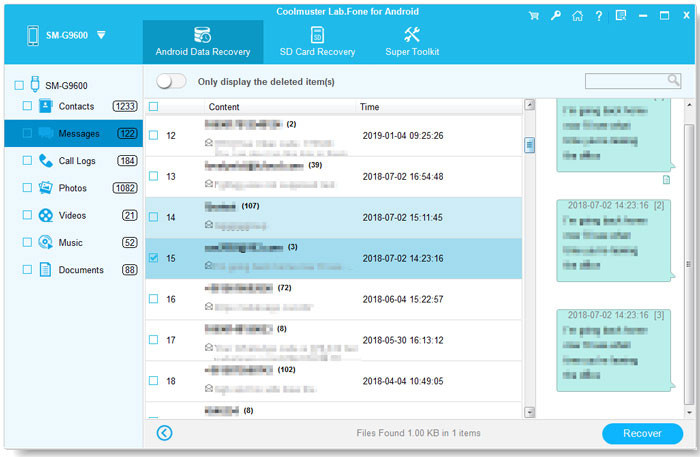 Step 3. Recover target SMS from your broken Samsung phone
Click on the "Recover" button. The program will direct you to choose a location on your computer that you wish to save all this data on. Once you have chosen the save location, Lab.Fone for Android will save all the checked text messages in this place on your computer.
You're done, and you now have accessed to all that data in order to transfer it to any Android device you wish!
Video Tutorial
Related Articles:
Samsung Galaxy Desktop Manager Software