My HTC phone run slowly so I did a factory reset on it. However, later I realized that I haven't backed up my WhatsApp messages yet. So, I am eager to know is it possible to recover lost WhatsApp chat history from my HTC phone after factory reset. Some messages on WhatsApp are really important to me. I appreciate for any advices.
Android users tend to use WhatsApp as their chat tool because it allows users to stay in touch with family, friends and colleagues anytime, anywhere. You can use WhatsApp to send and receive unlimited messages and media files when you have a network connection. However, users who use WhatsApp will also have some problems. For example, if you format your phone without a backup, or if you accidentally delete important files on your Android phone, you may experience data loss issues. You must be frightened and ask for help to recover WhatsApp messages.
Fortunately, you have come to the right place. Here, we specifically write this article to guide you on how to recover deleted WhatsApp messages on HTC devices.
Method 1: Restore WhatsApp Messages from Google Drive Backup
Method 2: Retrieve Deleted WhatsApp Chats from HTC from WhatsApp Backup
Method 3: Restore WhatsApp Messages on HTC Phone Directly Using Android Recovery
Method 1: Restore WhatsApp Messages from Google Drive Backup
If you have backed up your WhatsApp messages with Google Drive in advance, you can easily restore the WhatsApp chat history from the backup file on Google Drive. Below is the detailed guide:
Step 1: Uninstall WhatsApp on your Android device.
Step 2: Reinstall it from Google Play Store and sign in your account.
Step 3: There would be prompted with a message to restore your backup after you open the reinstalled WhatsApp.
Step 4: Just tap on the "Restore" button to confirm the restoring process and then all the WhatsApp backup will be restore from Google Drive to your Android device.
Ok, the job is done!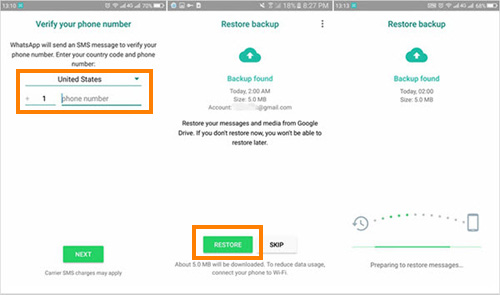 More Similar Guides:
Recover Text Messages from Android with Black Screen
Method 2: Retrieve Deleted WhatsApp Chats from HTC from WhatsApp Backup
Do you know that the WhatsApp system automatically backs up chats every day at 4am? The backed up folder can be stored for up to 7 days. It's easy to restore your WhatsApp chat history from the backup that kept less than seven days. And WhatsApp chat backups that kept more than 7 days are a bit hard to restore. Now, let's talk about how to restore messages from WhatsApp backups in both cases.
Restore WhatsApp messages from backups kept in 7 days:
1. Back up your current WhatsApp chat history.
Please note that any new messages sent/received after the backup cannot be recovered.
2. Uninstall WhatsApp by navigating to Settings > Applications > WhatsApp > Uninstall.
3. Restart your Android device and reinstall WhatsApp.
4. Log in to your WhatsApp account and click on the "Restore" button when prompted to restore your previously backed up WhatsApp messages to your HTC phone.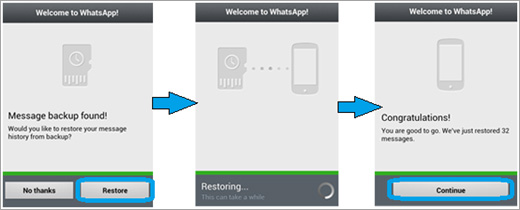 Restore from WhatsApp backups kept more than seven days:
1. Find its database folder in the SD card, the extraction path is /SD card/WhatsApp/Database.
2. Locate the file named "msgstore-YYYY-MM-DD.1.db.crypt". Where "YYYY-MM-DD" stands for year, month and day.
3. Rename "msgstore.db.crypt" and add the contents of "OLD" or a similar file name.
4. Find the file that was backed up before you accidentally lost everything and rename it to "msgstore.db.crypt".
5. Go back to your Android device, uninstall and reinstall WhatsApp in the same way as above.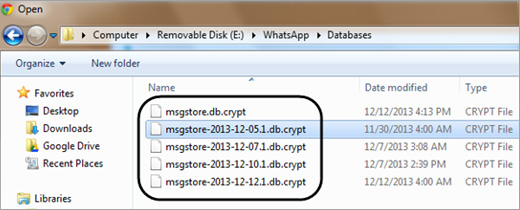 Note:
1. Restoring WhatsApp messages from backup doesn't allow you to recover data selectively, you can only restore the whole data from the backup record, maybe including some that are useless.
2. Restoring WhatsApp messages from backup by uninstalling and reinstalling WhatsApp seems easy, but if you skip the restore step when you reinstall WhatsApp, you could never restore it in this way.
Therefore, if you fail to restore WhatsApp messages from backup, please continue to read and you are suggested to recover deleted WhatsApp chat history from HTC phone with Android Data Extraction software.
Method 3: Restore WhatsApp Messages on HTC Phone Directly Using Android Recovery
If you have no WhatsApp backup on Google Drive or your phone memory, and want to recover WhatsApp messages on Android directly, you can use Android Data Extraction. With this software, you are able to recover lost HTC phone data, such as contacts, text messages, call history, photos, WhatsApp history, videos and so forth. It supports almost all of Android device including Samsung, HTC, LG, Motorola. You can download Android Photo Recovery on your computer and have a try.
By the way, Android Data Extraction can also recover data from Android devices with broken, black, dead screen and Android devices stuck in Starting Loop, Download Mode, FoneGo interface and others.
Steps to Retrieve Deleted WhatsApp Chats on HTC with Android Data Extraction:
Step 1. Download, install and launch the Android Data Extraction software on your computer. Then, select "Android Data Recovery" from the left panel of the program interface.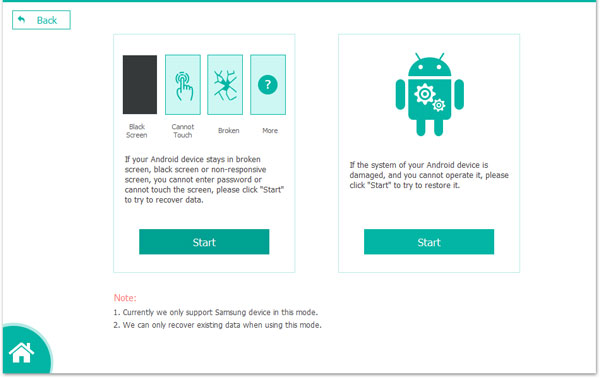 Step 2. Connect your HTC phone to the computer via a USB cable. As the phone is searched by the computer, you can enable USB debugging on your phone to let it be detectable by the program. After that, your phone will be detected by the recovery tool.
Step 3. Select the file types that you want to be scanned and recovered. For example, you should tick off the "WhatsApp" and "WhatsApp attachments" tabs and click "Recover" button to export and save those recovered WhatsApp messages on your computer.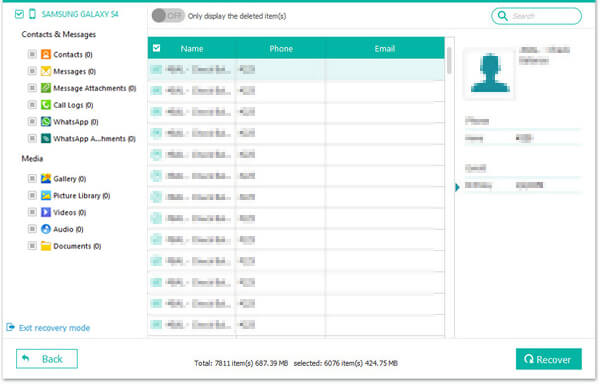 Conclusion
Losing WhatsApp messages after a factory reset doesn't have to be a permanent loss. By following the appropriate methods, you have a good chance of recovering your important chat history. It's always recommended to regularly back up your WhatsApp messages to avoid such data loss situations in the future.
Related Articles:
How to Backup Data from Broken Samsung Galaxy
Tenorshare Samsung Data Recovery Alternative
14 Reliable Android Data Recovery Software