Wirelss File Transfer is Getting More and More Popular.
Nowadays, the wireless networks have made it possible to share files wirelessly, which have made our life really easy. Entangled wires, malfunctioning USB ports, short USB cable length, etc are no more threats to Android users who want to transfer files in a simple and easy way. Using a router and computer, files can seamlessly be transferred between phones, computers and other devices. You can now quickly and effortlessly transfer your favorite pictures, apps, contacts, videos and a lot more between one phone to the other, without bothering a USB cord.
Transferring files over Wifi also makes the process faster. Large sized files can be instantly transferred without depending on USB cables and complications of differing USB version speeds. You do not have to worry about slow transfers as all data are transferred at good speeds and you only have to wait a little while before the transfer is complete.
Share HTC Files Wirelessly Using Third-Party Assistant
Are you looking to export or import files from your HTC phone to a computer or vice versa? This Coolmuster Android Assistant is surely your best choice, which handles multiple file types and transfers them over wireless network and traditional USB to Android phones and tablets. Multiple files types including text messages, audio and video content, apps and more can be moved with just one click.
This program is comprehensive and powerful enough to create back up of important data and restore the same on Android devices in just one click. The handy management tools lets you erase or add contacts and messages and send and receive messages straight from your computer. Apps and games can be uniquely downloaded directly on the PC and then exported to SD card of Android. It supports most brands of Android brands along with HTC and keeps your data safe by performing read-only functions.
Guide on Wireless File Transfer for HTC Phones
Looking to transfer all the data wirelessly for your HTC phones? It is quick and easy, and there is no need for data cables. You can transfer and export all the data that you need and you do not even have to use Bluetooth that can take up a lot of time. Here is the complete guide of exporting files to your HTC phone using Wifi.
Step 1. To beginning with, you have to download and install Android Assistant Apk on your computer and HTC phone.

Step 2. Next launch Coolmuster Android Assistant and choose "Connect with Wifi" option. The program will lead you to USB debugging mode and give clear instructions on the screen to carry out the task. Follow the steps accurately to enable USB debugging.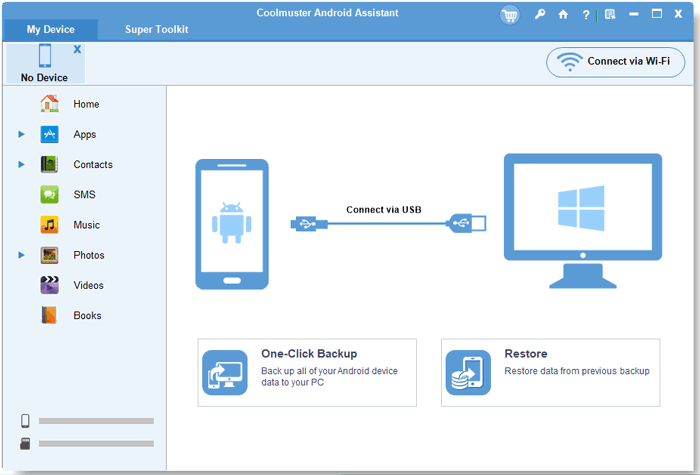 Note: Ensure both the computer and the HTC phone is using the same Wifi network. They will have same IP addresses which can be checked to find out.
Step 3. Open the APK program on your computer and simultaneously run it on your HTC phone. Your computer will prompt for granting APK file permission to join the network. Be sure to click on "Allow access" button when the window pops up.
Step 4. The program automatically detects your HTC model and shows detailed information along with the available data in different categories in a menu.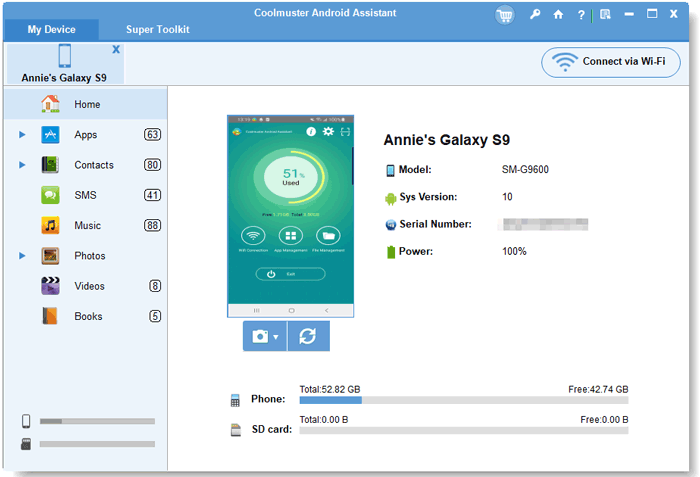 Step 5. You can choose photos, videos or any files you want to export and then click on "Export" option at the top of the window. To import files, choose the data type and select the "Add" option at top part of the program.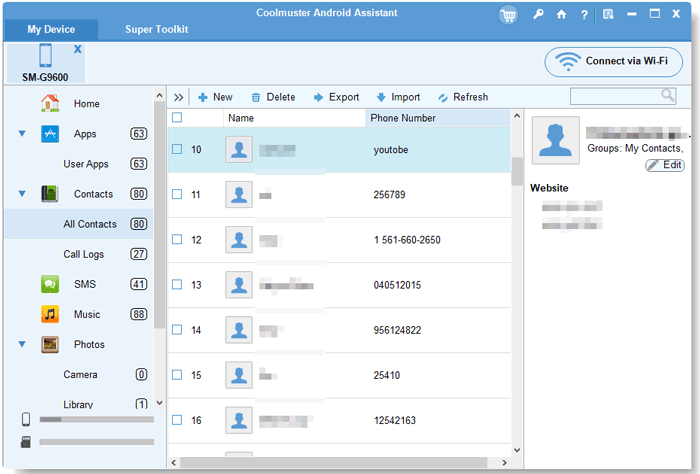 Want to havea try now? Just go ahead!
Related Articles:
How to Recover Lost Messages from Android SIM Card