Transferring applications from one device to another may not always be as simple as some users may think. In fact, when a user decides to transfer one or more of their apps on a Samsung device, they may find that they may want to look around for software that can give them the best results. Fortunately, there are many excellent Samsung transfer software and apps on the market that can assist a user with making these types of transfers with ease. So, for those of you who have an interest in what is actually available in this software industry, here are 10 of the top options that you can review.
1. Coolmuster Android Assistant
If you want a tool that can transfer your Samsung files with ease, you can consider using the Coolmuster Android Assistant as your first option. Android Assistant has been designed with a 1 click feature that makes your transfers simple and quick to do. Because people tend to save all of their information on their Samsung phones and other devices, they can benefit greatly from the use of this application's transfer and back up option. All data can be transferred with the use of a USB cable that is connected to both the computer and the Samsung phone.
> Transfer music, contacts, SMS, call logs, videos, photos, apps and other valuable data from your Samsung phone to your computer at 1 click.
> One click to restore backup file from computer to your Android phone.
> The user friendly program panel helps in the proper management of files.
> Install & uninstall apps on computer directly.
> Easily manage data on Samsung Galaxy S9.
Guide to Transfer Files between Samsung and Computer with Android Assistant
Step 1. Download, install and launch Android Assistant. Connect your Samsung phone to the computer with a USB cable. You will see the program detects the connected phone and scans out all file types that saved on the phone.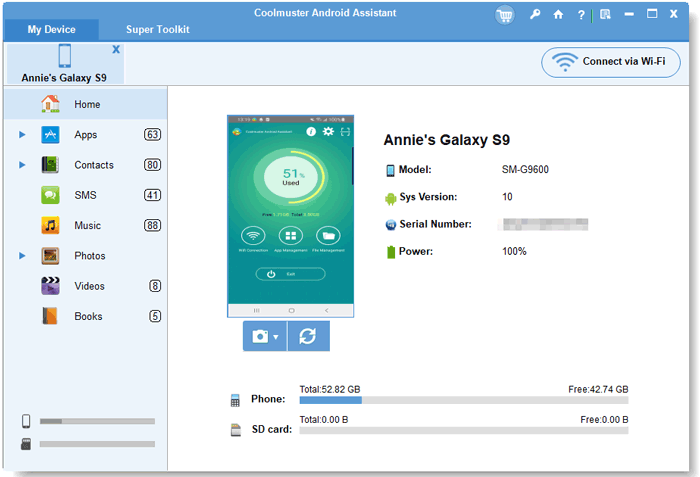 Step 2. All transferable file types are listed on the left side, including contacts, call logs, SMS, photos, videos, etc. Just select the file types that you want and click "Export" to transfer them to your computer, or click "Import" to download files from computer to Samsung phone.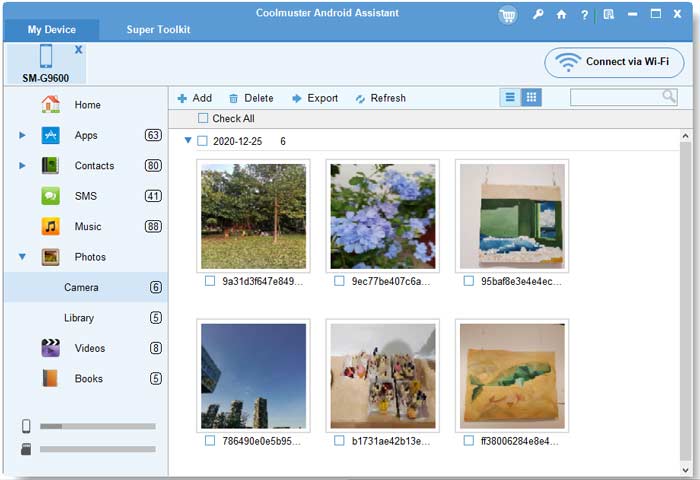 2. Coolmuster Mobile Transfer
If we say Android Assistant is used for transferring data between Samsung and computer, then Mobile Transfer is specially designed to transfer files from one phone to another. By using this program, you can easily transfer your phone data like contacts, SMS, photos, videos, music, call logs, apps, etc. from your Samsung phone to other phones, and vice versa. It is a unique Samsung transfer tool which also works on other Android and iOS devices.
> Effortlessly transfer data from other Android and iOS devices to Samsung phone, and vice versa (See how to transfer data to Samsung Galaxy).
> Mobile Transfer for Mac allows you to keep a backup of your Samsung phone data on Mac.
> Mobile Transfer for Mac enables you to restore backup file from Mac to your Samsung phone.
> Be compatible with Samsung, HTC, LG, Sony, Huawei, ZTE, iPhone, iPad, iPod touch and more devices.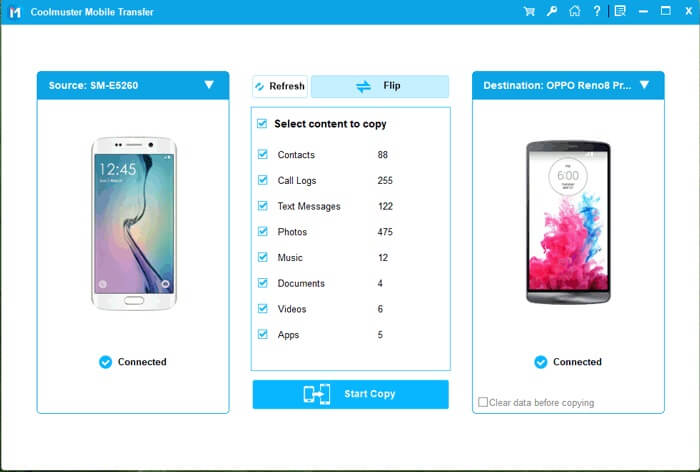 3. Samsung Smart Switch Mobile
The user can utilize the Smart Switch app for a number of different relatable activities. Specifically, when they have a need to transfer their files to another device from a Samsung phone. Usually, the user has a need to transfer all of their photos, music, contacts, calendars, text messages, and device settings. Plus, Smart Switch is also designed to help a user with selecting other essential features that are needed as well.
When a user gets started with this app, they can take advantage of the features that's available for Android users and they can also make wireless transfers using the latest versions of Androids, which consists of Android 4.0 and higher.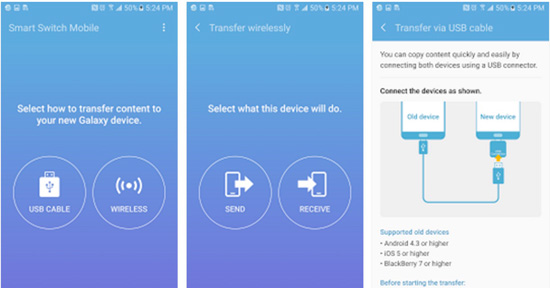 4. Secure Folder
The Secure Folder gives each user the leverage that they need for a wide variety of features and platforms. With its use, the user will have what they need to utilize an extra layer of security and privacy features. It is also important to note that the designers of this app have made it easy and convenient for users to move their files in a secure environment so that they can be protected from viruses and malicious activities.
Additionally, to make sure each user has the security features and access that they need, developers have included a secure folder that can only be accessed via several different security locks. For instance, the secure folder can be secured via the use of a user-created password, a pin, a pattern or a biometric lock. Simply put, if the user wants to transfer their files in the ultimate secure environment, they will need these secured passwords in order to gain access to photos and data that is being transferred.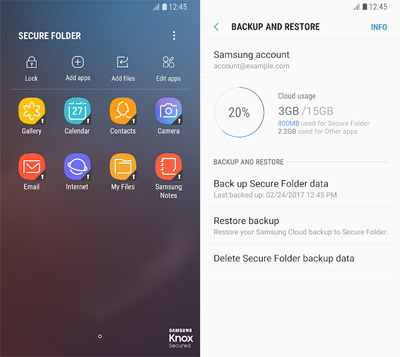 5. AT&T Mobile Transfer
The user can take advantage of the AT&T Mobile transfer app to move all of their videos, contacts, pictures, music, text messages and other data to a new device. This app has been designed with ease and simplicity in mind, especially since all the user will need to do is download this app on both of the applicable devices. Once downloaded, the user will be given a series of prompts that will help to initiate the transfer from the old Samsung phone to the new device.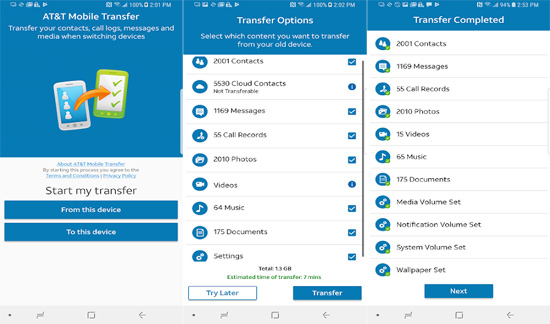 6. SideSync
The users can use the SideSync application as a very innovative PC-Mobile solution. With this application, the user will be given the capability to enable screens, windows, and data to a shared environment in order to be accessed again. The design that the developers have added will also allow the user to see the same data on their smartphones as they do on their tablets. To initiate these actions, the user can make the changes via a drag and drop file feature.
7. Xperia Transfer Mobile
The user will be given specific functionality for transfer with the use of the Xperia Transfer Mobile app. Most users will describe this app as a very ultra-easy simple to use and, a safe application that can be used to transfer their data. So, for those users who are interested in this application and its usage, they will find that is is a simple way to transfer all of their photos, messages, and contacts. This app supports several different platforms including iOS, Windows, and Android.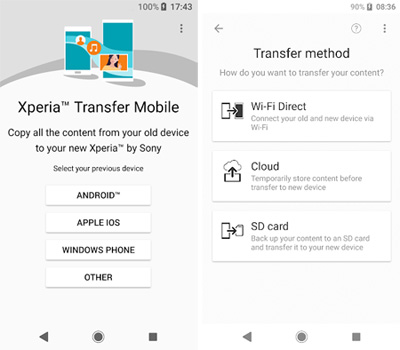 8. Switch Mobile Transfer
The user will have access to the Switch Mobile Transfer app to move information that they need to transfer from one device to the next. The designers of this app have made it possible for the user to move all of their content from one device to the next. All of which can easily be done via the use of a Wi-Fi connection. So, for those users who want to transfer their photos, contacts, videos and other data can do it with a flawless process that makes it easy and simple to perform. In some cases, this app transfer process can be completed within a matter of 5 minutes.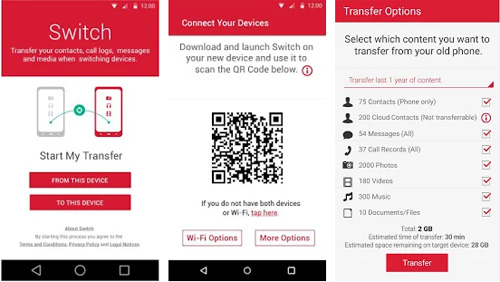 9. My Contacts - Phonebook Backup & Transfer App
When a user decides to transfer the data on their Samsung phone to another device, they do not want to use a manual one step by step process to complete it. Instead, they may want to select the My Contacts App to help them with the process. For instance, the My Contacts - Phonebook Backup & Transfer app has been designed to not only back up the data, restore it, but also to transfer files to the new device. This app can be used for numerous situations including extracting the data when the phone has been broken.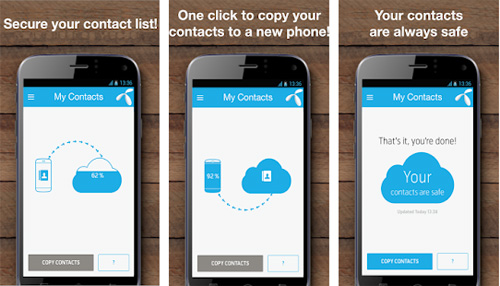 10. Data Smart Switch
The Data smart switch has been designed with numerous functions in mind, and two of the most notable includes both data recovery and data backup tool. With this software application, data can be copied with ease from one Samsung phone to another device. So, for those users who want to transfer their calendar information, contacts, photos and the videos that they create, this app is great for following thru with this.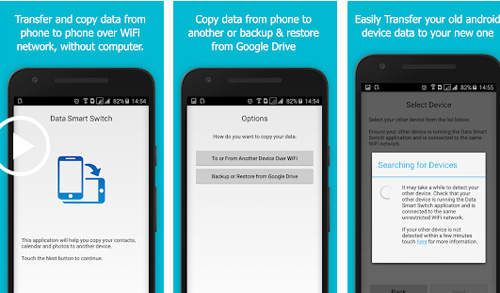 Related Articles:
Top 5 Android eBook Readers You Should Know
Transfer Contacts from Android Phone to Computer
How to Switch Files from Samsung Note 3 to Note 4