How to Clean Junk Files from Android
A smart phone, ubiquitous piece of awesomeness, is pervading our lives in every form. An Android smart phone, with its heaps of apps, is now a mini wonderland. From virtual payment to movies, music to ordering the taxi, booking seats in a restaurant or a movie, apps are today our lifelines. A popular app is downloaded a million times over and given our attention span forgotten just as quickly, till another catches our fancy.
All these apps combined with the numerous videos, music files, contacts and text messages we have, added to the ever increasing junk cluttering our memories. With shrinking spaces the smart phone tends to slow down and heat up easily. The other disadvantage we have with junk files is that newer downloads struggle for space. In these circumstances, it is very important to clear junk files and unclutter the memory. With more clear spaces, the android smart phone will automatically start to function faster. Always remember, a device running out of memory will give you below par performance compared to one with enough memory.
So let us discuss some ways to get rid of the excess data.
Problems you may face when removing junk files from Android phones
More often than not, we tend to keep more than copies of the same stuff on our phone. Find it and get rid of them.
We have a penchant of downloading the in demand apps and after using them for sometime forget about it. What we also forget is that the app is still lying around in the memory of your phone and eating up precious space. Remove it. Asap.
Old SMSes and call logs you will not need anymore is not needed either. True they do not occupy a big space, but it is still better to let your phone breathe freely.
These are some of the ways you can bid good bye to the junk cluttering your phone. However, removing junk has never been easy. How will one know whether a piece of information has a duplicate or not? How will one know what kinds of other similar types of files one might have within that phone? This is where you need an app assistant adept at handling such delicate situations for you. Because once information is removed from the phone is lost forever.
How Can a Professional Android Cleaner Help?
Welcome to the world of Android Data Cleaner. Your one stops shop for junk removal and Android maintenance. This software cleans junk files and fixes Android errors with one click.
It takes out cache and temp files and turns your phone in a sparkling new device improving its speed drastically. It is also the only app which provides your phone with comprehensive data protection. You can use it within a few clicks and all your excess data gets deleted. All the important data including the data of apps within your smartphone remains unaffected.
- You can even fix the different types of Android errors including registry errors within your Android phone in just one click.
- You can speed up your Android phone just like it was new.
- You can ensure that your Android phone runs smoothly, without any worries.
- The software uses over 20 data analyzing techniques to ensure that all irrelevant data is cleared up.
Android Data Cleaner is the gem to have. You can clear all unwanted data in just one click and ensure that your Android phone keeps running smoothly, just as it used to on day one of your purchase.
As to the steps, it's quite easy:
- Open the installed software on the computer and get your Android phone linked to the computer via the USB cord. And install the MobileGo connector on your device as asked.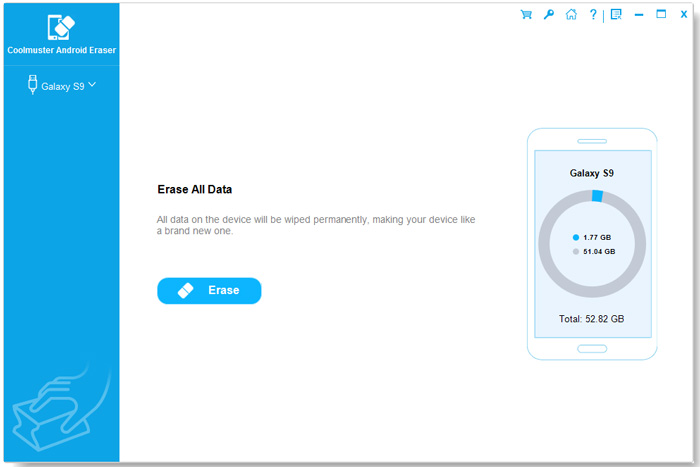 Tips: Currently, for Android device, this program only support Erase All Data mode and it will be improved with more functions soon. In case of unexpected data lost, please remember to backup your Android phone before erasing it.
- Choose "Erase All Data" mode to erase all files from your Android device, including the junk files and click "Erase Now" option to start the process.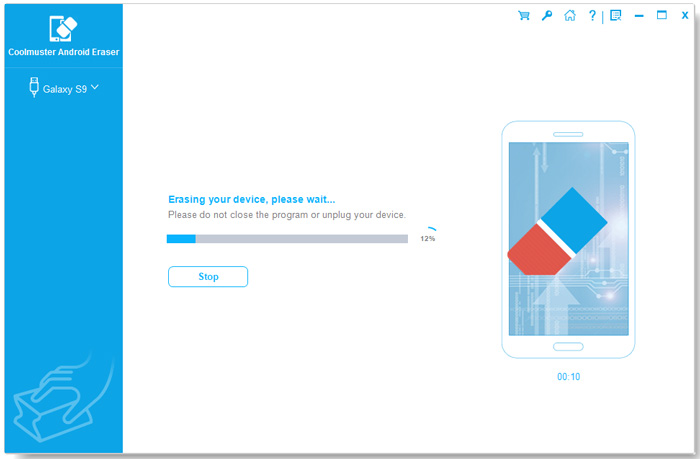 Want to free up more space on your Android phone? So what are you waiting for? Just choose this software to begin right now! It won't let you down!
By the way, since various reasons can lead to the data loss from your Android phone, you are suggested to use a professional backup assistant to backup important files in case of sudden cases, though the chances are quite small.
Related Articles:
How to Delete Everything from Android Phones
How to Make 3G Phone Run as Fast as 4G Phone
Add a comment