According to Canalys's report on the global smartphone shipments, Samsung remains the world's largest smartphone seller in the second quarter of 2021. Despite the popularity of Samsung, some users report that they have inevitably encountered the Samsung mobile hanging problem, leaving their phones frozen without response. Finding an effective Samsung phone hang solution is extremely urgent for these users.
If you are also bothered with the Samsung phone hanging at the startup screen or Samsung Galaxy frozen on startup, follow us to see what to do when the Samsung phone hangs.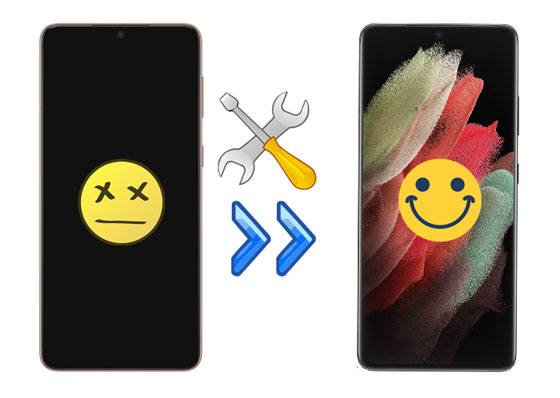 Part 1. Why Do Samsung Phones Hang?
Part 2. What to Do when Samsung Phone Hangs?
Part 3. Samsung Phone Hangs? How to Restart It?
Part 4. How to Prevent Samsung Mobile Hanging Problem from Happening Again?
Part 1. Why Do Samsung Phones Hang?
Below are some possible reasons that make your Samsung phone hang:
Touchwiz. Touchwiz is an Android-based touch interface on Samsung phones that provides a better experience to use the phone. As it often overloads the RAM, your Samsung phone hangs inevitably.
Many heavy apps installed on your phone occupy too much of the Samsung processor and internal memory.
The built-in widgets and useless features drain the battery and slow down the operating system.
The small RAMs on most Samsung smartphones cannot process continuous operations and multitask.
Your Samsung phone needs OTA updates.
Your Samsung device has got physical or liquid damage on itself or the SIM card.
The battery has deteriorated over time.
The battery temperature is too high.
Part 2. What to Do when Samsung Phone Hangs?
As you can see, the Samsung phone hang problem may happen under different scenarios. Therefore, it is hard for you to figure out why and try Samsung phone hang solutions accordingly. Luckily, Samsung System Repair can automatically detect your device issue and fix the Samsung hang problem itself.
Furnished with the cutting-edge AI algorithm, it has a success rate of fixing your Samsung phone to normal and requires no tech skills.
There're the highlights of Samsung System Repair:
* Fix various Samsung problems like a pro: Samsung phone hang, black screen of death, Play Store not working, OTA update failure, apps keep crashing, get stuck in a boot loop, unable to turn on or off Android, etc.
* Everyone can handle it without tech skills.
* High success rate of fixing Samsung mobile hanging problem.
* Work with most Samsung models from AT&T, Verizon, Sprint, T-Mobile, Orange, and Vodafone, such as Samsung Galaxy S22/S20/S10/S9/S8/S7/M30/M10/A90/A9s/A8s/A6s, etc.

How can I fix my Samsung phone hang problem automatically?
1. After installing the software on your PC, please launch it and choose the System Repair module. Next, connect your Samsung device to the PC via a USB cable and tap the Android Repair mode from the left panel.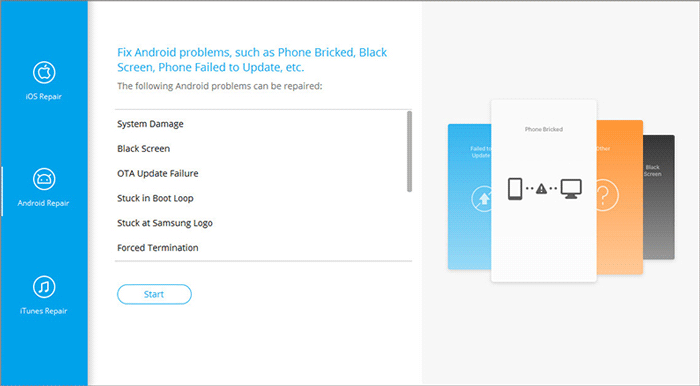 2. Select the correct information in the following interface, tick I agree with the warning, and I am ready to proceed and click Next. Then, enter 000000 in the pop-up window to confirm the operation and hit Confirm to proceed.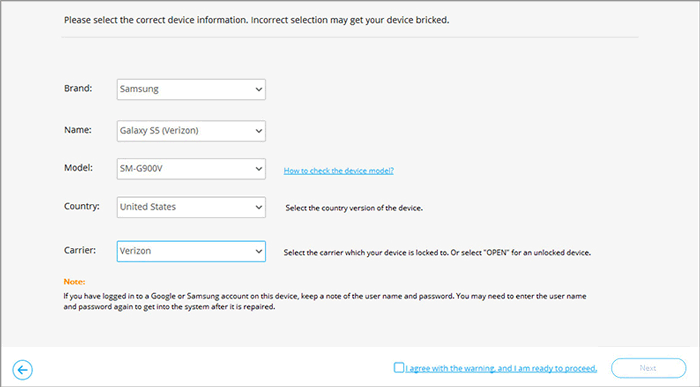 3. Get your Samsung device into the Download mode with the on-screen instructions. Once done, click Next to start downloading the necessary firmware and then repairing your Samsung phone.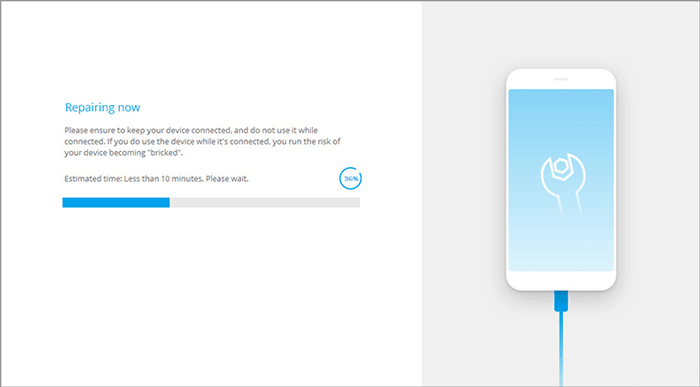 You may like:
How to Recover Data from Broken or Dead Samsung Galaxy S/Note?
9 Ways to Fix Android Tablet White Screen of Death in 2021
Part 3. Samsung Phone Hangs? How to Restart It?
In most cases, you can fix the Samsung phone hangs issue by restarting your device. For that, press and hold the Power + Volume Down buttons altogether for 10 seconds. When the Samsung logo appears on the screen, it will restart automatically.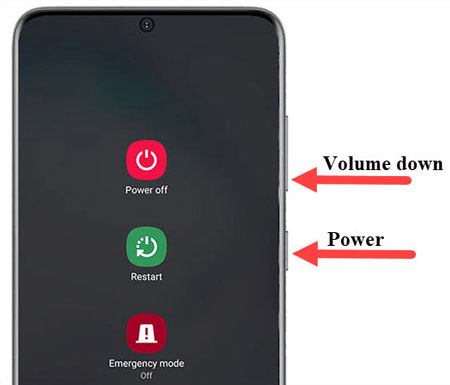 You might need: How to Get to Android System Recovery Mode and What Can It Do? [Answered]
Part 4. How to Prevent Samsung Mobile Hanging Problem from Happening Again?
As we have mentioned above, a series of factors may bring about Samsung hang problem. So, it is necessary to know what to do to prevent the problem from happening again. Well, here are some Samsung mobile hanging problem solutions:
Method 1. Restart Your Phone Regularly
Rebooting your device removes glitches or bugs in the system automatically. To restart your Samsung phone automatically, go to the device's Settings > choose Battery and device care > click the More option (or the three vertical dots) at the top-right corner > select Automation > enable the Auto restart at set times option > set up the Schedule.
Note: Your phone will only automatically reboot when:
The phone is not in use.
The screen is off.
The battery is more than 30% left.
There is no SIM card lock.
Method 2. Remove Useless and Heavy Apps
Heavy apps occupy the internal storage and slacken the system processor. If you have installed too many heavy apps on your phone but hardly use them, you can uninstall them to free up the storage and improve the processor performance.
Open Settings on your Samsung phone > navigate to the Application Manager or Apps tab > choose the app you want to remove > tap the Uninstall button.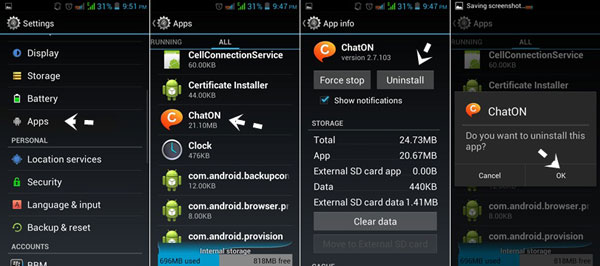 Method 3. Close All Apps Not in Use
Nowadays, many apps will not close when exiting. Instead, they will still run in the background. So, to close apps that are not in use: Click the Tabs option at the screen bottom and swipe upwards to close the necessary apps.
Method 4. Clear Cache and Data
It is always advisable to wipe the cache and data on your device to release more storage. You can head over to Settings > Storage > Cached Data > tap OK to start erasing the device cache and data.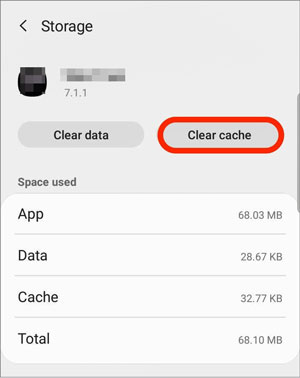 Method 5. Update System
To upgrade the operating system, open Settings, choose Software Update, and tap the Download and install button to check for updates.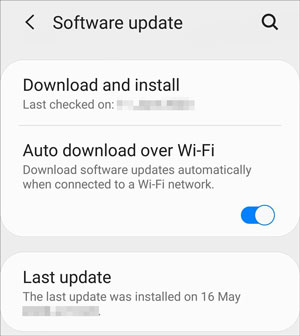 Method 6. Install Apps from Google Play Store Only
Downloading apps from unknown sources may expose the device vulnerabilities in a risky environment. Thus, we always advise you to install apps from Google Play Store to get free and safe downloads and updates. Generally, you can find the most wanted apps from Google Play Store.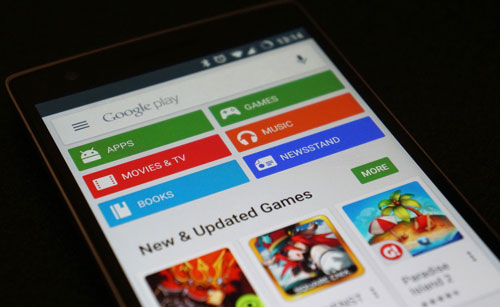 Method 7. Install an Antivirus App
It is necessary to guarantee device safety within 24 hours. Hence, you can install an antivirus app from Google Play Store on your Samsung phone to safeguard your device from internal or external bugs or attacks.
Method 8. Save Apps in the Internal Memory
Another way to avoid Samsung phone hang is to move apps in the device's internal memory. The steps are below:
Open Settings > Storage > Apps > choose the app you want to move > tap the Move to Internal Storage option.
Tips:
8 Excellent Samsung Smart Switch Alternatives for Samsung
How to Transfer Messages from Samsung to Samsung Effortlessly
Method 9. Store Data in Cloud Storage or External Memory
Many people store their favorite songs, photos, videos, and documents in the device's internal storage. As time goes by, the internal storage becomes less and less, and the phone starts hanging or freezing. Why not save the media files to cloud storage or an external memory card?
These days, various online storage services allow you to store data for free, like Google Drive, OneDrive, Samsung Cloud, etc. Besides, a USB hard drive or external memory card is also a good choice to back up your data and free up internal storage.
Wrapping Up
Undoubtedly, it is rather simple to fix the Samsung phone hang problem and stop it from happening in the future. All Samsung phone hang solutions have been listed above, and you can pick one accordingly. But in my opinion, Samsung System Repair is the best way to choose.
By connecting your device to the computer with the software installed previously, it can detect and fix Samsung phone hang and other Android system issues in minutes. And you don't even need to know any tech knowledge. Moreover, we will always be online to help you if you run into difficulties while using.
Related Articles:
What to Do If Samsung Smart Switch Stuck at 99% during Transfer?
How to Fix Android Phone Blue Screen of Death?
7 Simple Tricks for Samsung Cloud Backup Failed Problem (Updated)
Top 9 Android Phone Repair Software to Fix Common Android Issues
How to Cool Down Overheating Android Phone/Tablet?
Useful Tips to Fix Samsung Smart Switch Not Working (Solved)