How to Fix When Your Samsung Phone Hang Again?
"I have Samsung Galaxy A7 and it's hanged . I am unable to switch it off by side button with long press and battery is non removable. So how to get it start and resume my work. Kindly throw some light on solution."
"I took my Samsung A7 to repair as it needed a battery change. 1h after I changed the battery, the screen stopped working. It won't even let me unlock my phone. I tried restarting it numerous times with volume down + off button but it still won't work. I connected it to the PC and I can't reset it like this either. I don't know what to do and I don't trust those who changed my battery anymore, as they returned me my phone in an even worse state than before. What should I do?"
Samsung is one of the biggest Android smartphone manufacturers and many people prefer Samsung mobile phones. However, many Samsung phone users complain about frozen phone problem always occurs and some people even suspect that Samsung hangs more than other brands of phones. In this article, we will discuss the possible reasons that cause a Samsung phone hangs and how to solve Samsung freeze issue.
Part 1: What Causes Samsung Phones to Hang?
Heavy Apps
Light apps like Whatsapp, FB, etc. not makes the Samsung phone to hang the most as these apps usually consumes around 50 to 80 mb RAM. Its hanging because of another app (mostly a heavy game like Asphalt & Modern Combat) running in the background. Heavy apps put great pressure on the phone's processor. Therefore, we must uninstall big and unnecessary apps from the Samsung phones immediately.
Widgets and Unnecessary Features
There are some widgets and built-in functions inside the Samsung mobile phone. They actually have no actual use, only advertising. These widgets and features are not necessary at all; in fact, they will run out of batteries and slow the phone's speed.
Smaller RAMs
Generally speaking, Samsung smart phones' memory will not be very large, which is one of the main reasons it often hangs. Small processing units cannot handle too many operations that are running at the same time. Moreover, you'd better avoid multitasking because small RAMs don't support that and it can overload operating systems and applications.
Above are the main reasons why a Samsung phone hang and frozen. You can keep on reading and the following content will show you how to solve the Samsung phone hang issue.
Part 2: How to Restart A Frozen Samsung Phone?
If your Samsung Galaxy S9/S8/S7/S7 Edge hang and the touch screen is unresponsive, you can wait for about 1 minute to see whether the phone restart by itself. If the phone doesn't restart within few seconds, then, you should do the following operations to restart the frozen Samsung phone manually.
1. Just press and hold the "Power" and "Volume Down" buttons simultaneously for more than 7 seconds to restart your Samsung phone.
2. After restarting, the Samsung logo will appear on the phone screen and the phone boot up normally.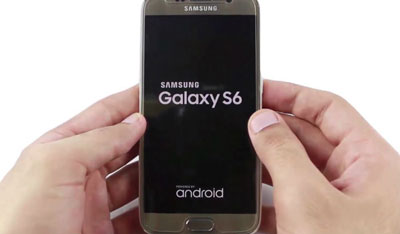 To prevent your Samsung phone from hanging again, you should follow the tips given below.
You May Want to Know:
How to Solve Android Stuck on Boot Screen
How to Fix Phone Keep Turning Off Issue
Part 3: Useful Tips Will Not Let Your Samsung Phone Hang Again
1. Clear Phone's Data and Cache
Clearing phone data and cache is efficient to fix your Samsung phone frozen issue. Follow the steps below to clear your phone cache:
- Choose "Settings" and then select "Storage".
- Tap on "Cached Data".
- Finally, click "OK" on the pop up dialog that asks you to confirm to clear cached data.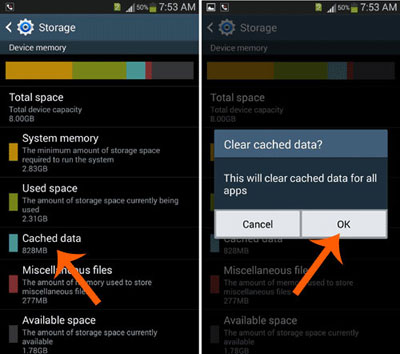 2. Move Apps to Phone's Internal Memory
If you encounter with the problem that your Samsung phone hang, you can move all your apps from your SD card to your device's memory by going through the steps in the below:
- Click on "Settings" and then on "Storage".
- Select the "Apps" option and choose the application you want to move.
- After selecting the apps you want, tap on "move to Internal Storage" on the screen.
3. Delete Unnecessary and Heavy Apps
As I mentioned above, heavy apps put great pressure on the phone's processor and storage. Therefore, we should remove unwanted and heavy apps to free up some storage space and improve the RAM's working.
- Visit "Settings" and either click on "Apps"' or "Application Manager".
- Find the application you want to uninstall and then click on "uninstall".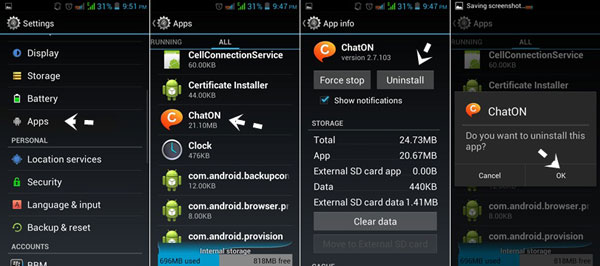 4. Install Apps from Google Play Store Only
Because of the openness of Android, you can install apps from various sources. However, it is not recommended. Remember that it is important to download applications from reliable websites in order to prevent this matter and other matters from taking place, like Google Play Store, this can ensure safety and virus free downloads and updates.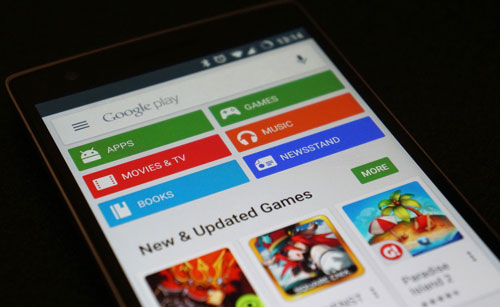 5. Always Have Antivirus App Installed on Your Phone
It is essential to install an effective anti-virus application on your Samsung mobile phone. It protects your phone and prevents all external and internal errors from causing the Samsung phone hang. There are many anti-virus software options available in the Google Play Store. Choose the one that suits you best and install it on your mobile phone.
6. Close All Apps Running in Background
Closing all apps running is background is always useful for all the phone issue caused by insufficient storage space. You need to know that when you open an app and return to the home screen, the app doesn't shut down and still run in background. Just follow the steps below to close all apps that might be running in the background:
- Tap on the tabs option on the bottom of the phone screen.
- All the apps that are running in background will appear.
- Swipe these apps to the side or upwards to close them.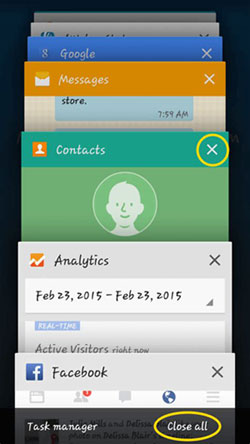 Related Articles:
How to Print Contacts from Android Phone
Recover Deleted Contacts from Rooted Samsung Phones
How to Fix Android Phone Blue Screen of Death?
How to Fix Android Tablet White Screen of Death?
How to Transfer Photos from Samsung to iPhone