When people film a video of their family and friends, one of first that they may want to do is sharing the footage that they have taken with others. Though some people may share their videos as is, others may like to make changes. Whatever the case or situation, these videos can now be changed or modified with technology that is called cropping. Cropping videos are not new but the technology has advanced greatly over the years. So, for those of you who want to know why an app may be needed to crop a video on Android smart phone or tablet, here we find a few of the top reasons for you.
Why You need an app to crop videos on Android?
Reason #1 – Remove Specific Frames
Trim a video to remove frames that the maker does not want you to see. Specifically, if the video that is taken may be shown to people around the globe. In these situations, there may be bloopers and blunders that can make the video appear to be non-effective to the audience that it is being made for. This is especially true when videos are made for professional business promotions.
Reason #2 – Reduce the Timing --- Video too long to upload or Share With Others
Trim a video to remove frames from the footage so that the maker can reduce the timing. For instance, if the person knows that the video is too long to share with others because of space limits, the video can be trimmed down to fit into a specific time frame.
Reason #3 – Change the Sequence of Specific Frames
Splitting videos is a function that can be used on an android crop app too. Splitting videos are essential for those who want to change the sequence in which frames are seen. Simply put, the main goal of changing the sequence of any Android video may be to tell a story in different way and format. For instance, if the maker of the video would like to tell a funny story, they may change the sequence of the frames to place it in the order that they prefer.
Reason #4 – Create Unique Professional Videos to Share
Cropping apps are designed by different software developers so the functionalities can be different from one to the next. However, based on the features included in these applications, an android can create professional looking videos that have the highest quality. Some of which can be used for promoting businesses with the use of an info commercials.
After learning the reasons about why need to crop videos on Android, next, we are going to share you with the best 5 apps to help you crop videos on your Android phones or tablets. Just read the introduction for each of them and pick out your favorite one.
Top 5 Apps to Crop Videos on Android Phone/Tablet
1. VivaVideo
VivaVideo can be described as one of the top video editing applications in the industry today. With a wide range of features and awesome functionality, Android users can make good use of its movie editing and image slideshow maker features. Also, within the addition of its storyboard capabilities, anyone can begin to trim their videos with ease as well as edit their videos so that they can look exactly as the person envisions. Before getting started, however, with this process, the user can even import specific functions, while also adding special effects to the videos that they have taken. It is also important to note that Android users can make their videos look very professional, even when they are simply sharing their edited videos with their friends.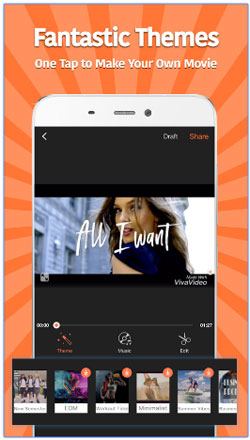 Price: Free with ads
Download Link: https://play.google.com/store/apps/details?id=com.quvideo.xiaoying&hl=en
2. Quik Video Editor
Quik Video Editor by GoPro can be described as one of the simplest ways of developing stunning and beautiful videos. With only just a few taps of the finger, the person can begin creating awesome can images of anything that they have already taken or have chosen from a gallery of photos on the internet. All an individual android user has to do is select all or most of their favorite images and video clips. These clips must be saved on the user's Android phone, Instagram account or on their Facebook account. Once saved, quick video editor's APP can be analyzed in order to create various kinds of short videos for use and sharing. In addition to cropping videos that the owner wants to modify, this app can also be used to add various transition effects, music, special titles, and other features that will help to make great creative videos. In fact, based on the individual's preferences and their vision, these unique videos can be shared with anyone that the user would like to share them with.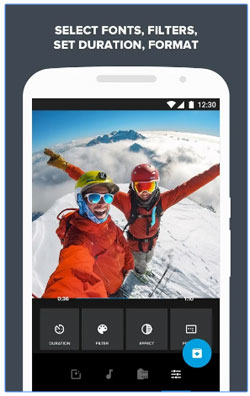 Price: Free
Download Link: https://play.google.com/store/apps/details?id=com.stupeflix.replay&hl=en
3. KineMaster
KineMaster can be described as a comprehensive or a full-featured video editing application that can be used as a tool to crop videos and other things that an android user may think of today. This software application has been designed with a multitracked timeline, which gives each user the functionality to drag-n-drop options that they need. So, this application has a full support that provides the user with the capabilities to import different types of media files with ease. Once the files have been imported, the user will also have the ability to move these files around with their finger. This application will also give the android user the capability to improve the quality of the videos that they modify. With a variety of different tools, the videos can be edited for changes in text, voice over features and will also allow the Android user to add transitions.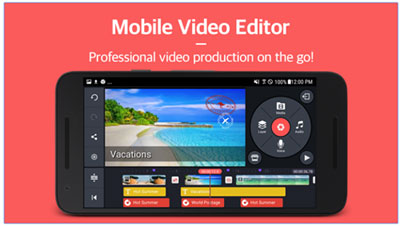 Price: Free with ads
Download Link: https://play.google.com/store/apps/details?id=com.nexstreaming.app.kinemasterfree&hl=en
4. Funimate
Funimate can be described as one of the best and fun video editors that is available to the android community today. This application has been designed for many different uses and purposes. So, people can create their own professional and unique slideshows, while also adding the perfect soundtracks to go along with the images that they import into their devices. However, it is very important for users to know that it really does contain any robust or overly powerful applications that can be used. However, the designers of this app have included over 30 different video side effects that will allow the makers of these videos to experiment as much as they want to. Funmate is great for cropping videos and for sharing with others on several different platforms. The most commonly known and used are as follows: Youtube, Instagram and Facebook. Therefore, anyone in the person's social circle can see what the android user has created.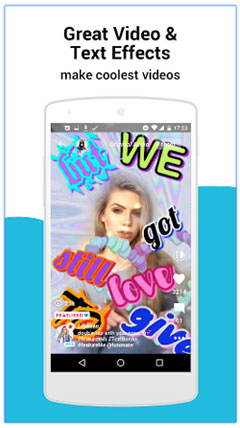 Price: Free with ads
Download Link: https://play.google.com/store/apps/details?id=com.avcrbt.funimate&hl=en
5. FilmoraGo
There are many different types of video editor apps online today, and people can use them to crop their videos in virtually anyway that would like to. However, it is important to note that some of these apps are supplying quite a bit more functionality and features than others. So, it is important to look around for those that will allow the user to do anything that they want to with the crop features that it is provided. So, for those of you who may be interested in what FilmoraGo Video can do, you can expect the features mentioned above. For instance, according to the makers of this app, they have included enough functionalities and features to create a slide show that contains different kinds of soundtracks, photos and images from the media files that have been stored on their Android device. In addition to creating a slide show for any individual, the features on this tool will give the user the option of rotating videos, merging videos, trimming and cropping so that they can be in the best preferred rotated positioning. Since this app is also considered to be intuitive, it is very easy and simple for any Android owner to use.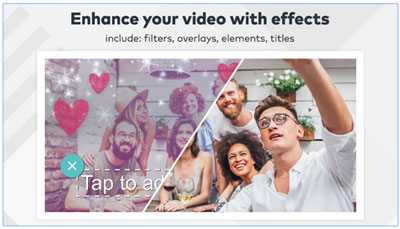 Price: Free
Additional Tips: How to Take Care of Your Precious Videos on Android?
Backup your videos on Android: After you have edited videos on your Android phone, you can backup them on your computer for save or sharing. Here is a guide telling you how to back up files from Android phone to computer. By following the steps in this article, you can transfer not only videos, but also contacts, text messages, photos, music, etc. from Android device to computer. Just click to learn more if needed.
Recover lost videos on Android: If you have lost important videos on your Android phone, no matter due to system crash, virus infect or accidental deletion, you can easily get back these lost videos by using a professional Android videos recovery program. Here is a guide telling you how to recover lost videos on Android phone. Just click to learn more if needed.
Conclusion
Cropping videos on Android devices has become an essential feature for many users. Whether it's removing specific frames, reducing timing, changing the sequence of frames, or creating professional-looking videos, the need for video cropping apps has increased. The five apps mentioned above - VivaVideo, Quik Video Editor, KineMaster, Funimate, and FilmoraGo - offer a range of functionalities and features to cater to different editing needs.
Related Articles:
Top 5 Android eBook Readers You Should Know
Transfer Contacts from Android Phone to Computer
Transfer Photos from Android to iPad in 4 Simple Ways
Want to Clean Junk Files on Android Easily? 5 Ways You Never Think of