Three Ways to Transfer iTunes Music to Android
You're looking for way to transfer iTunes music to Android, but see that the process is cumbersome...
If one has already switched from an iPhone to an Android Phone, then the chances are that you want to import all your iTunes music library to your android device. What may seem a tedious task at first, is actually a very straightforward process.
Top Ways to Transfer Your iTunes Music to Android
Let us look into the options that are available to transfer iTunes library to your Android device.
Option 1 - Sync iTunes Music to Android via Google Play Music
Option 2 - Sync iTunes Music to Android via BitStudio
Option 3 - Sync iTunes Music to Android via DoubleTwist
From Google, this is one of the most popular apps that Android users use to listen to the music they love. Whether it is the next song that they have just downloaded or a music transferred from another device, Google Play Music can do it all.
The Google app provides free, ad-supported radio for whatever work an individual is doing. The songs on this app are based on artists, and albums. One can browse music by genre, mood, activity and more.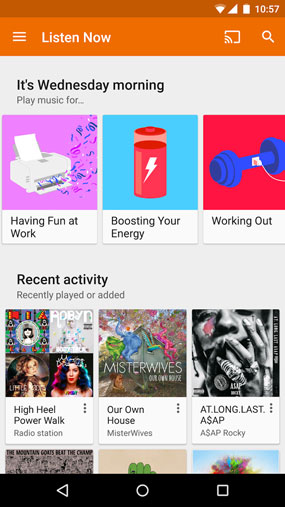 Steps to follow to transfer iTunes music:
> Sign in to google play music web page by accepting the terms and conditions. (or) if already holding a google account, just log in to the account.
> This app detects that there are iTunes library stored on your system. Select "Add music from iTunes".
> Check the buttons that read "Keep Google Play up to date when I add new music to these folders". Leave the browser open and let Play Music upload the files to the cloud.
> Open the Play Music app on your device. There you go. All the songs are automatically transferred from iTunes.
With Google Play, there is a lot of process that has to be followed, from logging into your Google account and syncing.
2. BitStudio - Sync iTunes to android - Pro
BitStudio is a multifunctional app that makes music file transfer between iTunes and Android devices very easy. It is a perfect app for those who have a huge iTunes collection and who want music to Android devices. While it is not available for free, it is a good app designed exclusively for those who have a lot of music on their iOS and Android devices, making the transfer seem a lot more easier.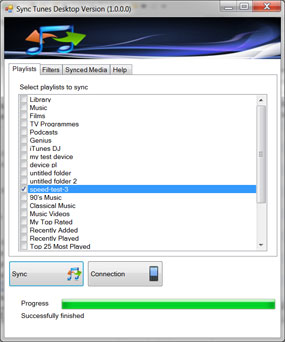 Steps to follow transfer iTunes music:
> Install and run BitStudio on your computer and set up your computer. Connect the phone using a USB cable. Make sure that the phone is in USB Debugging mode.
> Choose what you want to sync. You can choose from podcasts, to music tracks to playlists and more.
> Works on Mac, Android and Windows.
Using BitStudio is great but then again, that's suitable only if you have a lot of playlists and only need one software for that particular task. Plus, it's not free.
3. DoubleTwist
This is a bidirectional app that helps you to sync your iTunes music library with an Android device and vice versa. The app doubles up as both a music manager and music player, having some great features you would love. It can manage podcasts and sync iTunes playlists, and is free. However, if you want to get the full experience, you will have to upgrade to the pro version, from within the app.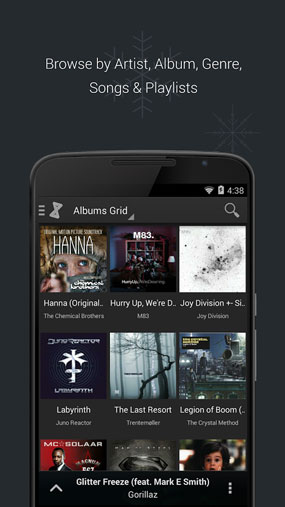 Steps to follow to transfer iTunes music:
> Install and run the doubleTwist app on your system.
> Click on Library - Import iTunes playlists to your iTunes library.
> Connect Android device to the computer using a USB cable.
> Drag and drop the playlist to your android phone in the "Devices" panel and start syncing. And the iTunes is available in your Android device.
The same goes with Double Twist, and while you might like the Podcast feature, you would have to pay up to explore the full features. So, you can also get a powerful Android Music Manager to help manage music files on the computer as you wanted. It enables you to freely download music songs directly to your Android device through the computer. Also this software can serve as an one-in-all solution to all data backup, which helps you to make a phone backup of the wanted files as desired!
Related Articles:
Tips to Transfer Samsung SD Card to Computer