Pattern locks are a common feature used on Android devices to keep them secure. It's like an added layer of security that prevents unauthorized access. With a pattern lock on your device, you just have to draw the right pattern and access the Home Screen. But what happens when you can't remember your lock pattern?
There's no need to be alarmed if you've forgotten the PIN/Password of your Android. It is normal and most of us have at least forgotten our PIN/pattern of our devices at least once. So, it shouldn't worry you. We will show you the best solutions for universal unlock PIN for Android. Besides, we'll also show you the technique to unlock Android device with a universal unlock PIN for Android. Rest assured that these tricks will help you access your device again.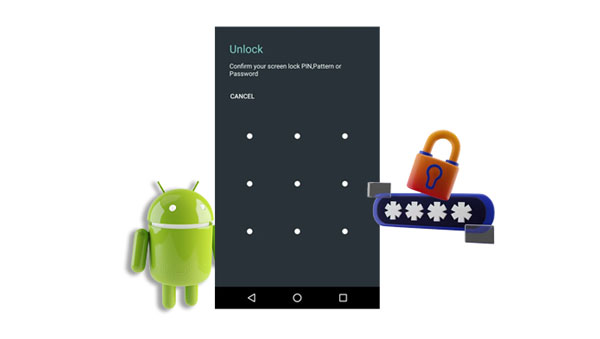 Part 1: Can You Get Universal Unlock PIN for Android?
If you can't remember your phone's passcode, it can be tempting to turn to a universal unlock pattern for Android. However, don't count on this option so much. The truth is that there isn't such a thing as unlocking with a universal unlock pattern for Android without losing data. If one existed, people would no longer feel incentivized to set up their lock screen passwords in the first place since anyone could access them with a PIN.
There are numerous verified techniques that can assist you in unlocking your Android phone without any data loss. Despite what other sources may suggest about universal unlock code for Android, that is not true, but the methods detailed here will work. With these reliable strategies and tricks, you no longer have to worry.
Part 2: Unlock Universal Pattern/PIN for Android in 1 Click
If you're looking for an effective and trustworthy way to unlock an Android device, Android Unlock is your ideal solution. It's a universal Android unlocker app that works on many Android phones. Apart from removing screen passwords, it removes PINs, patterns, etc., and allows users to bypass FRP on their Samsung phones in seconds after resetting them.
Below are some of its impressive features:
* Remove passwords, PINs, fingerprints, and patterns on Android mobile devices.
* Easily bypass the Samsung FRP lock even without a Google account or PIN.
* Easy to use since it does not require technical knowledge.
* Unlock even popular Android phones like Xiaomi, Samsung, LG, Huawei, etc.
* Remove lock screens from some LG and Samsung phone without deleting data.
Download this Android Unlock software.

Free Download for PC
There is no universal unlock pattern for Android without losing data, but you can follow the below steps to unlock your Android device via this professional software:
01Launch the Software
Begin by downloading and installing Android Unlock on a PC. Click on "Screen Unlock" from the available options.
02Connect Your Phone to the PC
Use a USB cable to connect Android devices to the PC. Opt for the "Unlock Android Screen/FRP" option after the PC recognizes your Android device. Then click "100% Remove Screen Lock".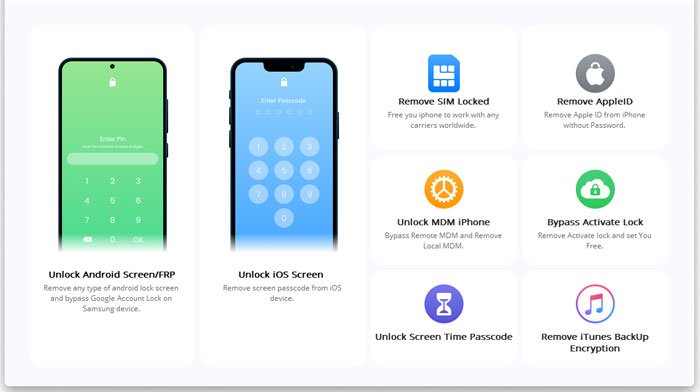 Enter the relevant Android information, such as the device model on the screen that appears.
03Unlock the Android Pattern or PIN
Switch your Android phone to the "Download" mode by following the steps on the interface. Then tap "Remove Now" to eliminate the lock from your Android gadget. Once done, you can access your phone without a password. But please note that it will erase all your data at the same time.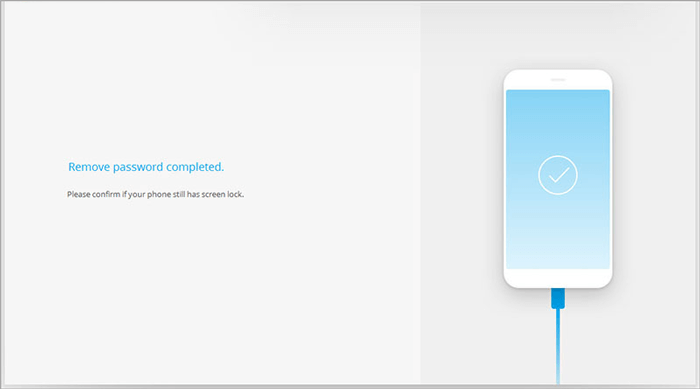 Learn more: [Solved] How to Remove Screen Lock PIN on Android without Password?
Part 3: Unlock Android Pattern or PIN Using a Google Account
Google account is equipped with cutting-edge technology that informs users of any strange or malicious activities. Since Android phones are connected to this platform, Google account can be a powerful tool for unlocking your lock screen passcode, but first, you must ensure that certain conditions are met.
If your Android device runs on Android version 4.4 or earlier, this method will help you reset your PIN after you forget it. Follow the below steps to learn how to unlock an Android device running Android version 4.4 or earlier using Google account:
Step 1: Begin the procedure by repeatedly entering the wrong PIN on your Android phone. Then tap on the "Forgot pattern" or "Forgot password" option.
Step 2: Choose to unlock Android phone using your Google Account. You should have your Google credentials to unlock your Android device.
Step 3: You can create a new pattern or password and unlock Android phone once you successfully confirm your Google credentials.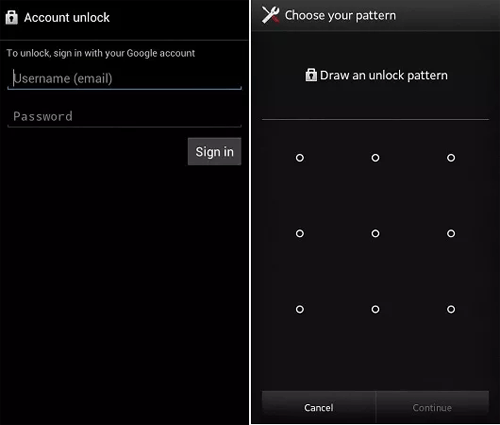 See also: Are you an Apple user? Then you can remove your Apple ID from an iPad without password by following this guide. Let's check it out.
Part 4: Unlock Android Code Using Find My Device
If you set up Android Device Manager, the new name is Find My Device, on your device before it gets locked, it will be easier to unlock your device quickly and remotely, even if you have lost the phone. This feature works with phones that run Android 4.4 and above, so make sure yours does before relying on ADM. Follow the below steps to learn how to use the Find My Device feature to unlock your Android pattern/code:
Step 1: If you cannot access your locked Android phone, head to "Find My Device" on the computer or another device, then sign in with your Gmail account already synced on your phone.
Step 2: Click on the "Erase Device" button from the options available on the screen. Upon completion, you will receive a confirmation. To verify and activate the process, click the "Erase" button.
Step 3: Last but not least, once the verification is complete, all passwords, PINs, and patterns will be eliminated.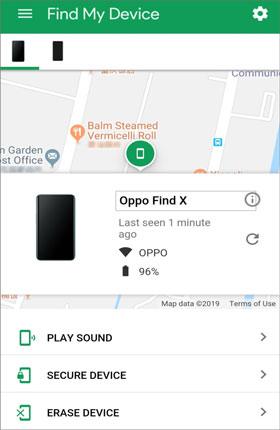 Part 5: Remove Universal PIN for Android without Computer via Backup PIN
If you've ever been locked out of your Android device, there's another strategy for recovering access without resetting it. When creating a pattern or password, you're given the option to create a security PIN; this Backup PIN helps in case of forgetting the original unlock code. Follow the below steps to unlock your Android device if you forgot your Android phone's pattern/password:
Step 1: Head over to pattern lock and enter five incorrect attempts; a message will appear on your screen asking you to wait for 30 seconds.
Step 2: Select the "Backup PIN" option and continue.
Step 3: Your Android phone will be instantly unblocked once you enter the correct Backup PIN.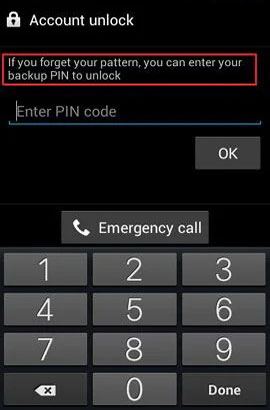 You might like: How Do You Unlock a Tablet if You Forgot Your Password? (Six Approaches)
Part 6: Unlock Universal Pattern for Android without Losing Data via ADB
For those with USB debugging enabled on their device, ADB can open up a world of possibilities to make developer-like modifications. ADB is the go-to tool for unlocking any Android device. Follow the below steps to learn how you can use ADB to unlock Android pattern/password:
Step 1: To get the ADB tool on your computer, head to ADB and download it. To access the USB drivers for Android, simply head over to the manufacturer's website and download them.
Step 2: Connect the device to the computer using a USB cord, and then launch a terminal window on your computer.
Step 3: Enter "adb shell rm /data/system/gesture.key" on the window and then run the command by hitting the "Enter" Key.
Step 4: Once you have finished this process, restart your Android phone and remove any existing screen lock.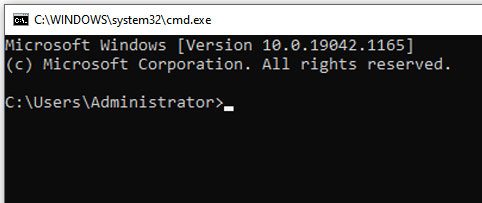 If you lack the technical know-how and don't have a tech background, Android Debug Bridge may not be the ideal choice for you due to its extensive process.
Part 7: Bypass Third-Party Screen Lock by Booting Your Device in Safe Mode
For those who rely on a third-party app to secure their Android device, bypassing the lock screen password is much simpler. Activating Safe Mode is an all-purpose pattern unlocker if you ever forget your code and need instant access. Follow the below steps to learn how you can bypass a third-party screen lock by booting your device on safe mode:
Step 1: To restart your Android phone, press the power key until you see the logo. Then, release the "Power" key and simultaneously press the volume button.
Step 2: Your Android device will prompt you to enter Safe Mode; simply tap the "OK" button.
Step 3: After your phone boots up in Safe Mode, take the opportunity to clear app data for that third-party security software. Or, if you'd like an easier route, simply delete it altogether.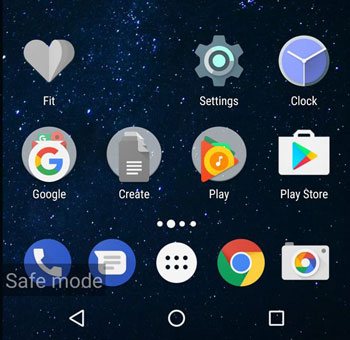 Part 8: Unlock Android Password/Pattern Using Factory Reset
Unlock your Android phone pattern lock with a factory reset through Recovery Mode and watch as all of the phone's data is wiped away. Remove its memory card before beginning this process. This will help keep safe some of the files stored in your memory. This will ensure you don't lose critical settings or info from your handset! Follow the below steps to learn how you can unlock your Android Password /Pattern through a factory reset:
Step 1: Power off your Android phone for a while. Then boot your phone on recovery mode by using the following key combinations "Power" + "Volume Up" + "Home" or "Volume Down" + "Power".
Step 2: Navigate through Recovery Mode using the "Volume Down" to move downwards and "Volume Up" to move upwards.
Step 3: Select the "Wipe data/factory reset" option using the power key. Confirm that you want to reset your phone by tapping the "Yes" button.
Step 4: Have patience as the device reverts to its original factory settings. Once that process is complete, restart your phone as you normally do. You will notice that your android device screen lock is removed, and you can set a new pattern or PIN.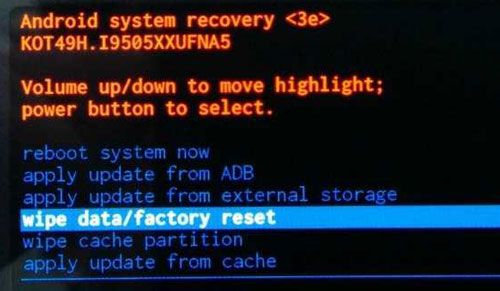 Note: FAQs on Unlocking Android Devices
Q1. Is it safe to unlock my phone using the Android Unlock software?
Android Unlock guarantees a secure experience when unlocking your Android device. This third-party software implements sophisticated algorithms and techniques that allow users to bypass the lock screen easily. Additionally, regular security updates keep your data safe when you use this program for unlocking purposes.
Q2. Is there a chance I might damage my phone if I factory reset it?
No, when you factory reset your device, there is no chance of permanently damaging it. However, all of the phone's data will be wiped away after the process. It is recommended that you remove its memory card before beginning this process to keep what was stored on the device.
Conclusion
As you have seen, there are many ways to unlock an Android phone if you have forgotten its password or pattern, even though there is no universal unlock PIN or pattern for Android. While the best solution would be to remember the passcode, it is not always possible. The most efficient way of getting out of this trouble is by using third-party applications, such as Android Unlock. This software is a secure program that uses sophisticated algorithms and technology to bypass the lock screen without damaging your device.
Related Articles:
How to Unlock Sony Xperia Phone in 6 Easy Ways?
Fix the iPad Touch Screen Not Working Problem in 12 Pro Ways(All iPad Series Supported)
Android File Transfer - Transfer Android Data to Computer
How to Clean Junk Files on Android Easily? 5 Ways You Never Think of
How to Install Android Apps from PC Easily? [4 Solutions]
How to Unlock Vivo Phone if Forgot Password, Pattern or PIN? [Solved]