In specific scenarios, you may have encountered software problems with your Android smartphone. The software issues are often caused when the operating system or applications get corrupted either due to an abrupt app crush or rogue application performance. This can result in performance issues or errors that may lead to unexpected behavior of your phone. The rogue applications can lead to the development of unwanted cache files in your Android phone and may also affect regular use of your phone as well as occupy useful space. When faced by such scenarios, it would be advisable to restart your phone in order to remove the corrupted code and enable the smartphone to start again. Here is how to restart android phone without power button.
In ideal situations, you need to reboot your Android device without power button when it is off or on. In this article, you will learn about the ways of restarting your Android smartphone without the power button when it is either on or off.
See Also:
Android File Transfer Alternative for Mac
Alternative to Kies for Samsung
Method 1: Plug in the Phone to a Charger
There are chances that your phone is off due to low battery. If this is the case, connect it to a charger and wait for it to restart. You might wait for a couple of minutes if the battery was completely drained. Keep on checking on the status of battery level from the screen. After the phone gets sufficient charge, try to test the power button again. If it still fails, try out other tactics as outlined below.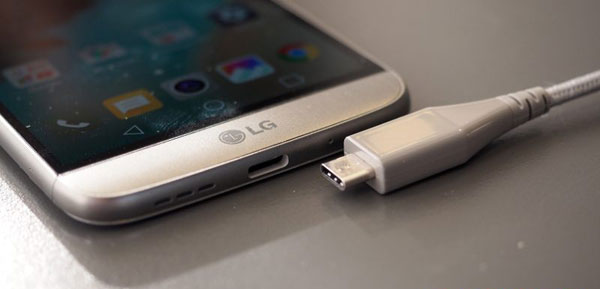 Method 2: Reboot from the Boot Menu
The boot menu can be used to solve numerous issues with your gadget. The boot menu is often used to either clear cache or factory reset an Android device. Nevertheless, it can be used to achieve other tasks.
Step 1. First, determine the correct key combination to access your smartphone's recovery menu. This is different from one Android device to the other. In most gadgets, you can access the recovery menu by simultaneously long pressing the Power, Home, and volume up buttons. The popular combinations are Home + Power button, Home + Volume Down + Volume Up, Home + Volume Up, Power Button + Volume Up, and so on.
Step 2. Let go of the key buttons after accessing the recovery menu option. Navigate to the various options by using your volume up and down buttons and use the power button to select the highlighted option. Here, select the option labeled "Reboot system now" to reboot your phone simply.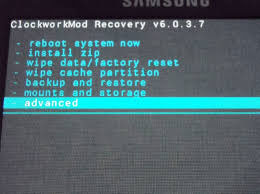 Method 3: Reboot the Phone with USB Debugging Mode Enabled (ADB)
You can use the Android Debug Bridge (ADB) if you aren't able to reboot your phone without the power button. However, before starting this process, you should ascertain that the USB debugging mode is turned on in your phone. Here is how you can reboot your device through this method.
Step 1. Download and install the Android Studio and SDK tools from the official developer website.
Step 2. After successful installation, go to the directory where ADB is installed and open the cmd. Use it to go to the correct location of your ADB directory.
Step 3. Use a USB cable to connect your smartphone to the system. Here, you can give the correct commands to restart the phone even if it is turned off.
Step 4. You can get your device's name and ID by offering the commands "adb device". Failure to get your device means either the USB debugging mode isn't enabled or the device's drivers are incorrectly installed.
Step 5. Locate your device ID and give the command "adb-s reboot". This command will reboot your phone. Additionally, you can give the "adb reboot" command also.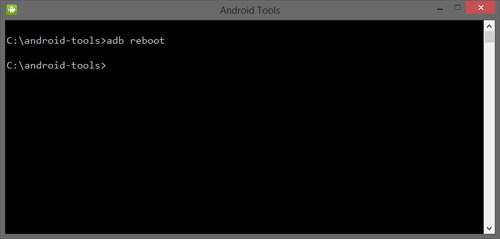 Method 4: Double Tap to Wake Up the Screen
If your smartphone is unresponsive or in sleep mode, you can always reboot it by utilizing a few artless tactics. First, charge it to break the ongoing sleep mode. If it doesn't, call the device from another phone.
Here are additional tips:
- Just tap the home button on your phone to make it responsive.
- You can use the double tap wake feature functionality in smartphone nowadays to wake them up.
- If your smartphone does not have this functionality, and volume buttons don't help either, just plug the phone into a charger and the screen will light up.
- If that also is not possible, ask a friend to give you a call.
Method 5: Use Applications to Substitute the Power Button
If the phone is still up and running, you can consider installing applications to substitute the use of a power button. Afterward, it is possible to reboot your phone easily by replacing the actions of power button with those of volume up button, for instance. Consider using the following application to restart your smartphone with insignificant hassles.
Using Gravity Screen
The gravity app can be freely be downloaded from Google App Store. The app is valuable when your power button isn't working. Gravity screen automatically turns off the screen of your phone when you put it into your pocket, bag or even on a table. When you put it back in your hands, the app will light up the screen. With this app, you will not be needed to touch any button.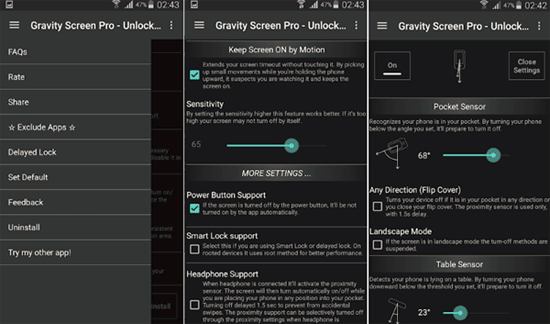 Aside from this, several other applications allow users to not only turn off and on their screens but also reboot their devices via the software option. However, this option is complicated because it requires your phone to be rooted.
Summary
With the above tips on how to restart Android phone without power button, you can quickly reboot your Android phone when your phone power button jams. The essence of the power button is, however, increasing day by day due to the invention of smartphones with full display.
Related Articles:
Alternative to Wondershare Dr.Fone for Android
Android SMS Manager - Manage Android Text Messages
Top 5 Android Storage Managers to Free up Space
Recover Deleted Text Messages from Motorola