Most smartphone users are inclined to set up fingerprints, PINs, patterns, or screen locks to protect their private and valuable data. However, we sometimes forgot pattern lock and lock ourselves out from accessing our devices. how to unlock a phone with a pattern lock? The first logical thing to do is try to guess a possible pattern. If it doesn't work, then you have no choice but to resort to other ways of unlocking your device. From this post, you will learn methods to unlock forgotten pattern locks on your device. So, let's start.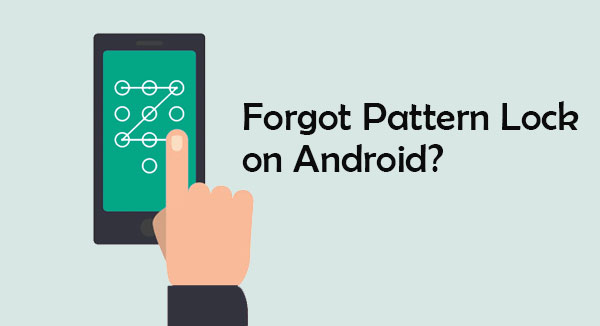 Method 1. Unlock Forgot Pattern Lock on Android without Data Loss
If you do not want to lose your valuable data during the unlocking process, use the Android Unlock please. The software is compatible with most Android smartphones and helps you bypass the pattern without losing your data. Besides, it's among the best software for unlocking patterns in Android smartphones within 5 minutes. Android Unlock can remove fingerprints, passwords, and PINs on Android and enable Samsung users to remove Google account security in one click.
Top Features of Android Unlock:
* Remove 4 types of screen locks - pattern, PIN, password and fingerprints.
* Remove screen locks in all situations, for instance, many wrong trials, forgotten passcode, unknown passcodes, second-hand smartphones, damaged devices, etc
* Helps to remove lock screen on Samsung, LG, Huawei, Google Pixel, Xiaomi, Lenovo, etc.
* Removes all kinds of screen locks for Android devices and helps to unlock Samsung devices while preventing loss of data.
* User-friendly interface, no technical skills are needed.
Below is a detailed process of Android pattern unlock using Android Unlock and preventing data loss.
01Download and Install Android Unlock on PC
Firstly, download Android Unlock on your PC. Install and launch it and click on "Screen Unlock" from the primary interface. Connect your Android smartphone to the computer and click on "Unlock Android Screen."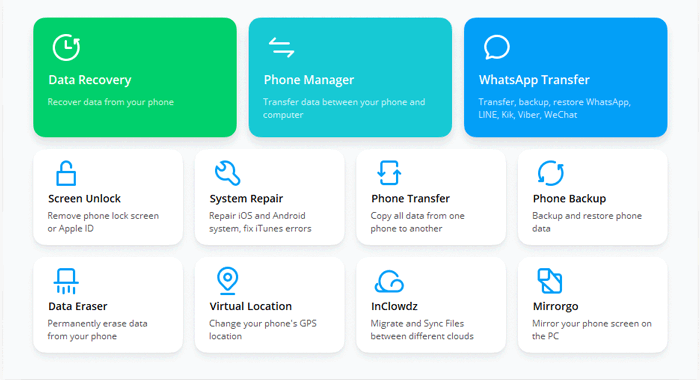 02Choose your device's information
Once done, choose the specific brand of your Android device, and model. You should re-confirm that all the details are correct.
03Enter Download Mode
Next, set up your Android device to download mode and follow the guidelines on the screen. Android Unlock will begin the download process. Just wait for the process to finish.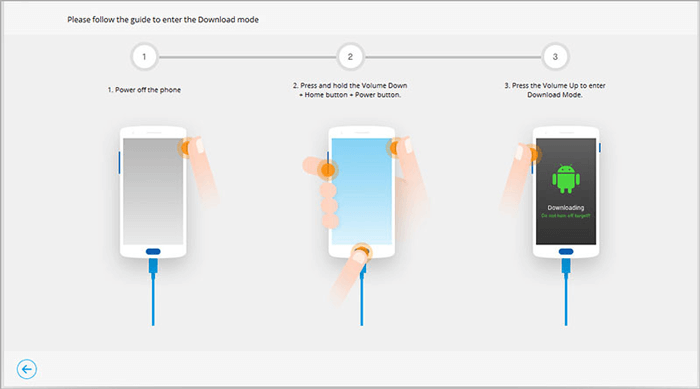 04Complete the pattern lock removal process
After successfully downloading the recovery package, Android Unlock will start the process of removing the pattern lock. After completing the process, the Android device will automatically restart, and you can access your smartphone without pattern lock.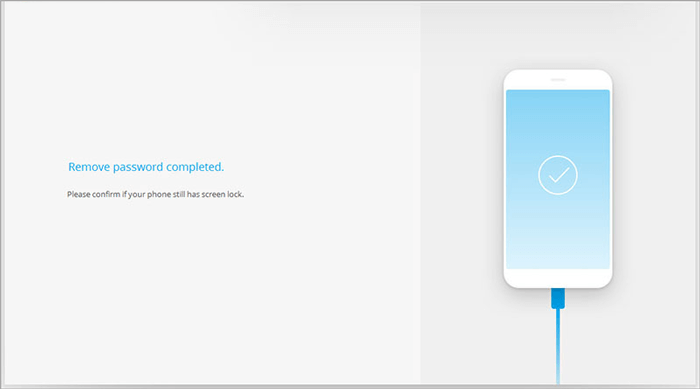 You may like:
How to Fix Android Touch Screen Not Working - Can't Unlock Issue in Minutes? (15 DIY Tips)
How to Bypass LG Lock Screen without Reset? (Solved)
Method 2. Unlock Forgot Android Pattern with Backup PIN
In addition to the face lock, pattern, or password, Android devices are programmed to ask for a backup PIN if I forgot my pattern lock. Therefore, it is possible to use a backup pin to remove the Android device pattern. However, this unique feature is not compatible with all Android brands but is effective for all Samsung brands.
This method cannot work for users who do not have a backup pin. Nevertheless, the other strategies elaborated in this article can be effective. After removing the pattern lock, it is advisable to manually create a backup pin on your device as it will be very helpful if you have forgotten your screen lock pattern.
Method 3. Unlock Android Phone Pattern Lock if Forgotten with Google Account
You may also unlock phone lock with a Google Account. The process can be pretty lengthy and frustrating for most Android users. If you have forgotten your smartphone's pattern, Google account will help. Nevertheless, it is imperative to note that this method will most likely format your device's data. Below is the step-by-step process for removing your device's pattern with your Google account.
Step 1. Firstly, click "Forgot Password" on the phone's screen. If you cannot locate "Forgot Password," then input several incorrect patterns on the screen until the option appears.
Step 2. The device will then request you to type in the Google account details you used to activate your device.
Step 3. Shortly afterward, Google will either send you an email with unlocking details, or you can change it instantly. The Android device will open, and you can proceed to set up another pattern.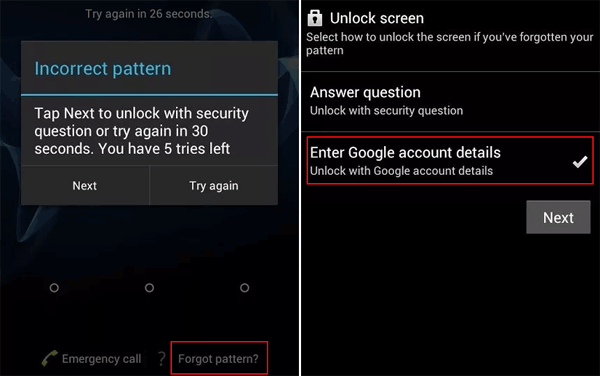 See more:
[Fixed] How to Unlock Locked Android Phone without Losing Data
Fast Unlock a Vivo Phone If Forgot Password (Full Guide)
Method 4. Unlock Pattern Lock on Android via Android Device Manager
This is another method that you can use to unlock your Android smartphone. Find My Device or Android Device Manager will enable you to access your smartphone and change your pattern remotely. This method will also erase your smartphone's data. Below is the simple process to show you how do you break a pattern lock with Android Device Manager:
Step 1. Firstly, access the official website of Android Device Manager from your PC. Type in the account information that you used in your Android smartphone.
Step 2. You will view all respective devices linked to the account and pick out your device.
Step 3. After selecting your device, you will find three alternatives: ring, lock, and erase. To remove the pattern, tap on "Lock."
Step 4. Type in the new passcode for your device and include a recovery note. This will be very helpful if you forget your device's pattern. To save the changes, tap on "Lock."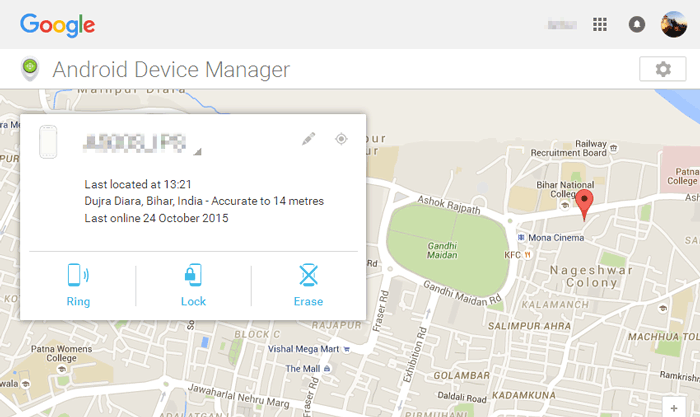 Method 5. Unlock Android Pattern Lock by Factory Resetting
Finally, if you forget your device's pattern, try factory resetting the device. Factory reset erases all files from your Android, including the lock pattern. So, it should be your last resort when everything else fails. Even though all of your data will be removed, you will be able to access your Android smartphone again as the lock will be removed. Here is how you can factory reset to unlock your Android smartphone:
Step 1. Firstly, set your smartphone to recovery mode. To do this, long press the power button, volume up, and home button simultaneously.
It is imperative to note that the process of setting up your device to recovery mode varies between different brands of Android. If you are not sure, you can confirm on the internet.
Step 2. Several choices will appear, and you should click "Wipe data/factory reset" to remove the pattern. Use the power, volume, down, and up buttons to select.
Step 3. Finally, start the factory reset process and be patient as your smartphone reboots. After the process is completed, you can access your Android device.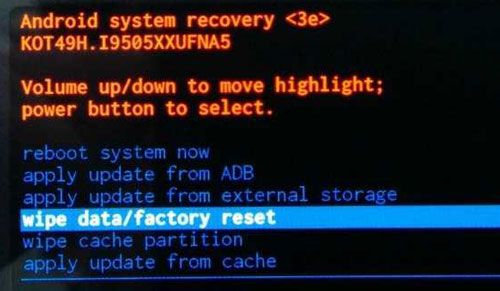 In the End
Forgetting pattern lock happens almost all the time and there is no need to get worked up. The methods elaborated above will help you to remove the pattern and access your Android device conveniently and effectively. However, if these strategies don't suit you, Android Unlock is here to help. It's a great software that will resolve the screen lock issues effectively. Moreover, it is a reliable, secure, and easy way of unlocking your Android smartphone quickly.
Related Articles:
What is an Intelligent Lock Screen on Samsung & How to Enable/Disable it?
How to Unlock Android Phone Password without Factory Reset [6 Ways]
4 Free Solutions for Samsung Galaxy SIM Unlock
What if You Locked out of Android Phone? 7 Easy Ways May Help (New Data in 2023)
How to Access a Locked Android Phone via USB? [Solved]