For security purposes, Google has introduced a security feature known as Factory Reset Protection (FRP) on Android devices of version 5.1 and above. To activate this feature, you need to start your device and link it to your Google Account, which enables the FRP automatically. If you forget the password of your Google account, how can you bypass FRP Google account?
Or when you've bought a secondhand device, you will find it difficult to remove the Factory Reset Protection. Anyway, you won't trap in this issue anymore. This article has offered 4 effective solutions. Let's start to read it.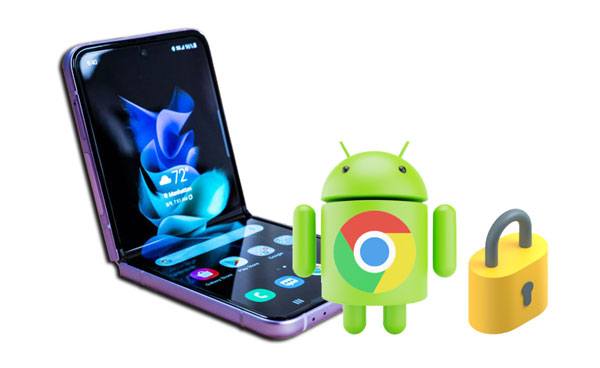 Part 1: What is FRP? Can You Bypass FRP Google Account?
Factory Reset Protection or FRP is a safety feature available on Android 5.1 and later versions. As an Android user, you only factory reset your tablet or smartphone when you want to clear all your data from your device and restore it to its original state.
The main reason your device has an FRP security feature is to block people from clearing your data by factory resetting it in case it is stolen. This is because your Google account details are required to reset the device to its factory settings. If these details are not given, the device will temporarily stop functioning. Therefore, the feature has been designed to protect user data and information when a device is stolen.
Now the question is whether it is possible to bypass the Factory Reset Protection lock when you can't remember your Google Account's ID or when you wish to delete data from an old device that you've bought. The answer is yes, it's possible.
It is possible to bypass FRP easily using your phone or email. If you cannot remember your Google Account login details, you can bypass the account using other techniques that are discussed below.
Read more: Can you bypass iCloud DNS lock? If you don't know the detailed steps, please refer to this guide.
Part 2: How to Bypass FRP Google Account via 4 Methods?
The following section will discuss the best methods you can use to bypass your Google Account security on your Android device.
2.1 How to Use Google Account Manager 9.0 APK for FRP Bypassing
Google Account Manager 9.0 APK is a tool for FRP bypass. With it, you can manage your Google account and remove FRP lock without trouble. Besides, it supports most Android models, so you can use it for different Android devices.
Use Google Account Manager for FRP Bypass:
Step 1: First of all, please go to your phone's settings, and click About phone to check the Android version.
Step 2: Install Google Account Manager 9.0 APK on your phone, and allow it to access your phone. Then ensure your phone is connected to a Wi-Fi network.
Step 3: Open the app, and tap the Menu icon from the top right. Then click Browser sign-in, and sign in with your Google account and password. If you forget the password, please go to Google on the computer and find it.
Step 4: Restart your phone, and finish the setup steps. Then you will see that your Google account is added. Thus, you have bypassed the FRP lock.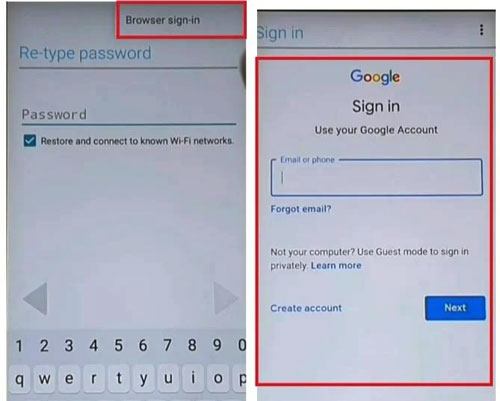 Perhaps you need: Want to bypass Apple ID on your iPhone? Here's a proven tutorial for your reference.
2.2 How to Bypass Google Account Verification FRP with FRP Bypass APK via OTG
FRP Bypass APK is a tool that is used to bypass the factory reset lock on your tablet or smartphone. However, you need an OTG cable because you will flash the Bypass APK on a USB drive and connect it to your smartphone or tablet where the bypass process is to take place. This is because your smart device may not let you download an APK file directly from your browser.
The software basically removes your Google account from your device, and as a result, the FRP is unlocked. Below is the procedure for using the FRP Bypass APK to bypass your Google Account:
Step 1: Download the app from its official website. After you have downloaded it, copy the file to a USB drive. Then open your Android tablet or smartphone and follow the simple instructions on your screen to unlock the FRP.
Step 2: Since you do not have the required Google Account ID to unlock the FRP, connect your USB drive to your device through an OTG cable. On your Android device, go to File Manager, and look for the FRP Bypass file that was saved in the USB drive.
Step 3: Tap on the file and install it. If you receive an error notification while installing, open your phone Settings and enable the installation by switching on the Install from Unknown Sources option. Doing so will allow your device to install apps from third-party websites.
Step 4: Tap the Install option and start installing the app again. After that, open your Settings and select Backup and reset. Finally, select factory reset and then tap the Confirm option.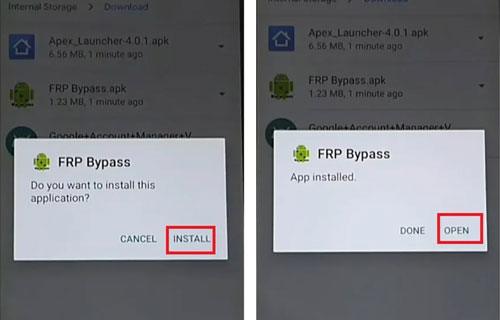 This is the simple procedure you should use to bypass a Google account on your Android device. Now restart your phone, and the FRP lock issue will be no more. Once you restart it, you can consider setting it up afresh with your Google Account.
Guess you like: How to Bypass Fingerprint Lock on Android? [Informative Guide]
2.3 How to Disable Google Account FRP Lock Using SideSync APK
This method is just like the one above, but here, an OTG cable and a USB drive are not needed.
Step 1: Download the SideSync app and install it on your computer. Run your downloaded program. Next, connect your Android smartphone or tablet to the computer using your USB cable. A pop-up notification will appear asking you which app you want to use to open.
Step 2: Choose Chrome browser to download your bypass APK. Once you have downloaded the app, open App Store on your device, and do not install SideSync on the device when asked to. Search for ES File Explorer and install it.
Step 3: Launch the ES File Explorer on your device. From the download folder, find the APK and install it.
Step 4: The Settings menu will open. Scroll through to the Backup and reset option. Tap the Factory data reset option to reset your device. That is it; you have already bypassed the FRP.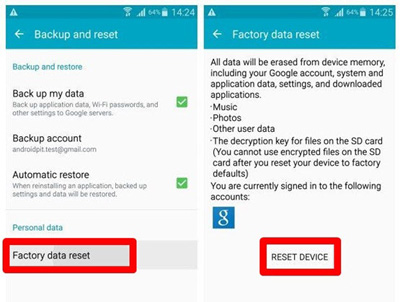 2.4 How to Deactivate Google Account On Your Device Manually
The easiest way is to deactivate the FRP lock beforehand to avoid any issues when you want to factory reset your device. This involves removing any Google Accounts associated with the device since Google enables FRP automatically the moment you connect Google Accounts with a device. Below is the procedure for disabling your Google account manually on your Android tablet or smartphone:
Step 1: Open your device Settings and select the Accounts option. Click Google and then select a Google Account. Remember, you can only disable them one at a time.
Step 2: Click the icon with three dots at the top of your screen and select Remove Account.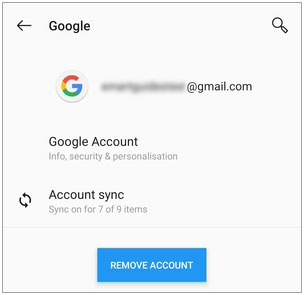 Note that some options vary with the model of the device, but the process is basically very similar on all your devices.
Read more:
Android SIM Unlock - How to Unlock SIM Card on Android with Ease?
How to Access a Locked Android Phone via USB? [Solved]
2.5 How to Bypass Google Account Verification FRP via Android Unlock (Samsung Only)
Do you wish to remove your screen security from an Android tablet or smartphone? The best app for such tasks is Android Unlock. This software allows you to remove Google account FRP lock very easily on Samsung devices. However, it cannot support other brands of Android devices. By the way, if you want to unlock a screen lock on Android, you can also use this program.
The notable features of Android Unlock:
- Do well in FRP/Google account bypass for most Samsung phones and tablets without Google ID.
- Guide you with easy steps on the interface without any skill.
- Unlock Android phones without screen passwords, including patterns, fingerprints, PINs, etc.
Download this Android Unlock software.

Free Download for PC
Below is the procedure for bypassing your Android screen lock using the Android Unlock app:
01Download the Android Unlock app and install it on your PC. Once it is successfully installed, launch it. From the toolbox, select Screen Unlock > Unlock Android Screen/FRP > Remove Google FRP Lock.
02Connect the locked Android device to the PC through your USB cable, select your Android version, and tap Start. Then click Emergency Call on your phone, and type *#0*#.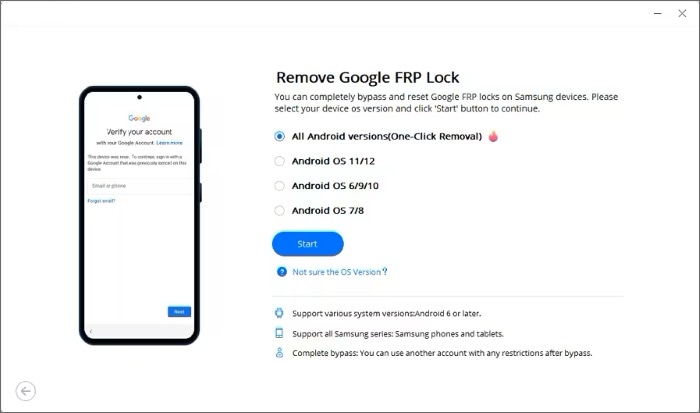 03Switch on the USB debugging mode on your phone, and hit Authorized on your computer. Once done, it will begin to remove FRP from your mobile phone.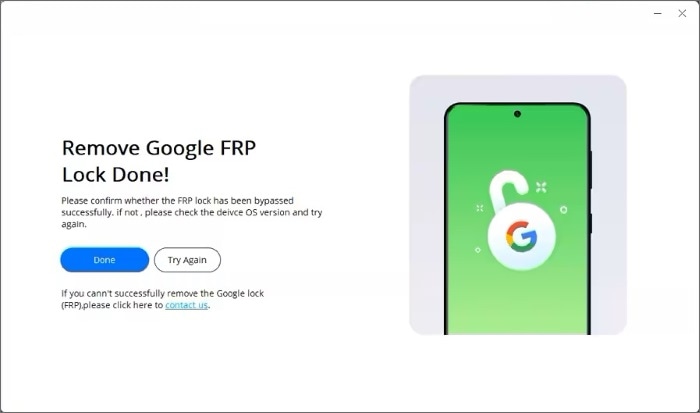 Maybe you like: You can also bypass Google account on Huawei devices without PC using this guide.
Conclusion
Google Factory Reset Protection lock helps protect your Android tablet or smartphone from unauthorized access, making it a very useful feature. However, some issues may arise which may make you want to bypass the FRP using the above-discussed methods. And you can follow the steps to bypass the FRP Google account lock with ease. If your device is Samsung, you can choose Android Unlock to solve the problem. This software is the most highly recommended tool because of its effectiveness and succinctness.
Related Articles:
[Solved] How to Unlock Disabled iPad without iTunes | Latest Guide
How to Unlock iPhone with Unresponsive Screen? [Full Guide]
How to Unlock iPod touch without Password (Solved with 4 Ways)
How to Bypass LG Lock Screen without Reset? [Solved]
How to Bypass iPod touch Activation Lock Easily? 4 Ways You Cannot Miss
How to Bypass iPhone Passcode Step by Step? (5 Amazing Ways)