In today's digital world, an iPhone isn't just a mere phone but a little device that can store your data and help you organize certain aspects of your life. With its wide range of functions, an iPhone provides a creative outlet that allows us to express ourselves creatively and easily. And while this all sounds great, it also means that the iPhone will have lots of data, and managing sometimes can become tedious. Luckily, there are the best iPhone file manager for Windows that can help you manage iPhone data in the best way possible and save time. Have a look!
1. Coolmuster iOS Assistant - The Best iPhone File Manager for Windows
Nowadays, many iPhone/iPad file explorer for Windows have been developed and released in the market. But Coolmuster iOS Assistant stands out with its genuinely effective capabilities. This app is a simple and easy-to-use file manager for iPhone that allows you to manage all your files stored on your iPhone. With it, you can add and delete iPhone files directly on a computer, easily navigate your files and folders and organize them as you wish.
Coolmuster iOS Assistant comes with a straightforward user interface and works flawlessly with all iOS devices. It is an all-around iPhone data manager that can't fail you and is undoubtedly the best, most powerful data manager for your data management needs.
Key Features of iOS Assistant:
* Manages iOS data freely on a computer.
* Supports most data types, including contacts, music, videos, call logs, etc.
* You can add, delete or edit multiple data types you've saved on your iPhone on a computer.
* One-click iOS data backup and restore.
* Transfers data freely after previewing and selecting.
* Compatible with all iOS models, including iOS 16.
* Supports Mac and Windows computer.
* Price: $29.95 (1 Year License)
How to manage your iPhone data via Coolmuster iOS Assistant
01 Download the software on your computer. After that, launch it and you'll see its primary interface.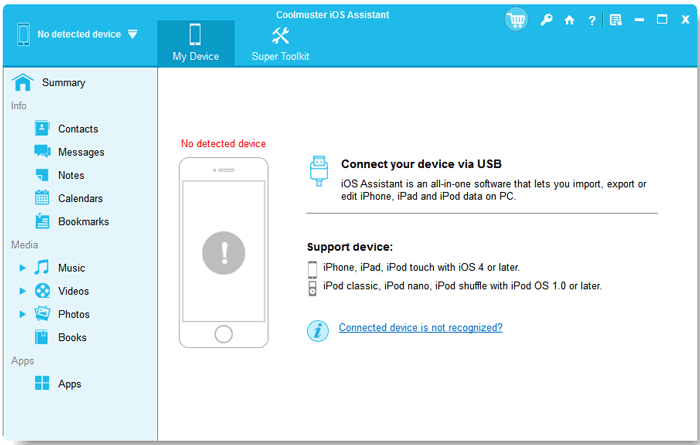 02 Connect your iPhone to the computer using a lightning cable and click "Trust" when prompted to trust the computer. You will see all your iPhone files divided into categories on the left panel.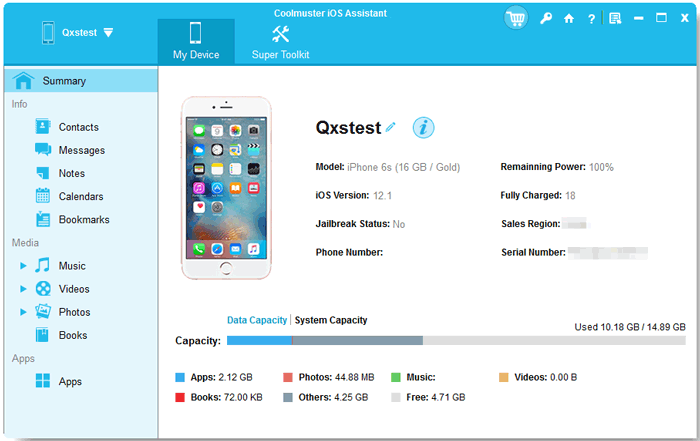 03 Choose the specific files you want to manage on your PC, hit the "Export" icon to transfer data from iPhone to computer, click on the "Import" button to copy data from computer to iPhone, click "Delete" to remove files from your iPhone, and click "Edit" to modify information on your iPhone.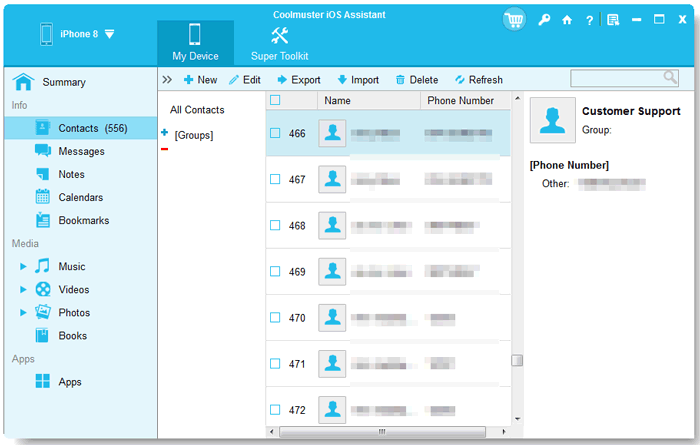 You may like:
[Fixed] How to Recover Deleted Videos from iPhone with or without Backup?
How to Transfer Videos from iPhone to USB Stick with or without a Computer?
2. iExplorer
Browsing the contents of your iPhone files on a computer is incredibly easy with iExplorer. As one of the best iPhone/iPad file manager for PC developed by Macroplant, it is very easy to use and lightweight. iExplorer is a great iPhone file manager for Windows and Mac. It offers quick access to every single iPhone file and folder. With it, you'll find managing all of your iPhone files easier than ever. It has features you could ask for, offering access to files such as messages, notes, call logs, contacts, and more.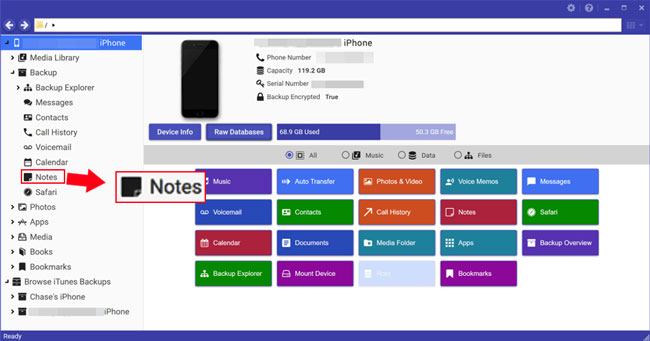 Key Features:
* You can import or export files like messages, contacts, etc.
* Disk Mode to offer directories.
* Supports major Windows versions and Mac.
* Backs up your phone or browse iTunes backup.
Price: $39.99
3. Dropbox
Dropbox is free software that enables you to store, sync, and share files. It's a cloud-based file hosting service that you can use on your desktop, laptop, or mobile devices. This tool is one of the best iPhone file managers for Windows, that's incredibly easy to use and offers numerous perks. It also adds a layer of security to ensure that all your files are backed up in case something goes wrong. Plus, Dropbox is an excellent option for those who are always on the go. It provides easy access to your files from any location. Moreover, you can share links with colleagues, friends, and clients. Dropbox is one of the best iPhone file managers for Windows that is highly recommended due to its robustness.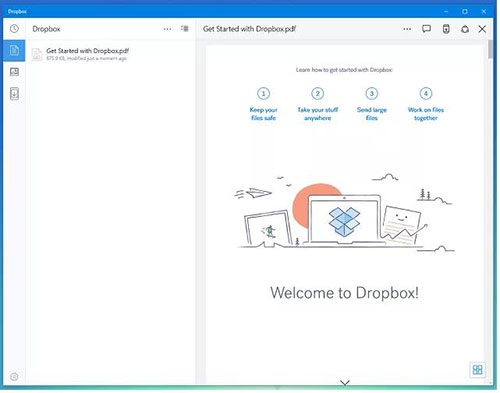 Key Features:
* Syncs all your files automatically everywhere, anytime.
* 2 GB of free storage space, keep your files accessible in multiple places.
* Dropbox keeps everything in sync across your computers and devices.
* Supports all iOS devices.
* Supports Mac and Windows computers.
Price: It's free, with an upgraded version starting at $9.99 monthly.
See more:
How to Delete Music Videos from iPhone?
How to Save Videos from WeChat on iPhone?
4. iMazing
iMazing is another iPhone management software perfect for those looking to manage their iPhone files and organize data on their computers. As the name implies, iMazing is a fantastic iPhone manager app that doesn't need you to connect to iTunes or iCloud before using it on your Windows and Mac. It supports iOS 13 and can move iOS data between your device and computer works easily.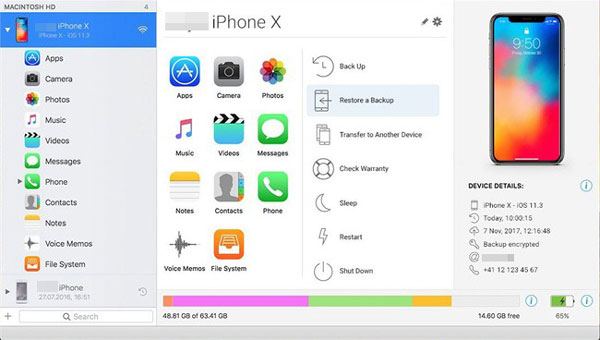 Key Features:
* Intuitive user interface with various data categories.
* File system feature to help you get complete access to the storage directory.
* Manage media such as pictures, movies, music, etc by exporting or importing them from iOS to Mac/Windows computer.
* Conveniently transfer files from one device to another.
Price: $25.77
5. FileApp
FileApp is one of the best tools that's incredibly easy to use and simple. It allows you to keep iPhone data in folders, and under every category, you will be able to view and manage the files. Just click to open or swipe for more options, such as deleting. This is one of Windows's best iPhone file managers that can help you manage your data effectively.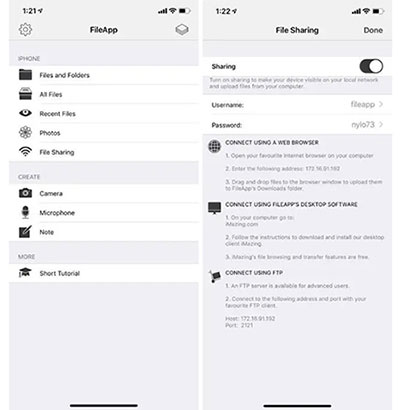 Key Features:
* Several editing options.
* Multimedia Player and Video Playback.
* It's not compatible with all iOS devices.
* Folder Manager for managing files by creating, deleting, moving, renaming, and more.
* Supports Mac and Windows computer.
Price: Free
6. iFunbox
iFunbox is a free software for managing files on any iOS device. It's a great file manager that helps you manage the data on your iPhone, iPad, and iPod Touch without jailbreaking your device. It features an advanced App Sandbox that lets you access directories on the phone on a root level.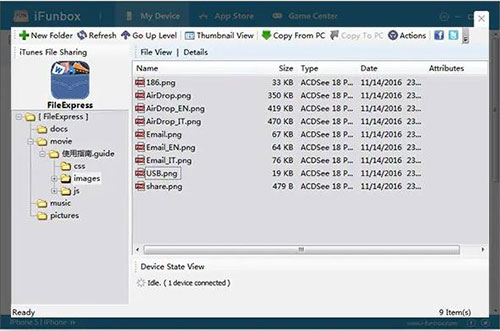 Key Features:
* Manage apps effectively and convert them to .ipa files.
* Inbuilt app store and game center.
* Available on Windows and Mac computer.
* Transfer files between iOS device and computer.
Price: Free
7. File Manager & Browser
File Manager & Browser is a great iPhone file manager for Windows. This software works seamlessly with your iPhone and makes it possible to manage the files on your phone effortlessly. It has an easy-to-use interface that enables anyone to access the files on their device. File Manager & Browser can browse through all the exciting folders, making it easier to find what you are looking for. It is not only an excellent tool for managing files but also a perfect tool for browsing through all the crucial folders of your phone.
Key Features:
* Integrated PDF Reader.
* Supports Microsoft Excel, Office, etc.
* Passcode protected files.
* Built-in search feature.
Price: Free with a pro version of $1.99 per month
Conclusion
iPhone is one of the most trusted smartphone devices that have been used by hundreds of thousands of people around the world. This device plays a significant role in multiple aspects of our life, and it can be quite frustrating when you cannot manage your files freely on this device. To provide you with a better solution to this issue, we have found the best iPhone/iPad file manager for Windows that can help you transfer and manage your files without hassle. To manage your iPhone data hassle-free without complications, you should use Coolmuster iOS Assistant, the most powerful iOS file manager for Windows out there.
Related Articles:
5 Tips: How to Transfer Videos from iPhone to PC Windows 10 Without Any Hassle?
Photos Didn't Transfer to New iPhone? Work It Out with Easy Solutions
How to Transfer Videos from iPhone to USB Stick with or without a Computer?
How to Transfer Videos from iPhone to Android Effectively [Solved]
How to Transfer Large Videos from iPhone to PC? Try 8 Methods Here