Best iTunes Alternative to Sync Data from iPhone to PC/Mac
iPhones come with limited storage and you need to sync it with iTunes on computer to get more space on your phone. Syncing is also required to build up iTunes library on your PC. Transferring music and videos to desktops also makes them more pleasurable to watch and listen. Let us see how to sync iPhone with computer using iTunes.
Sync data of iPhone using iTunes
Here is what you can do to sync data from iPhone using iTunes. This is the normal procedure any Apple user has to follow to sync data between their iOS devices. As we shall see, the important aspect here is that the media remains within iTunes, and you cannot access it independently, like you do on Windows. So, you cannot transfer the media to any non iOS device or even an iOS device that does not sync with your account.
1. Ensure you have the latest version of iTunes installed on your computer. Then launch it.
2. Take the USB cable and use it connect your iPhone with the desktop.
3. iTunes will detect your iPhone automatically and display it. Find and click on your device.
4. You will be able to see the content of your phone in a menu under settings on the left side of the interface. You can activate syncing for movies, music, photos, audiobooks, etc. Select the content type you want to transfer and choose the box beside Sync.
5. Now you have to press the Sync tab placed on the lower right part of the interface. All the content chosen for syncing will be transferred to the computer.
However, there are many disadvantages of using iTunes to sync your data. Now, let's have a quick review of the major disadvantages of using iTunes to transfer files from iPhone to computer (PC/Mac).
Disadvantages of using iTunes:
> Sometimes by auto triggering iTunes syncing can lead to data loss.
> Also, you cannot transfer items which you have not purchased.
> Limitations are also encountered when one tries to move the apps.
> iTunes itself is also not very user friendly and does not give you freedom over your transfer options.
To get total freedom to transfer whatever you want, you need to have a professional software. There are some available in the market, like the SynniMonkey or MediaMonkey. Some of them are even free but the cluttered interface and the limited features available do not make them worth it.
Here, you might also want to know:
How to Sync Outlook Contacts with iPhone
How to Sync iPhone Contacts with Gmail
Share Facebook Contacts with iPhone
However, nothing comes close to Coolmuster products when it deals with quality and performance. In the below, you will get the best alternative for iTunes to sync your iPhone to the computer within simple clicks. Let's now have a look at this software and learn how to use it!
When you need to transfer files to a computer or create a quick backup, think about Coolmuster iOS Assistant (Windows/Mac) software. With one click files like songs, videos, photos, playlists, contacts, texts, audiobooks, etc can be transferred to a PC. Files can be viewed in different modes and a comprehensive search option lets you find your files easily.
How to transfer files between iPhone and computer
Step 1. Establish the connection between your iPhone and computer with the USB cable and open the installed software. The program auto detects your iPhone and shows your device along with detailed information.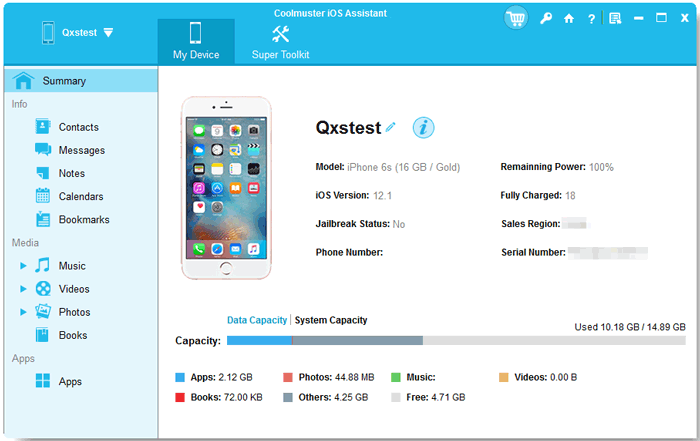 Step 2. All the data on your iPhone will be conveniently placed on the left side menu under categories like music, movies, podcasts, books, rigntones, etc. You can click on any category to view the content inside it.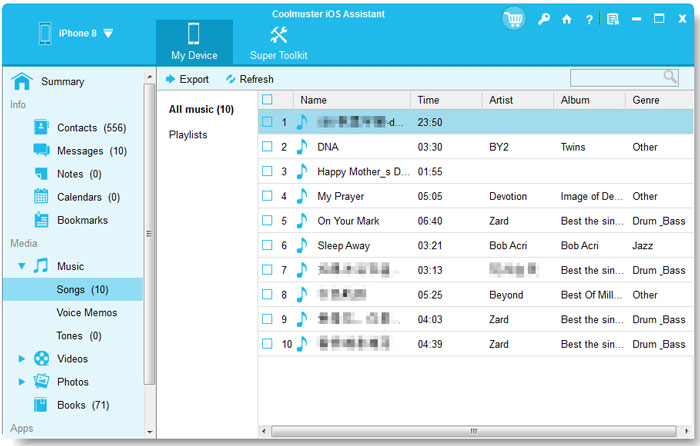 Step 3. You can see a preview of media files before selecting them. Choose all the data you want to transfer and press Export button at the top of the window. A window will pop up notifying you of the completion of transfer.
With this professional assistant, it is really easy to transfer files and you do not have to worry about long transfer times anymore! So what are you waiting for? Just get this software to give it a try by yourself!
Related Articles:
How to Use iCloud Photo Sharing
Add a comment