When the iOS 10 is released, quite a few users can't wait to update to the newest version. While it is claimed as the biggest update ever by the Apple, we've also heard some different complaints about this iOS system as introduced in the below:
- iMessage app fails to work on iOS 10.
- iMessage wait for activation.
- iOS 10 iMessage not opening.
- iPhone fails to receive messages.
......
. To name just a few. Generally speaking, all these problems can be caused by various different reasons like wrongly configured settings, poor network conditions and many more. Now, let's see how to deal with these common problems.
Related: Solutions to Common iPhone Problems
Quick Fix to iMessages Now Working on iOS 10
Solution 1. Check network condition
The first thing you need do when iMessage fails to work on iOS 10, is to check whether the network is available and stable. Just go to Settings > Wifi/Cellular and turn it off. Then, restart your iPhone and turn on the Wifi/Cellular once again. Try again to send iMessages to see whether the problem is solved.
If not, you need to reset network settings.
Solution 2. Check more details
- Make sure Date & Time are correct: Settings > General > Date & Time > Set Automatically.
- Make sure you've connected to Wifi.
- Make sure your Carrier support iMessage.
- Turn on Airplane mode and turn it off.
Solution 3. Turn off iMessage and then turn it on
- Go to Settings > Messages. Turn off iMessages if it is switched on already.
- Then turn it on and wait to ensure there is an active network.
- Wait for a while and then send an iMessage to someone using an iPhone with an active network.
- If this still fails to work, sign out of your Apple ID and re-sign in again. And repeat the turn off-on again.

Solution 4. Make Sure to Set your Phone Number to Send and Receive Message
- Go to Settings > Messages > Send & Receive.
- Now, you should see the below interface where your phone number and Apple ID are displayed.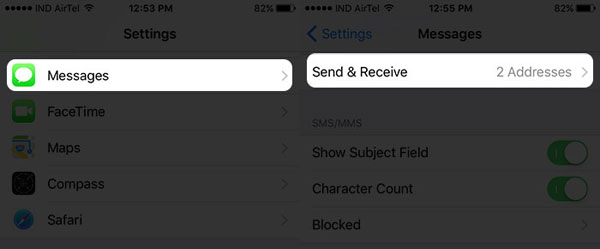 Here, you can try the following steps to fix the problem:
1. Remove email ID and only use the phone number.
2. Select an either email or iPhone, then you will see "Start New Conversion from" section.
3. Choose your phone number for this.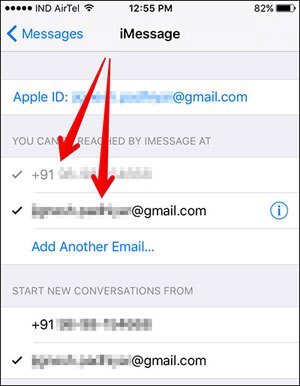 Solution 5. Disable Reduce Motion setting
- Go to Settings > Accessibility > Reduce Motion.
- Turn off the option and then exit.
- Now try to send messages to see if the problems have been solved.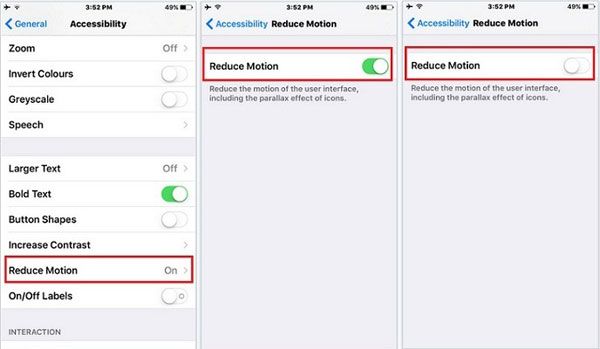 Solution 6. Update to the newest iOS 10.3
Now, just try the above solutions to fix iMessages not working on iOS 10. Also, if you want to recover lost iMessages from iPhone, just check here.
Related Articles:
How to Export iMessages from iPhone to Computer