iTunes is an application developed by Apple and is best known as a media player—a convenient way to play your songs and videos. It is also free for Windows and Mac. iTunes library is the database where all the media you add to iTunes are collected and kept—for your convenience. iTunes has become a very popular way to store music in recent times.
Part 1. 4 Tips to Add Videos to iTunes Library
Part 2. Advanced Way to Export Videos to iTunes Library (Recommended)
Why need to transfer video to iTunes library?
So, are you wondering about the benefits of adding in videos to your iTunes library? Remember, iTunes can story everything from music to movies and it's one place where you can manage all your media the way you want it. The advantages of using iTunes library are many. Here are a few benefits:
1) It helps you to store not only songs, but all other media. You can also store and sort your favorite videos if you want!
2) It helps keep your songs and other media organized. You can at once search your songs or videos by genre, artists and albums. You can even create a customized library if you want.
3) It allows you to easily create playlists of your favorite song.
4) It is not complicated and can be used by anyone.
5) Once you update your iTunes, your iTunes library will be automatically updated with the latest enhancements, and thus you don't have to worry about outdated software ruining your videos.
6) If you are using the iTunes software on your computer, if will automatically transfer the media to your Apple device once you connect it to the computer. Thus, there is no hassle in file transfer. Furthermore, all the playlists and other sorting in the library remains the same.
Extra Bonus: How to Refresh iTunes Library
Part 1. 4 Tips to Add Videos to iTunes Library
Well, there are simpler ways to do it too. Don't worry. Here are some ways in which you can import video files to your iTunes library:
1) You can directly add videos to your iTunes library by purchasing them from the iTunes store.
2) You can even import videos downloaded from the Internet into iTunes. Similar to music files, video files can also be dragged and dropped into your iTunes library. You can store all your video files in one folder and drag the folder to iTunes.
3) If you want to import files to your iTunes from your Windows, there is another way to do it. Press the "Alt" Tab to display the menu bar, and then after clicking the "File" menu, select "Add File to Library" or "Add Folder to Library". Then browse for the correct video file or folder and add it.
4) If you are a Mac user, go to the iTunes Menu and select "Add to Library". Then, similar to Windows, browse your required video and add it.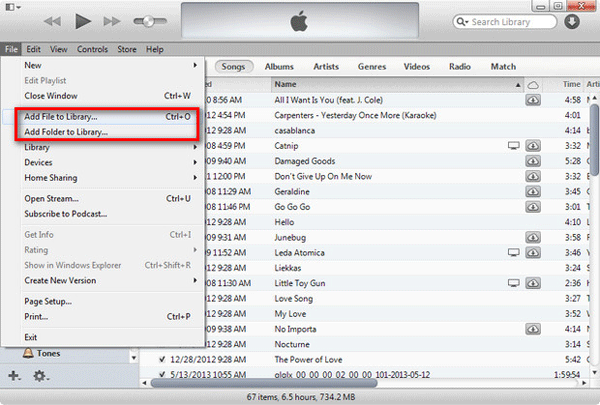 Part 2. Advanced Way to Export Videos to iTunes Library (Recommended)
There is an advanced way to export videos on iPhone/iPad/iPod to iTunes Library and manage effectively all the files on your iOS device, that is, using the great tool - iOS Video Transfer. This software allows you to export or transfer multimedia files, including the videos, TV shows, music videos, movies, podcasts, iTunes U, ringtones, audio books, voice memos and etc. to PC or iTunes Library. Of course, you can preview and select the items you want to transfer and manage.
Here is how to use the software:
Step 1. Download and run the installed software on your computer and connect your iDevice to the PC via a USB cable.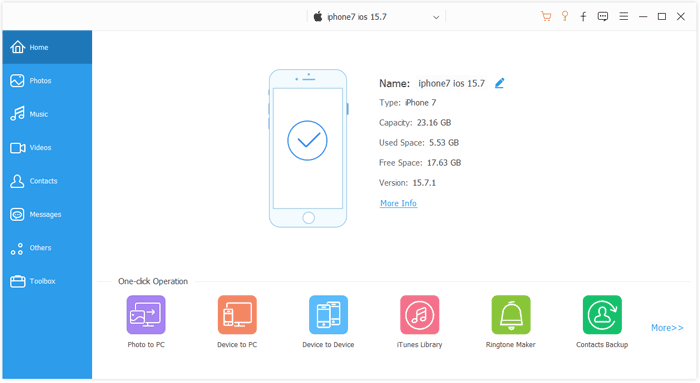 Step 2. Once your device is connected, click "Media" option on the left to load all the multimedia files on the right panel.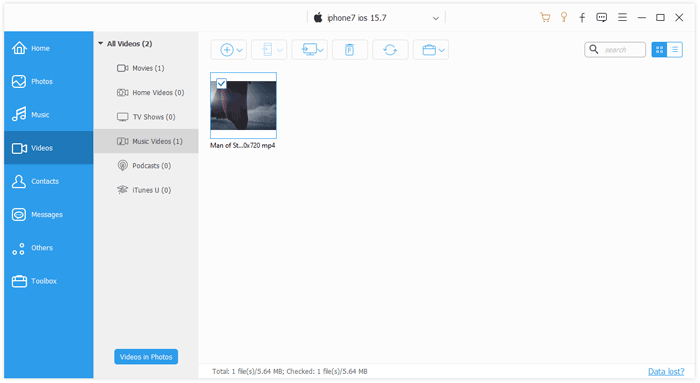 Step 3. After previewing, select the videos you want and click "Export to" button and choose "Export to iTunes Library" option. And wait for a while, the files will be transferred successfully.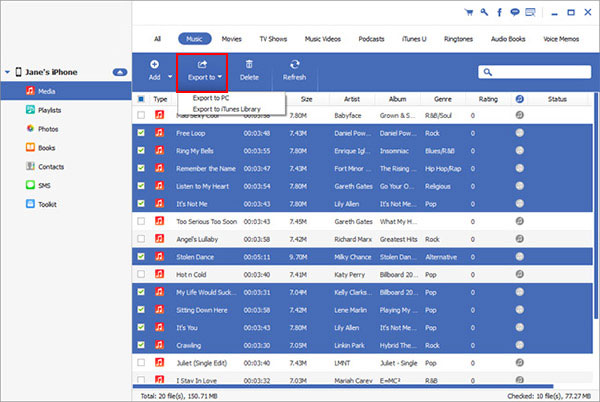 Words in The End: Top Things to Take Cares
There are a few things you need to keep in mind while importing video files.
1) iTunes support only .mov, .mp4 and m4v video formats. Make sure your video is in one of these formats or that it can play in QuickTime. While converting your videos, avoid websites that convert video online. Download and use free programs instead.
2) It is recommended not to change the location of your files.
3) When you import a video to iTunes library, a reference is created in the iTunes folder. If you remove this reference, you might not be able to play the video. To keep all copies in library itself, choose Edit > Preferences > advanced and select "copy files."
Thus, having an iTunes library is both effortless and convenient. That is all that you need to do. And if you want to add videos to iTunes Library from iPhone/iPad/iPod devices, you can actually rely on this iOS Assistant software to transfer videos from iDevices to the computer and then copy data from computer to iTunes Library in one click. It allows you to sync any types of files like contacts, messages, photos, videos, apps, movies and many more.
Related Articles:
Sync Photos from iPhone to iTunes
Transfer iPod Music to iTunes Library
How to Print Text Messages from iPhone/Android for Court?
How to Save iPhone Messages to HTML for Printing or Reading?