A slow and steady clip definitely wins the race...
With Instagram, Pinterest and Facebook gaining the popularity that they have, taking unique photos and shooting one-of-a-kind, trendy videos is all the rage right now. Changing around the speed of a video – either having it fast forward or play in slow motion – seems to be an emerging trend. With the cool iPhone features and apps, you can make your own slow-mo short films with ease. You don't even need to be particularly tech-savvy, with an iPhone and a bit of creativity you'll be a pro in no time! Here are some ways to create the perfect slow motion video.
1. Create Slow Motion Video within iPhone Camera Mode
2. Create Slow Motion Video with Apple's SloPro App
3. Create Slow Motion Video with the iMotion HD App
Way 1. How to Make Slow Motion Video Within iPhone Camera Mode
This is the most simple and basic method, perfect for beginners who want to give it a try.
How to use it:
1. Launch the Camera app on your iPhone.
2. Swipe right twice or just tap on the Slo-Mo button at the bottom left to set the mode.
3. Then, just record as you would a regular video – record button to start, stop button to stop.
4. There you have it, a slow motion video!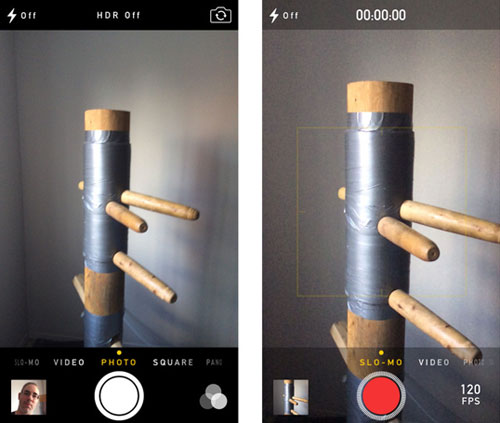 - Pros:
It is a very easy way to get the job done, yielding quick results without much effort on your part.
- Cons:
If you want to try out more advanced techniques for your video, Slo-Mo mode won't cut it.
Can't Miss:
How to Make Slideshow with iPhone Photos
How to Make Panorama Photos within iPhone
Way 2. How to Make Slow Motion Video With Apple's SloPro App
A much more advanced version of SloMo, this app gives you the option of various types of edits.
How to use it:
1. Click here to download the app.
2. Open the app on your iPhone.
3. You can either create the video using the app via the option offered on the home screen or import videos stored on your phone. Just tap the bottom-left thumbnail and choose the "Import" icon.
4. You can then edit and customize the slow motion effect by tapping the "Edit" button.
5. Export your clip to Facebook or Youtube!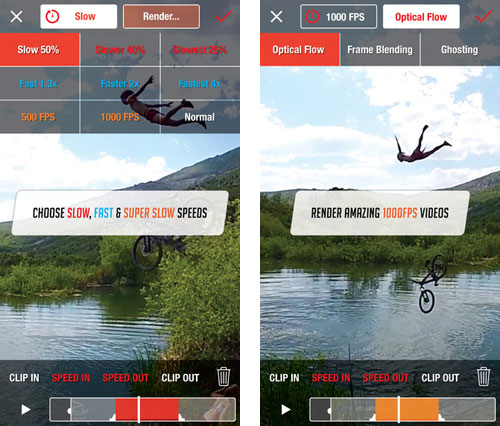 - Pros:
1. The app has effects like fast motion, super slow, ghosting, optical flow, frame bending, ghosting and much more.
2. You can take action shots which look insanely awesome in slow motion.
3. No more hassle when you want to share your creation with the world – you can upload it to Facebook or Youtube for free.
- Cons:
There is a small upgrade fee for saving your video to your camera roll, attaching it to an email or uploading it to iTunes.
Way 3. How to Make Slow Motion Video with the iMotion HD App
This time-lapse and slow motion video app is excellent for exploring your talents in this field and having a fun time. You can use it and sync it across all your iOS devices easily, in no time.
How to use it:
1. Download the app from iTunes.
2. Open the app, choose the "New Movie" option and select which mode you'd like.
3. Set the parameters for the mode you are shooting in.
4. Click start and use capture tools to enhance your video.
5. Once you have shot the clip, set the frame rate from 1-30 fps.
6. Preview your clip and export it to whichever forum you want to!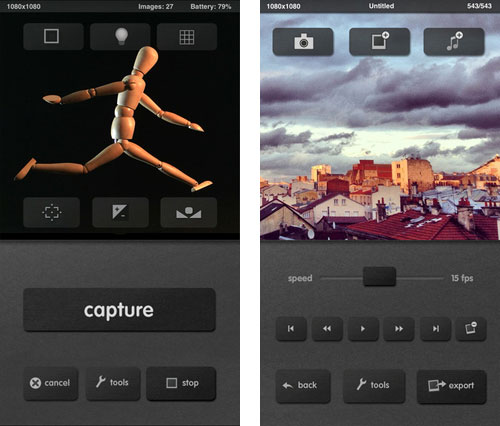 - Pros:
1. Capture tools like Onion Skin, Grid, Manual Focus, etc help make your film much better.
2. You can easily export your file to YouTube, iTunes or other social media networks.
- Cons:
The Pro version will cost you $3.
Conclusion
Go ahead and start experimenting today, you'll soon hone your video-making skills to your satisfaction. If you own an iPhone, creating slow mo videos can be real easy, and you would love the experience.
Related Articles:
Best Backup Software for iOS Devices
How to Block iPhone Calls/Messages
[Vlog Software] 11 Best Vlog Editing Software for Vlog Lovers
Transfer Photos from Android to iPad in 4 Simple Ways