Clicking pictures, editing pictures and storing pictures has become a default functionality to be included in every new phone or a computer system these days. For those who love their photos and always need the flexibility to keep doing something new to their photos, the iPhoto is their best mate. And maybe some are exactly looking to import photos from iPhone to iPhoto!
What is iPhoto?
iPhoto is a imaging tool from the Macworld which allows users to organize and edit your pictures using some of the basic to an advanced set of tools and techniques. So you could be using your phone or digital camera to click pictures, but to edit and organize them all you need to do is to import them into iPhoto. iPhoto is not just another picture editing software, but is a smart editor that allows users to do much more with their photos.
What Can You Do With iPhoto?
Here is a list of the things that you can do with iPhoto:
- Email pictures to your specified address.
- Make iPhoto books that are a great way to treasure memories, do up some quick color corrections.
- Make smart albums that consolidates pictures with specifications you specify.
- Helps compile them in an album together and helps in sorting images for future projects and references.
Why Need to Transfer Photos from iPhone to iPhoto?
Transferring your photos on to your Mac only helps you keep your photos safe and organized in one place for quick and easy access. Apart from this, you can keep deleting the transferred photos from your phone to lighten the disk space and prevent your phone from slowing down.
Having your photos on your PC helps in future use with regards to editing or sending out pictures without having to browse them through the phone folders every time.
Related:
* Top 9 Photo Editors You Would Love
* Free Photo Transfer Apps for iPhone/iPad
Guide: How to Transfer Photos from iPhone to iPhoto
It is as easy as perhaps just clicking a picture and also the smartest thing to do, so that you don't lose out on the precious moments you captured. It is a step by step procedure that comprises of the following.
• Connect your iPhone to your Mac using a USB and open the iPhoto application.

• Select the photos you want to transfer by either clicking on them or specify the number of photos that you want to be picked up from your camera roll by typing the number or keying in the event you want to be picked up.
• Just click on import selected and wait for the transfer to happen.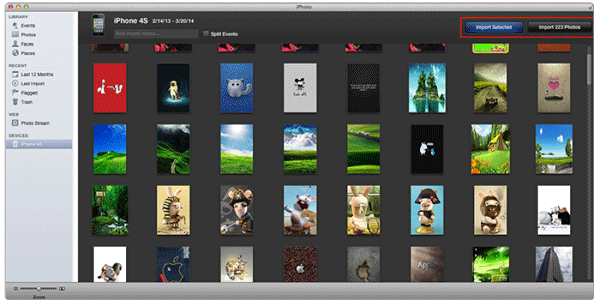 Once the transfer takes place, you can view all the photos that have been imported on the screen in a chronological order. You can select, view remove these photos into specific root folders that you have created on your Mac. You can either select a few photos or your entire gallery, as you need.
Words in The End: Things to Take Care Of
Before you start transferring your photos, make sure that your device is recognized by your Mac, or else the folder may just refuse to open up and then you would end up wasting time configuring it. The procedure remains the same to transfer images from your iPhone, iPad or iPod Touch.
You will be able to take care of all your images in your iPhone easily, and it doesn't matter even if you lose out on your iPhone or has its memory deleted because you will always have access to it on iPhoto. Plus, you would be saving on your iPhone memory too, and can delete the photos on your iPhone. Since iPhones have limited memory, that is one of the options you should really like. Aside from iPhoto, you can also rely on this Coolmuster iOS Assistant software to freely transfer photos from iPhone to computer as a backup, as well other important files like contacts, videos, music songs, apps and many more.
Related Articles:
3+ Ways to Transfer Photos from iPhone to Mac