As our reliance on smartphones and digital photography grows, it is neccessary to understand the best practices for seamlessly transferring your photos to your Mac, ensuring safe backup and easy accessibility. Through careful research, we have collected 5 distinct approaches on how to transfer photos from iPhone to Mac. Be you a novice user or a tech-savvy individual, this comprehensive guide will provide you with step-by-step instructions, tips, and insights to successfully transfer your cherished moments from your iPhone to your Mac.
Let us explore these various methods to efficiently transfer pictures from iPhone to Mac, regardless of the model you own.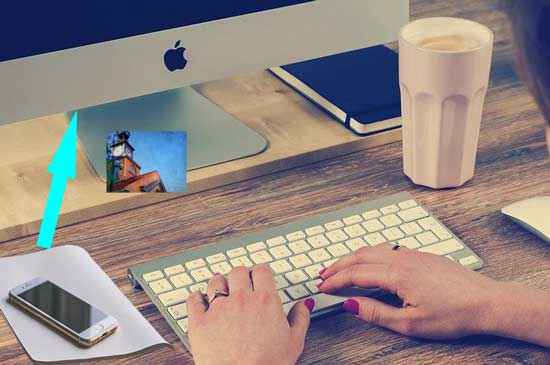 Part 1. Why Can't I Copy Photos of My iPhone to Computer Easily?
When it comes to copying photos from iPhone to Mac, many users encounter difficulties and wonder why the process is not as straightforward as it is on other platforms. There're many reasons why copying photos from an iPhone to a computer is not as easy as you expected.
1. iOS is a close-source OS.
One fundamental reason behind the challenges in transferring photos from an iPhone to a computer is the closed nature of iOS, the operating system that powers Apple devices. Unlike open-source operating systems, iOS restricts direct access to its file system, making it more challenging to transfer files freely. This design philosophy prioritizes security and protects user data from unauthorized access. However, this closed-source approach also limits the ability to simply drag and drop files as you would on other platforms.
2. iOS is highly secure.
Apple has built a reputation for providing robust security measures across its devices and operating systems. iOS is known for its stringent security protocols, ensuring the protection of user data and preventing unauthorized access. While this level of security is undoubtedly beneficial, it adds complexity to the process of transferring files, including photos, from an iPhone to a computer. Apple has implemented specific protocols and mechanisms to maintain data privacy and security, requiring users to follow specific methods or utilize specialized software for transferring files.
In the sections below, we will explore effective methods and tools that can overcome these problems and enable seamless photo transfers from an iPhone to a computer.
More relevant articles:
Switching from iPhone to Android: What to Consider and How to Do?
iPhone to LG Transfer: 3 Effective Ways to Transfer iPhone to LG
Part 2. How to Import Photos from iPhone to Mac with USB Cable
In this part, we will introduce one of the most traditional and reliable methods to import photos - using a USB cable.
While wireless transfer methods have gained popularity in recent years, utilizing a USB cable remains a steadfast option for users who prefer a direct and stable connection between their iPhone and Mac. This method ensures secure and efficient data transfer, allowing you to import your cherished photos with ease. Let's dive in!
Way 1. How to Move Photos from iPhone to Mac Directly
The simplest and fastest way to transfer photos from iPhone to Mac is using Coolmuster iOS Assistant - an iOS transfer, management and backup tool which supports to manage, transfer and back up iPhone contacts, music, videos, photos, and more. With a few clicks, you can easily export photos or albums with original quality from iPhone to Mac. Besides photos, you can also deal with other file types.
You can selectively or back up all data with one click. Additionally, Coolmuster iOS Assistant supports PC with Windows, Mac and a wide range of iOS devices like iPhone 14 Pro/14/13/12, etc.
Highlights
Enable seamless data transfer between iOS devices and computers.
Providesp a convenient backup and restore feature for iOS devices.
Offer a comprehensive file management system for iOS devices.
Provide a preview feature, allowing you to preview various types of data before transferring or exporting them.
Here's how to back up photos iphone to mac:
01Install and launch Coolmuster iOS Assistant on your Mac.
02Connect iPhone to Mac via a USB cable. The program will automatically detect your device. Hit Trust and Continue on your iPhone promptly when pop-up windows appear. After successful detection, your will see iPhone's information on your Mac screen.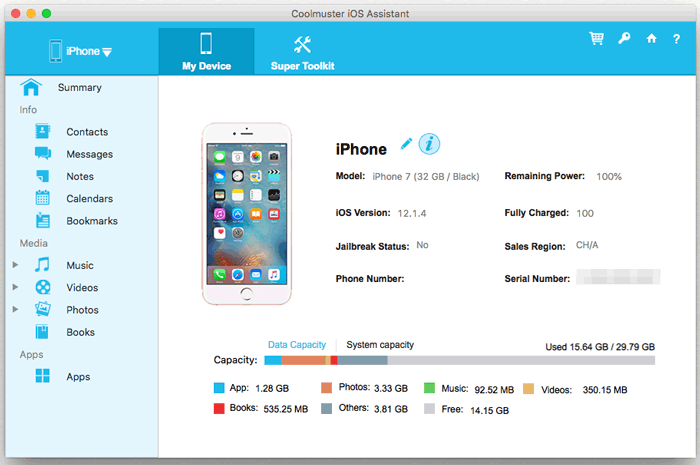 03Choose Photos from left panel on this interface, tick desired items from right panel and click Export on the top to back up iPhone photos to Mac.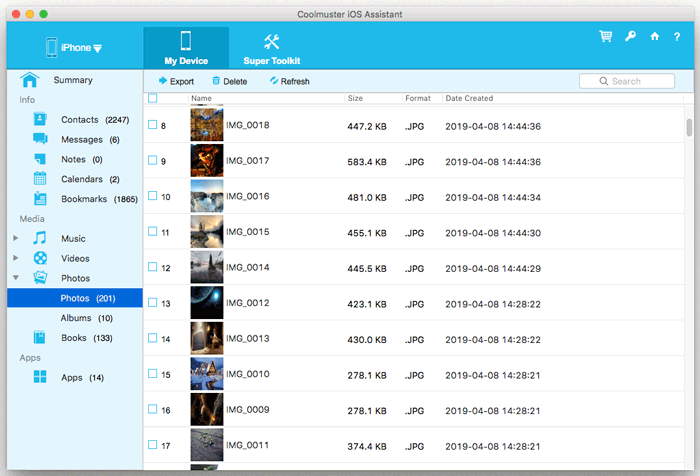 Way 2. How to Copy Photos from iPhone to Mac via MacBook Built-In Apps
Apple's ecosystem is designed to provide a seamless user experience, and the integration between iOS and macOS is no exception. By utilizing the built-in apps on your MacBook, you can effortlessly transfer photos between your iPhone and Mac, taking advantage of the convenience offered by these pre-installed features.
App 1. How to Copy Photos from iPhone to Mac via Photos App
Mac computer has its own photo feature for users to manage digital photos. For Mac OS X Yosemite earlier, it is called iPhoto and for Mac OS X Yosemite or later, it is Photos. Except that, other iOS lower than Mac OS X, including Mac OS Classic, do not support this function.
Here's how to download photos from iPhone to Mac:
Step 1. Connect iPhone to Mac via a USB cable and launch Photos if it doesn't launch automatically.
Step 2. Click File > Import. Select your wanted photos from iPhone to Mac then click on Import New Photo or Import All New Items.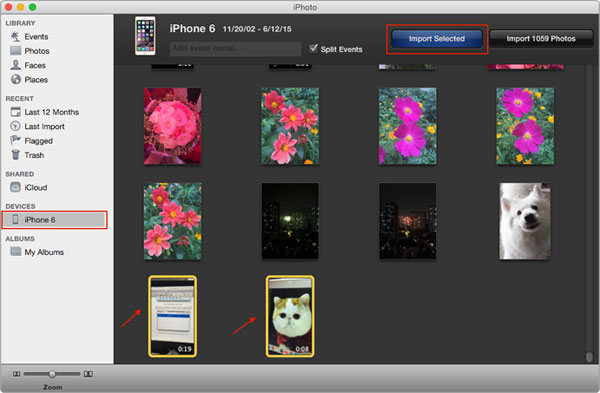 App 2. How to Get iPhone Photos to Mac via Preview
You may have used Preview app on Mac to edit or adjust pictures; in fact, it is also feasible to export photos from iPhone to Mac. However, it is very slow to load pictures when you import plenty of pictures.
Here's how do I import photos from iPhone to Mac:
Step 1. Connect iPhone to Mac via a USB cord.
Step 2. Launch Preview on Mac, then click File at the up-left corner. Hit Import from iPhone and select the photos you want; choose Import or Import All and decide a storage path on Mac to save your photos of iPhone.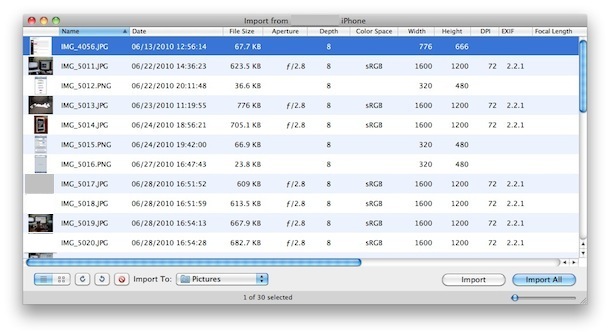 App 3. How to Transfer Photos from iPhone to MacBook via Image Capture
Image Capture is another option to import photos from iPhone to Mac. Only note that you cannot import too much photos in one time.
Let's see how to transfer photos from iPhone to Mac:
Step 1. Connect iPhone to Mac via a USB cable and launch Image Capture on Mac.
Step 2. From the connected devices list, click on your iPhone's name and Import To menu to set a storage folder.
Step 3. Select photos from your iPhone and click Import or Import All to transfer photos from iPhone to Mac.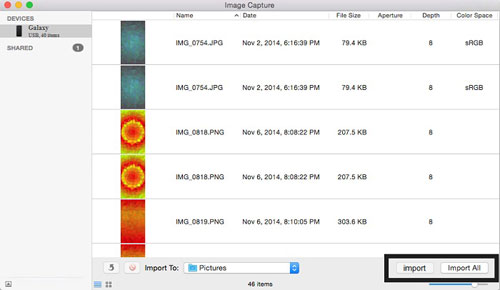 Also read:
5 Ways to Sync Notes from iPhone to Mac in 2023
Best 4 Ways to Transfer Messages from iPhone to Mac. You Don't Want to Miss It!
Part 3. How to Import Photos from iPhone to Mac Wirelessly
Apple understands the importance of seamless wireless connectivity, providing users with efficient methods to transfer photos from their iPhone to their Mac without the constraints of cables.
With the power of wireless technology, this part will allow you to liberate your photo transfer process from the limitations of physical connections. From utilizing iCloud services to employing AirDrop and other wireless transfer applications, we will guide you through step-by-step instructions, ensuring a smooth photo transfer experience. Read on.
Way 1. How to Download Photos from iPhone to Mac via Cloud Storage Services
Cloud storage services are convenient for transferring photos. Apart from iCloud, you can also use other services as Dropbox. Still, we're using iCloud as an instance since it's more popular among iOS users.
Here's how to put photos from iphone onto macbook:
Step 1. On iPhone, go to Settings and sign in your Apple ID. Click your Apple ID then iCloud > Photos, and switch on iCloud Photos Library or Upload to My Photo Stream.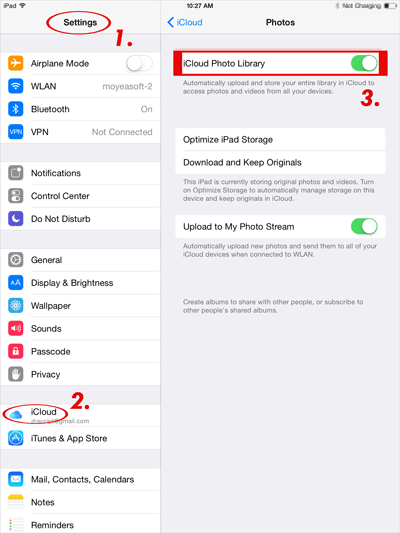 Step 2. On Mac, launch Photos app and head to Preference > iCloud, and check the box of iCloud Photos.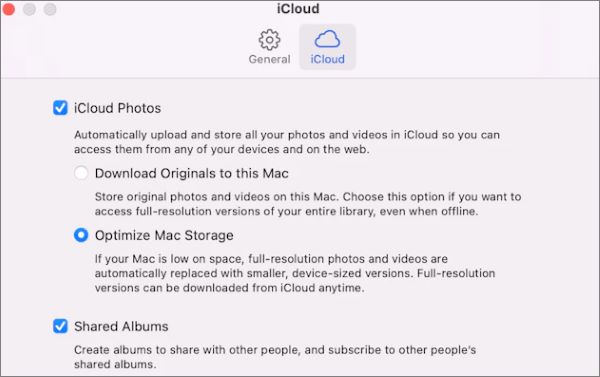 Note: Photos in Photo Stream only last for 30 days or up to 1000 images. Also, ensure that your uploading photos are no more than 5GB - the size of free iCloud storage space, or you will have a need to pay extra fee for upgrading plans.
Way 2. How to Save Photos from iPhone to Mac via AirDrop
Here's how to upload photos from iphone to mac:
Step 1. Turn on AirDrop on iPhone by heading to Settings > General > AirDrop > Contacts Only or Everyone.
Step 2. Pair iPhone with Mac under same WiFi network by going to Finder > Go > AirDrop on your Mac, and click the blue dropdown info Allow me to be discovered by: and select Everyone.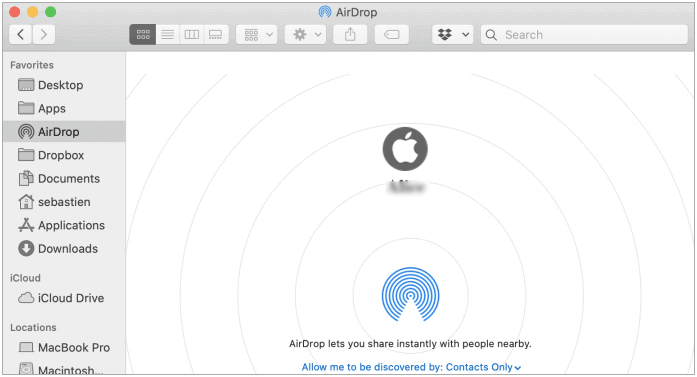 Step 3. On iPhone, opne the Photos app and select your wanted photos; click Sharing and tap on your Mac's name.
Step 4. Accept photos on your Mac.
Way 3. How to Back Up Photos iPhone to Mac via Email
If you want to transfer only several photos, you can also share photos with Mac through iMessage or Email. Here's how to access iPhone photos on Mac via Email:
Step 1. Open Photos app on your iPhone, go to an album, tap on Edit button and select your desired photos.
Step 2. Hit Share button and select Email, then input Email address and password to log in and send.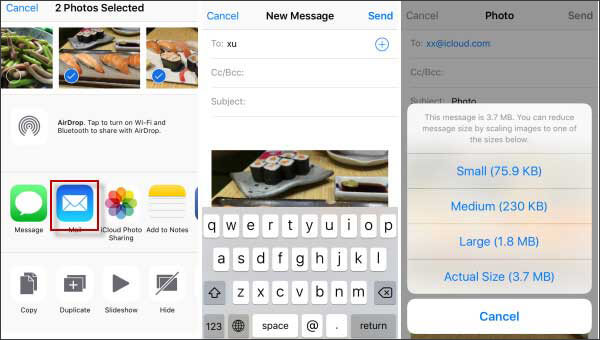 Step 3. On your Mac, sign in the same email address and download photos from iPhone to Mac.
Read more:
How to Transfer Music from iPhone to Mac? (Top 4 Ways)
How to Transfer GIF Pictures from iPhone to Mac in Different Ways?
In Short
The passage has provided you with a comprehensive understanding of the various methods available to transfer your valuable photos from your iPhone to your Mac. By following the step-by-step instructions and insights shared throughout this guide, you can ensure a seamless and efficient transfer process.
While each method discussed has its merits, one tool that stands out for its user-friendly UI and advanced features is Coolmuster iOS Assistant. This powerful software offers a reliable and convenient solution to transfer your photos, as well as other data, between your iPhone and Mac. With its compatibility with the latest iPhone models, including the iPhone 14 Pro/14/13, etc., Coolmuster iOS Assistant guarantees a smooth experience for all users, and enables a confident management and organization of your photo library, safeguarding your memories and ensuring easy accessibility on your Mac. Don't hesitate to explore this exceptional tool.
Related Articles:
[3 Ways] How to Transfer iBooks from iPhone to PC
[Fixed] How to Transfer Photo Albums from iPhone 14 to PC with Ease?
[Solved] How to Print Text Messages from iPhone/Android for Court?
[Simple Guide] How to Install Apps on iPhone without iTunes?
How to Put Music on iPod without iTunes? (4 Effective Ways)
Full Guide on How to Access iPhone Files on PC without iTunes