There is no doubt that Apple products have been in the leading position in the technological market. More and more users prefer buying Apple products for its superior quality and outstanding performance. But no matter you are using Apple products or other OS products, one thing can be ascertained is that the battery life of the same device can be varied from person to person. Some may complained that the battery just drains in a very short time. Well, you can try some
useful apps to optimize your iOS devices
. But other simple things can also be done to optimize the battery performance. First of all, you need to monitor and display the battery percentage on iOS 8/9. Today, this passage will tell you how to view and monitor battery percentage on iOS 8/9 and extend the battery life of your iOS devices.
Part 1: How to View Battery Percentage on iOS 8?
Step 1. Press the "Home" button and enter "Settings" folder. Then just tap on the "General" icon and click on the "Usage" option as pictured below.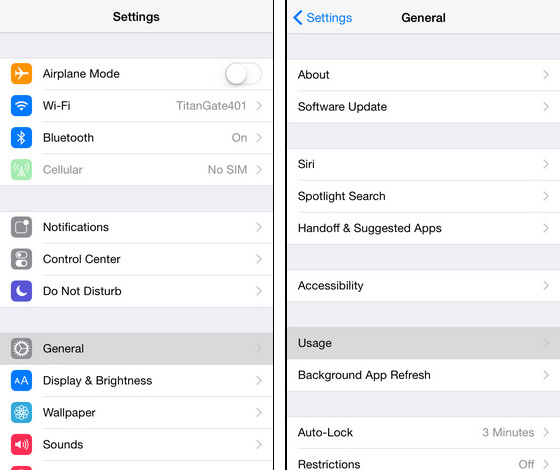 Step 2. As you can see in the window, now just switch the toggle of "Battery Percentage" on. Then you can get clear information of the battery percentage of your iOS devices.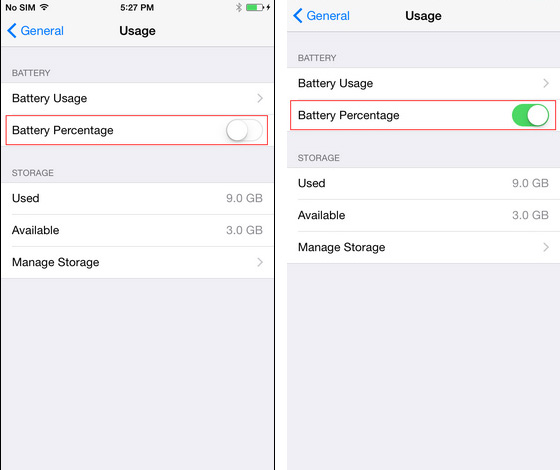 By the Way: You can also click the "Battery Usage" option to see detailed information of your battery usage over the past days. So you can know whether some applications just drain your battery due to background running.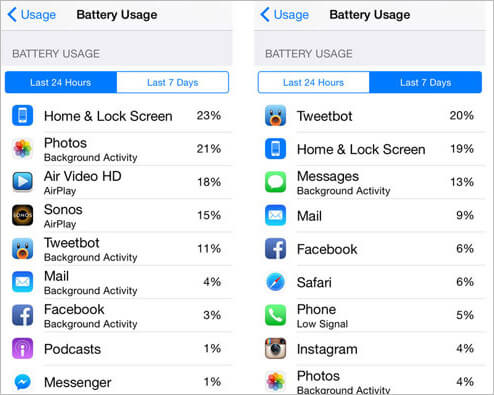 Part 2: How to Monitor Battery Percentage on iOS 9?
Apple company has improved the battery life on iOS 9. In terms of battery life displaying, now iOS users can directly monitor the battery percentage in the "Today" panel, which clearly shows you the accurate battery life of your device. Below is the tutorial on how to display and monitor battery percentage on iOS 9: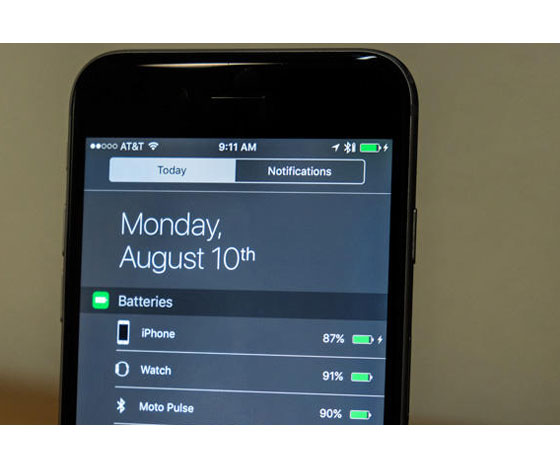 First of all, go to the "Home" screen and swipe down from the top of the screen. Then you will see "Today" panel. Select it and scroll down the page to tap on the "Edit" button. After that, hit the "+" icon when you find the "Battery" list on the main interface. In this way, you can better make full use of the device battery.
Write in The End:
This passage tells you how to display and monitor battery percentage on iOS 8 and iOS 9 respectively, so you can better manage battery usage as you needed. But in order to better enjoy your iOS device, you really need a professional assistant tool to backup your important files like reminders from your iOS devices, to manage your data in order. Here comes the best choice - Coolmuster iOS Assistant. So what are you waiting for?
Related Articles:
How to Fix iTunes Backup & Restore Problems