Are you on the hunt for the best iPhone contacts backup app? If so, then you've come to the right place. This guide will take you through the top software you can use to back up your contacts. It is very paramount to back up and safeguards your important files, videos, or the whole of your data in an iPhone. And in case your system crashes, or you accidentally deleted your files, then recovering them will be very easy.
But not every iPhone backup app is the same. There are some that can copy data to a different file location, while others copy the exact file you want to restore later on when you need it. While buying an iPhone contacts backup tool, you'll find many of them with different features. But, some of the features are essential if you wish to safeguard your data as much as possible.
All in all, ensure you get the right software that won't leave you regretting it. The below tools are superb, and any user would love to use them to back up their data.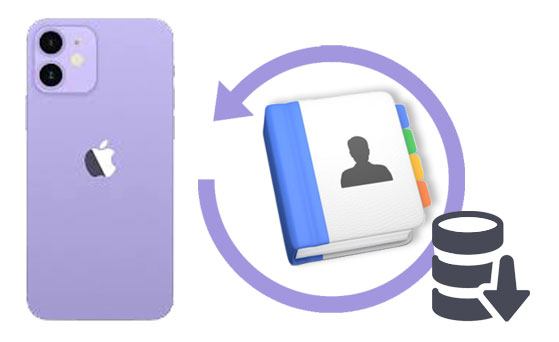 1. Coolmuster iOS Assistant
2. Dr.Fone - Phone Backup (iOS)
3. Aiseesoft Fonelab iPhone Backup Software
4. CopyTrans iPhone Backup Software
5. iPhone Backup App
6. FunV10 iPhone Backup Software
7. iDrive Online Backup
1. Coolmuster iOS Assistant
If you are looking for an all-around iPhone manager, then Coolmuster iOS Assistant is your option. This software integrates all of its practical features in one, and as such, it's an ideal data manager for any of your iOS gadgets.
With this app, you can selectively backup as well as restore your data. You will also be able to make a great choice as per your prerequisites. It is highly safe, and no person can access your data. Coolmuster iOS Assistant allows one to backup files from iPhone to the computer, thus making it easier for people to back up their data and export, too.
Key features:
* Back up your iPhone contacts in CSV, VCF, and XML formats.
* Selectively transfer contacts from an iOS device to a computer.
* Support multiple file types on iOS, like contacts, messages, notes, music, videos, photos, calendars and more.
* Manage iPhone contacts with several useful features, like importing, exporting, editing, deleting, etc.
* Help you create new contact groups on your computer without your iCloud account.
* Windows and Mac versions are available to download, including Windows 11, 10, 8, 7, XP, Vista, and Mac OS X and later.
* Back up and restore data on iOS with one click.
Pros:
* You can preview contacts and other data of your iPhone before backup.
* There are multiple practical features to manage contacts on iPhone.
* Fast detect and recognize your iPhone.
* Compatible with many iPhone generations, like iPhone 14/13 Pro/13/12 Pro/12/11 Pro/11/XS/XR/X.
* Also work for most generations of iPad, iPad Pro, iPad Air, iPad mini, and iPod touch.
Cons:
* Only transfer calendar, contacts, notes, books, and bookmarks from computer to iDevice.
Download the best contacts backup desktop app for iPhone below.
How to use Coolmuster iOS Assistant to back up contacts from an iPhone to a computer:
Step 1: Launch the Program on the Computer
The first thing to do is to launch the software after downloading and installing it on the computer. From there, open it to display its interface. Connect the iPhone device to your computer using a USB cable.
The program will detect the device automatically. A pop-up window will show up on the computer. Click the Trust button on the device. Then the connection will be successful.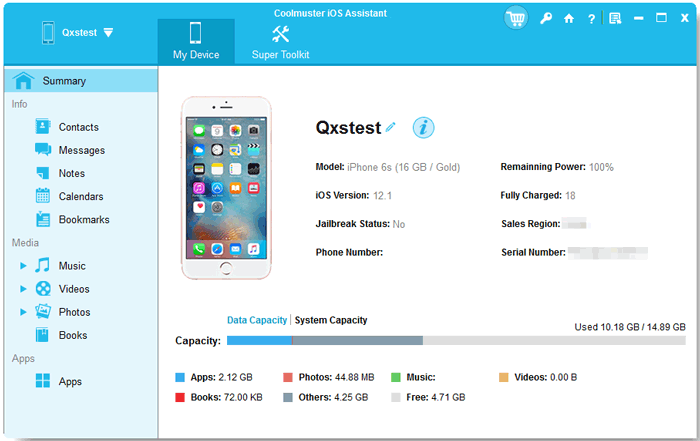 Step 2: Export Contacts from iPhone to the Computer
The program can export files, including contacts, to your computer. Click the Contacts category from the displayed data types on the left.
Choose the contacts you want to export to your computer. Then click the Export icon, select the file output format, and start the procedure. Once done, your contacts will be backed up to your computer.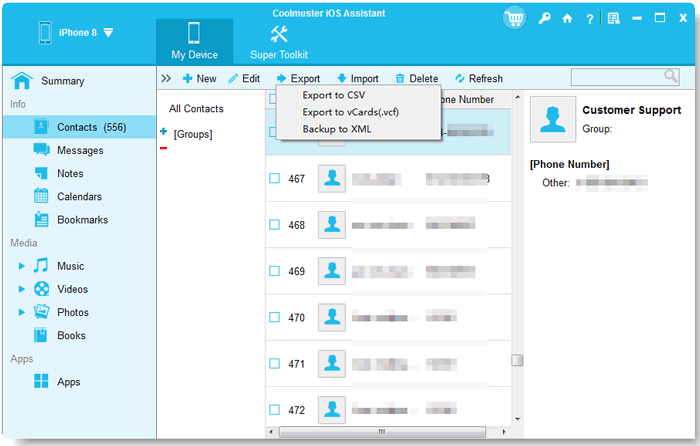 Further reading:
How to Share Calendar on iPhone/iPad?
How to Transfer Contacts from PC to iPhone with/without iTunes - 4 Ways
2. Dr.Fone - Phone Backup (iOS)
Some programs for iPhone data backup like Dr. Fone enables people to use it selectively and recover their data. This tool allows one to make the right choice according to your needs.
But, you have to back up your data regularly in case you damage or lose your gadget. Dr. Fone allows you to back up and then export data from an iOS device to the computer, making it easier for users to back up their data.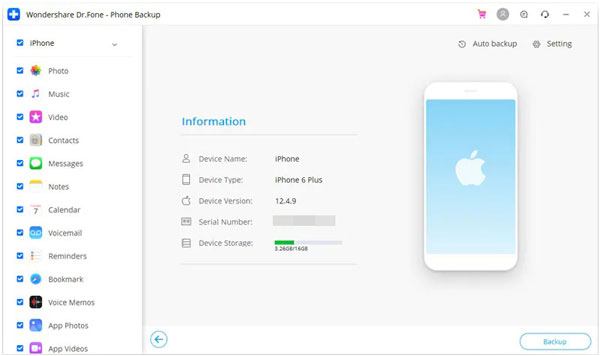 Pros:
* Easier to use.
* Allow you to back up your iPhone contacts to your computer wirelessly.
* Enable you to select a location to store your iOS contacts.
Cons:
* You cannot preview your detailed iPhone contacts on the interface before the backup.
Read more: This guide will show you how to sync contacts from an iPhone to a Mac computer in several ways. Let's check it out.
3. Aiseesoft Fonelab iPhone Backup Software
This is among the highly developed backup tools for iOS devices that makes backups safer. It supports both Mac and Windows operating systems. The Aiseesoft Fonelab Backup Software is one of the ideal backup tools for the Apple iPhones. You can easily backup data from iCloud, iOS devices and iTunes. Also, this tool may backup all of the data on your phone, including reminders, music, contacts, and photo albums, in just minutes.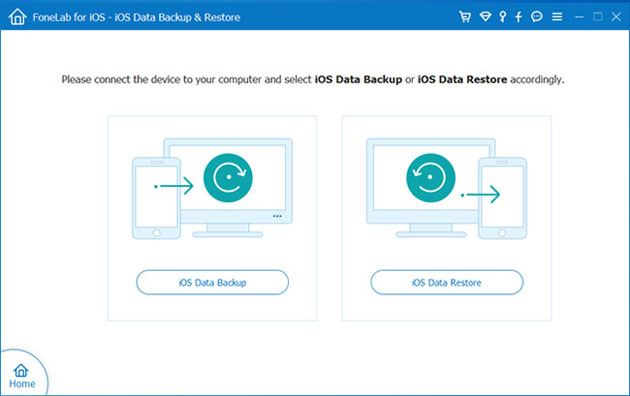 Pros:
* Back up 19 data types in a short time.
* Compatible with the latest iPhone and iOS versions.
* Will not overwrite your existing contacts when you restore your backup contacts to your iPhone.
Cons:
* Cannot selectively transfer your contacts from iOS to your computer.
* Quite expensive.
Bonus: Want to efficiently back up iPhone data to a flash drive? You can utilize these methods.
4. CopyTrans iPhone Backup Software
If you use the CopyTrans iPhone Backup tool, it's easier to edit, organize or edit data and also control and keep it safe. This is one of the best apps that can help you manage sensitive files.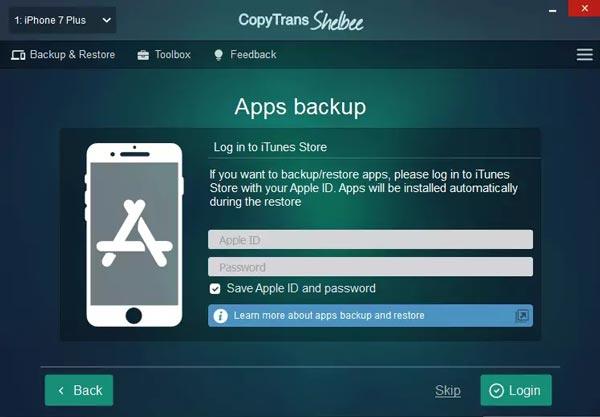 Pros:
* Swiftly transfer all contacts from your iPhone to your computer.
* It's easier to transfer Microsoft transfer tools.
* Allow you to encrypt your backups.
Cons:
* The interface is slightly outmoded.
5. Easy Backup App
The Easy Backup app can back up contacts on iOS devices without a computer, and you can install it from Apple App Store. If you wish to restore contacts on your iPhone, just go to your restore tab and choose the date and information you want to back up.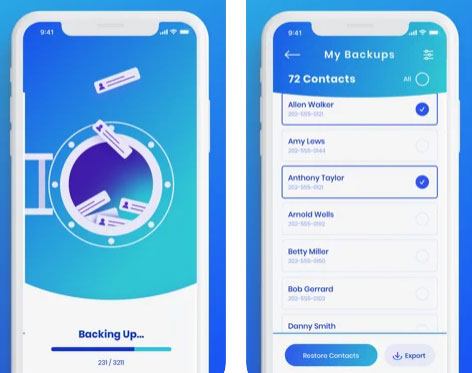 Pros:
* Easily back up contacts from an iPhone or iPad to a cloud folder.
* Send your VCF files to any email address.
Cons:
* There is no feature for upgrading, meaning that you'll have to use its outdated version.
6. FunV10 iPhone Backup Software
This is also another wonderful iPhone backup app that will solve all of your backup issues. The tool syncs data with an email address. Furthermore, you may use AOL by choosing an address book from the address book screen. Once done registering the gadget, you will get instructions for backing up data.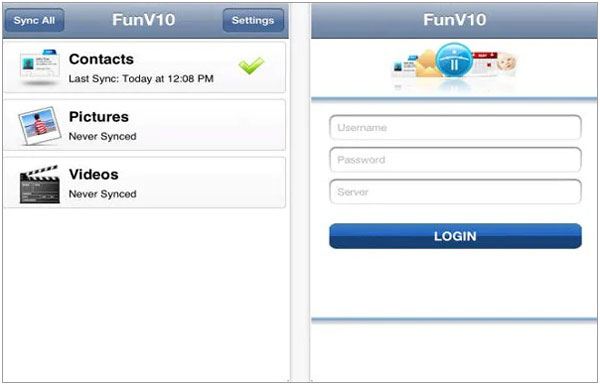 Pros:
* An ideal tool to use when syncing contacts, images, and videos without a cable.
Cons:
* No email backup.
* FunV10 10.0.14 hasn't been tested for viruses, adware, etc.
* The interface is too old.
7. iDrive Online Backup
The iDrive Online Backup is also one of the most powerful apps ever to help with iPhone data backup. This tool keeps the contacts safe with a highly encrypted private key. This implies that the contacts will be secured, and you are the only person that can access them. No other person is allowed. Besides, you can easily backup your contacts from many iOS devices using a single account. Furthermore, all of your backup data may be synced on the devices.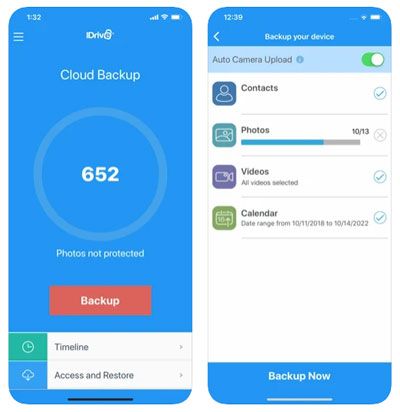 Pros:
* The application enables users to have a selective backup.
* You may easily sync up several devices' data using this tool.
* Support contacts, videos, photos, and calendars.
Cons:
* The app is reported to crash sometimes.
Conclusion
Contact backup is very imperative for the functioning and safeguarding of your business. Regardless, it is always essential to protect your firm or personal data, such as contacts, from getting lost. And the only best way to achieve that is to have the right iPhone contacts backup app.
Even though every iPhone backup tool comes with its own features, they differ a lot. For instance, the FunV10 app allows syncing, but other mentioned software doesn't. While some apps might be costly, they do not provide services compared to Coolmuster iOS Assistant, which is cheaper. Since we have much software for iPhone backup, it's highly recommended to use the best tool like the Coolmuster iOS Assistant that perfectly suits your business and personal needs.
Related Articles:
How to Back Up Text Messages from iPhone to Gmail [5 Approaches]
How to Transfer Music from Computer to iPhone? [5 Ways Offered]
How to Recover Deleted Photos from Facebook? 4 Proven Ways to Achieve That
4 Effective Ways to Recover Deleted Text Messages on iPhone without Backup (iOS 16 Supported)
How Long Does It Take to Restore an iPhone on iTunes/iCloud? (Authoritative & Reliable)
A Complete Guide on How to Recover Deleted WeChat Messages on iPhone