There are numerous music apps with amazing features and functionality in the Apple App Store making it very difficult to choose the best one for your iOS gadget. This is not to say that the default iOS music player app is lacking in any way, but third party music player are highly ideal for those individuals who wish to experience an even better music playing performance that the default app can't provide. If you are such a person, then this article will be highly beneficial to you.
Benefits of choosing the best music app for your iOS device
- Makes listening to music on your iPad, iPod or iPhone increasingly enjoyable.
- Choosing the best music app can end up making your gadget, even more powerful than it originally was.
- Some apps can let you make your own music as others come with haunting music recorders, mixers, and DJ consoles.
- Great music apps offer unique ways of listening and organizing your favorite music.
- Better sound performance.
- Lastly, such apps are able to provide you with unique features that have been lacking in your default music player application.
Therefore, in this article, we have picked up 5 different iPhone, iPad or iPod music apps for your reference. You can compare them and decide which one is better according to your own needs.
Different Music Apps for iPhone, iPad or iPod to Enrich Your Music Life
1. Musio
Musio, which costs $0.99 at the App Store, is an amazing music player app that is compatible with all iOS handheld devices. The app which uses the local dedicated iTunes library together with the unique iTunes Match integration allows users to play their music playlist with ease while using its dedicated on-the-fly feature. Musio also provides users with Airplay access using the famous iOS center. The music app requires iOS 7.0 or later to be used on iOS devices like iPad, iPhone, and iPod touch.
Pros
- Incredibly amazing functions and UI.
- Fast interactions using unique swipe gestures.
- Available in various languages including English, Spanish, Chinese etc.
- A dedicated feature that automatically scans one's music collection while organizing it accordingly.
Cons
- The Musio app experiences frequent crashes when playing music and may at times disarrange the iOS playlist order.
2. Listen
The listen music player app allows individuals to use it without having to look at it at any given time. The app which runs on gestures unlike others that use buttons is ideal for most occasions. The interface is totally smart with unique abilities that make it the best. Listen which is a beautifully crafted app also has a dedicated AirPlay option where users can use to stream music with ease. Listen permits users to connect with their social media fans while telling them what they are listening to.
Pros
- Listen is a freeware that works better than most apps sold in the App Store.
- The use of gestures makes it possible to multitask while using the app.
- Supports portrait mode.
- Easily play, pause or stop music with a single tap.
- You can use the app to disable the default iOS auto-lock function.
Cons
- There is no major disadvantage of using the app apart from the fact that it is very difficult to gain access to the settings.
3. Groove 2
Groove 2 which is more than just a media player, it also happens to be a dedicated personal mixer and disk jockey that can study one's music listening habits to create interesting personalized music mixes for them. The app is a perfect blend of enhanced playback functionality and amazingly beautiful design. Bringing both impressive set of features and gorgeous visual design that can be used to listen to music on iOS gadgets.
Pros
- Groove 2 is capable of handling the iTunes functionality much better than most apps.
- Be stable to use, so that it can greatly reduce the happening of crash situations.
- Fast music downloading speed.
Cons
- iCloud integration is absent.
- Takes too much time to sync with the music library.
4. Ecoute
Ecoute has been named the best iOS music player by MacStories, that is using the existing device music library to provide an interesting music experience. Sporting a clean and elegant interface, Ecoute uses an inbuilt gesture technology to control music while offering a credible integration with Last.fm, Facebook, and Twitter.
Pros
- Add new songs on the go while reorganizing music tracks with ease.
- Supports iTunes Match, lyric support, and AirPlay.
- A variety of available filters, including composers, artists, genres, songs, albums, Audiobooks among others.
- A smart user interface that switches automatically into night mode when screen brightness decreases.
Cons
- Do not have "Now Playing" feature.
5. Stringer
The Stringer application is considered to be a new way of listening to the collected music. The app works by mixing all the songs in your music library in a random way of presenting a unified single thread of all the mashed up songs. Stringer provides users with total control over the way they shuffle their music.
Pros
- Shuffles one's entire library without skipping any song.
- Works with both iTunes Match and iTunes library.
- Automatically adds any related tracks from your favorite artist straight to your string.
- Supports background playback and control center access.
- Replay your device's tracks or songs minus leaving the shuffle.
Cons
- Few stability issues are experienced.
How to Manage Music Files on Your iDevices Effectively?
With the above 5 different music apps, you must have enjoyed a fantastic music journey in the daily life, right? Then after using these music apps for a period of time, some iOS users may face the troubles of managing the music files on their iDevices, too much files on it have occupied a large amount of storage space of their iDevice, so that they can't receive, download or install new apps on the device. Thus, all of you need a tool to help you export these music files from iDevice to computer for releasing free space on iPhone, iPad or iPod touch. To reach it, you can ask help for Coolmuster iOS Assistant. With it, you can:
- Export not only music files, but also contacts, text messages, movies, voice memos, photos, etc. from all kinds of iPad, iPhone or iPod devices to desktop computer with one click.
- Export your needed files selectively or in a batch according to your own needs.
- ...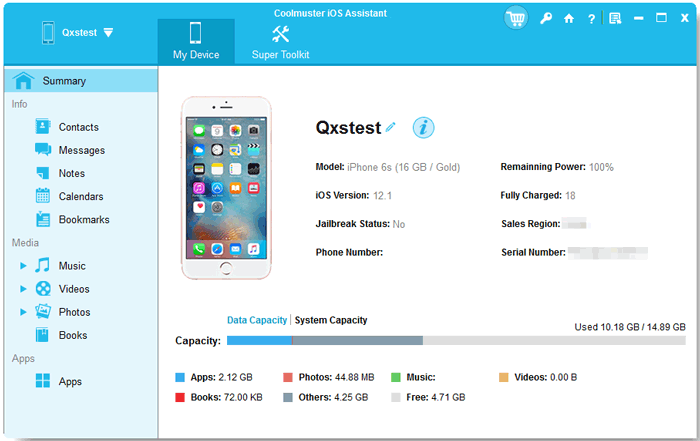 Related Articles:
How to Download Music to iPhone Easily