iTunes is a depository of all your songs, apps, videos and other content. Because of its convenience, people store a lot of important data on it. In such a case, not being able to access it can be problematic. However, it is not a cause of worry as a few simple steps can help you reset your password.
Related: What's the Best iTunes Library Manager?
Cases when you may need to reset iTunes password
The most common reason could be losing your password. Not only will forgetting your password stop you from accessing all your music and videos, but also stop you from using purchased products.
You could also be worried about your password not being secure enough, or you might have shared your password with someone who you no longer want to provide access to.
You might even want to change your password regularly - every few months. Good practices suggest that changing your password every few months is one of the best ways to keep your account details safe. Remember the time when iCloud accounts were hacked? It only came to notice a few years after the incident happened -regularly changing your passwords ensure you don't have to worry about your account being compromised.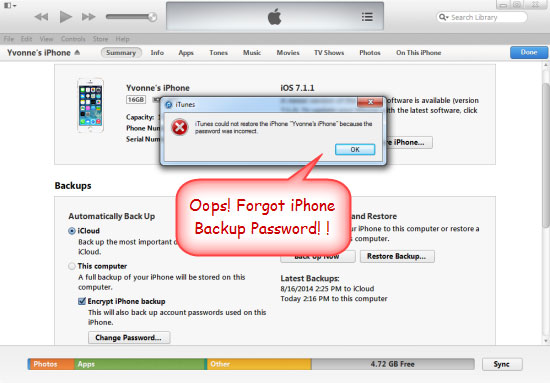 In any case, resetting your iTunes password can be done by following a few simple steps.
Guide on How to Reset iTunes Password
The reset process is fairly simple. All that you need to do is to get your PC and login to the system with a working internet connection. Follow these steps to reset your password:
1. Launch iTunes
On the iTunes window, on the left hand side, you will see the icon for iTunes store. Click this.
2. Notify loss of password
You will see the option to sign into iTunes, click that. You will be prompted to enter your password. There is an option for 'forgot password?', choose that option. You will be directed to the Apple website.
3. Enter credentials
Log in using your Apple ID or iTunes username. Most of the time, this is the same as the e-mail address that is linked to your account. After you have filled in the username, choose 'Next'.
4. Choose option
You have two options to change your password – either to use your e-mail address or answer the security questions.
- If you choose to reset through e-mail, you will get a link to reset the password in an e-mail. Click on it and you will be directed to the site where you can set your new password.
- The other alternative is security questions – you will be asked certain questions about your account that only you can be expected to know. Give your best estimates if you aren't a cent per cent sure about some answer.
Congratulations! Your password is reset. Now sign into iTunes with the new password.
More Useful Articles:
* How to Reset Restrictions Passcode on iPhone
* Guide on How to Unlock iPhone Password
Tips on resetting iTunes password
Here are some of the tips that you might find useful when resetting your password. Remember, while resetting your iTunes password is really simple, you wouldn't really want to reset it all the time. Here are a few tips that will ensure that you don't have to do that.
1. The above reset process does not work for iTunes accounts that are linked to AOL accounts. You need to contact AOL in case you forget your password.
2. If you are really bad at remembering passwords, consider getting a secure and reliable password manager.
3. Use strong passwords, preferably ones with variations like caps lock, numbers or characters. It is also considered unwise to use the same password for all your accounts.
Related Articles:
Best iPhone Password Manager You Would Love