Contacts on your iPhone can turn out to be a real messy thing, particularly if they aren't organized. One contact might have several numbers saved with it, or you might need to delete contacts one by one, which all make it extremely a hectic job. Plus, you may have a lot of your contacts on different mail accounts. Some might be on your Gmail and some might be on your Hotmail. When you sync in those accounts, they might lead to duplicate account creation.
Related: Top-notch Contacts Apps for iPhone
So, you may have 2-3 or even more contacts of the same person - and you would really want to avoid that. To get rid of the mess, or to even delete duplicate contacts, one of the best ways that you can use to merge your contacts on iPhone.
User Guide: How to Easily Merge Contacts on iPhone
1. Merge Contacts on iPhone within the Device
Here are all the things that you need to do to merge your contacts on your iPhone really easily.
- For merging duplicate contacts on iOS, you need the "Link Contacts" application feature.
- Open the contact you want to merge.
- Select on the edit button.
- Choose the Linked Contacts option and select the icon which shows a green plus sign.
- Choose the contact you want to merge with this one and select the Link option.
- For more than one duplication, you can repeat the process, else choose the Done button to finish.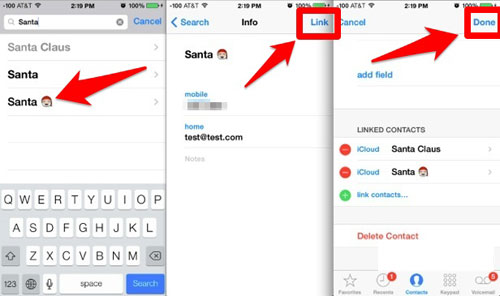 Read More:
How to Group Contacts on iPhone
2. Merge Contacts on iPhone with Smart Merge App
Using the Smart Merge App can be of great help. This application has been specifically designed to clear all the duplicate contacts on your iPhone, and works highly effectively, although merges may be limited.
- You need to offer permission to the app to have access to your phone's contacts.
- Follow the instructions on merging.
- After checking on all the steps, just carry on with the merge.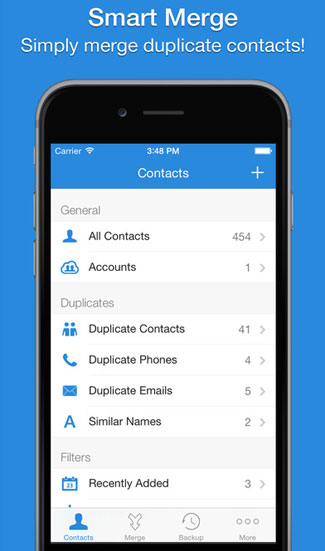 Learn More:
How to Unwanted iPhone Calls and Messages
Access and Remove Blocked Contacts on iPhone
3. Merge Your Gmail and iPhone Contacts
Gmail has an automerge feature that allows merging your iPhone contacts with the Email service. The feature offers major benefits, particularly when you need to save both the contact numbers as well as their Email IDs.
- Backup your iPhone contacts.
- Follow all the instructions offered on the Apple Support site.
- Connect your phone with the PC, choose the sync settings and provide your Gmail details.
When there are duplicate contacts, the application requests you to confirm on their saving or deletion. Thus, it helps to get rid of duplicate contacts too.
Extra Bonus: Professional Contacts Manager for iPhone
For backing up your iPhone contacts, and to merge contacts for your use, here's also introducing the Coolmuster iOS Assistant and Coolmuster iOS Assistant for Mac software. With the installation of this software, you can relax and keep using your phone, as all your essential contacts and data remain stored through backup processes. In case you lose your phone, or your data gets deleted or lost accidentally, this software helps you to have them all back through easy transfer systems.
The software offers an intelligent way of exporting data from your iPhone to your PC, and you can actually find your contacts back in seconds. In fact, with this software application, managing your contacts has become easier, and more controlled. It helps you do all that you want. It helps ensure that you do not have to worry if your iPhone is lost or the data gets erased, thanks to the backup. It helps you ensure that you can optimize the space on your iPhone by transferring all the unwanted data and media including apps and contacts to your PC. And it helps you do all that in just a few clicks!
Related Articles:
How to Print Contacts from iPhone