Modern-day phones have made it easy to save contacts from various sources, such as from email accounts to SIM cards. However, this convenience can still cost you. With contacts pulled from different sources, you will have duplicate contacts on your phone.What is more annoying is that each contact may contain different info. Therefore, you cannot just erase the duplicate; you will lose some contact info. However, it is easy to merge your iPhone contacts to combine all the contact info into one contact. Follow this article to learn how to merge contacts on iPhone.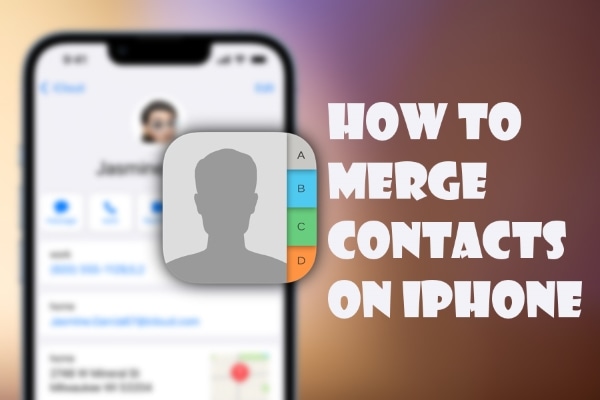 Part 1. How to Combine Contacts on iPhone
No matter your reason, it does not hurt to perform a little cleaning once in a while. Merging duplicate contacts is easy and quick, making navigating your extensive phonebook less intimidating. Let's see how to combine these contacts on your iPhone:
1.1 Use Link Contacts to Merge Contacts
If you've saved two entries for a friend or relative, each may comprise different info. For instance, one contact may contain their home phone number, and another may contain their work number.
If such is your case, you do not wish to lose such info by erasing one contact. You can merge both contacts into one instead.
Here is how to eliminate duplicate contacts in iPhone:
Step 1. Open your Contacts app. Find a duplicate contact and open it. Select "Edit".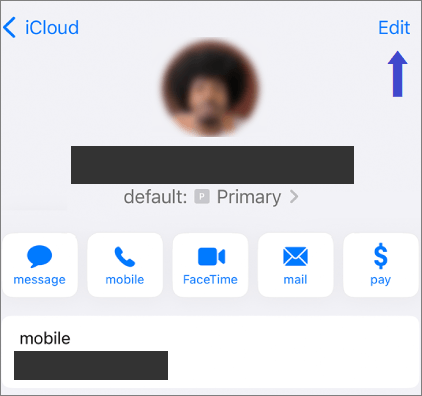 Step 2. Scroll down and hit "Link Contacts" at the bottom. Open the remaining duplicate contact by tapping on it. Select the Link from the top right corner.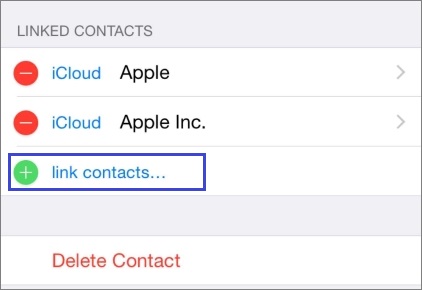 Step 3. You will now see the two contacts under the "Linked Contacts" list. Hit "Done". The contact will now contain the info from both contacts. Your phonebook will now display a single entry for this friend.
Also read:
How to Add Ringtones to iPhone without iTunes and Make a Custom Ringtones on iPhone
How to Read iBooks on PC Easily? (A Complete Guide)
1.2 Use iPhone Merging Contacts App to Fix Duplicate Contacts
Apple's tools for merging your duplicate contacts are decent, but it does not always grasp some duplicates. You may need to go for third-party apps to get your job done. One app you can put into use is "Easy Cleaner.".
Here's how to merge iPhone contacts:
Step 1. Launch the application and allow it to read your phonebook contacts. Hit "Continue", then "OK". Next, the application has a tool named "Contacts Enrichment". You don't have to activate this.
Step 2. Now you are in the app's major interface. Tap "Duplicate Contacts" and select a contact you want to merge.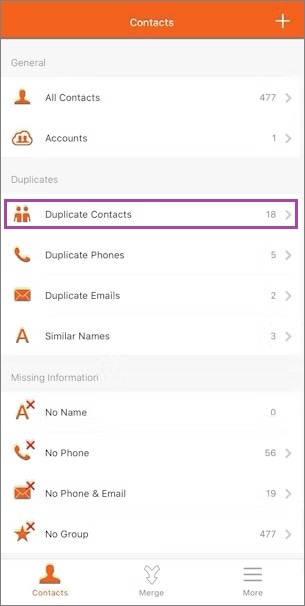 Step 3. Here you will find the info that is going to be merged. Tap on "Merge". Alternatively, if you want to merge them all simultaneously, select "Merge All Duplicates".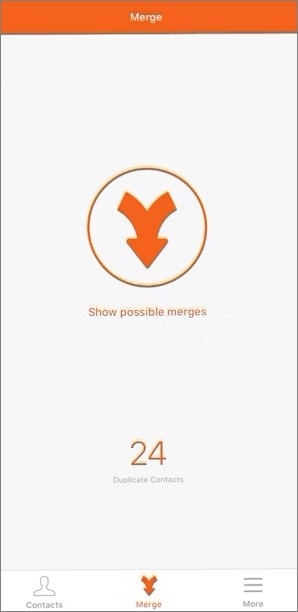 You are all set! The tool works better than Apple's built-in features in the Contact application.
Part 2. How to Delete Duplicate Contacts on iPhone
Whether it's a failed SIM swap, a restore, or an unfinished iCloud sync, duplication of contacts can occur under various circumstances. If you are experiencing similar situations on your Apple device, this guide will assist you in fixing it. Learn various effective ways of removing duplicate contacts on your iPhone.
2.1 Remove Duplicate Contacts on iPhone Using Coolmuster iOS Assistant
Assuming you have several duplicate contacts on the device. You can link your Apple device to a computer and erase the duplicates using the Coolmuster iOS Assistant app with just a click. It lets you select and delete all duplicate contacts in seconds.
Key features of Coolmuster iOS Assistant:
Remove your duplicate contacts on a Mac or Windows PC in just a click.
Edit the contact info from your computer with ease.
Back up your iPhone files on your computer.
Support almost all models of iPhone running iOS systems up to iOS 16.
How to remove duplicate contacts iPhone on my iPhone in one click? See steps below:
01Install the program on your PC. Launch it to see its primary interface. Plug in your iPhone to the computer via a USB cord. Tap on Trust when prompted. Then hit "Continue".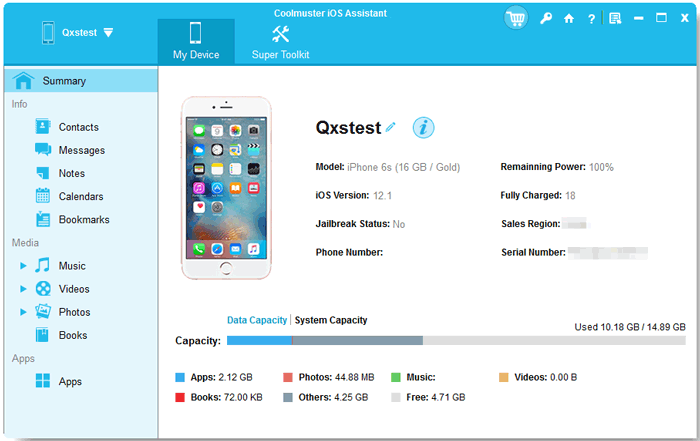 02Once successfully connected, you should see your iPhone info on the main interface. Select Contacts on your left side panel. Select your duplicates and tap on the "Delete" option to erase them in groups.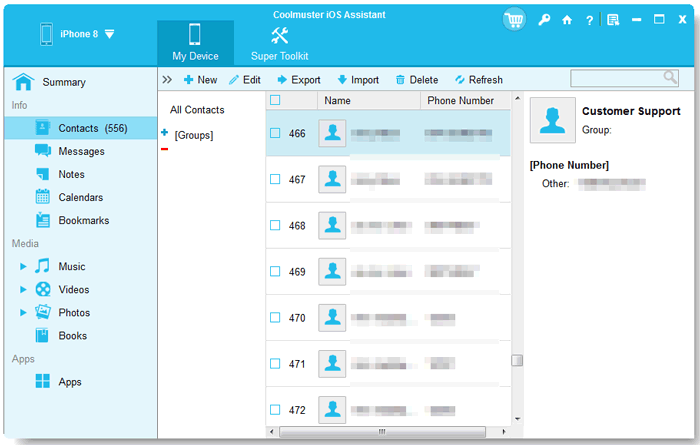 Have more relevant problems? Read:
Top 6 iPhone SMS Transfer Software
How to Add MP3 to iPhone in 4 Ways [Updated in 2023]
2.2 Get Rid of Duplicate Contacts on iPhone Using iCloud
Another great way to delete duplicate contacts on iPhone is via iCloud services. If you often sync your Apple device with iCloud accounts, you can easily use them to delete several duplicate contacts simultaneously.
Follow the steps below to do it.
Step 1. Go to the iCloud web on your PC browser since the option is not accessible on mobile phone browsers. Log into your iCloud account with your credentials.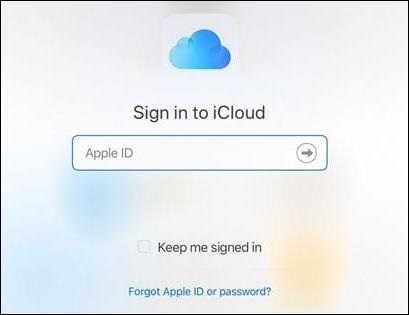 Step 2. Select the "Contacts" option to access all your iPad/iPhone synced contacts. You can see all the contacts available synced between iCloud and your iPhone. Hit the control button on your computer keyboard and select all your desired duplicate contacts by clicking on them.
Step 3. Next, click on the gear symbol at the left-hand side bottom corner of your screen and select "Delete" to remove the highlighted duplicate contacts instantly.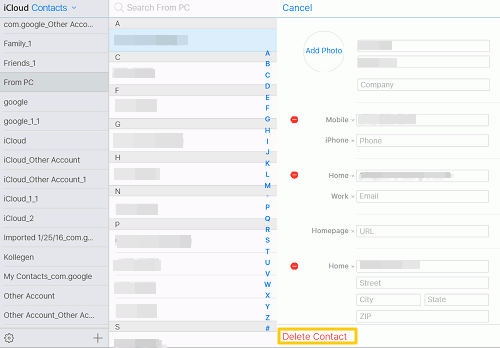 Step 4. Tap the "Delete" option to confirm the changes. When your iPad/iPhone syncs with the iCloud account over again, these changes should be seen in your contact list.
Part 3. How to Merge iPhone Contacts Using a Mac
If you sometimes sync your iPhone data to your Mac, you can easily merge your duplicate contacts via the Contacts application on your Mac.
Here is how:
Step 1. Open your Contacts application on the MacBook. Expand your Contacts card on the left sidebar to locate your duplicate entries.
Step 2. Hit the "Card" button and select "Look for Duplicates" to find all your duplicate entries in the phonebook.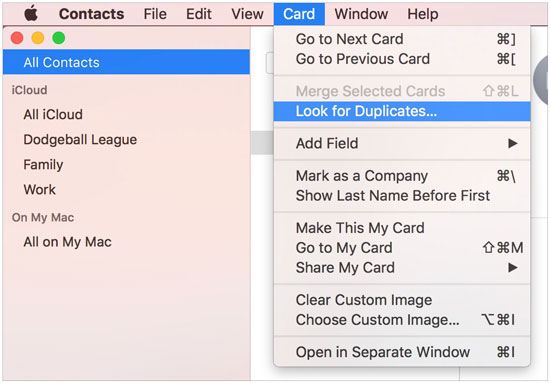 Step 3. Select the "Merge" option to merge your duplicate contacts. Once done, you can sync with the iPhone to save the changes.
More passages:
How to Transfer Music from iPod to Computer [7 Easy Ways]
Can't Import Photos from iPhone to Mac? Here are the Real Fixes!
Part 4. How to Delete Double Contacts on iPhone Manually
If you have only a handful of duplicate contacts, you can remove them manually.
Step 1. Open your list of contacts and look for the desired duplicate contact. Open it and select the "Edit" option in the top right corner.
Step 2. On your Edit page, scroll through and select "Delete Contact". When a verification notification appears, tap on "Delete Contact".
Step 3. Your duplicate contact is now removed.
Conclusion
The above procedure will help you delete, merge, or manage duplicate contacts on your iPhone. If you have only a few duplicates, it is easy to delete them manually. However, if your device has many duplicate contacts, it is recommended to delete them all at once using Coolmuster iOS Assistant.
Related Articles:
Full Guide on How to Access iPhone Files on PC without iTunes
7 Quick Ways to Transfer Photos from PC to iPad (With or Without iTunes)
How to Transfer Music from Computer to iPod [Fast Transfer]
How to Back Up iPhone without Passcode [Simple Guide]
How to Transfer Photos from iPhone to Flash Drive with or without Computer?
How to Transfer Music from iPod to Computer Windows without Losing Data? (5 Optional Ways)