How to Transfer MP3 to iPhone with/without iTunes
One of the most popular formats for audio streaming on iPhones, iPads and iPods is MP3. It allows you to easily transfer and listen to songs on almost any digital audio music player. Most of the major players in the online music industry, like iTunes Store and the Amazon MP3 provide easily downloadable songs in the audio version in the MP3 format. While you can easily download and transfer mp3 files from one device to another should you own a Windows phone or an Android one, iOS users aren't as lucky - Apply's ecosystem is a tad bit too restrictive.
Those who own Apple products like iPhone, iPad and the iPod, have, at some point or the other tried to transfer MP3 files into their gadgets to listen to audio songs through the enviable enhanced sound quality of Apple's products. If you are also wondering how you can do this, then read along.
Related: Download Free Music Songs to iTunes
User Guide: Transfer MP3 to iPhone with/without iTunes
1. Transferring MP3 songs to iOS device with iTunes
iTunes is the default tool that is used in order to manage music, including MP3 files between your computer and your Apple device. Read on to know how you can transfer MP3 files through iTunes from your computer to your favorite Apple device.
Step 1: Before you begin to transfer MP3 files using iTunes ensure that you have the latest version of iTunes. Generally, you will be reminded by iTunes that an updated version is now available for downloading.
Step 2: Connect your Apple device using the USB Cable and open iTunes.
Step 3: Now you have to identify and open your device. The device is identified and can be seen in the top left corner of the screen.
Step 4: You first need to transfer the MP3 file to your library. Do this by clicking on "File" and then select "Add file to library".
Step 5: Now select "Settings" and go to "Music". Select the "Sync Music" option. By doing this you can sync the music library or a playlist, and to finish the process, click on the 'Apply' button. Generally it takes a few minutes to complete the transfer.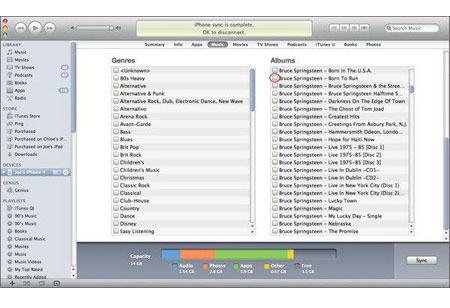 Also Read: What if iTunes Fails to Sync Music?
2. Transferring MP3 songs to IOS device without iTunes
While the above section guides you on transferring MP3 songs using iTunes, it is a very tedious and lengthy process. Moreover, things get even more complicated and time consuming as the library increases in size. Luckily, for you, there is iOS Assistant (Windows/Mac) that allows you to easily and quickly transfer your MP3 files from your computer to your iPod, iPhone or even the iPad.
Step 1: You have to download, install and run the software on your computer and then connect your device to the computer using a USB cable. This software will instantly detect your device and you will be taken to the main user interface of the software.
Step 2: Now select the 'Music' option. Once you do that click on the 'Add' button. This will take you to a pop-up window that will show you the files for you to select for the transfer.
Step 3: Choose and select the MP3 files that you wish to import and wait patiently for the importing process to get completed within a little while.
That is all that you need to do - you have now transferred your favorite MP3 songs to your iOS device - just the way you wanted to. One advantage of using this software is that incompatible files will be changed to the necessary one so that it can be transferred to your device. Once that is done, you can now easily listen to high quality MP3 songs on your iPhone, iPad or iPod. So what are you waiting for?
Related Articles:
Guide on How to Transfer Apps to New iPhone