How to Easily Transfer Music from Mac to iPhone
iPhone users often want to move music from their Mac to their iPhone. Are you wondering about the reasons? There are many including the following:
- The song collection on iPhone is old and needs to be updated with exciting ones.
- You liked a song and want your friends to hear it.
- Listening to music on iPhone is a great way to pass time on long journeys and travels.
- You are having a party and want a dedicated playlist.
Unfortunately, if you have something on your iOS device, it is a lot difficult to move it elsewhere. Forget about moving your songs to another OS, you cannot move it freely even in your iOS systems. You need to be signed up to the same iOS account in all your iOS devices to transfer the music which cab ne both time consuming and frustrating.
Method 1. Easily Transfer Music from Mac to iPhone without iTunes
Method 2. How to Transfer Music from Mac to iPhone Using iTunes
Method 1. Easily Transfer Music from Mac to iPhone without iTunes
The iOS Music Transfer is a complete data management software for Apple devices. It can transfer data and export files without restrictions. It is the most professional program which manages transfer processes on an expert level. It supports the latest iPad, iPod and iPhone and you can transfer batches of files in a simple manner.
> Move data like music, videos, contacts, ringtones, and more from Mac to iPhone and vice versa.
> Easy option to track files and multiple view modes for easy management.
> All transfers are 100% safe and without data loss.
> Take backup of movies and TV shows on Mac so they are safe from accidental erasing.
> All transfers are carried out with zero loss in quality.
Can't Miss: How to Backup iPhone to Mac Computer
Here is the guide:
Step 1 - Launch iOS Music transfer software and connect the iPhone with Mac with the USB cord. Your phone will be recognized automatically along with the data on it. You will see the data under various categories on the left side menu.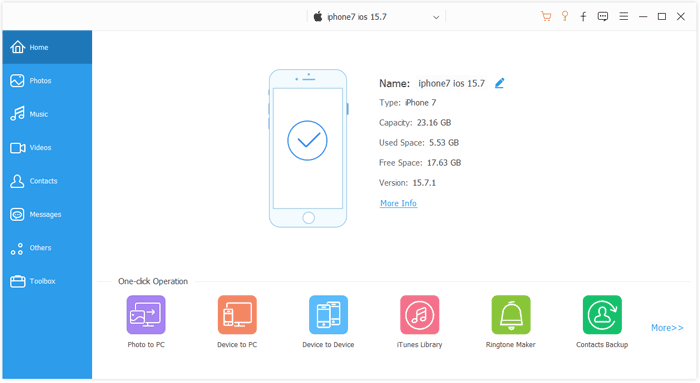 Step 2 - Select the Midea category and click on the Add tab on the top of the interface. Now choose the songs and music files from Mac you want to transfer to iPhone. Then this action will copy the selected music to the phone.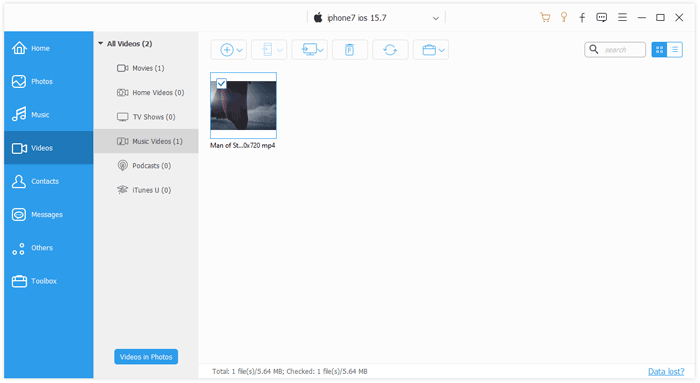 Method 2. How to Transfer Music from Mac to iPhone Using iTunes
iTunes is the proprietary management software of Apple devices. It can be used to transfer files between Mac and devices. You can also take backups or restore your iPhone using it.
Step 1 - Connect iPhone with Mac after opening the iTunes on the computer. Now click on the Music option on the left menu.
Step 2 - You will get various options of syncing. You can go for copying the whole iTunes library or choose specific playlists, artists or albums. You can select the second option and then pick the playlists or artists you want.
Step 3 - After selection you need to click on Apply. The time taken for the transfer will depend on the size of music files.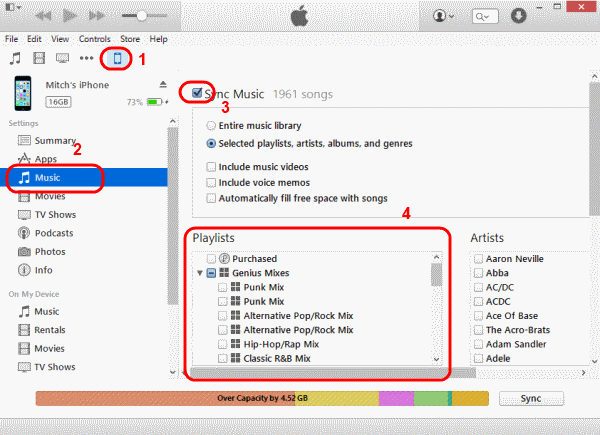 Also Read: iTunes Backup Tips You Can't Miss
Comparison of iOS Music Transfer and iTunes
It is really easy to transfer music using iOS Music Transfer software than iTunes. You can face many problems with iTunes like:
* Syncing can erase the existing data on your iPhone
* It is a much time consuming task
* All songs cannot be copied
* Only purchased materials can be transferred
For this reason using iPhone/iPad/iPod to Computer Transfer is surely the wiser choice. There are no restrictions and any music and file can be uploaded to iPhone in a super easy way!
Related Articles:
Easy Way to Manage iPod Library