We store a lot of notes in our iPhones, both formal and informal. People no longer carry pens and notebooks to seminars, conferences and even in lecture halls for they have their iPhones. This has reduced paperwork, therefore, simplifying things for us. When we have stored important notes on the iPhone, the worst moment is when you think that you can ever lose them. When such things happen you may never have them back especially if you do not have a backup. However, backup is not the sole reason for data transfer.
Related: Top 4 Reasons Why You Need A Phone Backup
When to Transfer Notes from iPhone to USB Flash Drive
There is no sober person who just transfers iPhone notes without having thought of all the possible reasons for that transfer. Knowing the time and the reasons for transfer is important in knowing the point where to transfer to. The following are some of the instances when we may transfer iPhone notes to USB flash drive.
• When we want to print the notes, it may not be convenient printing directly from the iPhone. This is because the devices which we use to print may have a virus and we would rather have it infect the flash disc other than the iPhone.
• When you want to sell the iPhone. This may happen at a time when you have not yet bought another phone. For this reason, you will have to transfer everything to the USB flash drive to avoid losing important data.
• When we want to share important notes to our friends and they only have a USB flash drive.
• When we want to have a backup of the notes. For safe and secure keeping we must transfer our notes to all gadgets available as there is no time when we can lose all the gadgets.
• A USB flash drive is very convenient in terms of its size. This makes it possible for you to carry it in your wallet. You can carry it and edit your notes from the office without anyone noticing what you are doing.
• So as to free the iPhone memory to give room for other apps or media installation.
Learn More Articles:
* Multiple Ways to Sync iPhone Notes
* How to Transfer Notes from iPhone to Gmail
How to Easily Sync iPhone Notes to USB Flash Drive
A direct transfer may come with a lot of challenges and make you lose a lot of data. You should, therefore, ensure that you use approved software. Coolmuster iOS Assistant is software that ensures an easy time transfer iPhone documents. The software is important to iOS users as it allows a selective transfer of contacts, text messages, notes, Safari bookmarks, songs, and eBooks among other important items. This software is fully compatible with all the iOS devices iPhones being part of them. You can even choose the view mode of your notes. This also makes it possible for users to reads the notes from a central place instead of the portable devices. Allows for batch transfer and thus you can transfer as many notes as possible and comes with a free lifetime upgrade service for the registered users.
Simple steps to transfer notes from iPhone to USB flash drive:
- Connect your iPhone to the computer and launch this powerful software by double-clicking on its desktop app.
- The software automatically detects your iPhone and displays your iPhone information on the main interface. This is inclusive of the notes you need to transfer to the USB flash drive.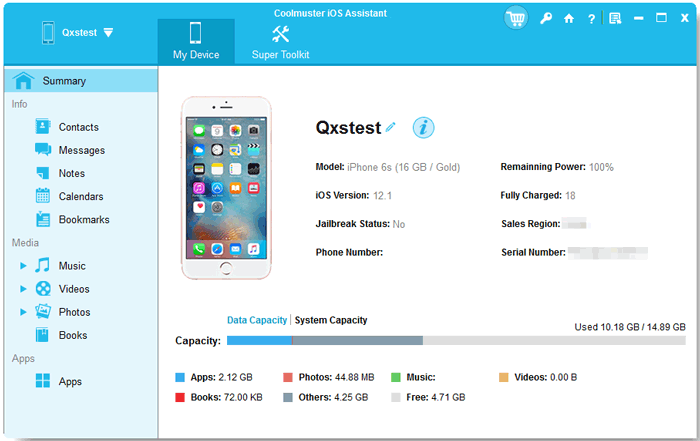 - Preview iPhone files as displayed on different folders in the left panel. Click on the notes folder to view and check details on the right panel.
- Mark all the notes you want to transfer and click "Export" on the top of the interface. Then specify the USB flash drive as the output location
- After you transfer, a pop-up window will appear to show you the progress.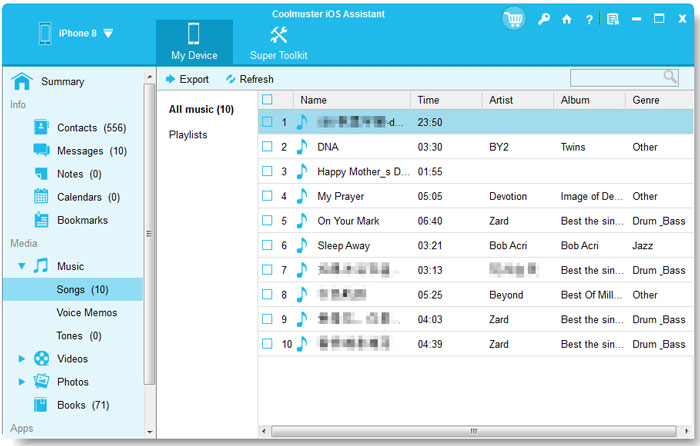 In the End
Now, just wait for the process to get completed within a little while. With this software, it is just a piece of cake to transfer notes from iPhone to USB flash drive in a batch!
Related Articles:
How to Backup iPhone Data on External Hard Drive
Simple Way to Use iPhone/iPad/iPod as Local USB Driver
6 Methods to Transfer Music from Computer to iPhone without iTunes
How to Transfer Music from iPhone to Computer Effectively? (4 Tips)
[Solved] How to Transfer Music from CD to iPhone 14/13/12/11/X/8/7 Easily?