With iPhones, taking photos has become a completely new experience. Gone are the days of blurry and faded images. Now with Apple's remarkable technology, we can take stunning pictures. Thanks to its superior camera quality, the iPhone has revolutionized photography. These images will sync across all Apple devices but not on PCs. You may find your iCloud storage insufficient and want to create more space. Instead of deleting your photos, why not download them on your PC?
Many have been asking 'how to download iCloud photos to PC.' This shouldn't worry you. Here we'll share how easy it is to download pictures from iCloud straight into your hard drive for quick viewing, plus this will help free up space in the cloud. So, let's dive in.
Part 1. Why Download iCloud Photos to PC?
iCloud is a cloud-based storage service that allows users to store their files like documents, contacts, pictures, and more. Additionally, it allows easier file sharing and managing of devices in case it gets lost. Its wireless data backup is a plus for iOS users since it is a great alternative to iTunes' manual data backup. Here are the benefits of downloading iCloud photos to PC:
1. Creates an additional backup
If you download photos from iCloud to your PC, you will create another backup for your precious images. Those files in iCloud are dependent on those on iOS devices. So, if you accidentally delete a picture, that same photo will be removed from cloud storage once your device is connected to the internet. Therefore, downloading iCloud photos to your PC is a great way of keeping all of your treasured memories safe, and in case of accidental deletion, you have nothing to fear.
2. Easier to share files
With a copy of your photos on your computer, you can effortlessly transfer them to a flash drive or hard drive and conveniently share them with other people.
3. Fast files transfer to a new device
If you plan to buy a new Android device, having the photos on the PC is very convenient. It is very easy and fast to move the pictures to your new device when they are already on the PC (how to transfer photos from iPhone to Android?). You have to connect your new device to your PC with a USB cable and start the manual transfer of the photos.
4. Easier photo-editing
The transfer will allow you to make more complex edits to photos. You can use advanced photo editing tools such as Adobe Photoshop and make otherwise impossible modifications on phones and tablets.
With your photos on PC, you can modify them to your taste using software like Adobe Photoshop. This tool allows you to modify your pictures, which isn't possible on phones or tablets. This will make your photos a professional and unique touch.
You may like:
Restore from iCloud Paused? Fix It with 9 Solutions Here!
Top 7 Solutions to Fix iCloud Photos Stuck at 1%
Part 2. Download Photos from iCloud to PC Using iCloud for Windows
Do you know you can install the iCloud for Windows app on your PC and access your iCloud files? This application lets you download as many photos as you want. The best part is that it doesn't limit the number of iCloud photos to download. The app is available from Apple's website, and once you successfully install it, you have to set it up and start viewing all your data in the cloud. You can download the files and also upload them. This is a simple solution, and anyone can enjoy the convenience of having all their pictures on their PC.
Here are steps to download photos from iCloud to PC windows 10:
Step 1. Install the iCloud for Windows app on the PC and open it from the Start menu.
Step 2. Click on "Options," then select everything you want. Once done, click "Done" to download the iCloud photos.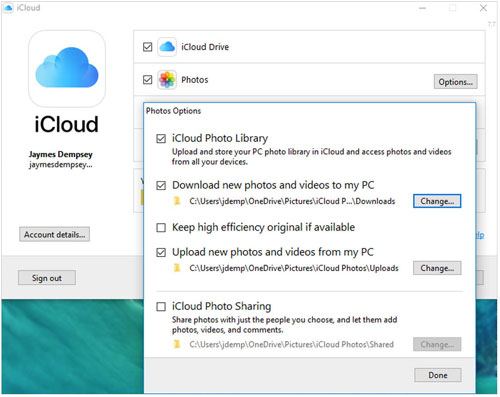 Step 3. Tap on "Apply," then close the main window.
Step 4. Afterward, open the system tray, then tap on the iCloud icon.
Step 5. Click "Download Photos" to start the downloading process.
Step 6. Your pictures will be downloaded to C:\Users\&USER NAME&\Pictures\iCloud Photos\Downloads.
See more:
7 Common Solutions to Fix iCloud Upload Stuck Issue Easily
iPhone Won't Backup to iCloud, How to Fix It?
Part 3. Download All Photos from iCloud to PC from iCloud Website
Another way to download all photos from your iCloud account to your PC is by using the iCloud website. This is a good option if you want to download fewer pictures, less than 1,000 photos. It means you can only download 999 pictures at a time from iCloud to your PC. So, if you have less pictures you want to download, follow these steps:
Step 1. Head to the iCloud website and sign in with your Apple ID.
Step 2. After logging in, tap on "Photos."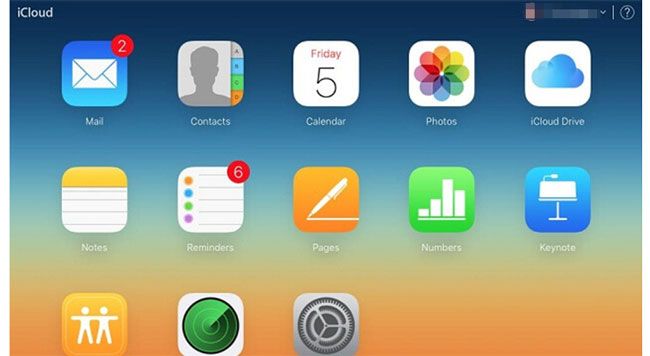 Step 3. You can now view all the pictures from the browser. Choose every picture you want to download and click on the iCloud icon located at the upper right corner to download the images one at a time from iCloud to PC.
If your iCloud photos are less than 1000, you can download them all at once by pressing the "Ctrl + A" and clicking on the "Download" button. But with more than 1000 pictures, it will be difficult since you will always have to track the ones you have already downloaded, then choose another 1000 batch to download and keep repeating the process until all the photos are downloaded.
Step 4. Also, you may choose many pictures in iCloud. Just tap on the plus sign at the upper right corner of one of the pictures, and all of them will be selected. Now download them to your PC.
Once you're done downloading your photos and videos, they will be stored in the folder that stores downloaded files. You can find it by heading to This PC and then to Downloads. The iCloud browser version doesn't allow you to download them into your desired folders.
Part 4. Download iCloud Photos to PC Selectively with iCloud Backup Recovery
Using Coolmuster iCloud Backup Recovery is the reliable way for downloading your pictures from iCloud onto a PC. This incredible program will let you preview any file before exporting it to your computer so that you know precisely what it is and whether you want it. Plus, there's no limit on how many files can be exported. You can download all iCloud photos to your PC.
You just have to sign into your iCloud account and let the software do the task. The recovery process is easier, and you will see your pictures on a PC in no time. iCloud Backup Recovery supports photos and contacts, calendars, photos, notes, and reminders. It scans the files seamlessly and sorts them out by category so that you can choose the files you want to restore.
Top Features of Coolmuster iCloud Backup Recovery
Recovers iCloud backup files selectively into a PC.
You can view the detailed backup on your PC.
Doesn't lose the data quality while recovering.
Needs only the iCloud account for data restoration.
Supports most iPhone models.
Here is a step-by-step process how to download all iCloud photos to PC PC selectively:
01 First, you must launch the software on the PC after installing it. You will then get to the primary interface.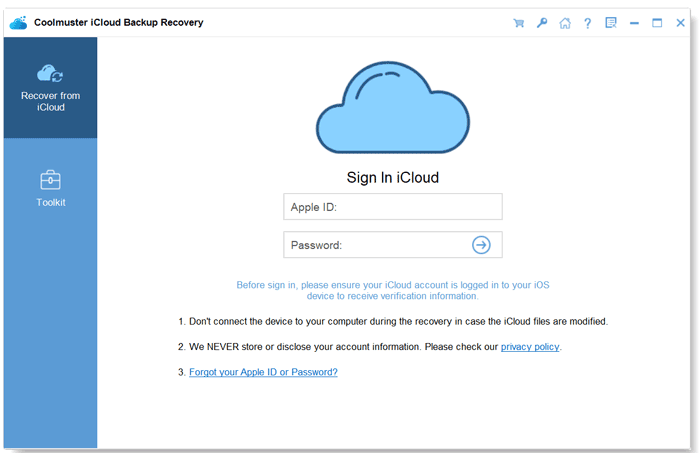 02 Now enter the right Apple ID and password on the screen to sign into your iCloud account. After that, hit on the arrow to sign into the account. Enter the verification code when asked. Tap "Verify" and proceed. Make sure you've entered the correct information. If not, you will get an invalid message.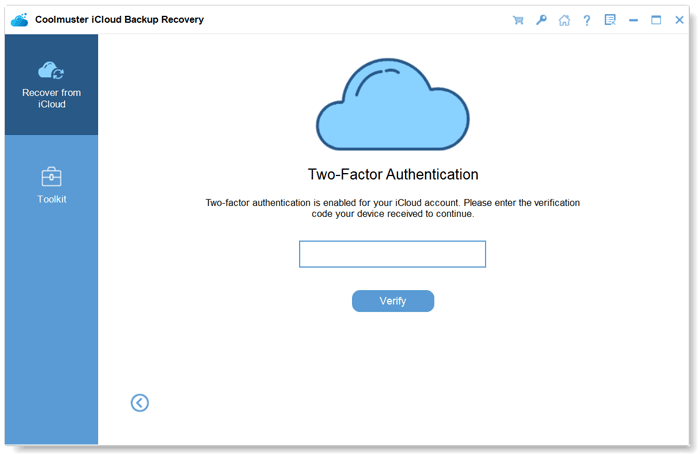 03 Now it's time to start restoring your photos. Click on the Photos files and hit "Next." The program will not start scanning the data and list the files in your iCloud backup.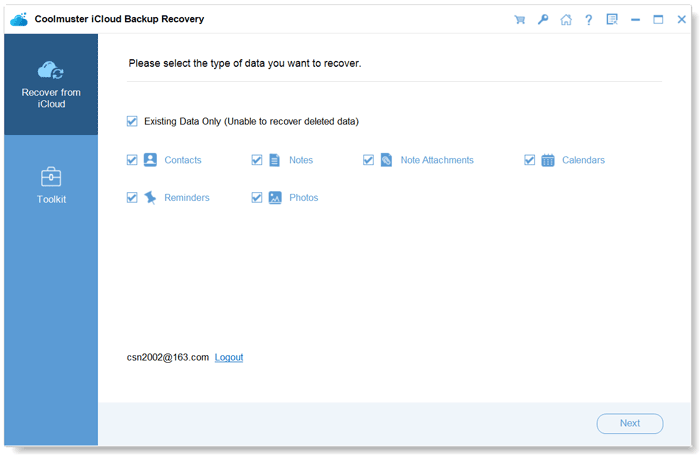 04 Select the pictures to export to PC and hit the "Recover to Computer" button.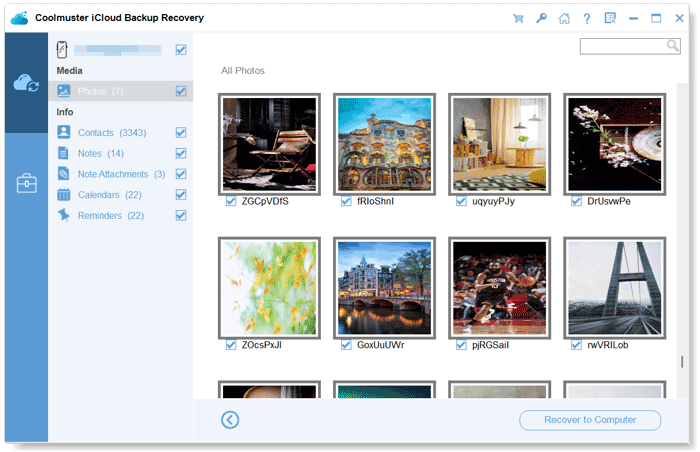 Conclusion
Downloading all your photos from iCloud to your PC is not that difficult. You can download it online or use iCloud for the Windows app; however, if you want a reliable way to download those precious memories, use a program like Coolmuster iCloud Backup Recovery. All your pictures will be transferred without losing quality. You can also selectively download the photos you need by previewing them before recovering them, so you will not get unwanted files. So get the program today and make transferring your photos from iCloud to PC much easier.
Related Articles:
How to Fix iCloud Back Up Now Greyed Out?
Fast Fix iCloud Contacts Not Syncing | 8 Ways and Powerful Alternative
iCloud Backup Failed | iPhone Not Backing Up to iCloud (12 Fixes)
Contacts Didn't Transfer to New iPhone? 7 Flexible and Easy Fixes
Fix iCloud Link Not Working or Loading | Effective Solutions