There is no denying that smartphones make it easier to send and receive text messages with anyone in our contacts list. Besides, their easier portability makes it convenient to share text in the palm of your hand. Despite the convenience of messaging others on our devices, too many messages can overload our phones, making it hard to manage.
With thousands of endless messages stored on your device, finding a specific conversation you need and checking its contents can be quite cumbersome. But worry no more; there's a way to make message management easier: get iPhone messages on PC.
However, most people don't know how to get iPhone messages on PC. It is quite simple; just read this article to learn how to view iPhone text messages on computer.
Part 1. What to Know Before Getting iPhone Messages on PC
iPhone messaging apps like iMessage enable users to sync with all text conversations no matter where they are. You can quickly and conveniently transfer your messages from your device to any computer you want. This makes it easier to manage texts quickly and efficiently. You can access conversations you want from your computer without taking out your iPhone.
There are three types of messages on iPhone. One is iMessage, SMS (Short Message Service) and MMS (Multimedia Messaging Service).
iMessage comprises texts, photos and videos you can send across iOS devices and Mac.
SMS and MMS are photos or texts you can share with other phones.
Additionally, messages are transmitted across Wi-Fi or cellular data networks. SMS and MMS require a text messaging plan that your wireless carrier provides.
Transferring messages from iPhone to a computer can be easy or hard depending on the kind of message you wish to move. Syncing iMessage on a Windows PC could be challenging because the app is only compatible with Apple devices such as the iPhone, iPod Touch, iPad and Mac.
Therefore, you must use an iPhone data transfer tool to save iPhone text messages on your PC.
Can't Miss:
A Comparative Study on How to Get iPhone Text Messages on Windows [Proven]
How to Deftly Control iPhone from PC with/without USB Cable?
Part 2. Can You See iPhone Messages on PC?
Believe it or not, you can access your iPhone's text messages from a PC. Contrary to popular belief, owning an expensive Macbook is not a prerequisite; with the right tools and information, anyone can easily view their iPhone's texts on their computer. We will walk through several reliable methods so that all those using computers can take advantage of this exciting feature. Continue reading to know how to access iPhone messages on PC.
Part 3. How to Get iPhone Messages on PC?
To view the texts on your iPhone from a computer, you have several solutions at your fingertips; some more straightforward than others. We will discuss the methods in detail below.
Method 1. View iPhone Messages on PC Directly by Coolmuster iOS Assistant
If you want to explore and read iPhone messages on your PC effortlessly, you can use Coolmuster iOS Assistant. This powerful tool lets you view your iPhone messages clearly on a large PC screen. Not to mention, you can effortlessly export the messages you want from your iPhone to a computer and even print them for safekeeping. Its powerful preview feature lets you pick whatever texts you desire to export. The software is designed to make accessing iPhone data on a PC more seamless and efficient.
This cutting-edge software simplifies the steps and makes it effortless to back up and restore all iPhone data from your iPhone to your computer in just one click. Its user-friendly interface makes exporting data a breeze, even for novice users. Plus, it is readily compatible across various iPhone devices, making the experience more seamless and efficient.
Some key features of Coolmuster iOS Assistant are as follows:
Allow you to read and transfer contacts, messages, photos, videos, and other documents from your iPhone to your Windows computer.
Support several message formats like HTML, CSV and more.
Freely add, edit or delete files saved on your iOS device on a computer.
Compatible with all Windows systems and iPhones.
If you want to try it out, please click the button below.
Learn how to view iPhone text messages on a computer with Coolmuster iOS Assistant in just a few simple steps:
01Launch the Tool on the PC
First, download and install the Coolmuster iOS Assistant on your PC. After that, you can now launch it right away. Use a working USB cable to attach your phone to the PC. The app will then immediately detect your device. Press the "Trust" option on the iPhone's screen if prompted.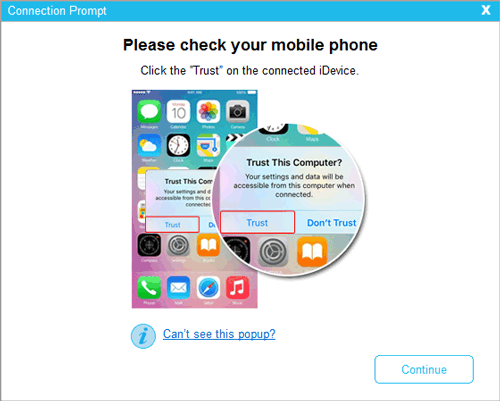 02Click the Messages Option
You will be able to access the main interface on your computer. On the left-hand side of the window is a panel with various categories; tap "Messages".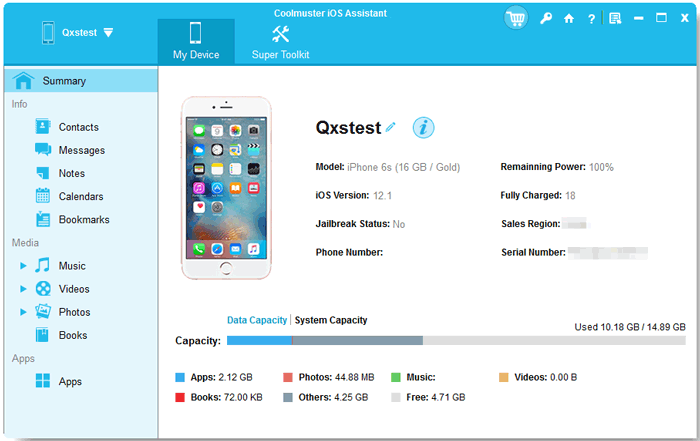 03View iPhone Messages on PC
You can now easily access your iPhone's text messages on a PC, with the contents of each message displayed clearly. Select specific messages and export them to the computer with just one click. Hit the "Export" button at the top menu to export them to the computer.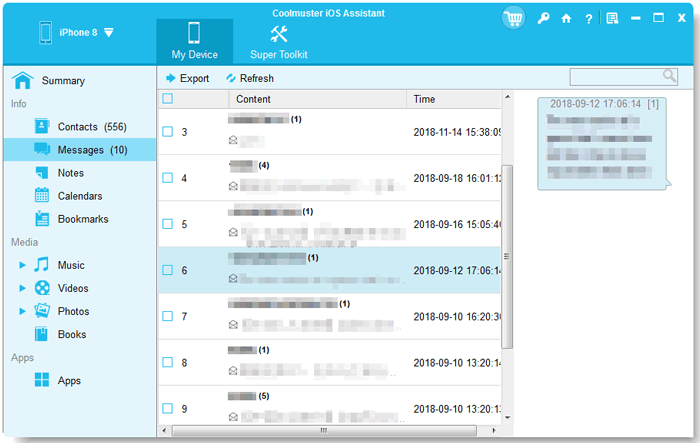 Method 2. Read iPhone Messages on PC Without Phone via iBackup Extractor
If, for some reason, you no longer have access to your iPhone or the texts on it are now missing, then the only way to get them back is through a backup of your phone. If you used iTunes to back up your iPhone to the computer, the messages would be stored in the backup. The issue is you won't be able to access your data in the backup unless you have a program like iBackup Extractor. It is a reliable tool that lets you directly access and extract the information stored in your device's backup onto your computer.
Here's how to view iPhone text messages on computer without phone:
Step 1. Launch the iBackup Extractor on the computer and open it.
Step 2. On your computer, select the "Backup Manager" option. Afterward, click on "backup history". You'll get to iTunes Backup containing all messages from your iPhone.
Step 3. Choose the backup containing your messages. After opening it, you will see various data in folders on the left panel. Click on "iMessage/SMS" to open your chats and view them.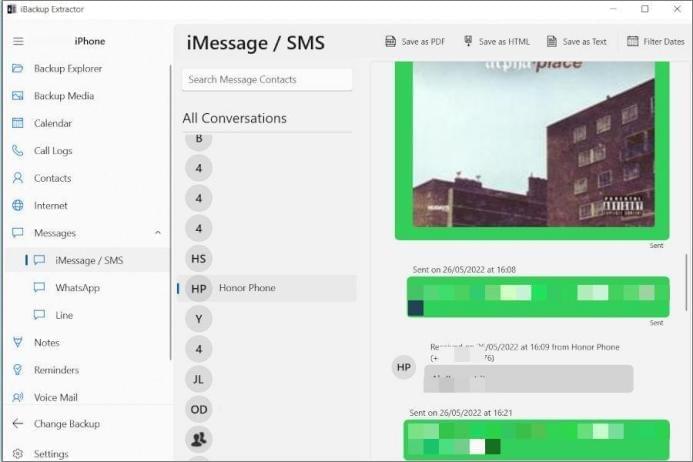 You May Like:
Top 6 iPhone SMS Transfer Software
10 Methods to Fix iPhone Text Messages Disappeared Issue
Method 3. Check iPhone Messages on Computer Through EaseUS Mobimover
Another way to check your iPhone text messages on your computer is to use EaseUS Mobimover. This efficient app helps you to view, modify, and store all text on the computer. Here's how to check iPhone messages on computer:
Step 1. Install the EaseUS Mobimover on the computer. Launch it and connect the iPhone.
Step 2. Access your messages by heading to the "Content Management" page and clicking the "Messages" option.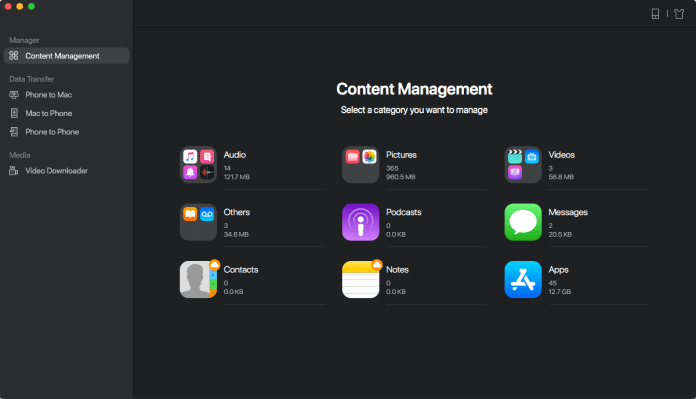 Step 3. The app will provide a comprehensive list of your iPhone messages, enabling you to easily read any conversation by simply clicking on it. Also, you can save the messages directly onto your PC.
Tip: If you are an Android user, you can see How to View Text Messages on Computer for Android Phone Users? (Solved).
Method 4. Read iPhone Messages on Computer (Mac)
With the Macbook's ability to support iPhone features, viewing your messages on it is simpler. All you need to do is utilize the messaging app and follow these simple steps to view text messages from an iPhone successfully.
Step 1. Make sure you've logged into the same Apple ID on your devices. Go into your Settings app, then to "Messages", and enable "Text Message Forwarding" by turning it ON after seeing your Mac's name.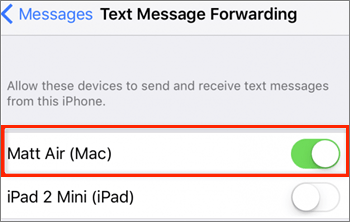 Step 2. Activate iCloud Messages on iPhone and Mac. All messages from your iPhone and SMS will be synced between both devices.
To do this, open your iPhone and head to "Settings" > "iCloud account" > select "iCloud and toggle Messages On".
On Mac, log in with your Apple ID. Then head to the Preferences tab and click on "Settings". Scroll down until you find "iMessage", then make sure Messages in iCloud is enabled.
Step 3. You will now get your iPhone messages on the Mac.
Read More:
[New] How to Recover Text Messages from Broken iPhone in 5 Ways?
Top 8 iMessage Recovery Apps for iOS Devices: Recover Messages Easily
Final Words
You now know how to view iPhone text messages on the computer for free. The techniques mentioned in this article are the best and will help you freely view Apple text messages on PC. Each method has perks that ensure you can get your messages without hassle. Besides, if a problem arises with your iPhone and you need access to an urgent message, there is also a way to access them.
For optimal results, use Coolmuster iOS Assistant. It is the best way to view your iPhone messages on a PC. It lets you read and transfer messages to your computer quickly and effortlessly. So give it a go and be amazed by how effortless checking out your messages can be.
Related Articles:
How to Transfer Text Messages from Android to Computer (Windows/Mac)
[Fixed] How to Transfer Photo Albums from iPhone to PC with Ease?
How to Retrieve Deleted Text Messages on iPad?
Easily Back Up Text Messages iPhone to Gmail in 5 Ways
5 Quick Ways to Recover Deleted Text Messages on iPhone without Computer
How to Find Hidden Or Deleted Messages on iPhone Smoothly? [Full Guide]