Have you accidentally deleted messages on your iPhone? Are you looking for a good iMessage recovery app to restore them? This post will share the best 8 iMessage recovery apps you can use to get back any deleted message on iOS phones.
Messages are part of us, and if we lose them, then it might seem like our life just ended. No person would want to lose their precious data like messages. These messages might be for work purposes or just personal messages from our loved ones. So, recovering them will be the only option.
But, if you have made a backup either in iTunes or iCloud, then restoring them will be a piece of cake. Otherwise, without backups, you have to look for outside help, which is iMessage recovery software.
To assist you in restoring your deleted iMessages most efficiently and reliably, we've got the top 8 iMessage recovery tools that are tested and scrutinized from thousands of iOS recovery applications. So, let's have a look.
1. Coolmuster iPhone Data Recovery
2. PhoneRescue for iOS
3. Primo iPhone Data Recovery
4. Dr. Fone for iOS
5. iMyFone D-Back iPhone Data Recovery
6. ApowerRescue
7. Aiseesoft Fonelab
8. 7thShare iPhone Data Recovery
1. Coolmuster iPhone Data Recovery
At the very first, we've got the Coolmuster iPhone Data Recovery software that does an impeccable job in data recovery. This notable tool will help restore and retrieve any of your lost iMessages in minutes. It's one of the best tools that boasts efficiency, speed, and selective data restoration.
Apart from iMessages, if you have accidentally deleted contacts on an iPhone, the Coolmuster iPhone Data Recovery is here to help. Moreover, you can restore your data from iTunes backup without your iPhone.
Main features:
* Recover deleted messages and contacts from iPhone without backup.
* Enable you easily preview your existing and deleted iMessages on the interface.
* Compatible with the latest iPhones.
* Allow you to view and restore your iTunes backup data on your computer.
Pros:
* No data loss.
* You can preview data before recovering.
* Simple and easy.
* Allow you to transfer your iPhone data to your computer.
Cons:
* Support only iOS 5 or above.
* No Mac version.

How to use this best iMessage recovery software:
Step 1: Launch Coolmuster iPhone Data Recovery
Once you have downloaded and installed the Coolmuster iPhone Data Recovery on the computer, launch it and tap the Recover from iOS Devices module.
Connect an iOS device to your computer using a working USB cable. The program will then detect your gadget. Tap on the Trust button on mobile gadgets for recognition. Then choose the Messages and other file types you want on the interface, and tap the Start Scan option to continue.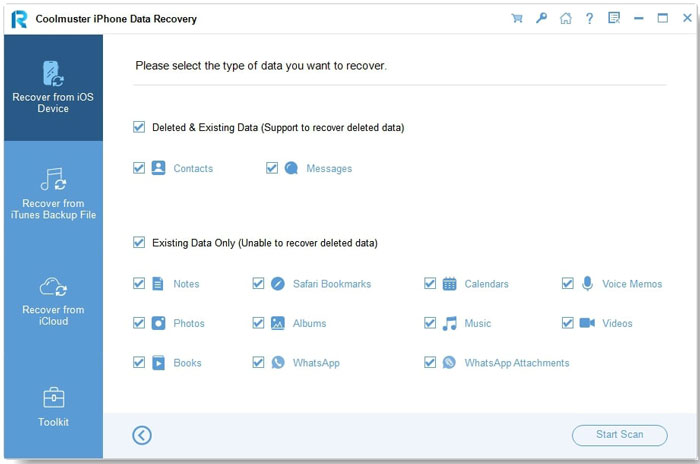 Step 2: Preview and Choose the Data
After the software scans the selected files, you may now preview your data on the interface, including the existing and deleted files. Select messages from the left panel and choose the detailed items on the right side.
Step 3: Start the Recovery
After choosing the messages to recover, you may click the Recover to Computer button to recover all of your deleted messages from your iPhone to the computer. By the way, you can also transfer any existing files to your computer.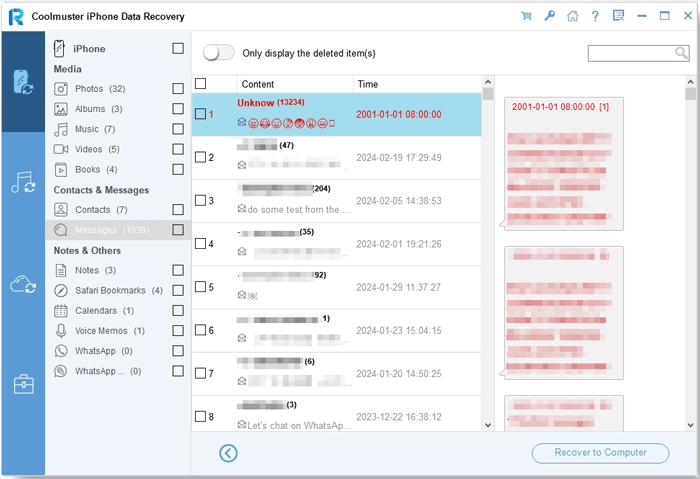 Further reading:
[Workable Solutions] How to Retrieve Contacts from iPhone with Broken Screen?
How to Recover Data from Dead Broken iPad in All Possible Ways
2. PhoneRescue for iOS
This is also an ideal iMessage recovery app that has helped many users recover their lost data on iPhone devices. It features easier operating steps that anyone without experience can use just fine. This makes it to be preferred by many people.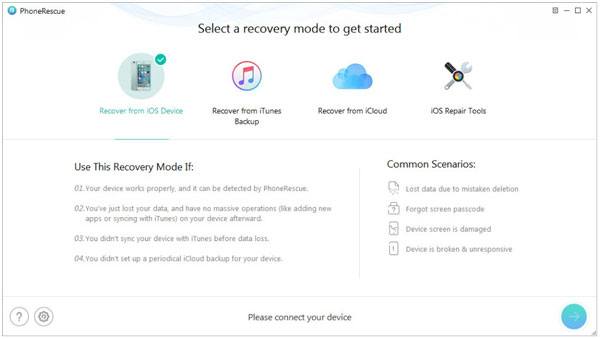 Pros:
* Recovers iMessages safely, and no other person can access your data.
* It can help you restore deleted messages/iMessage to your iPhone's messaging application directly.
* You can preview and then choose the message before restoring them.
* No backup needed.
* It can recover 31 different file types.
* Easy process.
Cons:
It is a paid program.
Tips: Wonder how to retrieve deleted text messages on an iPad? Then you can follow this full guide.
3. Primo iPhone Data Recovery
This is also a great iPhone messages recovery program that offers guaranteed results. It allows one to recover any lost message no matter the situation. It can be due to water damage, forgotten password, update failures, etc. Primo iPhone Data Recovery offers three modes of recovery to ensure a higher rate of success.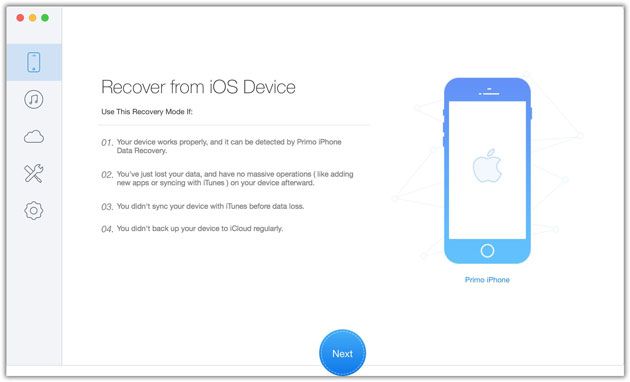 Pros:
* Recover 25 file types from any iOS device.
* Come with three recovery modes.
* Operate well with iPhone 7 (plus) and earlier models.
Cons:
* Paid tool, so you must pay for it before using it.
* Not support all iOS models.
Bonus: What if your videos disappear from your iPhone? Don't panic. You can probably find them via these tips.
4. Dr.Fone for iOS
It's software from Wondershare, which supports a wide variety of data recovery on iOS. It comes with a preview function to preview any lost messages before recovering them. Dr. Fone has a superb scanning procedure that is also easier to use.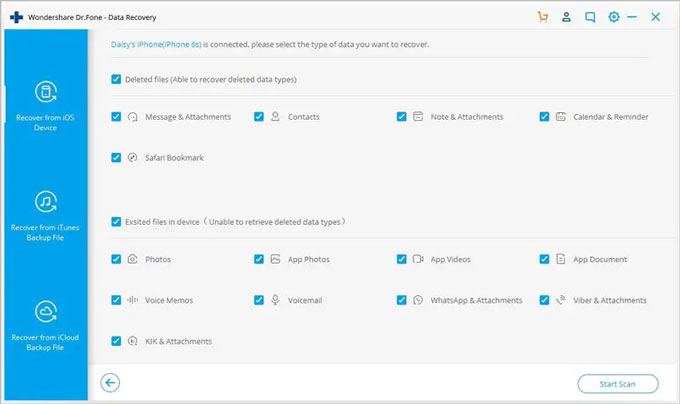 Pros:
* Faster data recovery.
* Recovers data from iTunes, iCloud, and iPhone
* Compatible with the latest iPhones and iOS 15.
Cons:
* A little bit expensive.
* You must upgrade to its Pro version to get the recovery as well as more functions.
Learn more: How to Restore Android Phone with Ease (Backup and Restore Tips)
5. iMyFone D-Back iPhone Data Recovery
This is a data recovery tool that is highly effective. It can assist you in retrieving your lost iMessages without any problem. It offers four recovery modes for the greater and perfect chance of retrieving any of your lost data. Besides, it has a clear user interface that any person may understand at a go.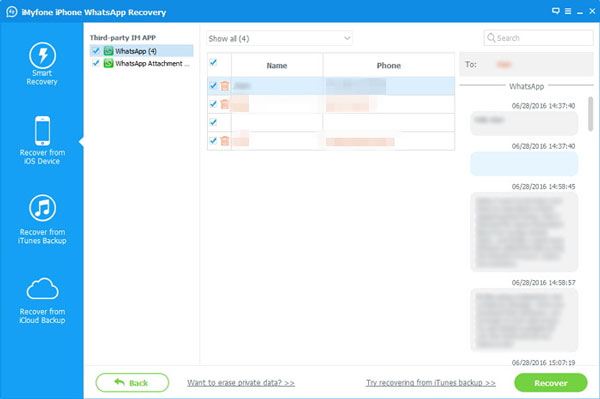 Pros:
* It can recover data from iPhones, iTunes, and iCloud backup easily.
* Recovers various types of data on iPhone.
* No data leakage.
Cons:
* Limited functions from its trial version.
* Fail to find lost data from internal storage at times.
6. ApowerRescue
This is also another high-grade iMessages recovery app for Phone users. It allows one to easily recover the missing messages. ApowerRescue offers an in-depth device scanning on iPhones, iCloud backup, and iTunes backup to assist one find the deleted data for recovery. It can recover lost data even if your device isn't accessible, is stuck in the Apple Logo, or has a black or white screen.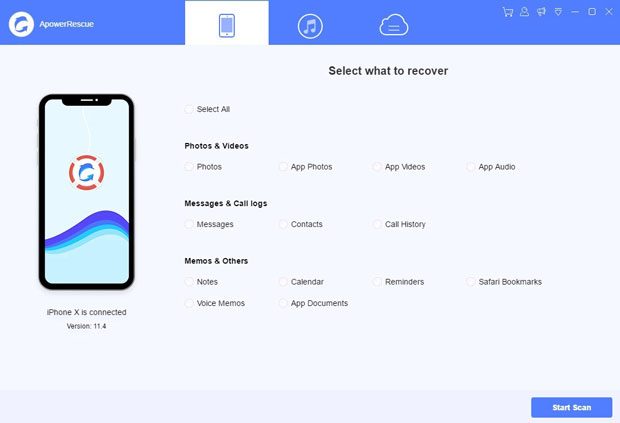 Pros:
* The recovery procedure is very smooth. Just a few clicks, and you are done.
* Recovers any lost data when your phone is broken, damaged by water, lost, or crashed.
* Provide data before choosing.
* Displays deleted items only.
* Supports iPhone XS Max or earlier models and iPad Pro and earlier models.
Cons:
* No version for Mac.
* Not support all iPad and iPhone models.
* The success rate isn't that high.
7. Aiseesoft Fonelab
Aiseesoft Fonelab is among the best software that can recover iMessages on any iOS device. This powerful tool boasts high compatibility features with iOS devices and can export the retrieved data files to other iOS devices. The whole retrieval process is very easy, and even a person who knows nothing about recovery tools can use it well. With an easier-to-comprehend interface, you are sure to find your way around. No technical background is needed to operate.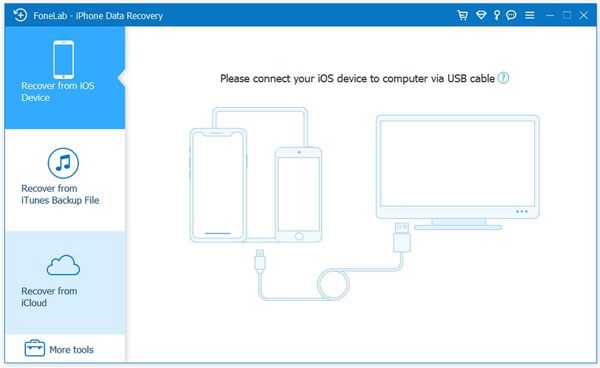 Pros:
* It can restore lost data from iPhones, iTunes, and iCloud.
* Whichever way your data got lost, this tool can restore it.
* Exports the retrieved data to other iOS gadgets.
* Supports older iPhones.
Cons:
* Quite costly when buying.
8. 7thShare iPhone Data Recovery
The 7th Share iPhone Data Recovery has earned itself the honor of being one of the best iMessage recovery apps of the lucrative features in ease of use, speed, and efficiency it offers. In addition to that, it is a free tool for download. Also, it recovers lost data in two models, that is, from iOS and from iTunes backup. Very wonderful software to have.
Pros:
* It recovers lost messages faster.
* The recovery of files is selective.
* No skills needed.
* User-friendly interface.
Cons:
* Not support iCloud backup recovery.
* No preview feature for the files to be recovered.
Final Words
Calculating the cost of a lost iPhone is very easy, but it is hard to evaluate the loss on your essential iMessages. No one wishes to lose their important messages. As such, regular iPhone data backup is paramount. You can either backup on iCloud or iTunes.
Moreover, even if you forget to backup your messages and they are still on your iPhone, which gets lost or damaged, you can still recover them with software. The above are the best iMessages recovery apps to help you recover lost messages. Coolmuster iPhone Data Recovery is the tool you shouldn't miss. No data loss and recovers data in just 1 click!
Related Articles:
[Hot Guide] How to Transfer Photos from iPhone to Lenovo Laptop?
6 Fabulous iPhone Photo Recovery Apps: Fast Help Recover Deleted Photos
9 Ways to Fix the Bookmarks on iPhone Disappeared Issue (iOS 16 Supported)
Fix the iPad Touch Screen Not Working Problem in 12 Pro Ways(All iPad Series Supported)
11 Best iPad Data Recovery Software Reviews of 2023