Mac and iOS devices users have had an interesting time making video chats and audio calls using facetime. To some extent, this is the most convenient video chat and audio call app as it does not rely on any tariff you just need to have your Wi-Fi or cellular data on. The Apple owners can comfortably make free video and audio calls. However, this app has disappointed many. In some occasions, it may fail to connect.
Why Could Facetime Fail To Connect?
It is not always that you are unable to make the video and audio calls. When your facetime fails to connect there must be a number of reasons which can still be fixed.
• Facetime may not be available in your country, region, and carrier or your phone is not compatible.
• If you have been making video chats and audio calls using facetime and all over sudden it fails to connect, you device certificates may have expired.
• Your facetime could be off and when it is inactive you cannot be able to make calls.
• Your device may not match the Apple ID you signed with initially. This could happen when you have missed a digit or have forgotten the apple id.
• The facetime may hang when your device is waiting for activation.
• If your device time and date are not up to date facetime will not connect. This is likely to happen when you have tampered with the dates setting or have removed the battery.
• Your device may not be having a reliable internet connection or your cellular data connection is off.
• You may have tampered with the network settings on your device. This may be hard to diagnose but can still be fixed.
Related: Fixes to Common iPhone Problems
Facetime Fails to Connect, How to Fix it?
If your facetime fails to connect, it does not mean you will never make video chats and audio calls. The issue can still be worked out. Since facetime is a two-way connection, the connection problem may be as a result of errors from any end. This means that both the users need to check on their devices and trace where the connection problem originates. As you fix the errors on your side, it is important that the receiver may check the connectivity too. The errors are also handled differently. When the connection takes forever or fails repeatedly try the following tips to fix the problem.
Step 1. Check Facetime. Ensure that your facetime is on. If the facetime is off there is no way you can connect with your loved ones. You can go to Settings" > "FaceTime" to check it out.
Step 2. Check Internet Connection. Ensure that your device has the internet connection, this can be by connecting to the available Wi-Fi or loading the needed data bundles for your data plan or have your cellular data bundles on.
Step 3. Check Device Compatibility. Be sure that the device you are using is compatible with Facetime and you are located in an area that the app is accessible. By the way, FaceTime is now available on iPod touch (4th generation) or later, iPhone 4 or later, iPad 2 or later and Mac OS X 10.6.6 or later.
Step 4. Enable/Disable Airplane Mode. By enabling and then disabling Airplane Mode on your device, it may refresh your Wi-Fi or cellular data network. You can also update your device date and time and click on the automatic time setting as through this you are able to avoid the trouble by all means.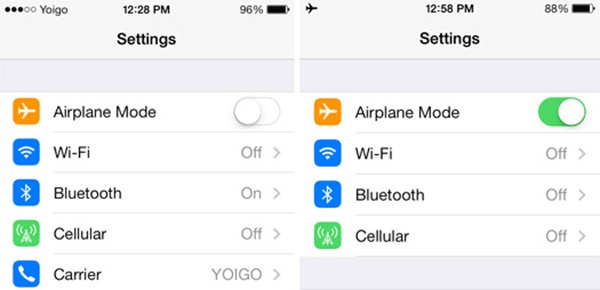 Step 5. Reactivate Facetime. When the server fails or is low. You can force the reactivation by switching facetime on and off until it connects. This should happen especially after you have updated your device and you are sure to have signed in with the right Apple ID.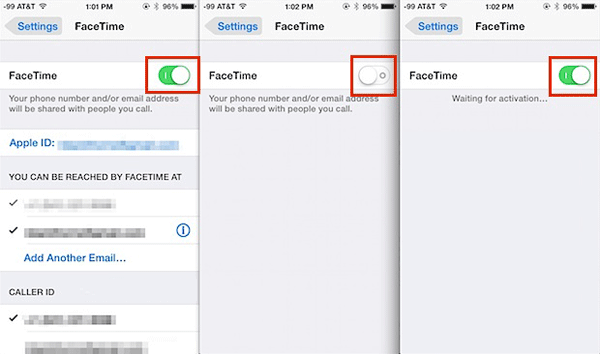 Step 6. Update iOS. Upgrade both your iOS and OS X to the latest version available. This will help you fix the issue of the expired device certificates. This alone can cause your facetime start connecting again.
Step 7. Reset Settings. When you are not sure whether you have tampered with the setting or not, it is only wise to reset the network settings on your device. You can firstly reset all network settings to solve the problem, if it still fails, just go to erase all contents and settings on your device.
Bonus: Whether to Choose Soft Reset or Hard Reset?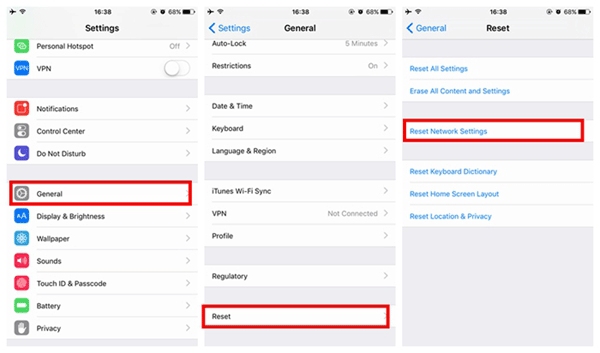 Step 8. Turn to Apple for Help. After following all the steps as mentioned the above, if Facetime still fails to connect, you need to contact and consult Apple Support Services for help.
Related Articles:
Fix Common iPhone Headphone Problems