After getting all things done such as activating your iPhone when buying a new device, you may now be completely indulged in using your brand-new phone for various purposes like informing your friends of your new phone number, and taking high-resolution photos or videos with the in-built cameras. Before that, you need to know how to discern a refurbished iPhone lest you might be fooled. While being more and more familiar with your new device, you are possibly confronted with different kinds of problems such as iPhone texting problems, calendar issues, volume troubles, headphone problems and etc.
Speaking of headphones, now it is just commonplace to see that more people are using headphones to make phone calls, watch movies, listen to music and so on. Assuming that it is an extremely freezing day, would you like to hold your iPhone with your hand while chatting with your girlfriend, or to speak over the headphone while putting your hand into the warm pocket? Especially when you are surrounded by piercing noises such as on the train, headphones can create a private paradise for you to freely enjoy yourself in the music or movie kingdom. But according to iPhone users, they sometimes may face some headphone problems, such as they occasionally can only hear sound from one end of the headphones. Today, this passage summarize some common iPhone headphone problems and corresponding solutions.
Problem 1: Can't Hear Sound from Both Ends
Sometimes when you are listening to music, you may find that one one side of your headphones can receive the sound as normal while the other fails.
Solution 2: In this case, first of all, plug out your headphone and then plug in once again. Make sure that the headphone jack is completely inserted. If it still fails, check the dysfunctional one to see if too much dirt is accumulated on your iPhone headphone and then clear the dirt. But if after trying the two method still without any results, you may need to consider buying a new handset of headphones.
Problem 2: Stuck in Headphones Mode
This is a common problem most iPhone users may face when using their device. After plugging out your headphone, only to find that your iPhone is still in headphone mode.
Solution 2: When your iPhone is stuck in the headphone mode, you don't have to get panic. Just insert your ear bud into the headphone jack and then remove it. If it still doesn't work, repeat the process until your iPhone is out of headphone mode.
Problem 3: Dirt on iPhone Headphone Jack
If your iPhone headphone jack is filled with dirt such as mere dust, lint, a piece of paper and etc, it is possible that you will receive sound of poor quality, if not any sound, which can be pretty annoying. At this moment, quite a few people may consider their headphone is completely ruined and they have to throw it away. Actually, you don't have to!
Solution 3: As to the accumulated dust inside the headphone jack, use a vacuum cleaner with a hose attached to it and place the hose opposite to the audio jack of the iPhone. Turn it on and clean up your headphone jack. But if the dirt is lint or a piece of paper, you will have to use a tooth pick to carefully scratch it out. After that, you can again enjoy your iPhone in the headphone mode without any restrictions.
Problem 4: Moisture inside Headphone Jack
Like the case mentioned in the above, if your iPhone headphone jack is full of moisture, chances are that you won't be able to use your headphone jack properly and perfectly. And if the headphone jack is all wet with moisture, it is possible that your iPhone headphone jack will be practically useless.
Solution 4: Once your iPhone headphone jack is filled with moisture, stop using it. And then use a hair dryer to dry out any moisture inside the headphone jack by placing the hair dryer right opposite to it.
All the cases mentioned in the above are generally listed as the most frequently-met problems in using iPhone headphones. Now, you can get the corresponding solutions to get yourself out of the troubles.
Words in The End:
Actually, to keep your iPhone in good health and to fully enjoy your colorful life with your iPhone device, one important thing you need to do is to back up your iPhone files frequently in case of sudden data losses due to various reasons. Here, you are suggested to rely on this iOS Assistant to transfer all important files like contacts, messages, photos and etc. from your iPhone to computer in one click. This software is surely your best choice to free yourself from the troubles caused by accidental data losses.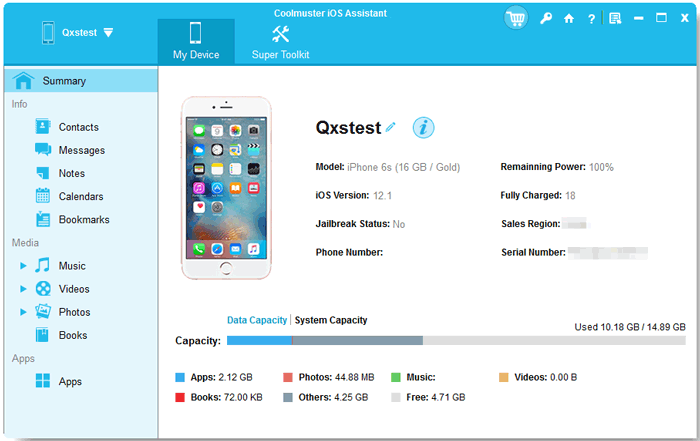 Step-by-step Guide:
- Open the installed software on the computer and then connect your iPhone to the computer.
- Then you will see the main interface where all file folders are arranged on the left panel.
- Now, choose the files as wanted and hit the Export option to begin the file transfer.
Below is the free trial version of this software! You can download the right version and give it a try by yourself!
Related Articles:
Guide on How to Reset iPhone Network Settings