Most of us just download apps, movies and other files with our smartphone or iPad or even our iPod touch without thinking about the download temp files created on your device. Excessive download temp files on your iPod makes it less responsive and laggy, leaving some of your apps unworkable and less room for more apps you might want. You can clear out the download temp data and allow your device to create a new one every time you sync up more photos with your iTunes account or computer hard drive if you want to save space. But this means you have to spend extra time re-syncing and re-optimizing the same data you already optimized earlier. And the more your download temp files build up, the longer this re-syncing process gets. Is there any alternative solution to get rid of those iPod download temp files?
A more ideal option would be deleting those download temp files directly on your iPod touch without losing those optimizations in the process. Then, you ought to download and use an iPod download temp files eraser tool - Coolmuster iOS Cleaner. With its help, you are capable of removing your iPod touch download temp files, as well as app caches, app temp files, app cookies, app crash logs, photo caches, user storage files, etc., in batch permanently at once, with zero possibility of recovery. This wonderful desktop software is fully compatible with all iOS devices, namely iPod touch, iPhone 6S(Plus), iPhone 6(Plus), iPhone 5S, iPhone 5, iPhone 4S, and iPad Pro, iPad Air, iPad mini, iPad 4, etc.
As I mentioned above, Coolmuster iOS Cleaner supports both Windows and Mac versions. The steps for both versions are quite easy and similar. Just download the right version according to your computer system.
Remove All Download Temp Files on iPod touch with iOS Cleaner
Step 1 - Connect iPod with Mac and run the program
Here, we just take the Mac version as an example. For the very beginning, run the iPod data clean tool after you install it on your Mac. Then, connect your iPod touch with the Mac via a USB cable and this tool will detect your iPod touch soon. See the four different modes displayed on the program window? Just choose the mode labeled "Quick Clean".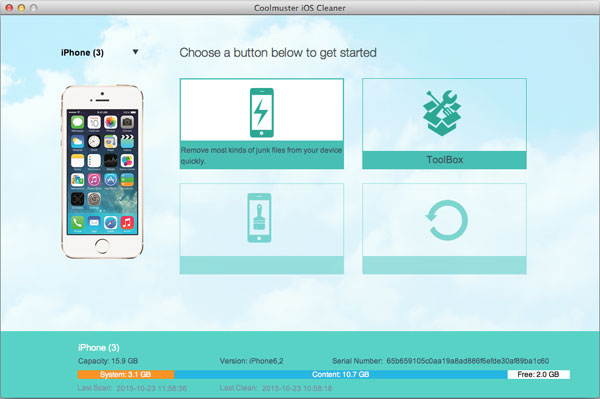 Step 2 - Choose iPod download temp files to delete
After you choose the "Quick Clean" mode, you will see there lies all removable file types on your iPod ranging from app caches, user storage files, etc. Choose "Download Temp Files" and then click the "Start Scan" to scan out all download temp files on your iPod touch.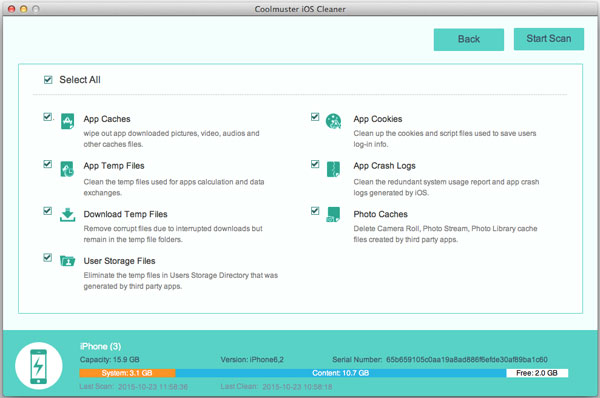 Step 3 - Delete download temp files from iPod touch
Preview and select the download temp files you want to delete and then click the button marked "Clean". Then, this iPod data cleaner will begin to remove your unwanted download temp files from iPod touch at once.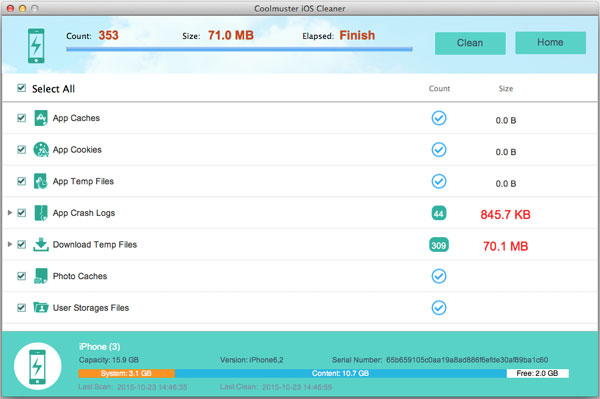 During the removal process, please keep the iPod touch connecting with the Mac all the time. Besides iPod touch, this program also enables you to clean download temp files on all iPhones and iPads, like iPhone 14 Pro Max, iPhone 14 Pro, iPhone 14, iPhone 13 Pro, and iPad Pro, iPad Air, iPad mini, iPad 9, etc.
Conclusion
By using Coolmuster iOS Cleaner, you can efficiently remove download temp files, along with other unnecessary data such as app caches, app temp files, app cookies, app crash logs, photo caches, and user storage files. This powerful desktop software ensures that these files are permanently erased in a batch, with zero possibility of recovery, freeing up valuable storage space and enhancing your iPod touch's performance.
Related Articles:
Locked Out of iPhone after Update? 6 Effective Fixes You Never Know
Top 3 Ways to Sync iPad to New Computer without Erasing Data