Apple's iPad is the most popular tablet that has some of the zippiest features compared with other tablets. But you may still have such trouble that the Safari app on your iPad is always crashing from time to time and you couldn't check out the causes. Well, the crash of Safari app can sometimes be caused by overmuch cookies. What are they? Cookies are some small pieces of browsing data that are created when you surf the web via the Safari app. If you want your Safari works smoothly, you have to find out a way to clear these cookies from your iPad. Many people simply delete iPad cookies by entering the Settings and choose to "Remove All Website Data". But is it enough?
If you try some iPad data recovery tools, you will find those deleted cookies are all recovered back! To erase them permanently without the possibility of recovery, you need to search for a professional iPad data cleaning program. Here, we humbly recommend the Coolmuster iOS Cleaner, which is a handy tool that worth your choice for a number of different reasons, not least because it frees up valuable space on the device by cleaning several types of data from your iPad Air/mini/4/3/2, iPhone and iPod, such as clearing private data, removing duplicated contacts, clean junk files, delete messages, history and so on, it is certainly worth using to check whether you can free up room, before you go ahead any kind of external storage device or memory card for the phone.
The other big advantage to using this app is the level of security which it offers. It is natural to want to know for sure that private and personal photos, contact details, messages, and videos are 100% inaccessible to intruders and the Coolmuster iOS Cleaner can make you this promise. Ok, let's check out how to use the best iPad cookies cleaner right now.
How Do I Clear Cookies & History on iPad Air/9/mini with iPad Cookies Cleaner?
Step 1. Connect your iPad to computer and run iPad cookies cleaner
The program is compatible with both Windows and Mac OS, please download the right version from the links above and install it on your computer as usual. After that, there will be a desktop shortcut of the program on your computer. Now, you can plug your iPad to the same computer via USB cable and the program will recognize and show your tablet.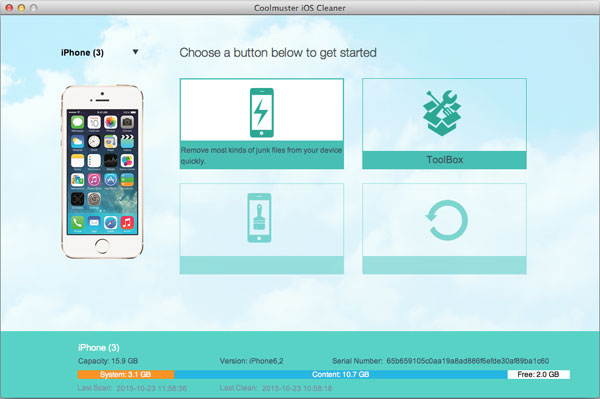 Step 2: Choose the cookies that you want to delete
At the same time, you will see four large icons labeled "Quick Clean", "Deep Clean", "Toolbox", and "Restore" on the program interface. You can directly choose "Deep Clean", the program will scan your iPad and you will be shown all the files on your iPad, including the cookies you don't want.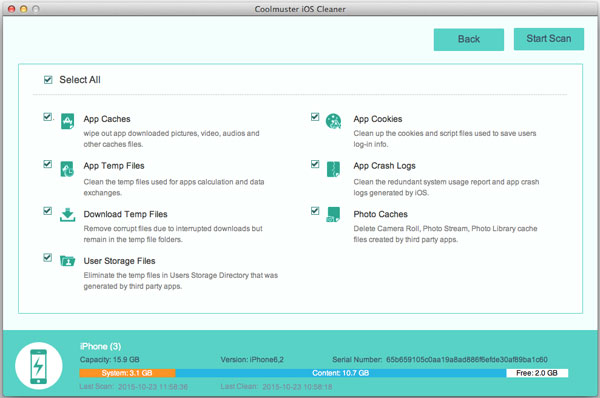 Step 3: Clear cookies from iPad with a click
Just check the cookies you are willing to delete and click the big "Clean" button to start clearing those selected cookies on your iPad. The whole process will be done in seconds.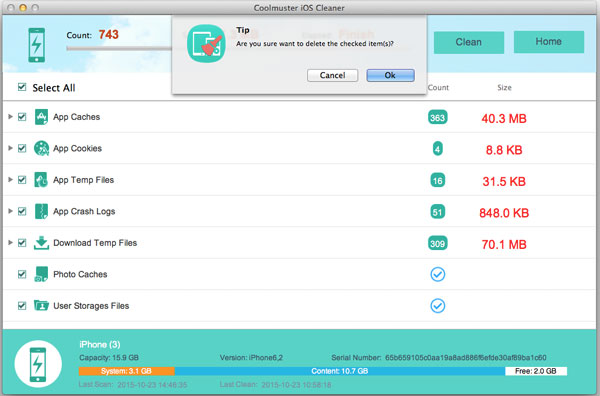 OK, you have successfully got your iPad cookies erased completely. No one with any data recovery tool can get back those erased iPad cookies. Just enjoy happy iPad web surfing.
Wrapping Up
Congratulations! You have successfully erased your iPad's cookies, ensuring that no data recovery tool can retrieve them. Now you can enjoy a smoother Safari browsing experience on your iPad without any worries about privacy or performance issues. Coolmuster iOS Cleaner not only cleans cookies but also offers a range of other valuable features. It can free up space on your iPad by removing duplicated contacts, and deleting all files with 1 click. If you want a complete erasure, don't miss it.
Related Articles:
How to Delete iPad Data before You Sell It
How to Retrieve Deleted Songs from iPod
6 Brilliant Ways to Recover Deleted Instagram Photos on iPhone